Practical guide on Hotel Experience in Pushkar, India
The small holy town of Pushkar is extremely popular with backpackers in India. It offers a wide variety of guesthouses for budget travellers within the city, but just a 10 kms drive away you will also find luxury tented accommodation. There's a lot of quality hotel experiences in Pushkar. There are also a few nice mid-budget options walking distance from the city as well. So get ready to relax, unwind and get in touch with your spiritual self.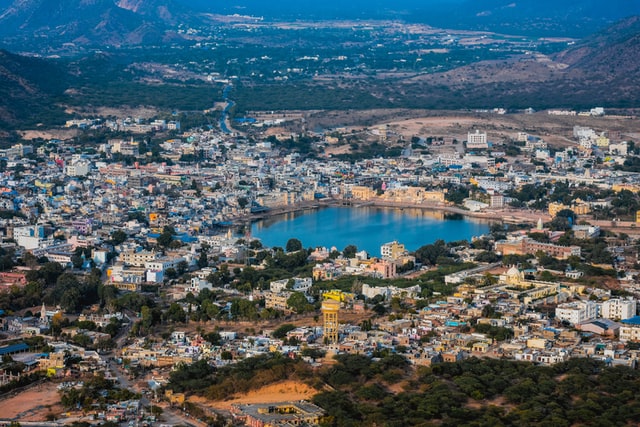 Pushkar from an aerial view (Photo Credit – Vivek Sharma)
Inn Seventh heaven
This is one of India Someday's favourite places! This small boutique hotel is very close to the centre of Pushkar city, but manages to take you away into another world. Cascading fountains in its courtyard and vines growing along its walls, this is a lovely, great value for money hotel.
In Season INR 1,500 onwards (USD 30+ / EUR 22+), TripAdvisor Reviews
Website: http://www.inn-seventh-heaven.com/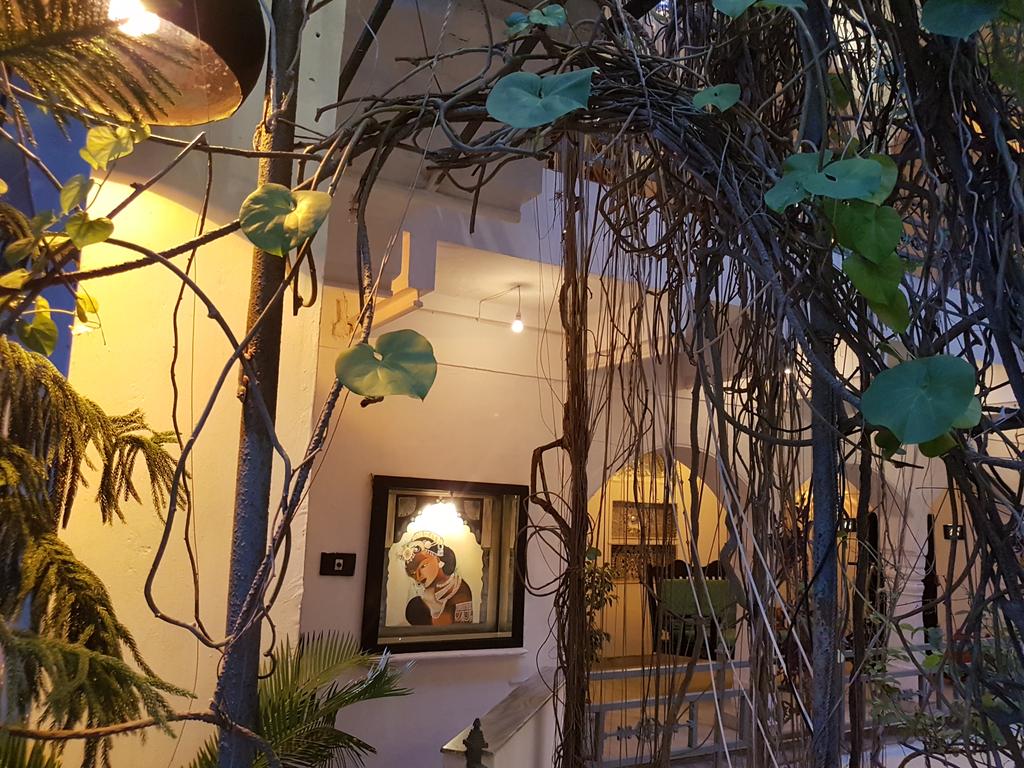 A great interior, like a botanical garden with nature, literally growing up the walls (Photo Credit – Booking.com)
Mama Luna
This backpacker hostel is clean and a great value for money. Unlike Seventh Heaven, it does not offer luxury at a minimal cost, but it does offer clean spacious minimalist rooms at a very affordable rate. It also has a nice rooftop terrace where you can meet other travellers and enjoy the view of the lake.
In Season INR 450 onwards (USD 9+ / EUR 6.5+), TripAdvisor Reviews
Website: http://www.hotelmamaluna.com/
Decorated Camels in the fair, Pushkar (Photo Credit – Ashish Sangai)
Chacha's Garden
Another great budget option run by a couple and their children. This is another quaint hostel where the family has converted their house into a guest house. Very close to the main market, this place is great just because of the hospitality of its owners.
In Season INR 450 onwards (USD 9+ / EUR 6.5+), TripAdvisor Reviews
Website: http://chachasgarden.in/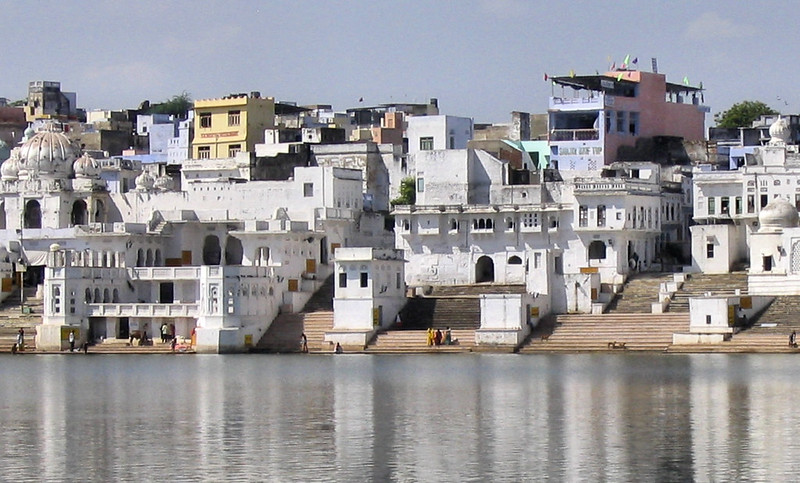 Scenic view of Pushkar lake (Photo Credit – Francisco Anzola, Flickr)
Green Park Pushkar
Green Park is a comfortable, clean hotel a short work from the main city. The hotel has a pool within its premise to relax in during the hot Rajasthani mid-days. There is also a rooftop restaurant with a beautiful view of mountains in the distance.
In Season INR 2,000 onwards (USD 35+/ EUR 25+) TripAdvisor Reviews
Website: http://www.greenparkpushkar.com/
If you are looking at planning a trip to Pushkar and would like some assistance please do get in touch with us and we would be happy to help you plan a memorable trip!
Take a dip in the pool or have lunch at the hotel's rooftop restaurant (Photo Credit – Booking.com)
helping you travel your way
Everything you need to know about India is here We have tried writing about everything you may need help with for your trip to India, If you need help in planning a trip to India Get in touch with us to to plan your trip of a life time.