Feeling Like Royalty in Udaipur
Thank you, India Someday for putting me up like royalty in Udaipur and for these first couple of cities. The air-conditioned bus (with plush reclining chairs) from Ahmedabad to Udaipur dropped me on the outskirts of town. Post this, I proudly negotiated a INR 50 rickshaw ride to the Old City.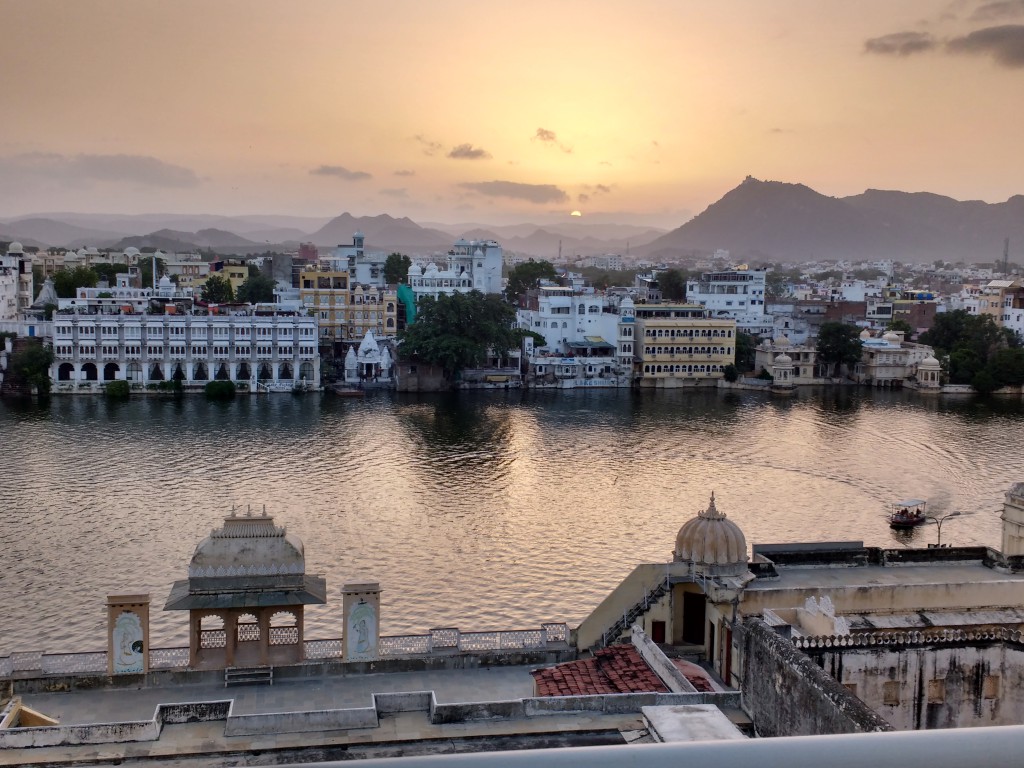 Beautiful sunset in Udaipur (Royalty in Udaipur!)
The Madri Haveli
My room (or shall I say rooms) at the Madri Haveli, in the master suite, made me feel like a queen. With multiple seating areas to choose from, nooks and crannies with beautifully shaped windows looking out onto the charming old city. Also, a separate regal bedroom, and an eye-catching stone bathroom (larger than my NYC bedroom), replete with a giant tub, two sinks and a great supply of adorable Colgate toothpaste and other toiletries.
I made my way to the rooftop and was awe-struck by the stunning views of the lush mountains, beautiful lakes and the enchanting city. I knew I'd be more than content if I never left the grounds and treated myself to some laptop time in what became one of the world's prettiest offices.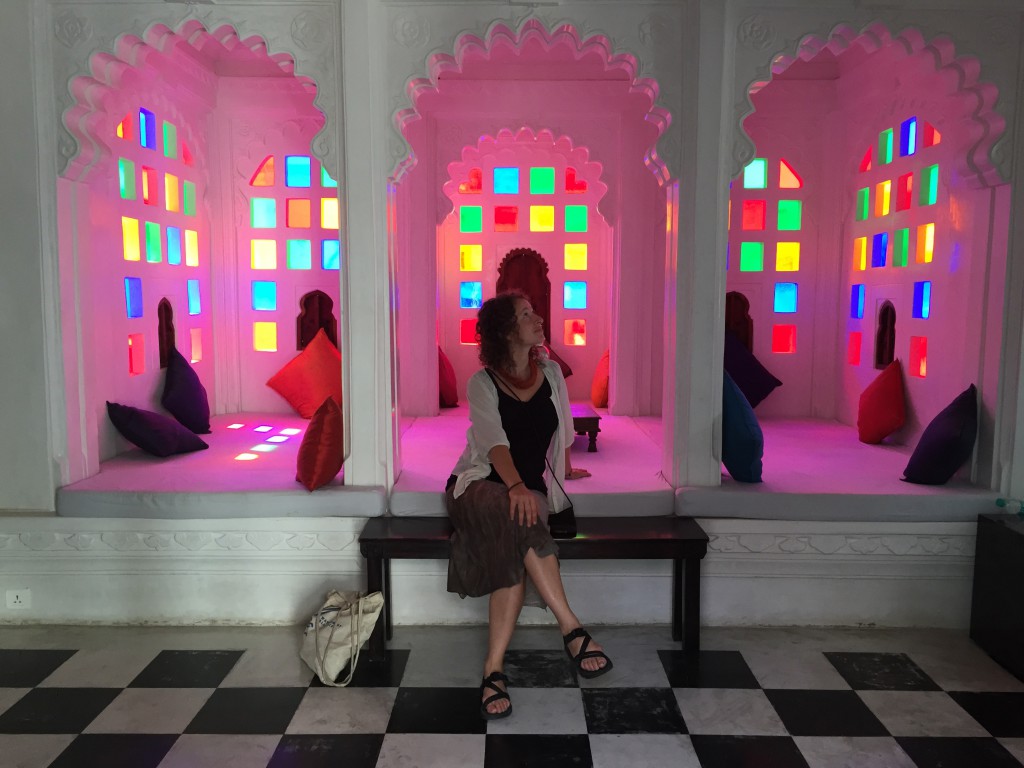 Madri Haveli Udaipur
Boat ride around Pichola Lake
I meandered the busy colourful crooked streets and worked my way towards the quintessential boat ride around Pichola Lake. I entered at Lal Ghat (where all tourists were Indian) and took the INR 250 ride around the beautiful waters, staring out onto City Palace and Jagmandir and Jagniwas Islands, quickly gaining a sense of the regal life of India.
Drawn to the green park space nearby, I wandered the windy paths, checked out some sculptures and spotted my first monkey hanging out.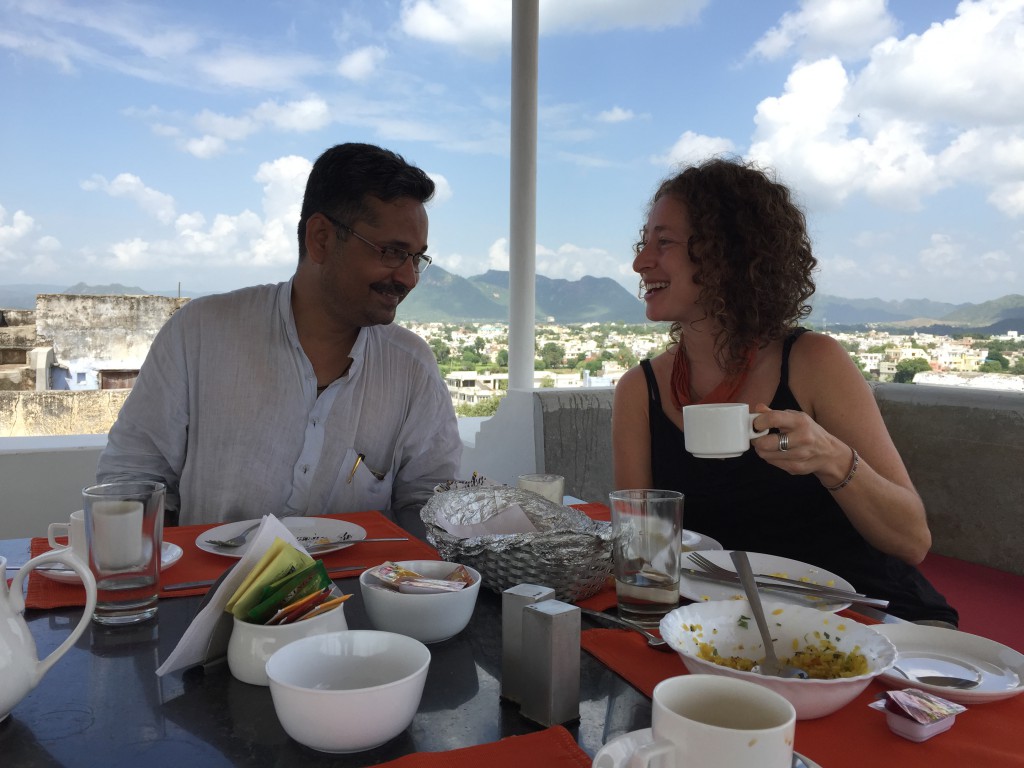 Breakfast on the rooftop – Madri Haveli (one of the many royalty in Udaipur)
Jagdish Temple
Working my way back to the haveli, I stopped to visit the Jagdish Temple. All dressed up with lights, streamers and statues, and packed with folks celebrating Janmashtami; Lord Krishna's birthday.
I slipped off my shoes and joined the packed line of exquisitely dressed women in colourful saris to enter the temple, built in 1651. A clay pot dangling high above the open public square, I grew excited for the community celebration that would happen the following eve.
For now, it was teeming of people, lots of music, and in the evening a midnight procession marking the birth of Krishna.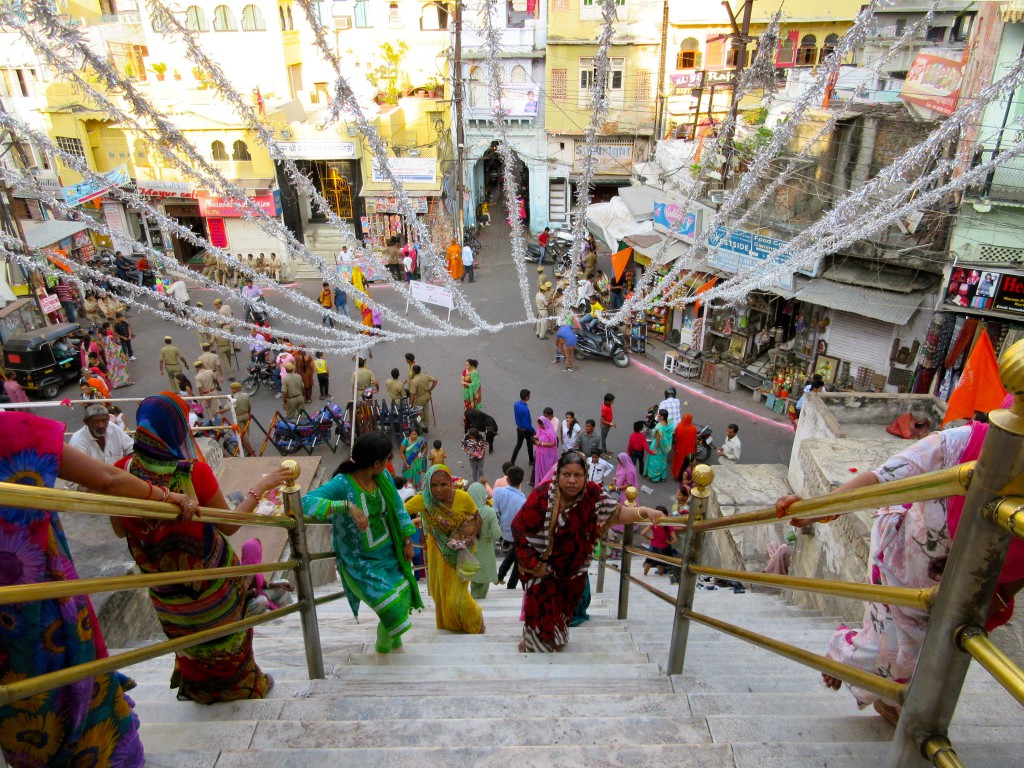 Pilgrims walking up to the temple in Udaipur
The food
I was thrilled to meet the Udaipur artist, Rajesh Soni. In addition to photography, he does beautiful work hand-colouring, in fine detail. Also he does others' digital pictures, many of which were on display in the Madri Haveli Gallery.
We drove to the new part of Udaipur, passing the famous Fateh Sagar Lake (or FS as they call it here). This is where droves of locals go to hang out in the evening. You would find them sitting on the waters' edge and eating at the plentiful food stands across the road.
He brought me to a typical Indian thali place where unlimited vegetarian dishes are served by eager waiters. I'm so loving the yoghurts and delicious aromatic flavours of each meal more than the next in this country!
Our drive back was insane. His small car in competition with the motorbikes, bicycles, rickshaws, people, cows, goats and who knows what else. The streets are windy, super narrow and barely have room for one car to go by.
He had an impeccable sense of the car-size. And he magically finessed his way through the tightest of squeezes, at impressively high speeds.
I retreated to my royal room and woke to a rooftop breakfast fit for a king. Fresh fruit, black tea, cheese omelette, banana crepes and four pieces of toast with an assortment of jams and that delicious Indian butter.
I enjoyed learning that the Amul brand of butter I've been loving started out as a women's cooperative. As it goes, some women started a milk society collecting milk from everyone's house. This eventually got developed into a large established company.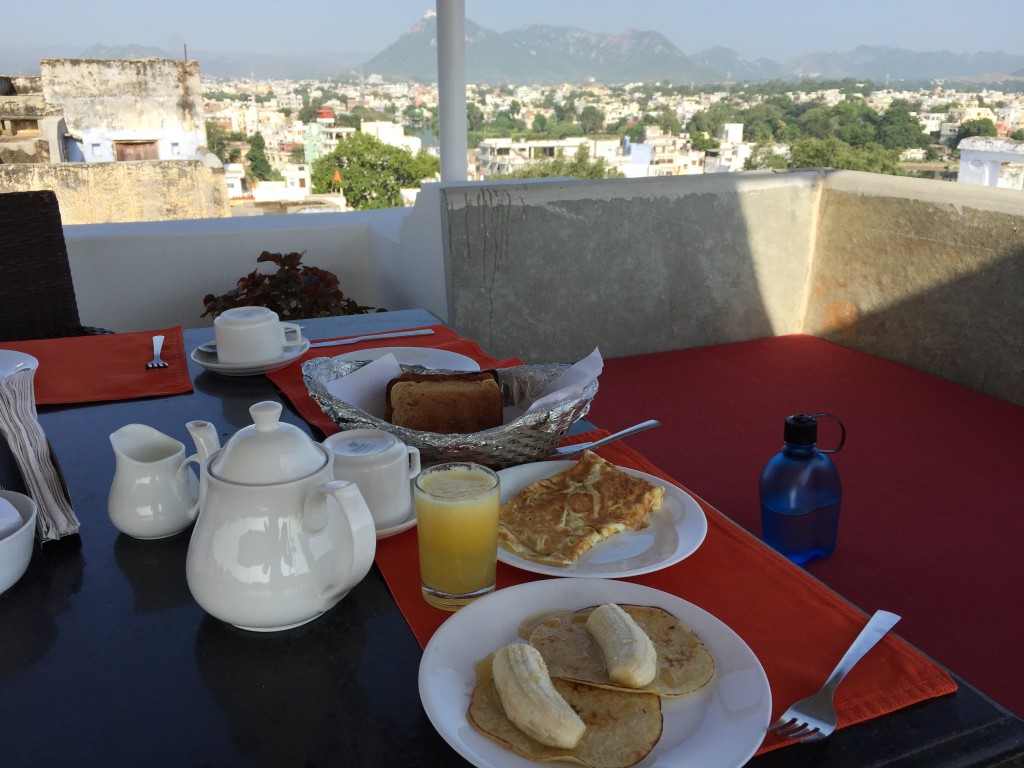 Breakfast with a view at Madri Haveli
Ayurvedic Massage
I spent the day having my first Ayurvedic massage, meandering the Udaipur streets and lap-topping atop my glorious shaded rooftop. Struggling to find the place listed in Lonely Planet and overwhelmed by the plenitude of choices, I decided to go with a place in the Lal Ghat area. This is where I was sold on having a massage provided by a woman.
Loving a good massage and having experienced some of the best throughout my travels but never an Indian Ayurvedic treatment, I was curious. Throughout my hour of being gently massaged, I was curious if this woman's work was indeed a good sampling of Ayurvedic massage. Because if so, I was going to exchange my rupees for bahts and head to Thailand!
Thankfully, the guy who ran this questionable operation, wanted a genuine debrief. He has also offered earlier to return my money if I wasn't satisfied. Dissatisfied though I was, I didn't intend to ask for a refund. We spoke at length about Ayurvedic massage and I much more enjoyed the next half hour of treatment he gave me.
Moral of the story is to make sure you go to a reputable place. Especially if having a woman is important for you. It became clear to me that this woman had no idea what she was doing.
Overall, it was a restful day in charming, well-touristed Udaipur, the City of Lakes. I loved hearing the sounds of the Krishna celebrations and staring out at those beautiful hills.
Thank you, India Someday.
Thank you, You Wander We Pay.
Namaste.
If you're looking for experiencing royalty in India but don't know where to start planning, get in touch!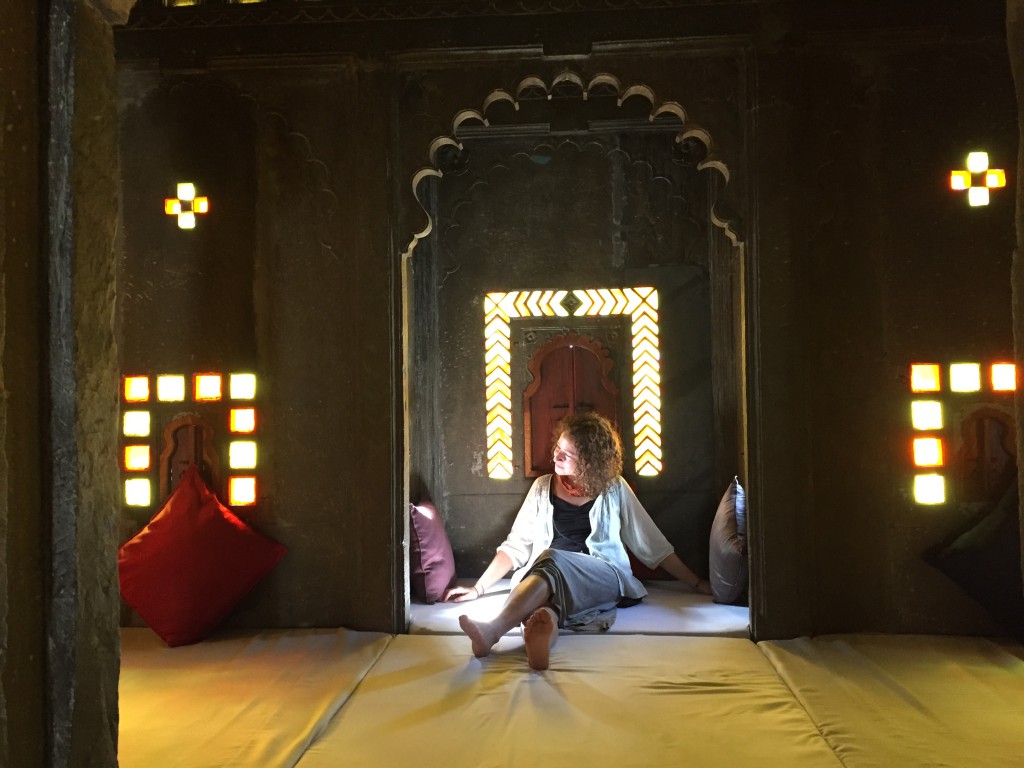 Lounge area in Madri Haveli
helping you travel your way
Everything you need to know about India is here We have tried writing about everything you may need help with for your trip to India, If you need help in planning a trip to India Get in touch with us to to plan your trip of a life time.