Cool Stays That Are Leading The Change Towards Responsible Travel In India 
Picking the right places to stay plays a large role in traveling responsibly. In India, there aren't really too many rules and regulations in place to further the cause. However, there are some great hotels that are taking on the challenge, and paving the way towards more responsible travel.
The ways they do it are manifold. Because everything, from sourcing local to harvesting rainwater. To working with the community and paying attention to sustainable and eco-forward construction. And, also using architectural methods.
Here are some unique stays that are making it easier to be a responsible traveller in India
If you would like to plan a responsible trip to India. And, to have a lot of local experiences tailored just for you. Get in touch with us now so that we can help you plan your personalized responsible trip to India.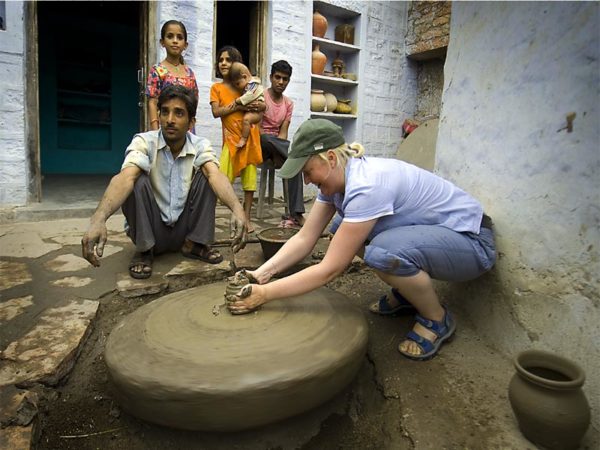 Pottery making in Chandelao Village (Photo Credit – Chandelao Garh)
Apni Dhani Eco-Lodge Nawalgarh
This charming little hotel in the heart of Rajasthan's Shekhawati region. It sure punches above its weight when it comes to being ecologically responsible! They aren't just paying lip service when they call themselves an 'eco-lodge'. Renewable energy sources, locally-sourced building and decoration material, and an organic vegetable garden are all part of the program.
An NGO does the sourcing of hand-made paper which is produced from waste textile fibres. This is what they use to make their printed material. The staff is well-versed in ecologically forward practices. And they guide guests on how to be a more responsible traveller.
In fact, Apni Dhani also opens its doors to locals who want to learn more about sustainability and renewable energy! On top of all of that, it's an absolutely great place to stay.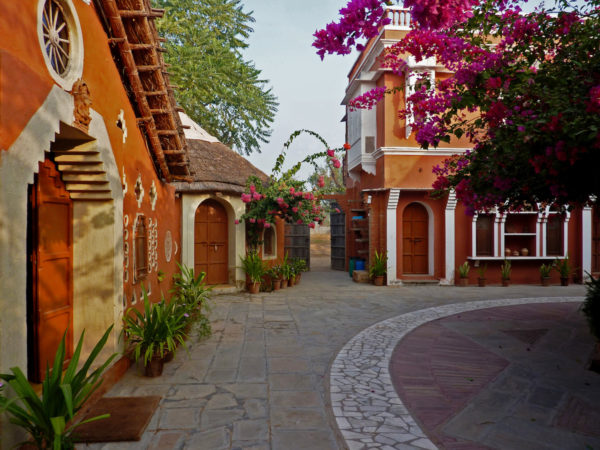 Eco-friendly accommodation – Fair and responsible tourist in Shekhawati Rajasthan (Photo Credit – Apani Dhani Eco Lodge)
Chhotaram Prajapat's Homestay, Jodhpur
This homestay is in the village of Salawas, which is on the fringes of Jodhpur city. It embraces the traditional Rajasthani way of life in all aspects and is quite eco friendly. You stay in huts that are made following age-old practices from the region. They trap the heat in the winters and stay cool through the harsh summer months.
The meals consist of Rajasthani delicacies, using ingredients commonly found and consumed in the region for its preparation. There's an emphasis in all their excursions on being sensitive and aware. The owners offer safaris and treks to the areas surrounding the homestays. Ensuring that there are no negative impacts on the environment or the communities that are visited.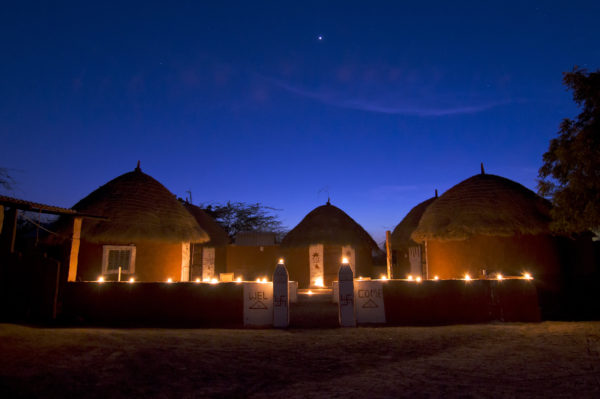 Archaic lifestyle of the dwellers (Photo Credit – Chhotaram Prajapat's Homestay)
Chandelao Garh, Jodhpur
Chandelao Garh is the place to go to experience a slice of life in a Rajasthani village. It is located about 40 kms outside Jodhpur. This ancestral home in Chandelao village embraces the traditional way of life. The hotel is well-appointed and comfortable. But don't expect to veg out in front of a TV all day!
Chandelao Garh runs Sunder Rang. This is a project that aims to create a sustainable income source for the women of the village. Accordingly, it also supports local crafts. The women create high-quality textiles and handicrafts using traditional Rajasthani techniques and patterns. They use this in clothing and accessories, home décor and knick-knacks. All these are displayed in the 'Jhopadi' which is a hut.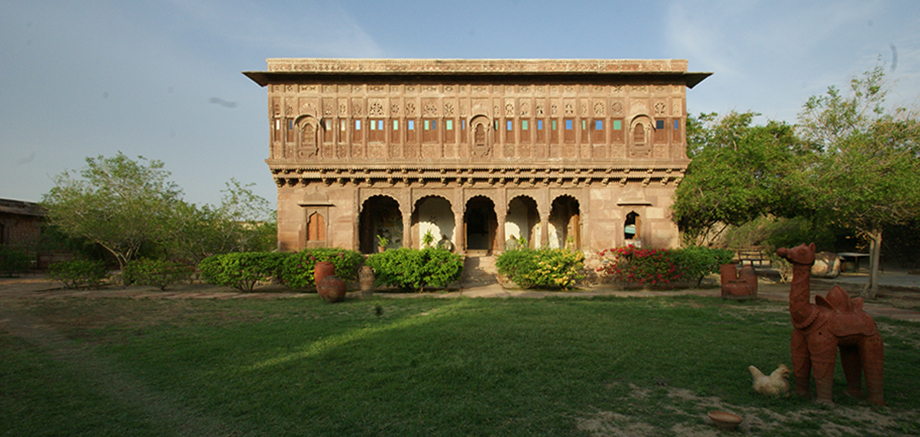 A royal ancestral home is a great eco stay and perfect for travelling responsibly
Bamboo Retreat Gangtok
The International Ecotourism Society defines ecotourism as "Responsible travel to natural areas, which conserves the environment and sustains the well-being of local people". This is what the folks behind Bamboo Retreat also strive for. Accordingly, they segregate and recycle all their waste. They also compost the organic waste for use in the organic garden.
Their main focus is to use renewable and eco-friendly resources. You can also see this in their décor as well. They try and source locally as much as they can. The 12 rooms here are designed keeping Feng-Shui's directives in mind and all are also colour-themed. Their staff is extremely warm and is regularly trained on best practices. The Bamboo Retreat runs workshops for both locals and interested visitors.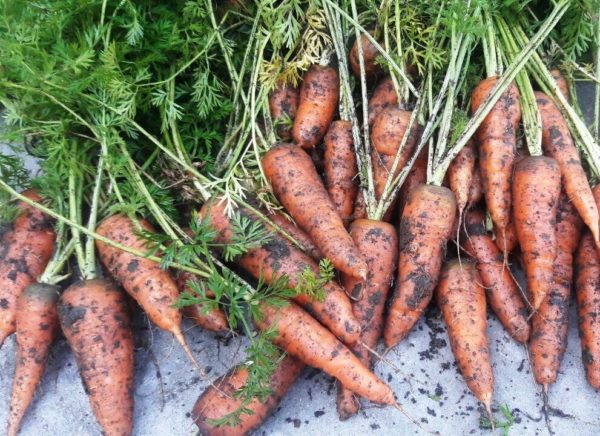 Permaculture Gardening (Photo Credit – Bamboo Retreat)
Coconut Lagoon Kumarakom
It's refreshing to see larger resorts embracing responsible tourism, and Coconut Lagoon does it wholeheartedly. Coconut Lagoon is a part of the CGH Earth chain of hotels. For construction, they use material from dismantled homes in the surrounding villages. This is a way of preserving this ancient school of thought.
In order to provide sustainable employment, they always put jobs opportunities first in the local communities. And, they do their bit on the environmental front, too. They're always finding inventive ways to reuse any plastic waste generated. And, they also compost the wet waste.
Coconut Lagoon even rears Vechoor cows, a rare breed that's in threat of dying out. You can often see them wandering and feeding on the lush green grassy lawns!
Experience the culture of the Kerala Backwaters (Photo Credit – Coconut Lagoon)
Dune Eco Village & Spa, Pondicherry
This sprawling resort embraces both organic living and holistic well-being. It is located along the beach outside Pondicherry. The focus is on an alternative approach to life. "Eating healthy and feeding your mind as well".
Apart from standard rooms, you will find a range of eco-bungalows, constructed of casuarina trees with coconut palm leaf roofs. There's an impressive 7-acre organic farm onsite. This is where all the fresh ingredients that make it into the meals are sourced. Even the flowers that decorate your rooms are grown here.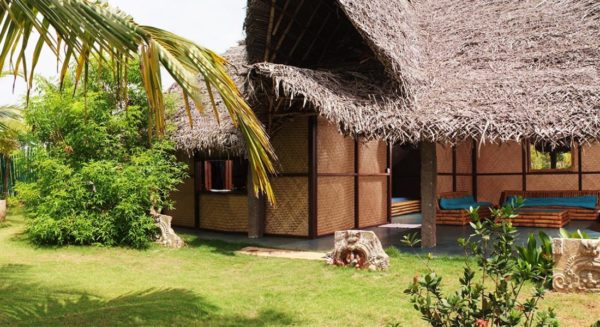 Eco bungalows using Casuarina trees and weaved coconut palm leaf roofs (Photo Credit – Dune Eco Village & Spa, Pondicherry)
We hope you enjoyed reading our blog on responsible travel in India and if you like our list? Or if it makes you want to stay at these properties, Get in touch with us now to plan your responsible trip to India.
helping you travel your way
Everything you need to know about India is here We have tried writing about everything you may need help with for your trip to India, If you need help in planning a trip to India Get in touch with us to to plan your trip of a life time.