Weather of Ladakh in June
Is June a good time to visit Ladakh? Even though April marks the onset of the summer season across most places in India, the summer season in Ladakh starts as late as June. The weather of Ladakh in June is pleasant, and on most days delightful, as opposed to the harsh winters. During the day the skies are clear and the sun shines brightly with the temperatures rising to approximately 12°C. However, by evening there's a significant drop in temperatures and it gets as cold as -1°C. Summers in Ladakh are nothing like the rest of the country, so be sure to pack a few warm clothes for the day and layers of clothes to keep you warm and cosy at night. Before planning your next trip to this spectacular region, here's a quick overview of the weather in Ladakh in June.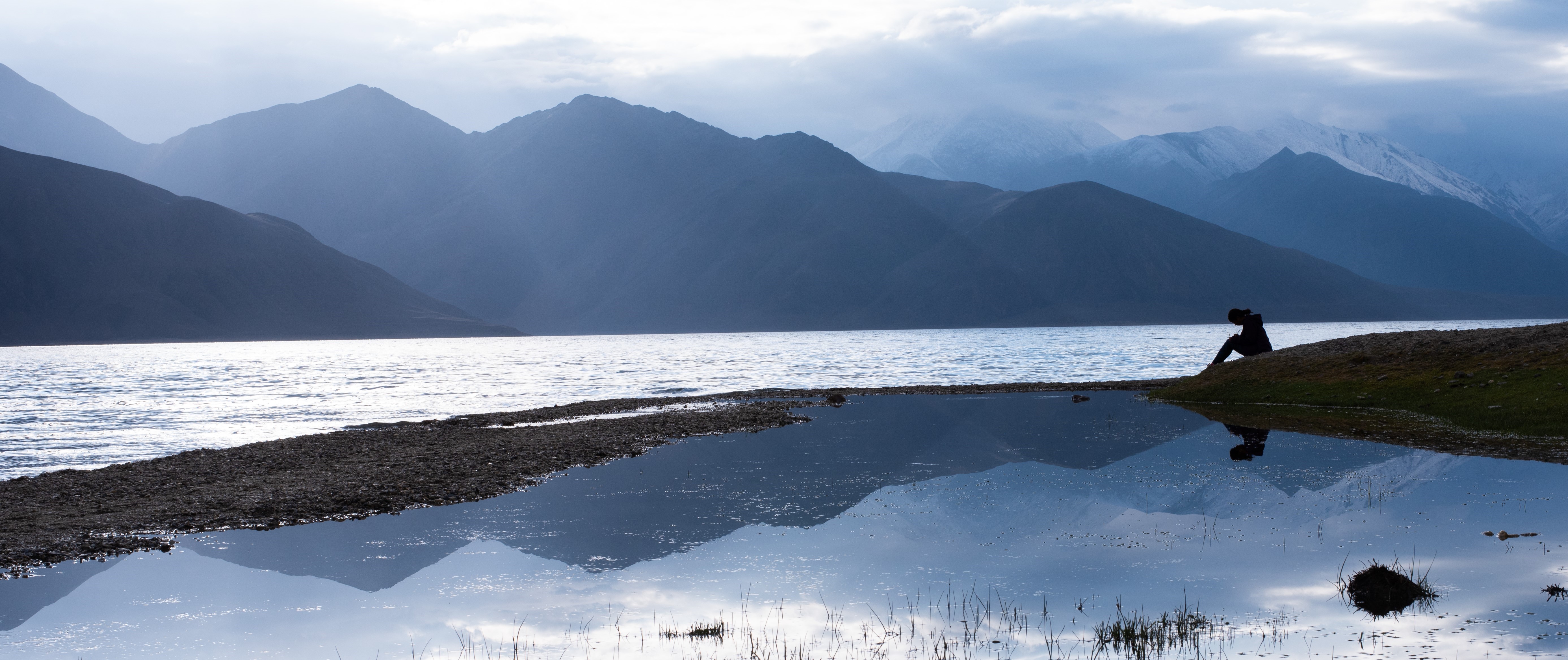 A panoramic image of Lake Pangong Tso on an early morning, in June.
Travelling to Ladakh In June
The awe-inspiring landscapes of Ladakh, a gem that adorns the northernmost tip of India, is what makes Ladakh a "must-visit" on every Indian's bucket list. This union territory is rich in culture, brimming with spectacular sights, from tourist hotspots to the lesser known, hidden jewels.The topography includes majestic snow clad mountains, mesmerizing lakes & rivers, glaciers and cold deserts. And even though the sheer beauty is reason enough to travel to Ladakh, there's a lot more to the region. The strong influence of Buddhism and Tibetan culture, add to the captivating charm of this tourist destination.
One key highlight that makes Ladakh popular, is the wide variety of things to do and places to visit here. From trekking trails to picturesque landscapes, from age-old monuments to buddhist monasteries, it caters to all kinds of travellers. Whether you're a thrill seeker or nature lover, photographer or history and architecture enthusiast, you're bound to fall in love with this place.
June is undoubtedly the best time of the year to visit Ladakh. Besides the ideal weather of Ladakh in June, and access to popular tourist attractions, you can also particip[ate in cultural festivals, usually celebrated in the month of June. This includes festivals like Saka Dawa, Sindhu Darshan, Yuru Kabgyat, Hemios Teschu, Shachukul Kabgyat, Stongde Gustor. The dates for some of these festivals vary every year according to the tibetan calendar, however, this year they fall in the month of June making it the best time to plan your trip to Ladakh. The festivals are an insight into understanding the culture and traditional rituals observed by the locals of the region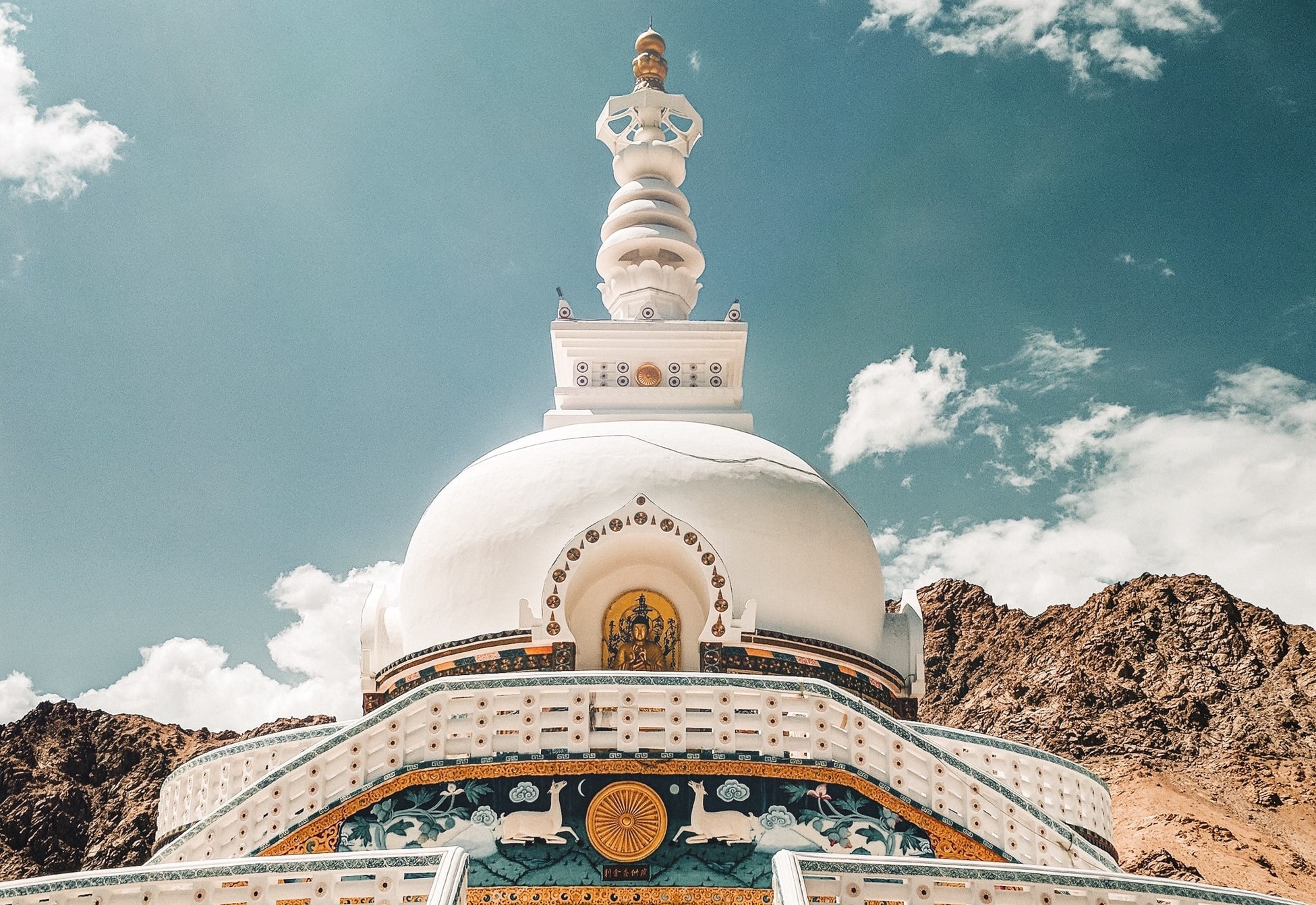 Clear blue skies on an early morning at Shanti Stupa in Ladakh. (Photo Credits: Sankalp-Sharma_Unsplash)
How to reach Ladakh – Air, rail or road
By Air
Travelling to Ladakh by flight is the most convenient and time-saving option. The main airport is in Leh – The Leh Kushok Bakula Rimpochee Airport, and one can easily get to their destination, by taxi, from the airport. This airport is very well connected to all the major cities like Mumbai, Delhi, Bangalore and Kolkata. However, if you're flying in from any other city, you may have to opt for a connecting flight or settle for a flight with a layover.
By Road
A road trip to Ladakh is one of the beautiful experiences, with picturesque views and abundant, unmatched beauty. The main entry points, for travelling to Ladakh by road, are from Srinagar, Manali and Chandigarh. However, the Manali-Leh road is one of the best ways to reach Ladakh. One can easily travel to Manali from various cities via the National Highway. Biking enthusiasts consider this journey to be an adventure of a lifetime. A bike ride to Ladakh in the month of June is one experience that's on every biker's bucket list. The weather along with the scenic route are ideal for a road trip to Leh in the month of June. The higher altitude roads that are inaccessible due to snow in the months between December to May, open up by June. Tip: Always check the status of the roads while planning your trip.
By Rail
The closest Railway station to Ladakh is Jammu Tawi (700kms away), which is connected to the metropolitan cities of – Delhi, Kolkata, Mumbai. However, a taxi from here costs over INR 8,000 and the journey takes 2 whole days. This is the least preferable mode of transport when it comes to travelling to Ladakh.
By Bus
Buses are also functional in Ladakh. One can take a bus from Delhi to Ladakh (started in 2017) and the journey takes approximately 24 hours to complete. There are a few buses from Srinagar and Manali as well and most of these bus routes are accessible from the month of June, making it a feasible alternative to travel to Ladakh. It is ideal for backpackers looking to travel on a budget and have enough time to spare for the journey.
Must read: Coralie's trip to Jammu & Kashmir and Leh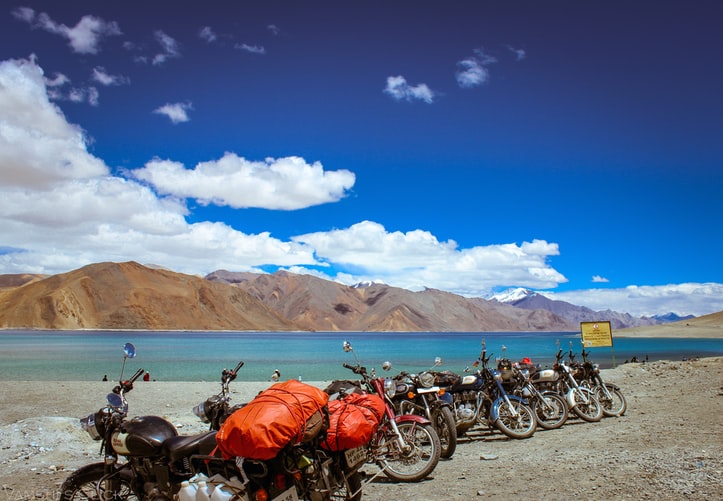 A bike trip to Ladakh is an adventure of a lifetime. It is one experience that tops every riders bucket lsit. (Photo Credits: Thomas_Somme-Unsplash)
weather of Ladakh in June – detailed guide
The weather in Ladakh in June is ideal for those looking to explore the region, including popular tourist spots. Though the temperatures are relatively low in June, most internal roads are accessible and the highways leading to the union territory are also clear of snow. It is the perfect time to indulge in adventure activities like rafting & kayaking in the Indus River. Valleys, meadows, passes, and lakes that remain covered by a thick blanket of snow, throughout the year, are finally visible in June. Thus allowing tourists to visit popular tourist attractions in this part of the region. One can also participate in a number of exciting tourist activities like trekking, camping, stargazing, during this time of the year when the weather conditions are not too harsh.
If you plan on travelling to Ladakh by road then June is the best time of the year as the Manali – Leh highway is functional during this time and if not, you can always use the Srinagar – Leh highway that is also operational this time of the year. Be sure to check the status of the roads before starting your trip in order to be well prepared.
Hotels, guest houses, restaurants, hostels are all functional during this time. Local taxis are also easily accessible for transportation within the region. One of the primary advantages of travelling to Ladakh in June is that everything is open and within your reach. You may miss out on experiencing snowfall, but the spectacular sights and the heavenly experience make up for it.
Must read: Best Yoga & Ayurveda Resorts in India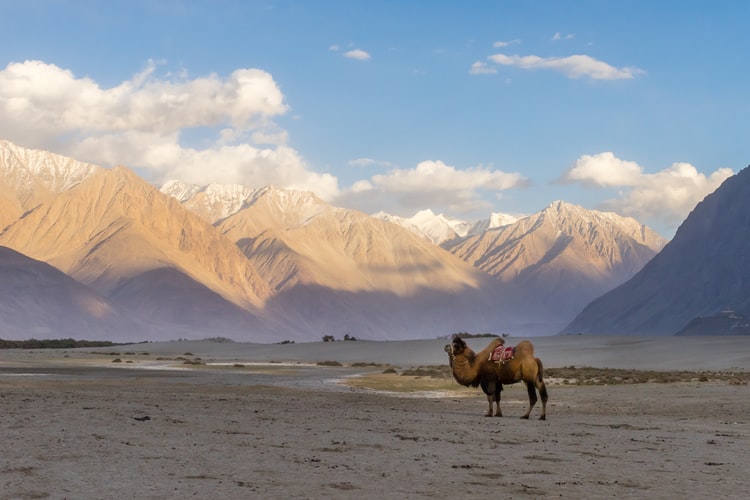 The rare Bactrian (double humped) camel at Nubra Valley.
Best Places To Visit in Ladakh
The number one advantage of travelling to Ladakh in June is that all the routes here are open. One can easily access travel routes leading to the best places to visit in Ladakh. Here's a list of some of the top tourist destinations in the region to visit in the month of June.
Nubra Valley: Known for its orchards, mesmerizing landscapes, monastaries and Bactrian camels, Nubra Valley is one place you cannot afford to miss. It was originally called Ldumra which meant the valley of flowers. Nubra valley has several campsites that cater to all kinds of travellers, from backpackers to luxury travellers. It is one of the many popular spots for stargazing in Ladakh, so be sure to spend a night here under a blanket of stars.
Zanskar Valley: Zanskar Valley is undoubtedly one of the most beautiful places to visit in Ladakh. The ice cold water of this river is also one of the most popular places for river rafting in India. The best time to visit Zanskar is from June – September as it closes down due to extreme winter conditions and snowfall for several months. If you're a trekking enthusiast, the chadar trek along Zanskar ought to be on your trekking bucket list. However, the trek is only possible in January when the blanket of snow on the river is thick enough to walk on.
Thiksey Monastery: Thiskey Gompa is the most beautiful and also the largest monastery in Ladakh. The 12 story complex is home to 500 monks. Set at an altittude of 11,800 ft. this is one of the few monasteries in Ladakh that allows tourists to stay.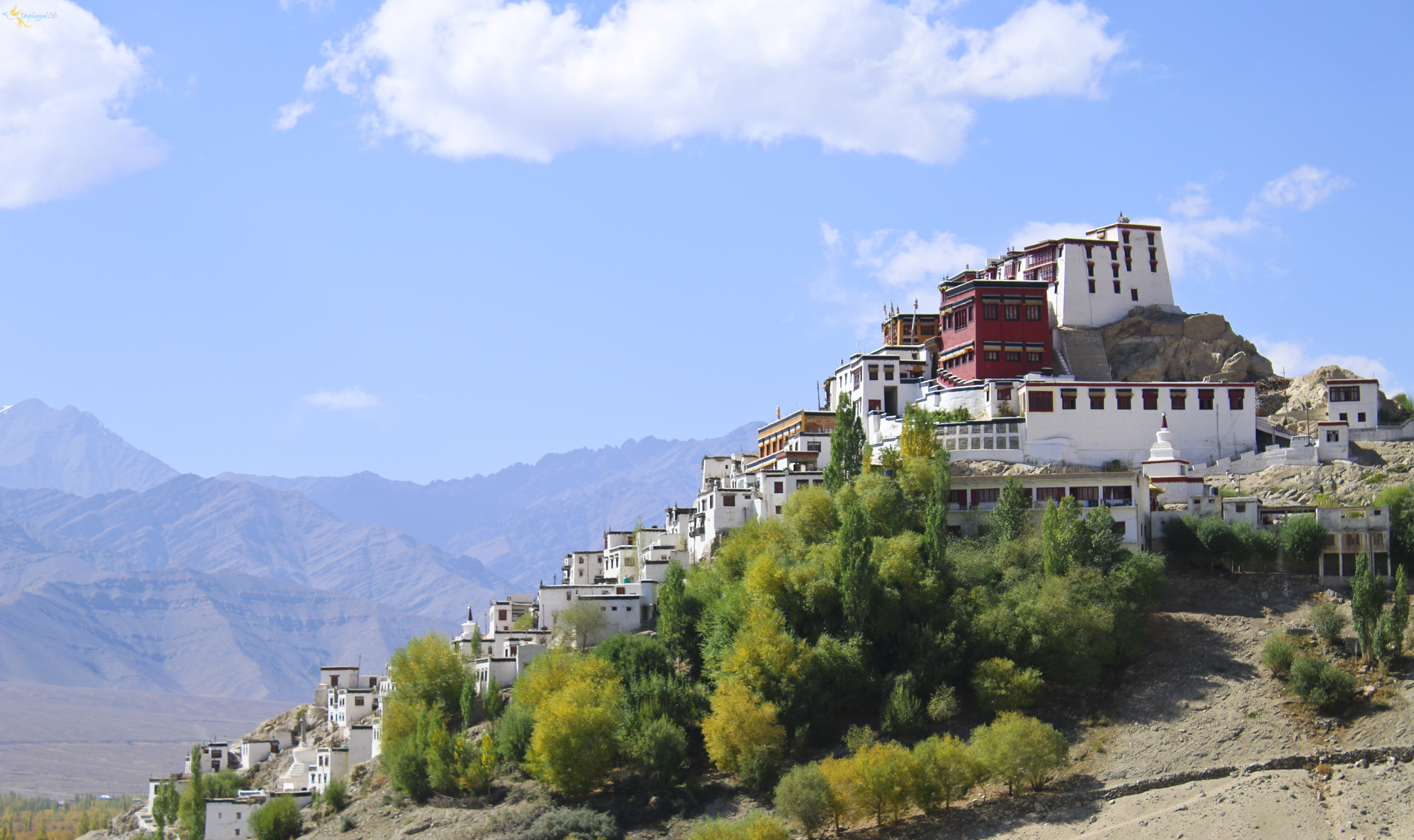 The breathtakingly beautiful architecture of Thiskey Monastery is one of the many highlights that make it a popular tourist destination.
Leh Market: This is an ancient market dated back to the 15th century and is now a major tourist attraction. If you love shopping for local handicrafts or need to buy souvenirs, then this is just the place to visit.
Shanti Stupa: Set on a hill in Chanspa, shanti stupa is one of the most spectacular Buddhist monuments. Being here is a peaceful, spiritual experience that will leave your mind and soul feeling rejuvenated. The beautiful white domed structure was built by the Japanese. For the best view and insta-worthy photographs visit the stupa at sunrise or sunset and witness the panoramic landscapes of Ladakh from the top of the stupa.
Stok Palace: Built by King Tsespal Tondup Namgyal in 1825, the architecture of this palace is a perfect mix of the traditional and the contemporary tibetan architectural styles. Situated in Stok Village, Stok Palace is known for being the summer house of Ladakh's Royal family. It is now a reknowned boutique, heritage hotel open to tourists.
Must read: Travel Routes to explore India in 4 weeks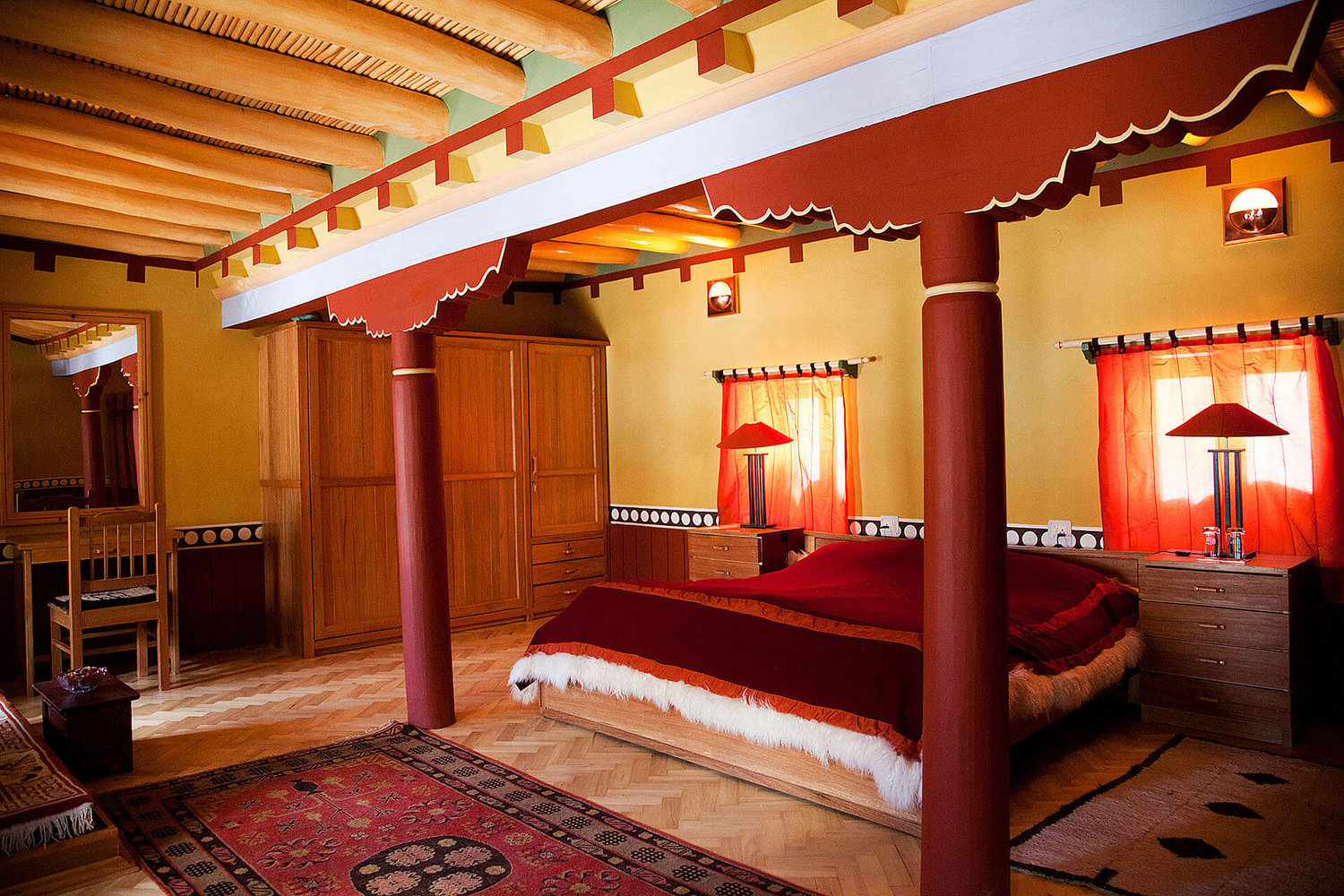 The royal interiors of Stok Palace Heritage Hotel.
Things to pack while travelling to Ladakh in june
June is a month when the mornings are bright, little warmth can be felt and as the sun settles it starts getting colder. It's very important to keep this weather situation in mind and then pack things for the trip. It is also expected to rain for 15-22 days in Ladakh in June this year. So carrying inner thermals, waterproof jacket, light woollens, a fleece jacket or windcheater jacket, then regular cotton clothes, sports shoes, trekking pants, trekking shoes, socks, woollen caps, scarves, light hand gloves, sunglasses, sunscreen, boots, and required medicines.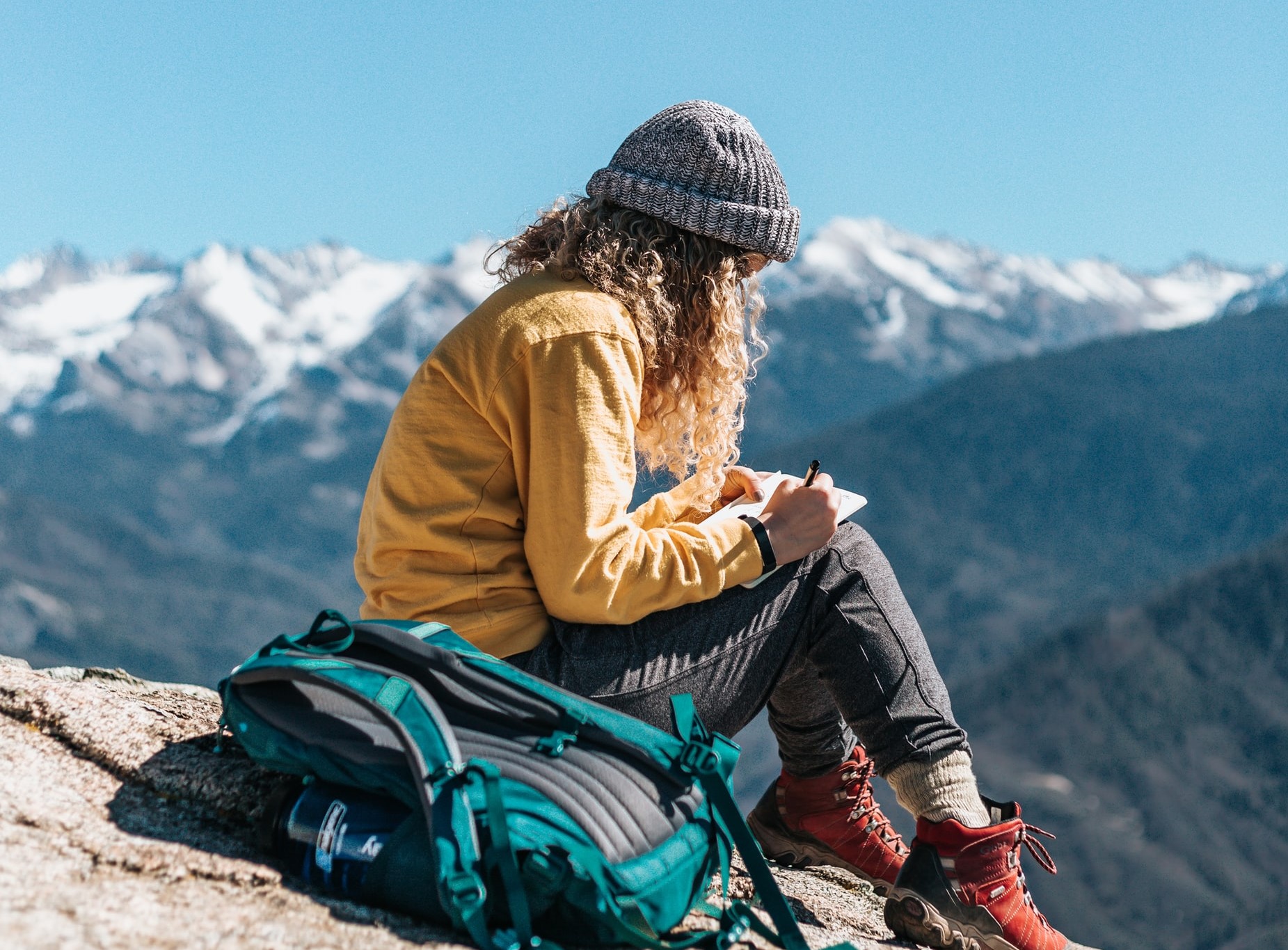 Pack a few light layers and jackets to keep warm while travelling to Ladakh in June. (Photo Credits: Tyler_Nix-Unsplash)
Travelling to Ladakh in June is also light on the pockets. The cost of accommodation, transport, and activities among other othings, is relatively less expensive. Thus making it the perfect time to travel to this region.
We could all use a break from time to time to simply rest and refresh. A break where we have the opportunity to connect with nature and rekindle your relationship with your surroundings. It is an opportunity to be fully aware of the moment and to be in the present.The unique, well preserved and unmatched beauty of the region makes for a tranquil experience. A sheer treat to the eyes and a window to the soul that brings complete peace and joy. Planning a trip to Ladakh? Irrespective of the time of year, get in touch with us. We'll help you plan the perfect getaway while taking into consideration all your needs and preferences.
helping you travel your way
Everything you need to know about India is here We have tried writing about everything you may need help with for your trip to India, If you need help in planning a trip to India Get in touch with us to to plan your trip of a life time.