15 Things to do in Manali for your holiday in 2021
"It is always the same with mountains. Once you have lived with them for any length of time, you belong to them. There is no escape." – Ruskin Bond. Surrounded by snow-capped mountains, Manali is one of the most popular hill stations in India. This tourist town is the ideal place to de-stress, with mesmerizing views of abundant natural beauty. From adventure activities like camping, trekking, skiing and rafting to simply relaxing in peace and solace, you can never run out of things to do in Manali.
If you're travelling to Himachal Pradesh, Manali ought to make it to your list of the best places to visit in Himachal Pradesh. Here's our travel guide for exploring the best of Manali. A list of the best places to visit, and top things to do in Manali.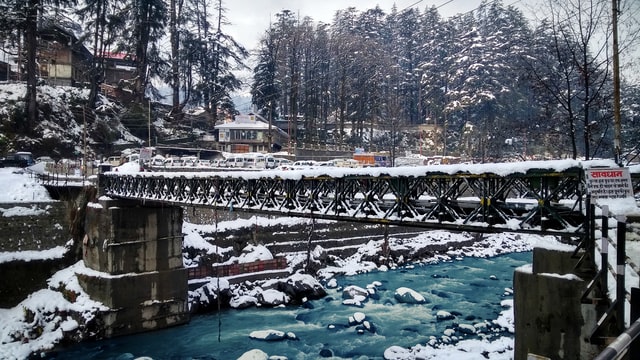 The old iron bridge that separates old Manali from new – (photo credit: Dhaval-trambadiya)
Top Things to do in Manali
WATER RAFTING IN RIVER BEAS
Travellers flock to Rishikesh for Whitewater rafting, however, Manali is an equally good destination for rafting. Beas river is the most popular spot river rafting in Manali with rapids of different difficulty levels. The 20 km long stretch from Manaki to Jhiri, near Bajaura, is among the best stretches for rafting in India. With icy cold water flowing in from Rohtang, thrill-seekers and adventure enthusiasts are in for a treat.
As for picking the right vendor, there are multiple local rafting and adventure tour operators who organize the rafting trip along with providing all necessary equipment. If you're unsure about which agent to pick, simply get in touch with us. We'll help arrange all your adventure activities in Manali, through trusted vendors, at the best possible rates.
BEST TIME OF THE YEAR: April to July & November to February; COST: 800-3000 per person (depending on the stretch)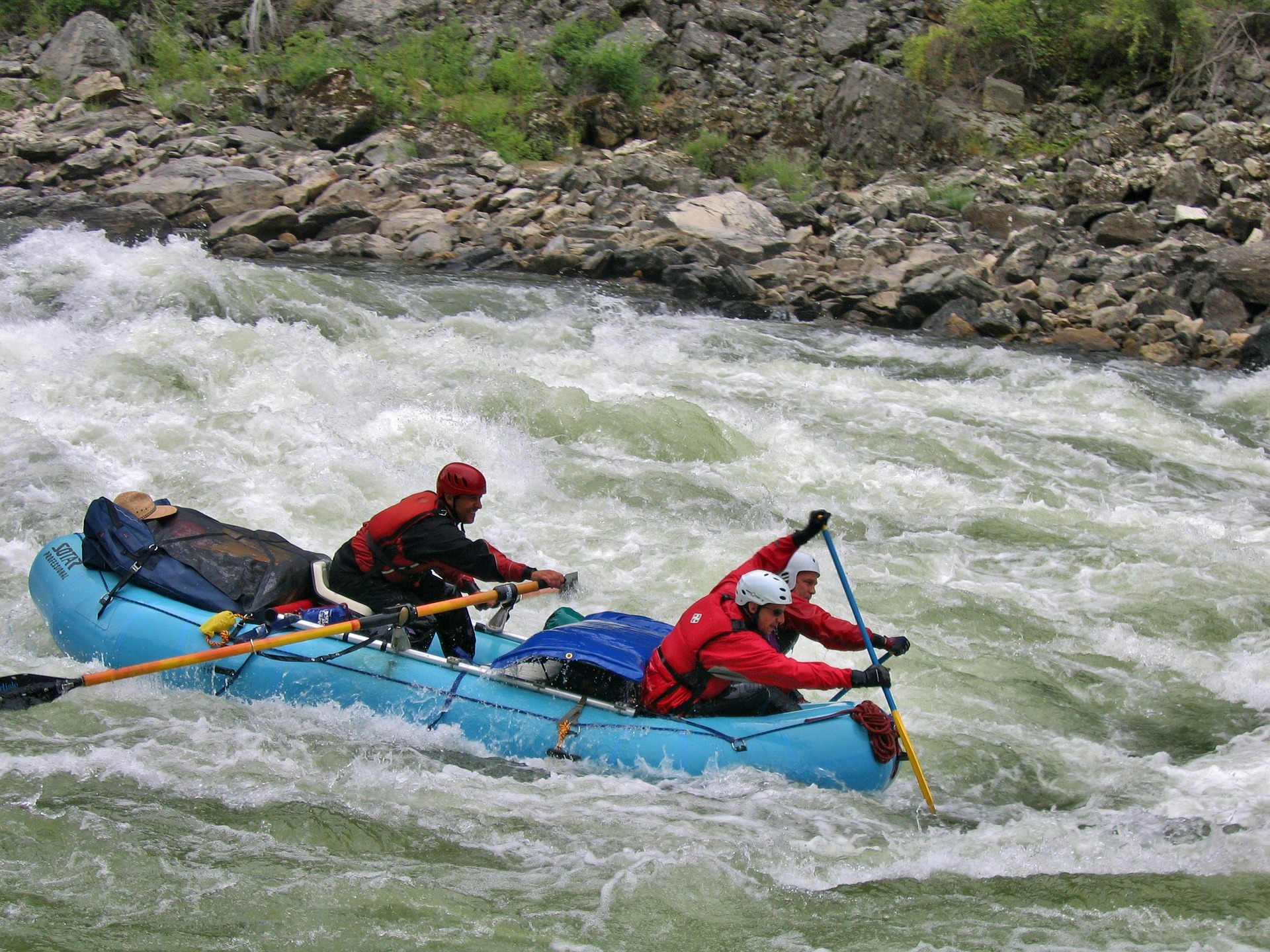 Whitewater rafting in River Beas, an adventure of a lifetime. – (Photo credit: Pixabay)
Seek Blessings at Hadimba Temple
VISITING HOURS: 08:00 to 18:00 hours, ESTIMATED TIME: 1 – 2 hours, COST: Free
Located amidst the Dhungiri Van Vihar forests, the Hadimba temple is popularly referred to as the Dhungri temple by locals. The temple is of great importance to Hindu pilgrims, as it is dedicated to Hidimba Devi, the wife of Bhima who was one of the 5 brothers, in the Indian epic Mahabharata (mythological epic).
It was built in the 15th century around a cave where, it is believed that, the Goddess meditated. However, the temple has no idol, but instead, only a stone with a footprint of the Goddess. The splendid architecture, wooden doorways, mud walls, miniature paintings of the Goddess, and the fascinating structure add to the charm of this place of worship. Set in the midst of lush green forests and sheer tranquility, this place is a must visit. Enjoy a few moments of silence while meditating by the temple and feel the spiritual vibrations in the calm and silent atmosphere.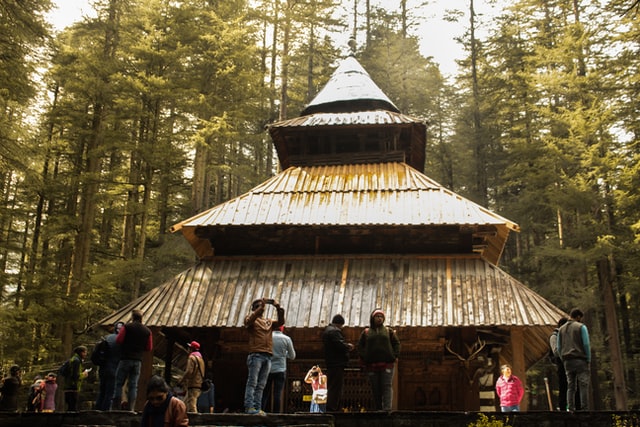 Hadimba temple which gained popularity after 'Yeh Jawani Hai Diwani' movie- (Photo credit: tishank-choudhary)
A TASTE of OLD Manali
Nothing like the tourist packed Mall road and main Manali market, Old Manali has a charm of it's own. A paradise for backpackers, shop till you drop in this quaint town and don't forget to brush up your bargaining skills. Old Manali is the perfect place to experience the city's vibrant nightlife. You can either walk or rent a two-wheeler to make your way through the narrow lanes. Be sure to go here in the evening just before sun sets, to grab a hearty meal at one of the many cafes after exploring the town. This beautiful area of Manali is home to few of the many ancient temples like Hadimba and Manu temple.
ESTIMATED TIME: 3-4 hours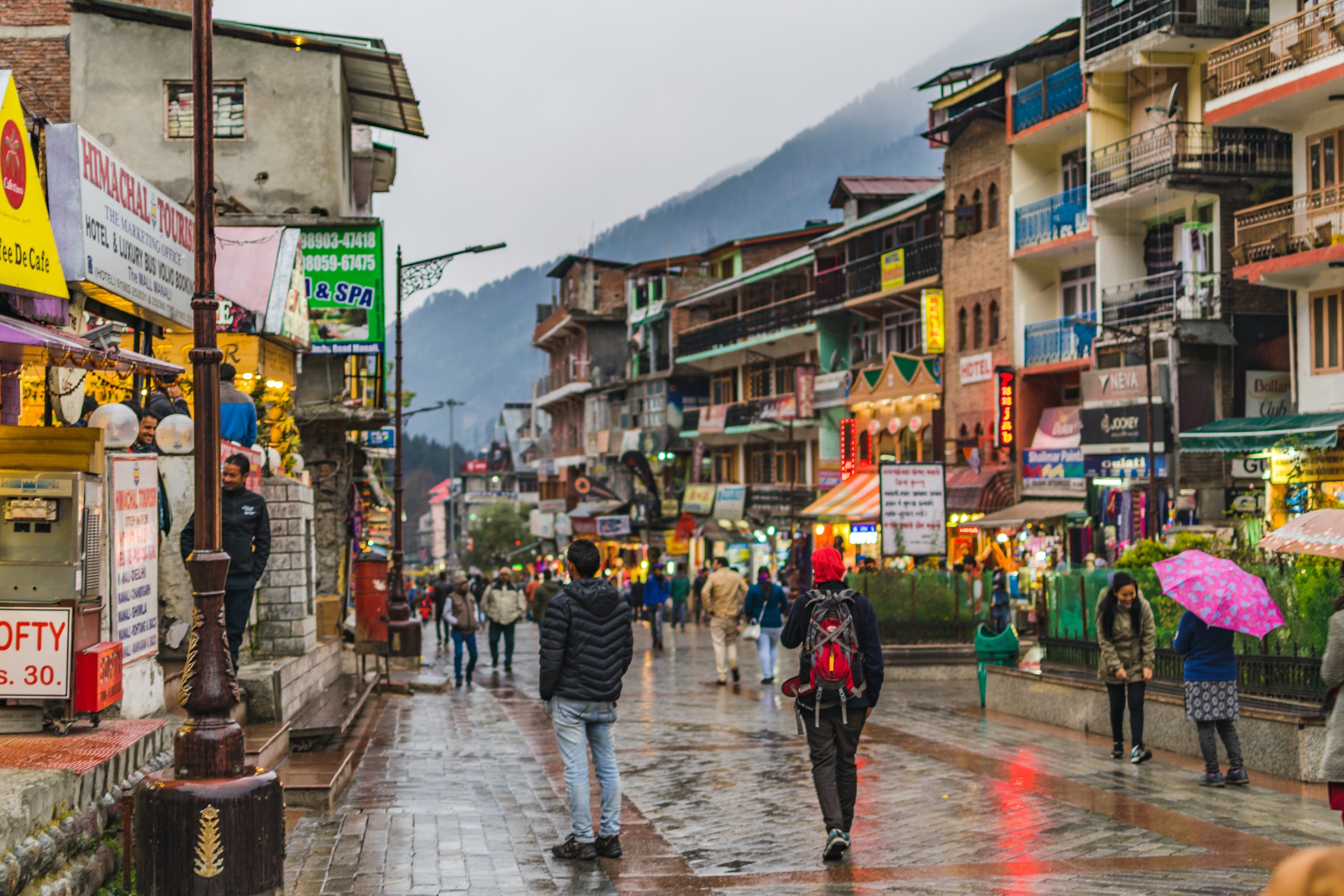 Walking through mall road – (photo credit)vishal-bhutani
A HeAVEN FOR THRILL-SEEKERS
Owning to the vast meadows and hilly terrain, adventure activities ought to top your list of things to do in Manali. There are ample destinations for tourists to indulge in adventure sports like rafting, paragliding and trekking. However, Solang valley is definitely one of the best spots for adventure sports in Manali. In the summers, you can enjoy activities like paragliding, water rafting and zorbing. The visibility is better during the months between March-June for paragliding, and snowfall is not a safety hazard. The cost for paragliding ranges from INR 500-1,000 to INR 2,000-5,000 depending on the duration and season. Another exciting activity here is Zorbing. The cost for zorbing is approximately INR 500 but may vary depending on the season. Zorbing lasts for 5-10 minutes and the instructor usually guides the client downhill.
The winters present the opportunity for an entirely different range of things to do in Manali. Solang valley is covered in a blanket of snow and is ideal for winter sports. Adventure activities like snowboarding, quad biking, and skiing can best be enjoyed in the months between December-February.
ESTIMATED TIME: 3-4 hours; BEST TIME TO VISIT: Summers: March-June, Winters: November-February.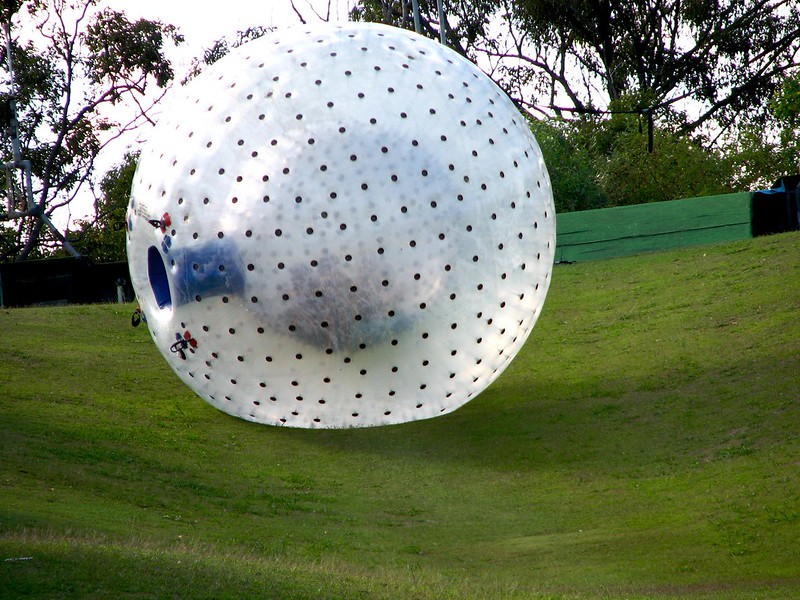 Zorbing in Solang Valley, Manali – (Photo credits: Corey_Butler)
Spiritual healing at the Manali Gompa
Built-in 1960 by Tibetian refugees, The Gadhan Thekchhokling Gompa Monastery is a popular Buddhist religious centre. It is also one of Manali's main tourist attractions. The monks at Gompa monastery preach non-violence and peace and welcome tourists from all over, to meditate with them.
Besides the spiritual vibrations and the tranquil atmosphere, the most striking feature of this monastery is the yellow pagoda-style roof and paintings depicting Buddhist ideologies. Be sure to add this to your list of things to do in Manali, as being here will make you feel at peace and also give you a glimpse of the Buddhist and Tibetian culture.
VISITING HOURS: 06:00 to 20:30 hours, ESTIMATED TIME: 1 – 2 hours, COST: Free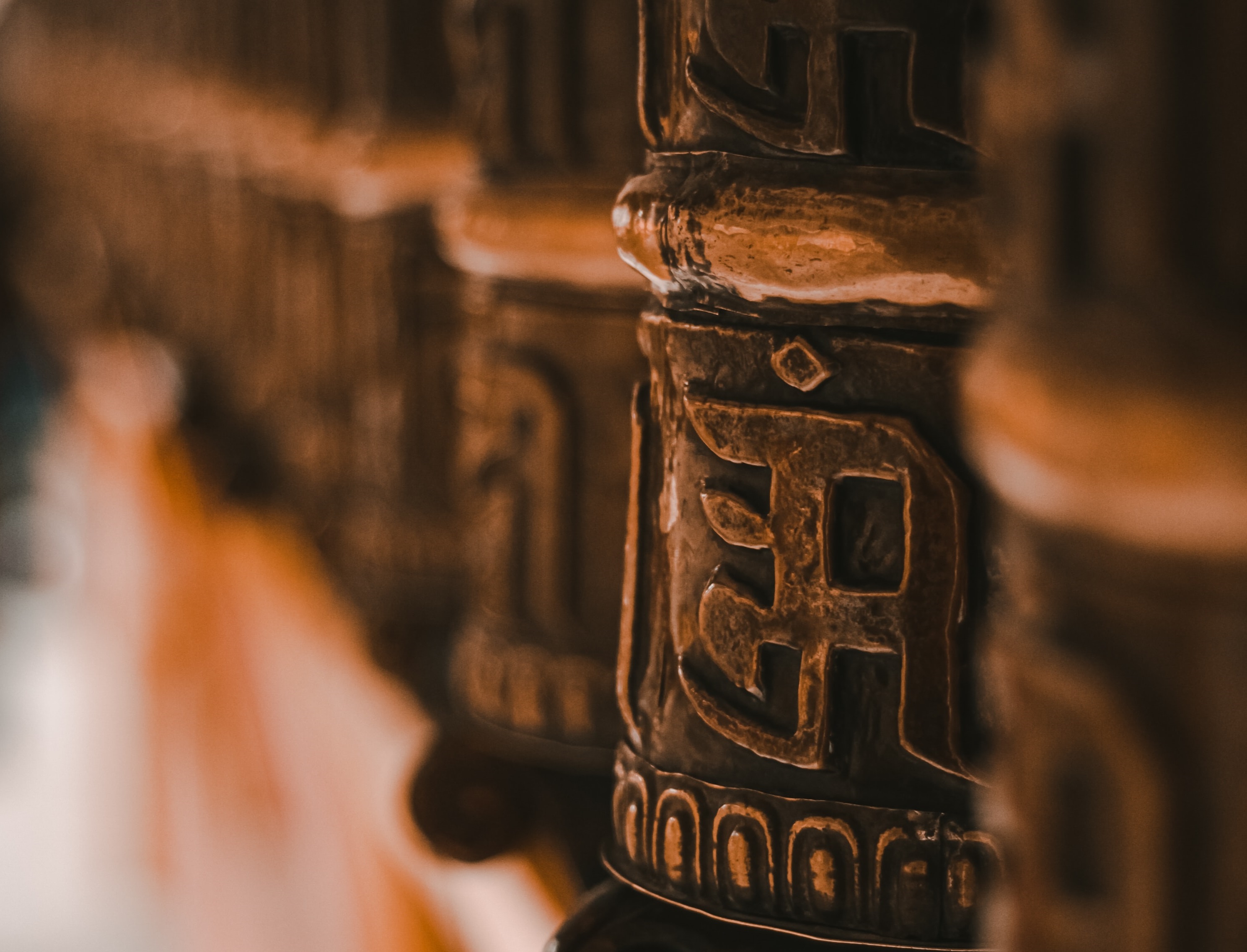 The sacred Buddhist prayer wheel at the Monastery – (photo credit: ayaneshu-bhardwaj)
Rohtang Pass SNOW POINT for the adrenaline junkies
Visited by thousands of tourists every year, the Rohtang pass ought to make it to your itinerary of the best places to visit in Manali. This pass is 52 km from the main town and the drive as well as the scenic beauty that awaits you makes it worth your while. For an adrenaline rush, ride your bike or an ATV through the Rohtang pass. The pass separates the Kullu valley from the Spiti valley, with Hindu culture predominant on one side and Buddhist culture on the other.
At the snow point, you can indulge in activities like skiing, sledging, snowboarding and quad biking. Camping in these snow points is a unique experience too. So buckle up and get ready to witness the beauty of the Himalayan range at its best. The stunning sight in the winters is sure to take your breath away. To arrange for camping and trekking make prior bookings with a local vendor and get in touch with us.
VISITING HOURS: Open only from May to November; ESTIMATED TIME: 5 – 6 hours, COST: Depending on each Activity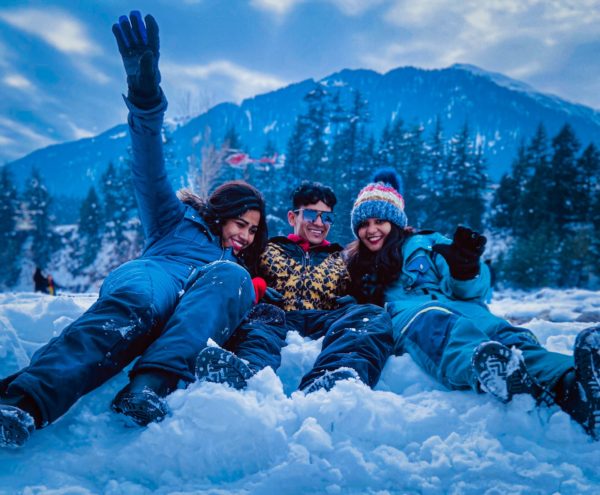 The joy of playing in the snow -(photo credit: Vishy Kathediya)
Shopping at the right places
If you like shopping and have the skill to negotiate the right price for the desired products, the market on Mall road is the right place for you. There are more markets to explore in Manali, each having it's own charm. Manu market near Mall road is the best for books to clothing, footwear, small appliances etc. .
Himachal Emporium, Tibetan market and Bhuttico are recommended to buy the winter products such as wool, linens, Kullu shawls and even pashmina. Even if you are in Manali for a short period of time, prefer walking down the charming town of Old manali filled with lovely stalls and small souvenir shops to take back home.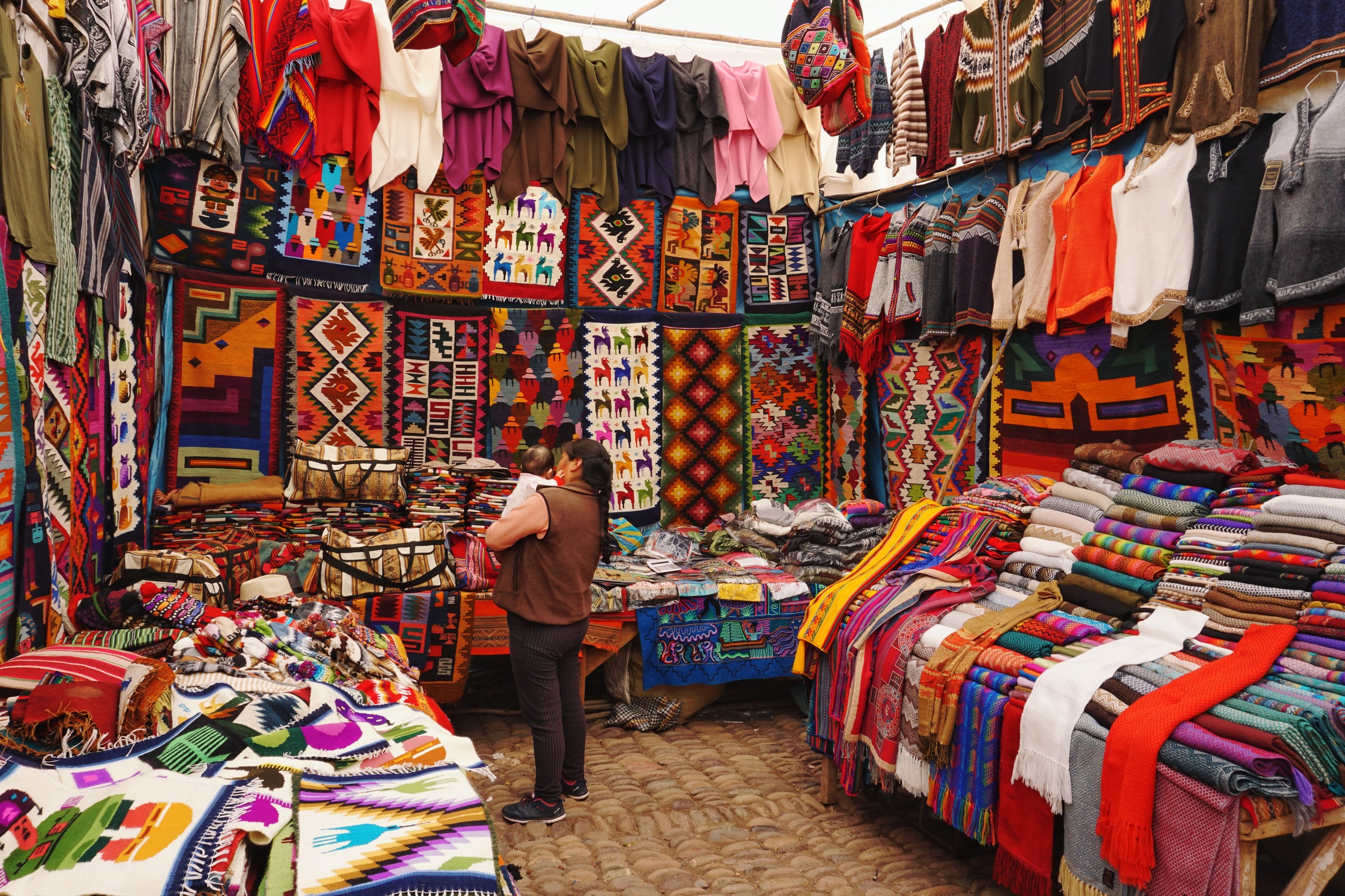 Woollen wear at the display – (photo credit – peter-livesey)
Take a dip in the holy hot springs at Vashisht
If you are looking for a relaxing way to spend your day, set just a few kilometres away from the main town, visit the Vashisht temple. A holy dip in the natural hot water spring. This temple is over 4,000 years old and is dedicated to Rishi Vashisht, who built the Vashisht village. The temple is adorned with some magnificent architecture, carvings, and paintings, however, the highlight is the hot spring that is visited by many!
This hot spring is not only famous for its Turkish inspired baths but also for its medicinal properties. It is said to cure all skin infections and diseases! The spring may get a bit crowded so we suggest visiting this in the afternoon.
VISITING HOURS: 07:00 to 21:00 hours (temple), 07:00 to 13:00 & 14:00 to 21:00 hours (hot spring); ESTIMATED TIME: 2 – 3 hours, COST: Free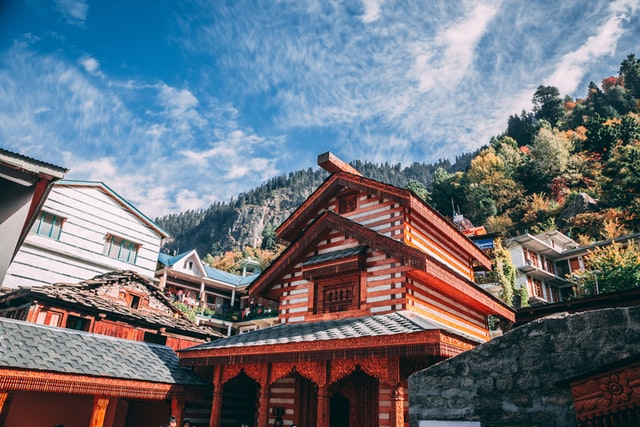 Vashisht temple is dedicated to Sage sage Vashisht, a devotee of Lord Ram – (photo credit: unsplash)
A short Trek to jogini Falls
VISITING HOURS: Open 24 hours, ESTIMATED TIME: 4 – 6 hours, COST: Free
Thrill-seekers, here's one for you! Known for its high mountains, Manali has some of the most stunning falls and adventure trails that lead you to the gorgeous cascades that add a certain charm to the region and attract many tourists. However the most stunning of them all is Jogini Waterfalls. This waterfall is about 7 km away from the main town of Manali.
However, if you are at the Vashisth bath, the Jogini fall is just a short trek away! The Jogini fall is not only famous for its mystic falls, but also for the sacred temple that is located close by. The waterfall cascades down from a height of around 150 feet and has a small natural pool at the base where you can take a plunge in the water.
While you make your way up to the waterfall, you will pass by some beautiful apple orchards, pine trees, and small restaurants that serve a delicious cup of chai and Maggi noodles (Indian version of ramen).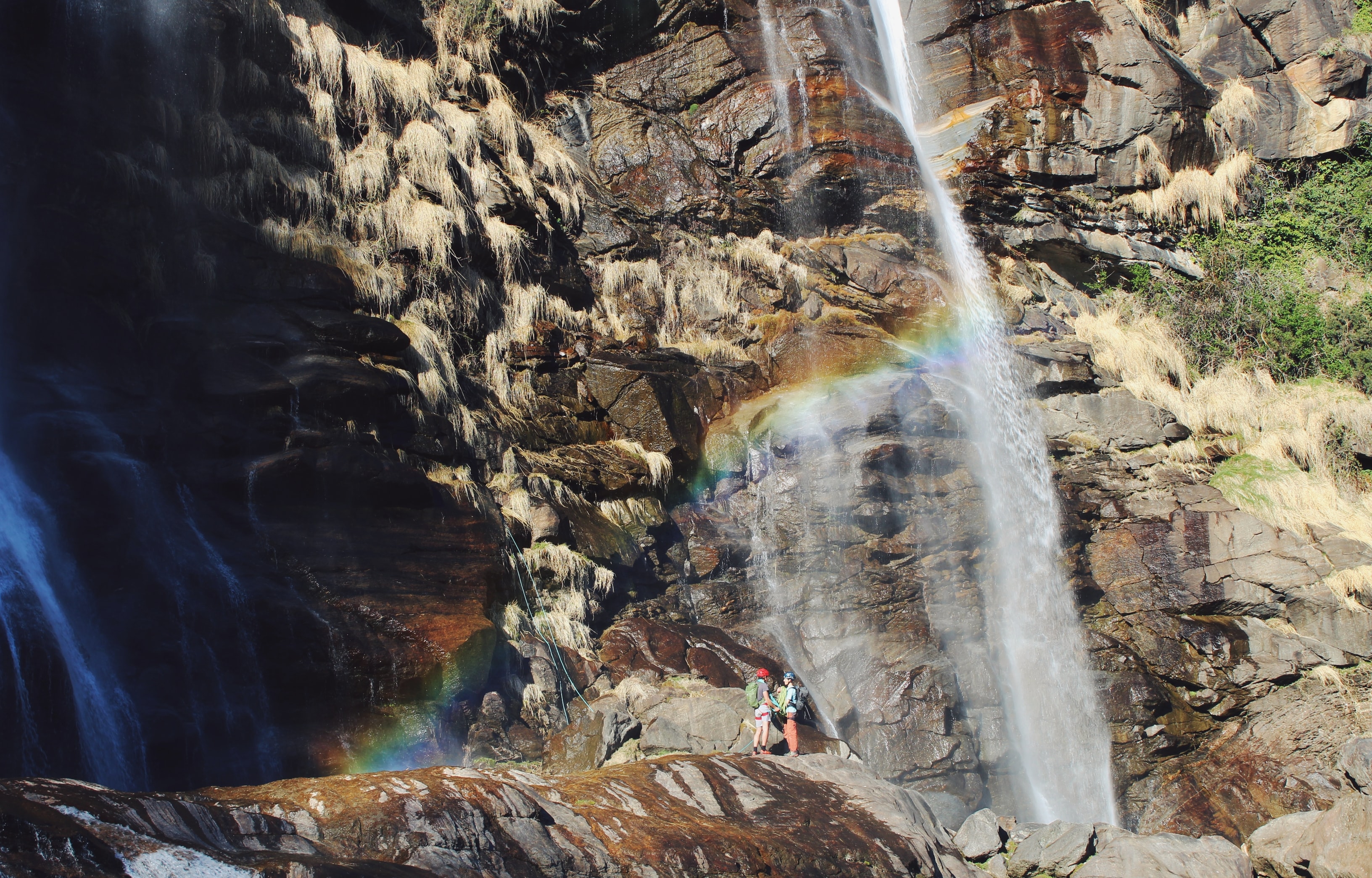 Ever spotted a rainbow on a waterfall – (photo credit: Unplsah)
Chill at well-known cafe's
Wandering in the best parts of Manali may leave you out of breath, settle in some beautiful cafes here and enjoy the vibe of the town. Below are some charming cafes within close proximity.
The Johnson's cafe :
Timings: 09:00- 23:30 hours daily Cost for two: 500 Rating: 4-.3/5
A pocket-friendly restaurant with a lovely ambience is what makes it's stand out in the region. It is just a ten-minute walk from the main city centre. With Continental, Italian and Indian cuisines, the food is equally mouth-watering. The cafe has a spacious parking place, Indoor and Outdoor seating, serves alcohol and accepts card and online payments as well. It also has live music and free WiFi.
Il Forno :
Timings: 11:00- 21:00 hours daily Cost for two: 300 Rating: 4-.5/5
They serve some of the best Italian food in town with a gorgeous view of snow-clad mountains. Woodfire pizza's, hot beverages are mouth-watering here. They have an all-day breakfast and a tempting menu. Il Forno gets its charm from the rustic look and resemblance to the local architecture which blends well with Old Manali.
Cafe 1947:
Timings: 13:00- 23:00 hours daily Cost for two: 1000 Rating: 4-.2/5
Adjacent to the cold waters of River Beas is very relaxing. The cafe is just a 15-minute drive from Manali en route to Solang valley. It serves Indian, continental and Italian cuisines. The In house bar also tempts you with exotic cocktails. With Live music and Sheesha, one can get a feel of the liveliness even far from town.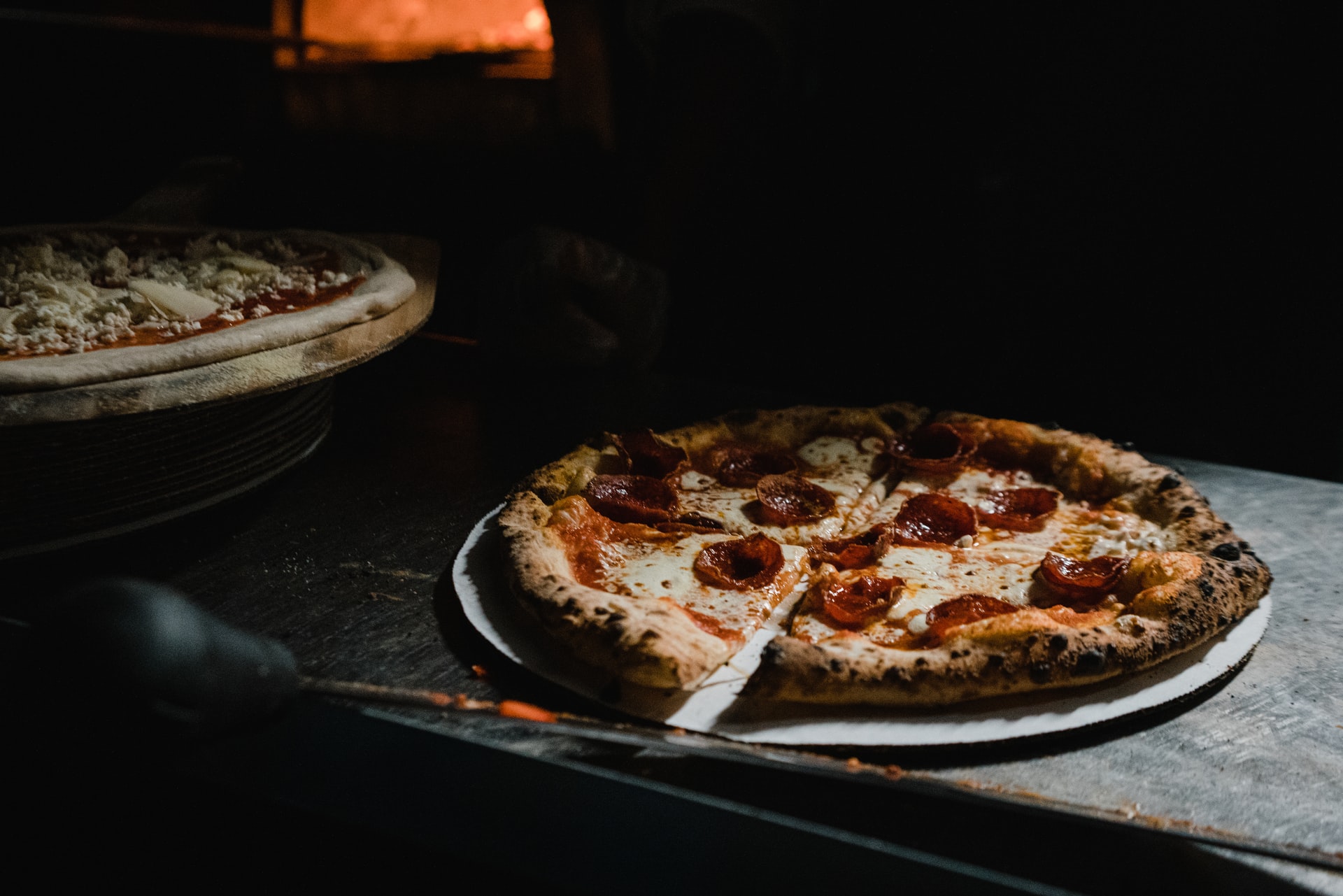 Who doesn't like a slice of heaven – (photo credit: Danielle MacInnes)
Trekking in Manali
'In every walk with nature one receives more then he seeks' – John Muir. With a panoramic view, alpine forests and daunting trails, some treks are worth the effort. It doesn't matter if you are an amateur or a trekking pro, Manali has some of the best treks to offer. Namely Kheerganga trek, trek to Chandra lake, Bhrigu lake, Beas Kund, Palatsu peak, Hampta pass and Solang valley trek.
Apart from trekking, the town is also a tourist magnet because of the wide range of adventurous activities available in the city such as paragliding, biking and camping, etc. If you are in Manali for a short period of time ensure to make the most of it by indulging in short treks. Treks that can be done in the duration of 30 minutes such as the Jogini fall trek.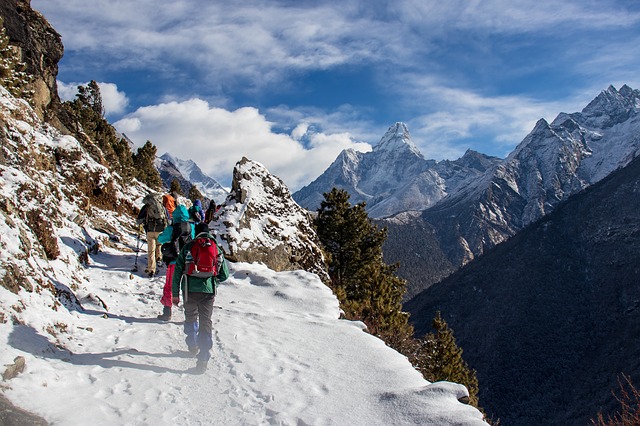 Himalaya Trek_Squirrel_photos from Pixabay
Rejuvenate in Manikaran Sahib's gurudwara
VISITING HOURS: 05:00 to 12:00 hours and 16:00 to 21:00 hours, ESTIMATED TIME: 1 -2 hours, COST: free
located at just 80 km from Manali is Manikaran, is a religious site receiving countless devotees of both religions of Sikhism and Hinduism. Manikaran is not only famous for it's Gurudwara but also the Ramchandra temple. The beauty of the Sikh temple is that there is a natural steam bath within its premises. Also, the food served in the langar is full of love and free of cost to all who enter here. The gurudwara offers free food and a stay to all in need.
A bath in these hot spring and a meal in the langar is very refreshing to all who seek refuge in his holy presence and hence a must to do while in Manali.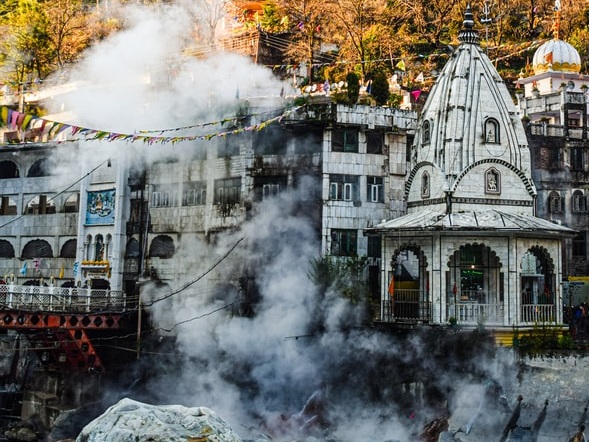 the cracks beneath the water that release gas turns into steam in Manikaran- (photo credit: sachin-Dogra)
Explore the ancient Naggar Castle
VISITING HOURS: 07:00 to 22:00 hours, ESTIMATED TIME: 1 hour, COST: INR 15 per person
Built-in the 14th century by Raja Sidh Singh of Kullu, this structure was the seat of many kings. The castle is built with stone and beams that are decorated with wooden carvings and balconies that are worth marvelling at; but what adds to its charm is the Himilayan – European architecture and the stunning view of the mountains!
This heritage building stands tall even after the region faced one of the most destructive natural disasters that destroyed villages! Part of Naggar castle is now converted into a heritage hotel that consists of a temple and museum.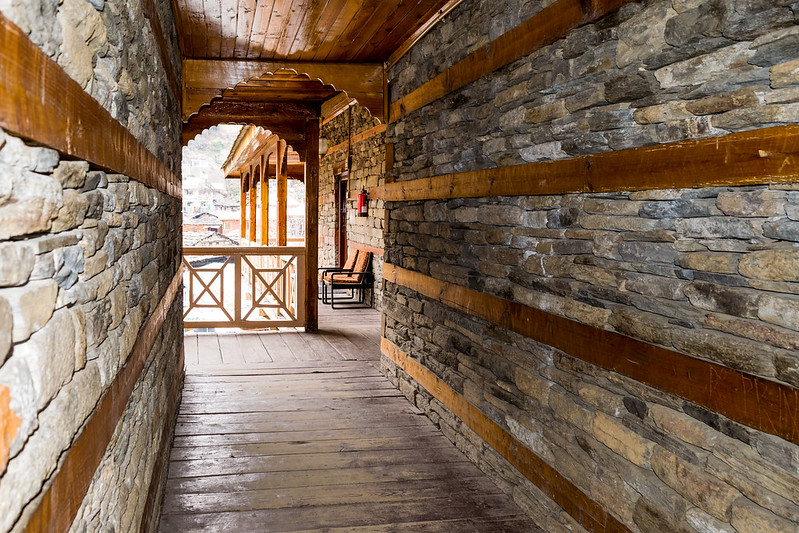 The rustic look of the Naggar Castle's corridor, now a heritage hotel – (Photo credits: Ashish Gupta)
Skiing in Solang Valley
Best time to visit: February to April Cost: 350-500 for a basic ski-kit
It would be incomplete if you visit Manali without getting hit by a snowball on the face. The thick blanket of snow on the hills at Solang valley are favourable for Skiing. It is one of the best places to ski in India after Gulmarg. With a nominal fee for one time visit, you can glide through the icy slopes in glee. Solang valley offers a safe and vast stretch, be it a pro- skier or first-timer.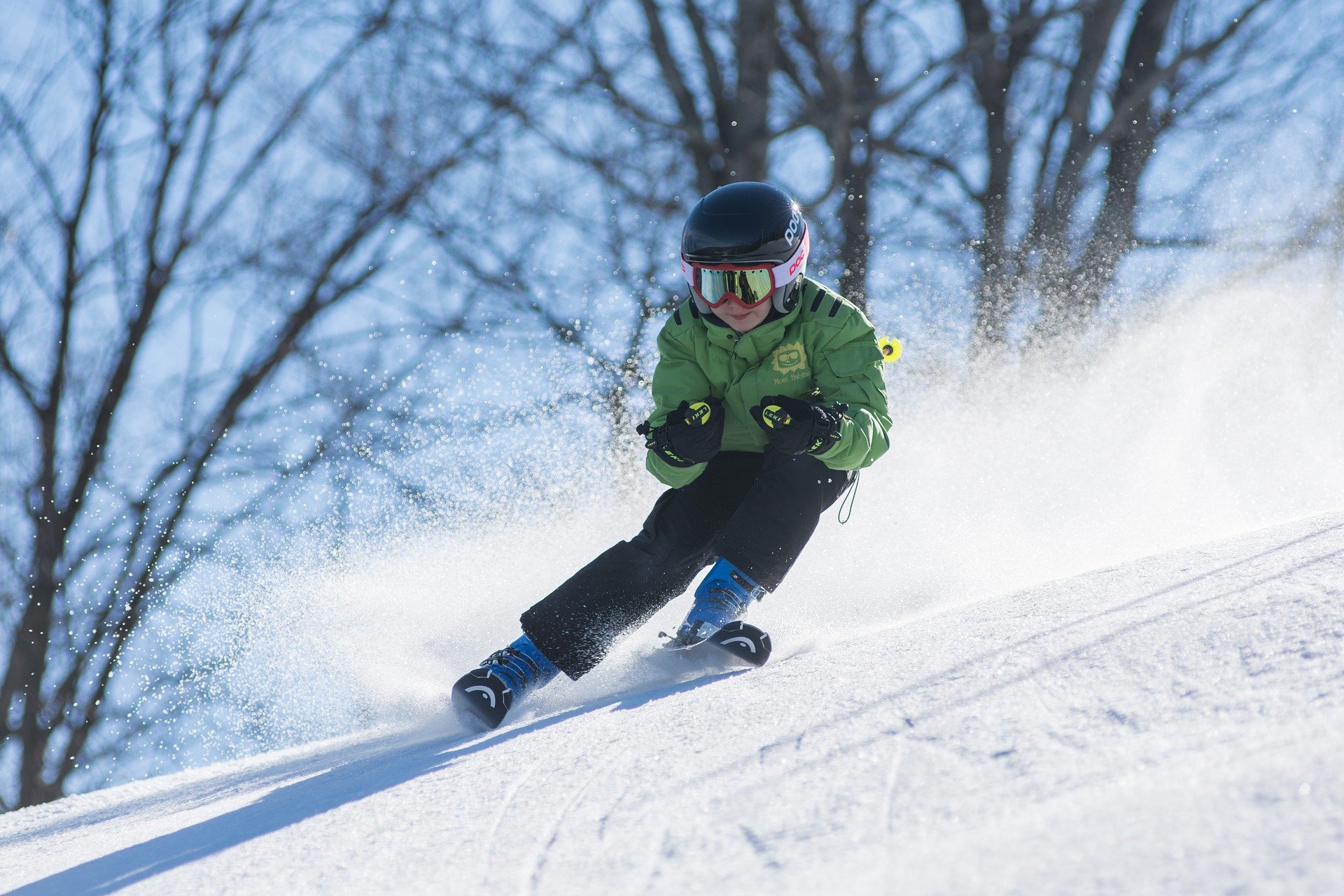 Skiing has no age – (photo credit: pexels)
A visit to the Manu Temple!
VISITING HOURS: 06:00 to 17:00 hours, ESTIMATED TIME: 1 – 2 hours, COST: Free
Situated in the Beas river valley which is 3 km from the main town of Manali, Manu temple is dedicated to the sage Manu, who is considered to be the creator of the world. The temple is built on the banks of the river Beas which is the main attraction and is also of great importance to the Hindus, as they believe that he meditated here.
While the breathtaking view of the river will have you in awe, the pagoda-inspired architecture and the sculptures of the gods and goddesses are not only stunning but also tell a lot about the past!
To get to the temple you will have to walk through narrow streets, stony and slippery paths, so get your trekking shoes ready! Also, since this is a sacred place please do dress appropriately.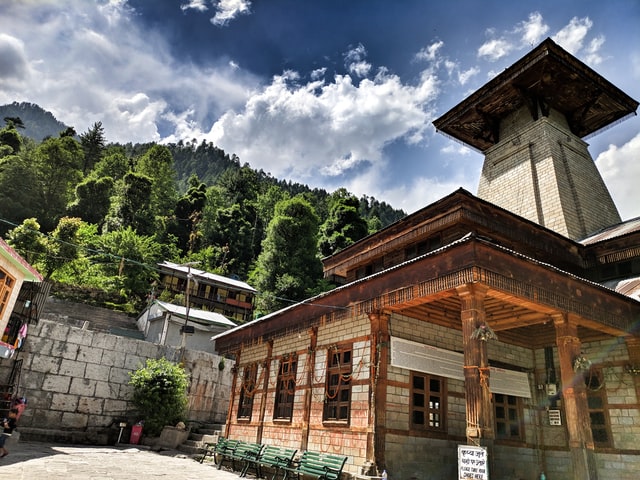 Manu temple – (photo credit: Gagan-deep)
Getting around in Manali
Even though Manali is mountainous terrain, moving around this town is quite easy and convenient.
Motorcycle
One of the best ways to explore Manali and its picturesque mountain would be to hire a bike! You can rent a Royal Enfield for INR 1000 to INR 1500 for a day.
Taxi
Manali does have local taxis that can take you around but you would have to settle on a price before starting your trip. It is convenient to move around especially while going sightseeing. However, always make sure to haggle for the price and do not settle for the first amount told to you.
Car
If you wish to book a car, you would have to book the same from your accommodation or a car rental service in advance.
If you love the idea of visiting Manali after reading our blog and wondering how to get there or how to fit this fascinating destination into your itinerary? Just get in touch with us and we'll plan the ideal trip for you while catering to your interests, budget, and time constraints.
Also, if you are wondering where to head next and what more North India has to offer we suggest you read this blog as it will give you a better idea of what to expect and which destination should be next on the list.
helping you travel your way
Everything you need to know about India is here We have tried writing about everything you may need help with for your trip to India, If you need help in planning a trip to India Get in touch with us to to plan your trip of a life time.