Things to do in Manali India
"It is always the same with mountains. Once you have lived with them for any length of time, you belong to them. There is no escape." – Ruskin Bond
Surrounded by snow-capped mountains, Manali is one of the most popular hill stations in India. This lovely hill station is a great place to de-stress and just kick up your feet and enjoy the natural beauty all around. Besides its natural beauty, the mountainous terrains make it the perfect destination for thrill-seekers who come here to trek and camp out in the mountains!
If this town is on your list and you are wondering what it has to offer, here's our list of the top places to visit and things to do in Manali.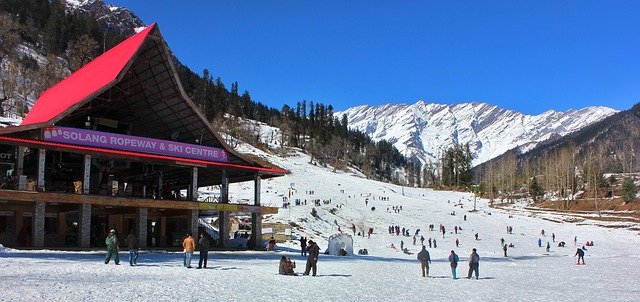 Gateway for skiing in the Solang Valley.
Must do's in Manali
Seek Blessings at Hadimba Temple
VISITING HOURS:08:00 to 18:00 hours, ESTIMATED TIME:1 – 2 hours, COST: Free
Located amidst the Dhungiri Van Vihar forests, the Hadimba temple is also known as the Dhungri temple by the locals. The temple is of great importance to Hindu pilgrims, as it is dedicated to Hidimba Devi, the wife of Bhima who was one of the 5 brothers from the Hindu Mahabharat (mythological epic).
It was built in the 15th century around a cave where people believe Devi Hadimaba meditated, however, the temple has no sculpture of her but only has a stone that has her footprint.
While the marvelous architecture, wooden doorways, mud walls, miniature paintings of the Goddess, animals, and the cone-shaped roof are fascinating, the lush green forests and calm atmosphere add to its beauty!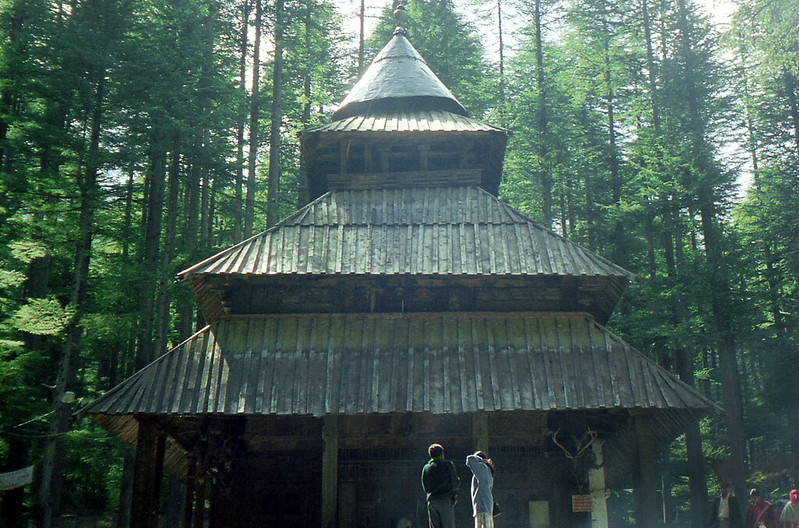 The majestic Hadimba Temple admits nature
Visit the famous Vashisht Temple and Bath in Manali
VISITING HOURS: 07:00 to 21:00 hours for the temple, 07:00 to 13:00 and 14:00 to 21:00 hours for the hot spring, ESTIMATED TIME: 2 – 3 hours, COST: Free
If you are looking for a relaxing way to spend your day, one of the many things to do in Manali is a visit to Vashisht temple and a wbath that is just a few kilometers away from the main town! This temple is over 4,000 years old and is dedicated to Rishi Vashisht, who built the Vashisht village. The temple is adorned with some magnificent architecture, carvings, and paintings, however, the highlight is the hot spring that is visited by many!
This hot spring is not only famous for its Turkish inspired baths but also for its medicinal properties which many believe can cure all skin infections and diseases! The spring may get a bit crowded so we suggest visiting this in the afternoon.
Visit Manu Temple and marvel at its architecture!
VISITING HOURS: 06:00 to 17:00 hours, ESTIMATED TIME: 1 – 2 hours, COST: Free
Situated in the Beas river valley which is 3 km from the main town of Manali, Manu temple is dedicated to the sage Manu who is considered to be the creator of the world. The temple is built on the banks of the river Beas which is the main attraction and is also of great importance to the Hindus, as they believe that he meditated here.
While the breathtaking view of the river will have you in awe, the pagoda inspired architecture and the sculptures of the gods and goddesses are not only stunning but also tell a lot about the past!
To get to the temple you will have to walk through narrow streets, stony and slippery paths so get your trekking shoes ready! Also, since this is a sacred place please do dress appropriately.
A must-do is when in Manali is a trip to Gadhan Thekchhokling Gompa Monastery
VISITING HOURS: 06:00 to 20:30 hours, ESTIMATED TIME:1 – 2 hours, COST: Free
Built-in 1960 by Tibetian refugees, The Gadhan Thekchhokling Gompa Monastery is a popular Buddhist religious center and is also one of Manali's main tourist attractions. The monks of this tiny monastery preach about non-violence, peace and welcome tourists from all over to meditate!
Besides the spiritual atmosphere, the most striking feature of this monastery is the yellow pagoda-styled roof and paintings about the ideologies of Buddhism. Do not miss out on this monastery, as it will not only make you feel peaceful but also give you a glimpse of the Buddhist and Tibetian culture!
Buddhist Monk
Take a dip at Jogini Falls
VISITING HOURS: Open 24 hours, ESTIMATED TIME: 4 – 6 hours, COST: Free
Thrill-seekers, here's one for you! Known for its high mountains, Manali has some of the most stunning falls and adventure trails that lead you to the gorgeous cascades that add a certain charm to the region and attract many tourists. However the most stunning of them all is Jogini Waterfalls. This waterfall is about 7 km away from the main town of Manali.
However, if you are at the Vashisth bath the Jogini fall is just a short trek away! The Jogini falls is not only famous for its mesmerizing falls, but also for the sacred temple that is located close by. The waterfall cascades down from a height of around 150 feet and has a small natural pool at the base where you can take a plunge in the water.
While you make your way up to the waterfall, you will pass by some beautiful apple orchards, pine trees, and small restaurants that serve a delicious cup of chai and Maggi noodles (Indian version of ramen).
Explore the ancient Naggar Castle in Manali
VISITING HOURS: 07:00 to 22:00 hours, ESTIMATED TIME: 1 hour, COST: INR 15 per person
Built-in the 14th century by Raja Sidh Singh of Kullu, this structure was the seat of many kings. The castle is built with stone and beams that are decorated with wooden carvings and balconies that are worth marveling; but what adds to its charm is the Himilayan – European architecture and the stunning view of the mountains!
This heritage building stands tall even after the region faced one of the most destructive natural disasters that destroyed villages! Part of Naggar castle is now converted into a heritage hotel and consists of a temple and museum.
Have a picnic at Jana Falls
VISITING HOURS: 06:00 to 18:00 hours, ESTIMATED TIME: 2 – 3 hours, COST: Free
If you are looking for a getaway from city life and wish to spend a day amidst nature with the sound of gushing water in the background, Take a day trip to Jana waterfalls. This falls is a popular picnic spot and has some of the most picturesque views!
So don't forget to get a picnic basket and your camera! If you want a more up-close view of the majestic falls, you would have to trek for a while. It is nothing too strenuous.
Do not pass out on Rohtang Pass
VISITING HOURS: Open only from May to November, ESTIMATED TIME: 5 – 6 hours, COST: Free
Visited by thousands every year, Rohtang pass is a must-do when you are in Manali. This pass is 52 km from the main town, however, once you are there the view makes the long drive worth it. The pass separates the Kullu valley from the Spiti valley, on one side you will see Hindu culture and the other Buddhist culture!
So buckle up and get ready to witness the serene beauty and the majestic views of the mountains, which will surely take your breath away.

Panoramic view of Rohtang Pass (Photo Credit- Vikramdeep Sidhu)
Getting around in Manali
Even though Manali is mountainous terrain, moving around this town is quite easy and convenient.
Motorcycle
One of the best ways to explore Manali and its picturesque mountain would be to hire a bike! You can rent a Royal Enfield for INR 1000 to INR 1500 for a day.
Taxi
Manali does have local taxis that can take you around but you would have to settle on a price before starting your trip. This is a convenient mode to move around especially while going sightseeing. However, always make sure to haggle for the price and do not settle for the first amount told to you.
Car
If you wish to book a car, you would have to book the same from your accommodation or a car rental service in advance.
If you love the idea of visiting Manali after reading our blog and wondering how to get there or how to fit this fascinating destination into your itinerary? Just get in touch with us and we'll plan the ideal trip for you while catering to your interests, budget, and time constraints.
Also, if you are wondering where to head next and what more North India has to offer we suggest you read this blog as it will give you a better idea of what to expect and which destination should be next on the list.
helping you travel your way
Everything you need to know about India is here We have tried writing about everything you may need help with for your trip to India, If you need help in planning a trip to India Get in touch with us to to plan your trip of a life time.