Top 5 luxury locations in India
When you think of India you think of its spirituality and diversity. For being on every backpacker's trail because it's just so, so cheap. Right? Wrong. India is also the land of royalty, of opulence, home to dozens of erstwhile rajas and nawabs. Our thirst for over-the-top-luxury has since been honed to reflect the sleek, subtler undertones of the modern rich. So no matter how you choose to define luxury, India has it all.
I've had the good fortune of tasting some of this splendour myself, from glamping in the great outdoors to dining in the halls of palatial forts.
Here are my five top recommendations from the most high-end hotels in the country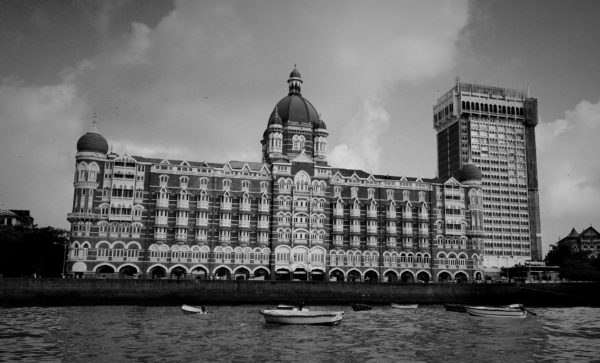 Standing majestically the Taj Mahal Palace and Tower, Mumbai (Photo Credit – Mihir Upadhyay)
Udaipur
A fairytale city set in a bygone era and populated by romantics. Squeeze through the tiny bylanes of the old city and you'll suddenly find yourself in the shadow of the ancient royal palace. With its stark white walls delicately moulded into trellised balconies and awnings overlooking the lake.
Decades ago, the James Bond's movie 'Octopussy' is what made the luxury Taj Lake Palace iconic. It is still just as thrilling, though it's now been converted into one of India's finest heritage properties.
The Oberoi Udaivilas is a sprawling complex of uber-luxe buildings and grounds. It is the proud winner of the Best Indian Hotel for three years in a row. Each room here comes with its own private lagoon outside your door. Moreover, every room offers gorgeous views of both the Lake and City Palace.
All said and done, though, they're still not my final pick.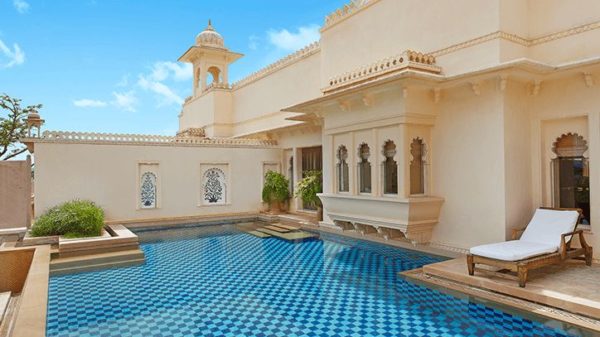 Dive in your own Luxury Suite Pool (Photo Credit – The Oberoi Udaivilas, Udaipur)
the serai, Jaisalmer
Understated and restrained, yet oozing with lavishness. No expense is spared to provide the absolute highest quality experience in these luxury tents. It is spread on hundred acres of shimmering desert.
Gourmet food, the best wines, private, heated, candlelit pools, privately guided safaris, a world-class spa, private tours, the list is endless. All this, set in the lap of natures bounty among the shifting sands, glinting golden in the warm summer sun.
Kumaon
Originally a kingdom in its own right, these majestic mountains rise up above their misty shrouds in a world of complete and pristine isolation. It's the perfect getaway if you're looking to cosy up with someone you love in a world of your own. When you're up for some adventure, you can explore the history of this regal martial race, their gorgeous architecture and culture.
Shakti 360° Leti, Bageshwar
Contemporary design, traditional building methods and locally sourced materials come together to create these luxurious one-of-a-kind cabins, the pinnacle of privacy.
Floor to ceiling windows offers you an exclusive view of the mountains. And verandahs with individual fireplaces make for romantic evenings unless you wish to spend them indoors wrapped in one of the many pashminas strewn around.
The cabin offers you acres of nature without another soul for miles around. However, liveried staff will still arrive daily with gourmet meals. You can select wines and any other service you can think of to ask of them. Win-win, isn't it?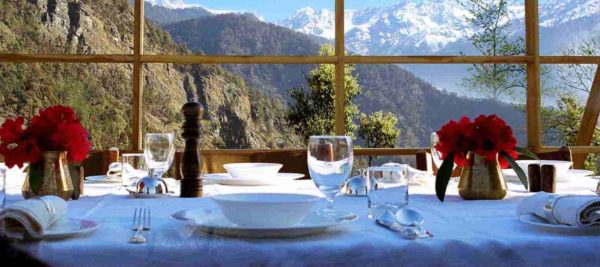 (Photo Credit – Shakti 360° Leti, Bageshwar)
Bandhavgarh
Deep valleys, wide grasslands and dense bamboo thickets spread across 437 sq kms. The Bandhavgarh National Park is the quintessential rustling Indian midland forest. It has the highest density of tigers in the country, and littered in between are the hunting lodges of erstwhile Maharajas of the region. A 2,000-year-old fort is worth a trek through the Sal forests.
Mahua Kothi by Taj, Bandhavgarh
A lovingly restored 'Kothi' homestead surrounded by 12 private suites with individual shaded access, sheltered verandahs and traditional mud floors. You can bank on the famous Taj hospitality as you let the history soaked in the hand-finished walls and open rafters take you on a journey.
Each morning, coal warmed kettles will be brought to your door for your daily tea. Also, gift baskets of yoga goodies and traditional Indian games will keep you busy between bicycle rides.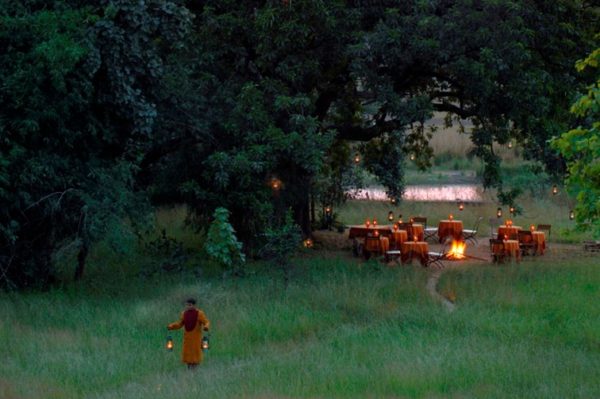 Experience dining in the woods (Photo Credit – Mahua Kothi by Taj Bandhavgarh)
Darjeeling
A colonial paradise of quaint churches and orderly tea plantations, Darjeeling is a slice of heaven on a plate. Ride the adorable toy train to some of the most scenic valleys and cliffs in the country. Stop for a quick momo (dumpling)and thukpa (noodle soup) and break to fuel up for a lovely walk through the gardens. There is no stress in heaven.
Glenburn Tea Estates
Glenburn Tea Estates is the epitome of sophistication. The vineyard resorts of Europe is what inspired them. Accordingly, guests can fully experience and participate in every stage of the wine-making process. But the real draw is the gorgeous accommodation, seven themed suites of delicate British good taste.
Hand embroidered linen graces the antique furniture, fresh fruit baskets and flowers adorn the intricate lawn furniture. Mesmerisingly carved wooden panels line the spacious rooms overlooking the green slopes. Pastel shades and soft feathery duvets underline the cosy feel.
Hiking trips, fishing, massage therapies, butterfly watching, camping and cooking classes help you unwind at this gorgeous estate.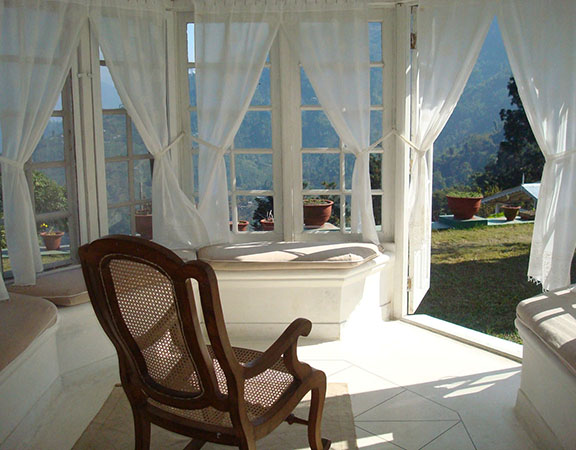 Enjoy a slice of Europe here – The Planters Suite (Photo Credit – Glenburn Tea Estate)
Since every single one of these locations is at the top of the exclusivity list, you may have some trouble making a reservation. don't hesitate to drop us a line, we'll get the job done!
helping you travel your way
Everything you need to know about India is here We have tried writing about everything you may need help with for your trip to India, If you need help in planning a trip to India Get in touch with us to to plan your trip of a life time.