Things to do in Wayanad Kerala
If you want to know what heaven would look like, take a trip to Wayanad. It is probably one of the most comforting locations in Kerala. You have the gushing sounds of the waterfalls, rich wildlife, acres of land covered with spice plantations.
Located amidst the mountains of the western ghats of Kerala, Wayanad (paddy fields) is also known as the Green Paradise. This lovely hill station is a great place to de-stress. You can also indulge in a few adventurous activities or just stretch your feet, lay back and enjoy the natural beauty.
Besides its natural beauty, Wayanad is also known for its history, which makes it the perfect destination for nature enthusiasts, thrill-seekers and history buffs! Curious about what you can do in Wayanad? Here is our list of things to do in Wayanad for the ideal experience of exploring the best of this town.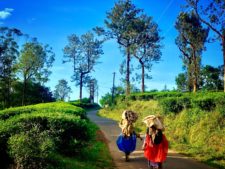 Simple yet stunning views of Wayanad.
Visit Wayanads Ancient Caves
Surrounded by mountains, Wayanad has some stunning caves hidden in them! For all the history enthusiasts these caves are just what you are looking for as they are covered with carvings and paintings from the ancient times.
A visit to the Edakkal Caves is a must-do as this place has so much of history and a tale of its own to tell. The cave is actually boulders that are jammed between two massive stones hence the name 'Edakkal' means 'a stone in-between'.
It is located in Sulthan Bathery, a quiet town that is named after Tipu Sultan the ruler of Mysore. It is also the only cave in India where one can find stone age carvings! From the minute you step into the caves you will marvel at the inscriptions, paintings and carvings that are sources of the prehistoric period.
To get to these caves you will have to trek up the Ambukuthi Hills which will take around 45 minutes to an hour, it depends on how many times you stop on the way and take in the majestic views.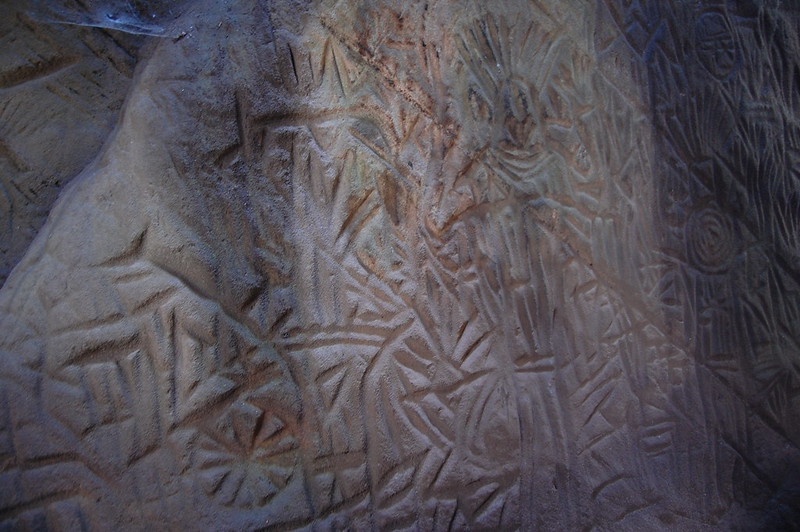 Carvings in the Edakkal Caves (Photo Credit – Deepak A.B)
Thirunelli Temple
Situated on the Brahmagiri hills, it is one of Kerala's most ancient temples. It was built by Lord Brahma and is dedicated to Lord Vishnu. The temple gets its name from the Amla tree. As legend states that the idol of Lord Vishnu was identified by lord Brahma under this tree while passing by and decided to build a temple.
The rituals are performed on the banks of Papanashini which flows from the Brahmagiri hills and the water is considered to have medicinal powers.
Do visit this temple not just for the serene view of lush green landscapes, but also it's marvellous architecture and spiritual, peaceful vibe. The temple is open from 6:00 am to 12 pm and then evening 5:30 to 8 pm.
walk through the tea plantations
A must-do in Wayanad is a walk through its beautiful tea plantations! The region has numerous tea plantations and the best time to visit them would be post October when the monsoons come to an end. Make sure to take a guided tour of the plantations. You will get a better idea of the entire process from planting, plucking till the time it is processed which is very interesting.
If you are given the opportunity to try out the planting and the plucking process. Don't hesitate to indulge as it's a unique experience! You can also visit the Achoor Tea Factory. Buy some lovely India Tea to take back home to make a lovely cup of chai!
Besides tea plantations, Wayanad also has coffee, cardamom and spice plantations that grow in different soils and environmental conditions so if you are not a fan of tea you can visit one of the plantations!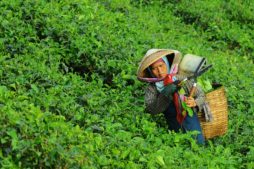 A local picking tea from the plantation
Bamboo Rafting in Wayanad
Forget the boats and ships, a must-do here and a very unique experience is bamboo rafting! The rafts are made out of a bunch of bamboos tied together and a skilled guide who will take you around. Do indulge in this fun-filled experience while you explore the lush green forest, plantations, birds and more!
Tip – Do carry an extra set of clothes wrapped well, a towel and do not carry many electronics! If you have an ocean pack bag, do carry it.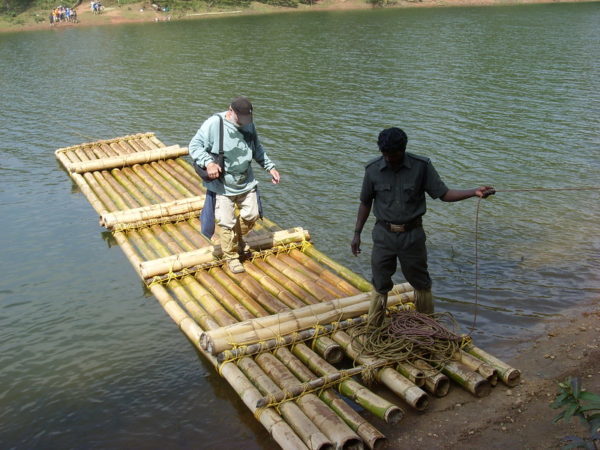 Bamboo Rafting in Wayanad (Photo Credit Fraboof)
Trek up the mountains
Looking for a quiet, relaxing time by nature, tea plantations and mountains with magnificent views? Trek up or drive up one of the many mountains of Wayanad.
Wayanad has numerous trekking trails which lead you to stretches of lush green landscapes and the most stunning views of nature. Adventure enthusiast, get your trekking shoes on and explore the region by foot! Here are some of the mountains you could visit
Banasura Hill

Neelimala Viewpoint

Lakkidi Viewpoint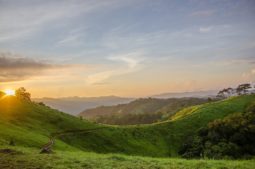 Majestic views of the Western Ghats, Wayanad.
FARM TOUR
Are curious about the life of the locals who dedicate their lives to the plantation of the famous spices of Wayanad? Hop on a farm tour in Wayanad. You will get a deeper understanding of the how and why are these spices grown here. Another plus point will be is if you are looking for a more raw experience of interacting with the locals, this is one of the best ways to do so.
Get in touch with us to help you book such a tour.
Explore the wildlife
The Wayanad wildlife sanctuary is rich in biodiversity and is an integral part of the Nilgiri Biosphere Reserve. It was established in 1973 and is the second-largest wildlife sanctuary in Kerala State. The sanctuary came under the Project Elephant jurisdiction in 1992 to protect wild elephant populations.
So if you are looking for some time amidst nature and observing animals in their natural Habitat Wayanad wildlife sanctuary is the place to visit.
While you are here you will see elephants, tigers, panthers, jungle cats, monkeys, wild dogs and more. The sanctuary also has a great population of birds like peacocks, babblers, cuckoos, owls, woodpeckers, jungle fowls so get ready for a great experience!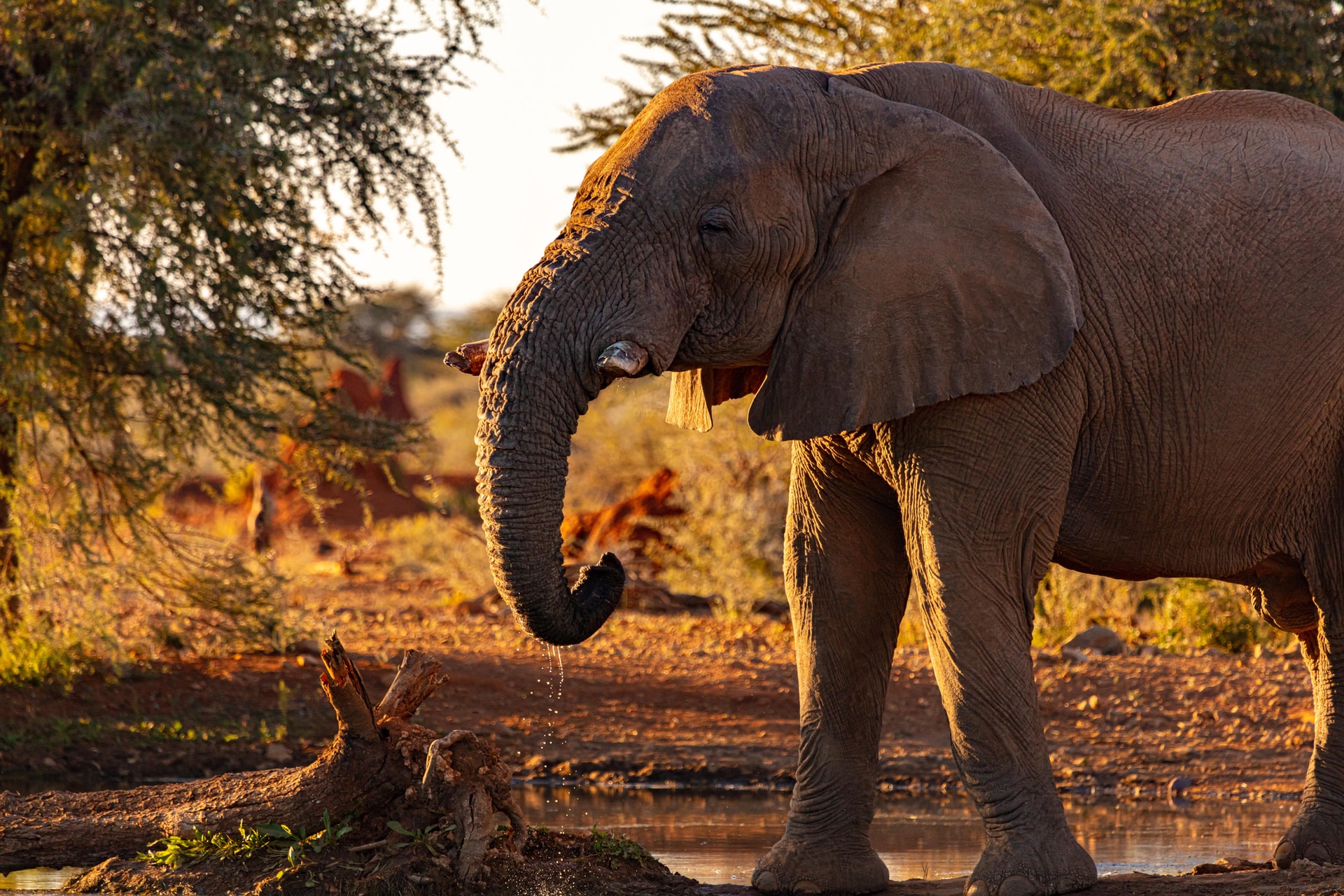 An elephant in Wayanad Wildlife Sanctuary (Photo Credit Alan-j-Hendry)
Live with a local
Living with a local is completely different and adds a certain charm, especially a homestay! Living with them in their home for a few days and seeing how they live their daily lives adds to the experience.
Also, it is the perfect way to experience the culture and the city. While there are plenty of homestays all around Wayanad a personal favourite is Dhanagiri Home Stay.
Not only is this property surrounded by coffee plantations but it also has an amazing host who will take care of all your needs and show you around the coffee estate and also arrange local activities if needed!
Do add this homestay on your list as staying here will just add to your India experience and leave you with some of the best memories!
Stay in a Tree House.
Dreamed of living in a treehouse when you were young? Here's your chance to stay in one! Surrounded by forest with large trees.
Wayanad offers the unique experience of living in a treehouse surrounded by nature, animals and stunning views overlooking the plantations. Do make it a point to stay at one of the treehouses as it is a perfectly unique experience in India.
The treehouses blend in with its surroundings and have room different from the other that will suit your budget and is the perfect way to end your trip in Wayanad. They also have many activities to keep the young ones busy.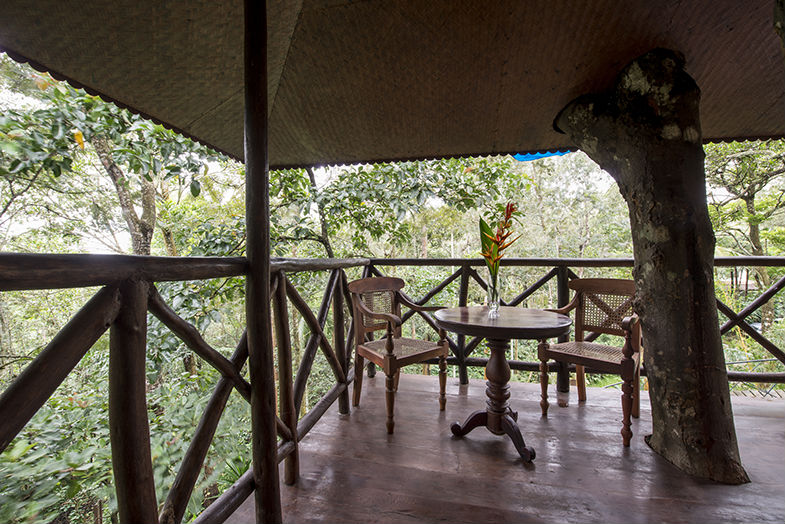 Woodpecker seating area in Pepper trails Wayanad treehouse (Photo Credit – Pepper Trails)
Spend 2 to 3 days in Wayanad and take in everything it has to offer with the help of our list! If you need our assistance in planning your trip to this beautiful region, do get in touch with us. We would be happy to help you plan a customized trip according to your need!
helping you travel your way
Everything you need to know about India is here We have tried writing about everything you may need help with for your trip to India, If you need help in planning a trip to India Get in touch with us to to plan your trip of a life time.