Our impressions as travellers of New Delhi City
There are a lot of historical sights which you can visit in Delhi, but the most important impression for David and I was seeing the highly modern, western-oriented streets of New Delhi which lead to the overwhelming Indian maze of Old Delhi. We both agreed that the greatest fascination was the contrast between these two worlds in one city.
You can see so many sights, but if you have missed getting into that daily hectic and simultaneously relaxed street life, to watch the wide range of different people, habits, work and routine, you have missed Delhi. Especially Old Delhi was for us an oriental exploration. Seeing the beautiful mosques and temples surrounded by old markets was like something out of a fairytale. The only thing that I missed was the flying carpet, then my dream picture would be complete. Even when we struggled through a goat market, pushing through people screaming, the disgusting smell of urine, and a cycle-rickshaw driver who wouldn't stop bothering us, I couldn't help but stop to smile. Because that was finally an authentic, definitely not tourist adjusted, side of India.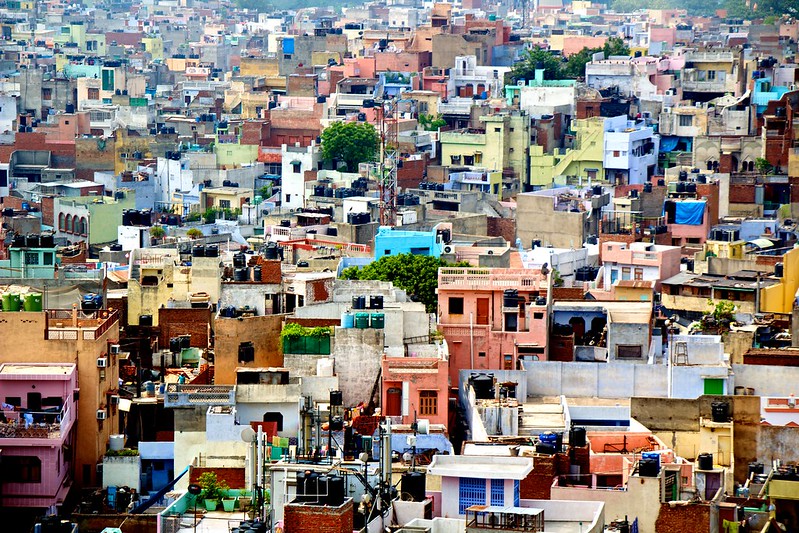 Old Delhi from Jama Masjid minaret (Photo Credit – José Antonio Morcillo Valenciano)
Humayun's Tomb at Sunset
Another favourite attraction from our visit to Delhi was the famous Humayun's tomb. Maybe the sunset was also a big factor that evening but the beautiful building left a big impression in our minds. The tomb with the garden, the palms and the qawwali singing from the Hazrat Nizam-ud-in Dargah on every Thursday, combined to paint a magical picture.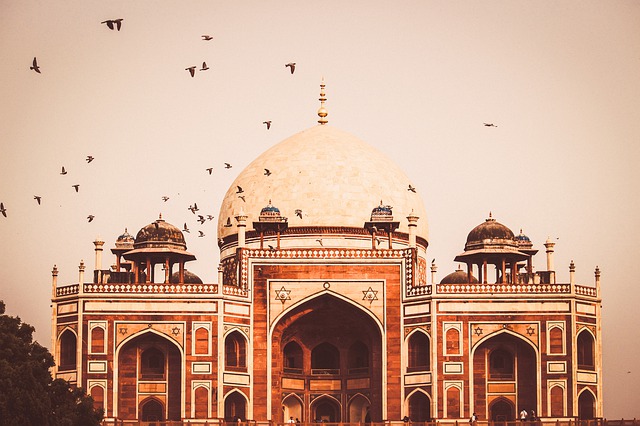 Humayun's Tomb at Sunset (Photo Credit – Drak Code from Pixabay)
Food and more at Dilli Haat
Dilli Haat is a market with a lot of nice products like jewellery, textiles, handicrafts and more. But the special thing is the big variety of food from different federal states of India. There you have the chance to taste a wide range of typical Indian food. So when you visit Dilli Haat bring hunger.
Artifacts at Dilli Haat (Photo Credit – Travelling Slacker)
Markets of Delhi
Unfortunately, we didn't have so much time to see more markets, but what we saw was impressive. The markets, especially in Old Delhi, are very big, different and offer everything you can imagine. We visited a spice market called Khari Baoli. We were brought by a cycle-rickshaw to a shop called "Mehar Chand and Sons" (of course to get provisions, but it was okay for us.) It was indeed a very nice shop. There were masala spices already combined for a lot of famous Indian dishes and also exotic teas. The shopkeeper was very courteous and friendly. He knew a lot about the spices, their curative effects and how to prepare meals with each spice. He showed us some international stars (e.g. a lot of famous international cooking chefs) who had already visited this shop.
It's also possible to get recipes for good meals by mail from them. The only minus point was that it's for sure more expensive than other shops, but I don't think that others have as good of quality.
Khari Baoli spice market (Photo Credit – Jon Connell)
Exploring India Gate, Rajpath and Rashtrapati Bhavan
We didn't expect a lot from this area. When we went out of the metro station the place was completely crowded. We saw in the middle of the mass the fully lit India Gate. The Gate itself wasn't that exciting but it was a nice victory arc. The last British soldiers went through this arc after the independence of India in 1947. Nevertheless walking along the Rajpath at night, eating an ice-cream from one of many, many stands enjoying the night and the lights, was great. We finished the walk to the amazing Rashtrapati Bhavan where the secretariats and the president's home made an excellent impression on us.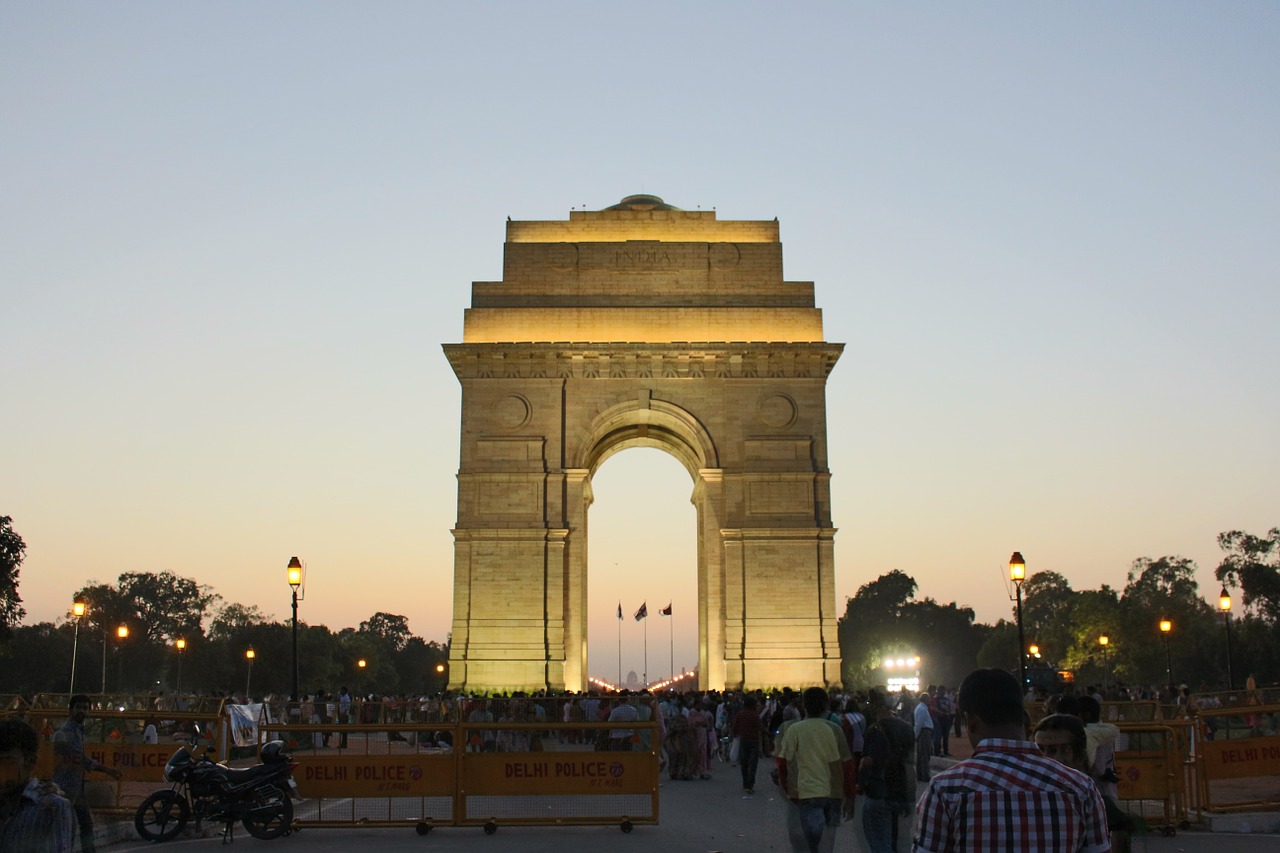 India Gate (Photo Credit – Schmidt-Bilkenroth)
Restaurants we visited in Delhi
Amici, Hauz Khas Village
We spent the first night in the Hauz Khas Village in South Delhi. There was a big offering of bars and restaurants. We chose the Italian restaurant Amici because we wanted to eat pizza (it had been a while since our last). The menu looked really nice and there was even a real pizza oven. So the pizza was pretty good and like a real Italian one!
Dilli Haat – Momo Mia + Rajasthan Food Stall
In Dilli Haat, we tried Momos along with the aloo tikka, pav bhaji and the famous kulfi ice at the Rajasthan Food Stall. Absolutely everything was tasty and I believe it's difficult to find something that's not delicious at Dilli Haat.
Zen
We found the Zen Restaurant at Connaught Place. It's a traditional Chinese restaurant but offers also Thai, Japanese and Italian dishes. The service is very good and obliging. The special feature about Zen was the offer "drink one get two", so you just have to pay or one drink and the second is free. Furthermore, the Zen offers a wide range of cocktails, wines, liquors and some beer. I ordered Chengdu Chicken, which I highly recommend!
Karim's
I've read a lot about Karim's and his kebabs and I have to say… I was a little bit disappointed. We ordered a seekh kebab, a roll, some naan, dal and as a dessert kheer. Maybe our expectations were too high or our order wrong, but I can just say it was nice, not amazing.
Café Coffee Day
I can't count anymore how often we visited the Café Coffee Day in India. Despite it being more expensive than other cafes, it's often way better coffee than most. Moreover, you can find the chain store nearly everywhere. I, as a coffee addict, recommend that place (especially in the North and middle India.) The cakes, cookies and brownies with ice cream are delicious!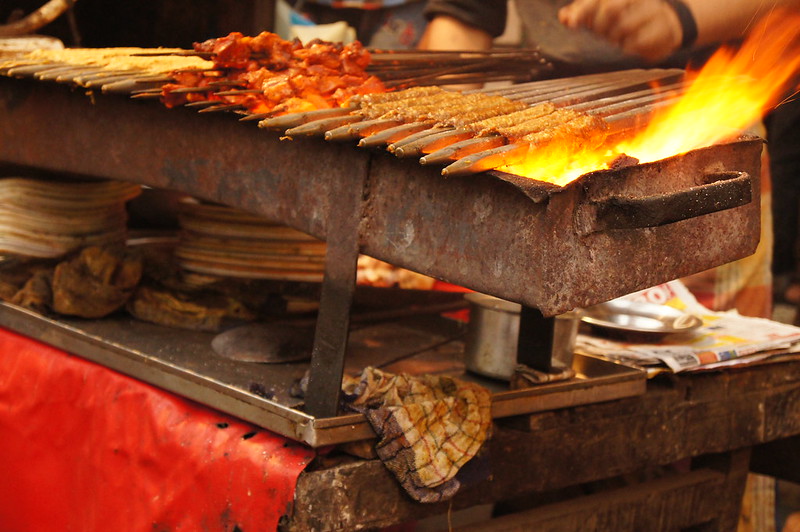 Seekh Kebab at Old Delhi outside Jama Masjid (Photo Credit – Abhishek Srivastava)
Getting around Delhi
Choose the metro whenever you have the chance! The traffic in Delhi is insane. It took us longer to get from the Delhi airport to the hotel (normally 30 mins by car) than the flight from Mumbai! Next thing is: the motorcycle-rickshaw drivers are insane. There was only one time when we went in a rickshaw and the drive wasn't crazy. All the others were terribly insecure – it was the first time I have been really scared in the whole 3 months I spent in India.
Furthermore, the metro is very secure. There are security checks every time you enter and there are also separate compartments for women. You don't feel scared even when the announcement in the metro says: "Any unsuspected article could be a bomb."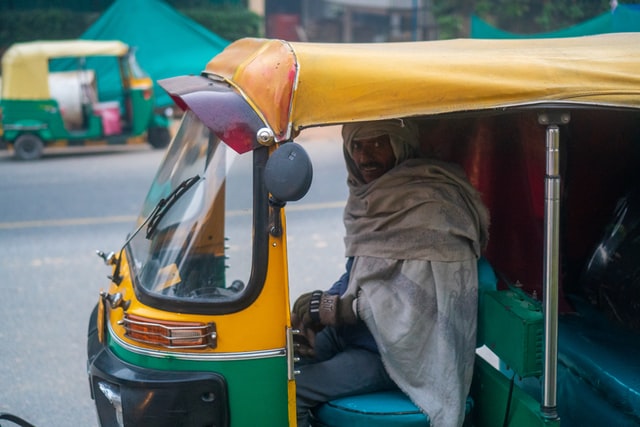 Rickshaw drivers are known to be the most insane drivers in all of India (Photo Credit – Adam Waxman)
Our accommodation: Bed & Chai Guesthouse
Basically, Bed & Chai Guesthouse was very nice. It is situated in a nice area in South Delhi, the price is good for the service and the beds were clean. We were in a dormitory room with eight beds and even young staff slept here. I felt it was a little bit unsafe that the main door of the guesthouse was never locked but apart from that we had no issues.
The breakfast was included and was great! We got nice scrambled eggs, a fruit mix, a fruit juice, two slices of toast with jam and butter and at least we could choose between coffee and tea. The staff was nice but a little reserved. All in all a good accommodation!
One of the many rooms at Bed & Chai guesthouse (a private room) (Photo Credit – Booking.com)
helping you travel your way
Everything you need to know about India is here We have tried writing about everything you may need help with for your trip to India, If you need help in planning a trip to India Get in touch with us to to plan your trip of a life time.