Old Delhi: A food haven amidst chaos
If you are travelling in India, it's extremely likely that Delhi will be a part of your trip (unless you are exploring only South India). Delhi is central to any place you are travelling in North India and is the capital of the country for good reasons. Different worlds co-exist in Delhi at the same time. A dichotomy exists: the wide roads and modern infrastructure of New Delhi and the unchanging capital of the Mughal Era, now branded Old Delhi. One thing that definitely hasn't changed about Old Delhi is the abundance and variety of excellent food.
Here is a list of a few of our favourite places to eat in Old Delhi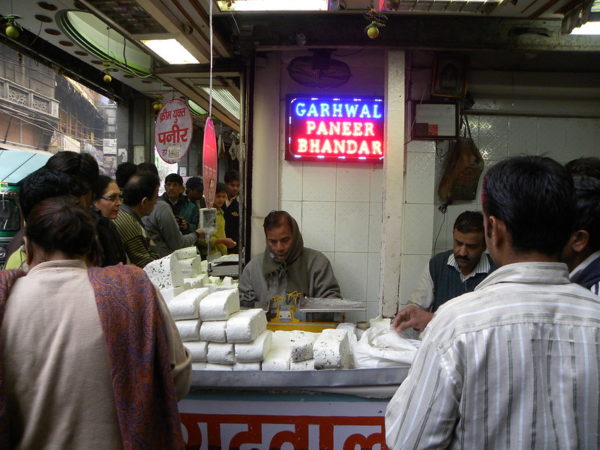 Garhwal Paneer Bhandar (Photo Credit – Bomb Man)
Karims (Jama Masjid)
Self-proclaimed descendants of the royal cooks from the Mughal Dynasty, Karims is popular for its Mughlai and North Indian Cuisine. A non-vegetarian paradise, everything at Karim's is deliciously juicy and tender. The Mutton Seekh and the Mutton Barra are our favourites. If you are a vegetarian there aren't too many options, but the Shahi Paneer is really good and you should give it a try!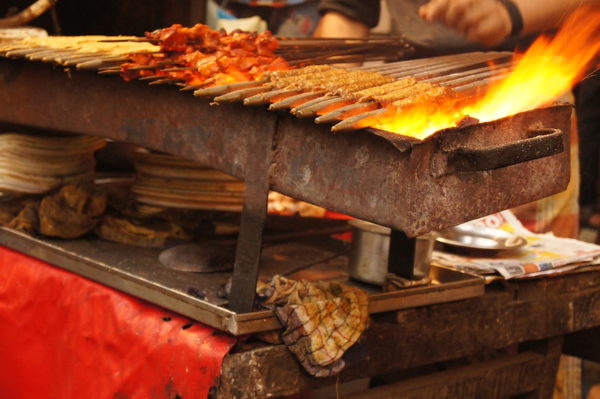 Seekh Kebab at Old Delhi outside Jama Masjid (Photo Credit – Abhishek Srivastava)
Paranthewali Galli (Chandni Chowk)
Parathewali Galli is a vegetarian food street located in the hustling market of Chandni Chowk near the Red Fort. Popular for its Parathas (bread stuffed with a spiced vegetable filling), the sheer variety of Parathas is jaw-dropping. Visit for the crowd-watching as much as the food.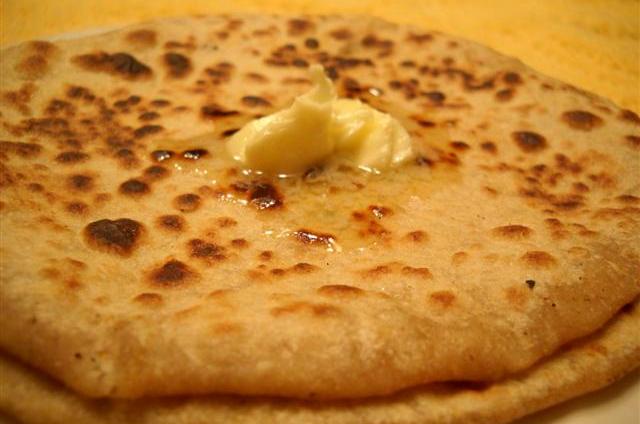 Paratha (Photo Credit – www.burrp.com)
Jain Coffee House (Chawri Bazaar)
In the crowded streets of Chawri Bazaar, Jain Coffee House is a pocket-sized café, hidden away in the twisted alleyways and is not the easiest to find. Once found, you'll notice that it's quite unusual, a place that's been in operation for the better part of the last 50 years. The coffee and the milkshakes are really tasty, but Jain Coffee House is on our list for its mouth-watering fruit sandwiches. This is one place that merits a visit, purely for its delicious sandwiches.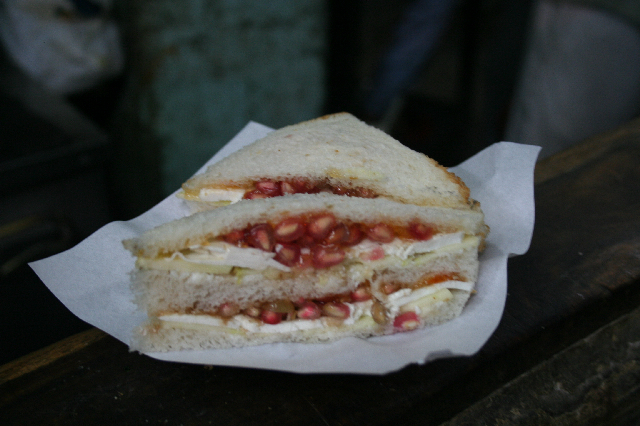 Mouth watering sandwich (Photo Credit – www.eatanddust.com)
Aslam Chicken Corner
"I can't please everybody, I am not butter chicken". There's one of the most commonly uttered phrase in North India. Everybody loves butter chicken – soft tender chicken chunks cooked in a thick gravy of tomatoes, cashews and butter. In the kitchen of Moti Mahal, a legendary restaurant also located in Old Delhi (more on Moti Mahal later), Butter Chicken was invented.
However, if you visit Aslam Chicken Corner expecting a traditional version, you're in for a surprise. Aslam Chicken Corner serves Butter Chicken in the most literal fashion. Roast some chicken, put it in a bowl, and pour dollops of butter over it, season it with some salt and Voilà! That's Butter Chicken for you!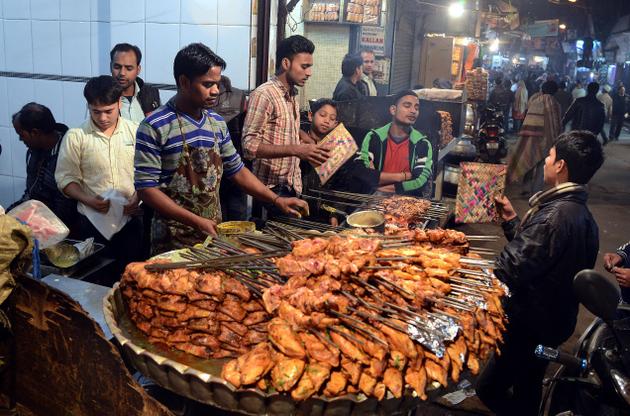 Delicious BBQ (Photo Credit – www.thehindu.com)
Moti Mahal (Dariyaganj)
You will find many Moti Mahals across the country, but they are all merely replicas of this one. The real Moti Mahal has stood the test of time. Like we said before, Butter Chicken was invented here. World-famous chefs like Gordon Ramsey and Heston Blumenthal have paid a visit to this restaurant to have their world-class food too!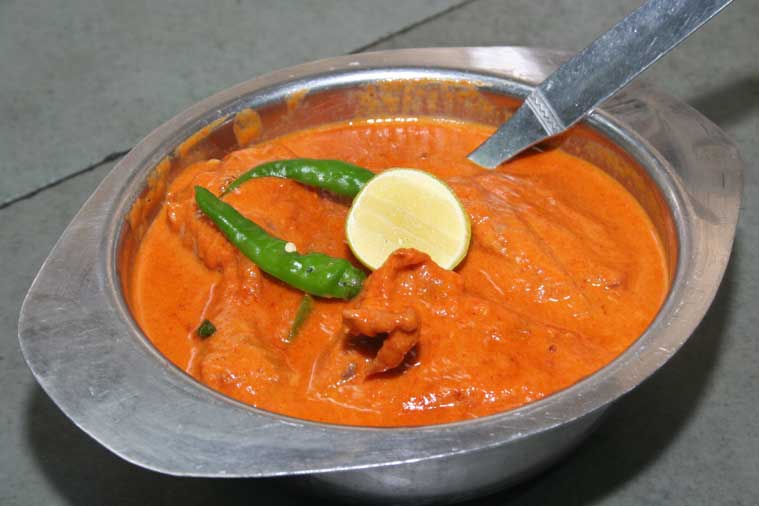 (Photo Credit – www.indianexpress.com)
Kuremal Mohanlal Kulfiwale (Sitaram Bazaar)
As the name suggests Kuremal Mohanlal is famous for its Kulfis (an Indian ice-cream). This place is popular for its variety of Kulfis, especially the Mango and the Apple Kulfi which is stuffed inside the fruit. Don't miss this delightful and sweet ending, after your hearty meal in Old Delhi!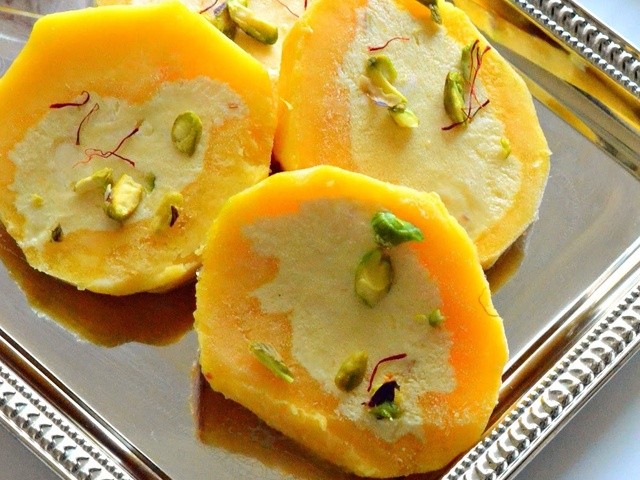 (Photo Credit – www.eatanddust.com)
helping you travel your way
Everything you need to know about India is here We have tried writing about everything you may need help with for your trip to India, If you need help in planning a trip to India Get in touch with us to to plan your trip of a life time.