Our Agra Impressions
Marlene and David's Agra Impressions! – Written by Marlene Hofstatter. Follow their trip to Agra, their advice on what food to eat, where to stay and the various activities to try.
Here is also a practical guide for getting around Agra to help you plan your trip!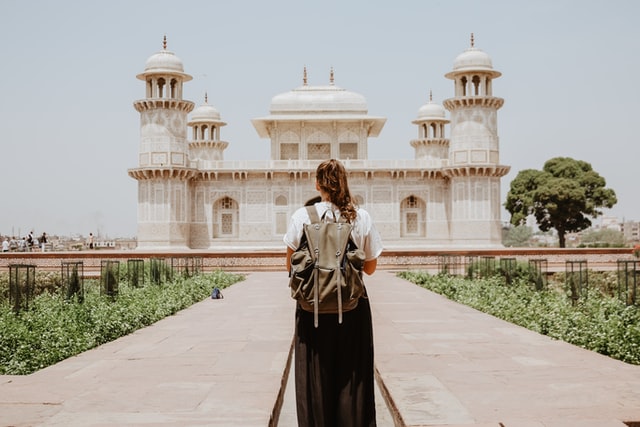 Baby Taj: Itimad-ud-Daulah – Very sweet, artistic and beautiful mausoleum (Photo Credit – Ibrahim Rifath)
On Finally Viewing the Taj Mahal
On the second day of our trip to Agra, we got up early to see the Taj Mahal at sunrise. After a long check-in watching the monkeys steal chips from the tourists, we finally got in. Unfortunately, the sunrise was not that impressive because it was very foggy in the morning.
The Taj itself looked exactly like the innumerable pictures which I have seen of it. And I can't figure out what I should think about the most famous historical sight of India. Was it nice? Yes of course, but to be honest, I wasn't overwhelmed. The marble is beautiful, so is the whiteness, also the full details of the pietra dura technique (famous stonework in the area). Still, during our trip to Agra, it seems that our expectations were too high and the reason could be that we didn't have the amazing history in mind. What I definitely know now: I would recommend getting a guide for the Taj, even when you know the background of it to reflect on the incredible history.
The interesting point of the Taj for me was that it seemed always so far away, not more surreal.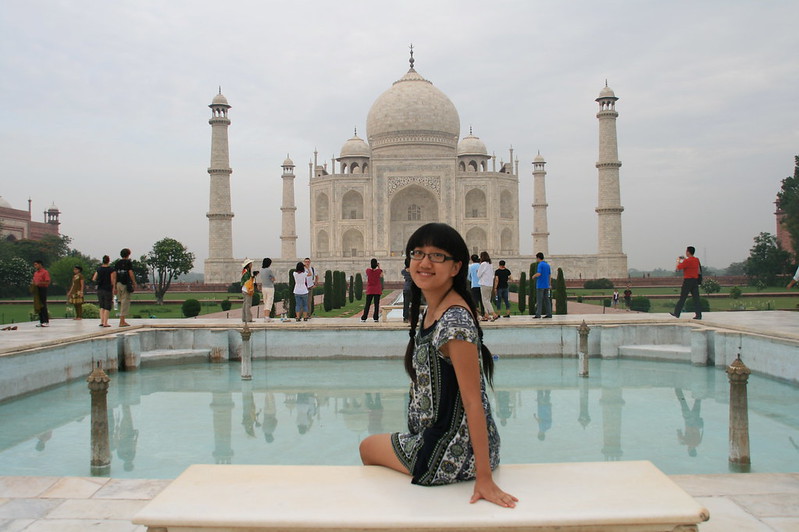 View of Taj Mahal (Photo Credit – neverbutterfly)
The delightful Red Fort
In our trip to Agra, we visited other monuments too. I highly recommend the Red Fort! It's incredibly beautiful, and David and I liked it even more than the Taj Mahal. You can walk through the buildings, palaces and temples. Our impressions were that it was far better than the Red Fort in Delhi where we were not allowed to enter most of the facilities. In the Agra Red Fort, you can walk through history, which I really appreciated. You even have an awesome view of the Taj. Unfortunately, there are also some parts of the Red Fort closed for tourist which belong to the military. Nonetheless, our Agra impressions were heightened by visiting this attraction.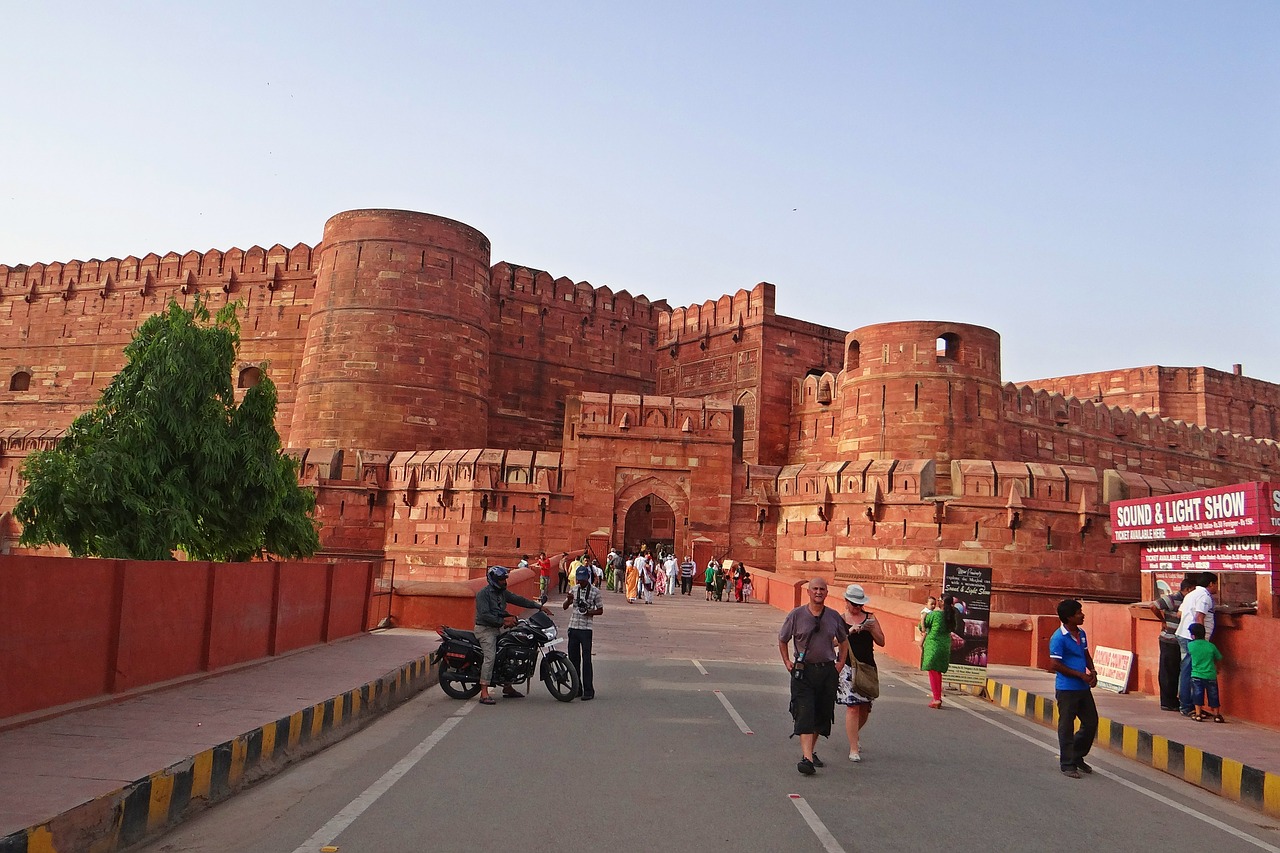 Great Fort to explore, lovely red stone and distant views of Taj Mahal – Red Fort, Agra (Photo Credit – Bishnu Sarangi)
Our fantastic Rickshaw driver
At the beginning of our trip to Agra, we had the luck of meeting a very friendly and honest rickshaw driver at the pre-paid rickshaw stand. He struggled with other drivers who wanted to cheat us. His name is Manish, he talked a lot with us, joked and gave us very interesting information about Agra during the drive to the hotel. He even showed us a notebook with recommendations from travellers about him and his daily trips in many different languages. Of course, he offered us a daily tour throughout Agra. At first, we were not sure if we should do the daily tour, but we didn't regret it.
He showed us the most important sights in Agra and craftsmen who made silver jewellery, textiles and also who worked with the interesting marble art pietra dura. We were never pressured into buying something and Manish even allowed David to drive his rickshaw one time.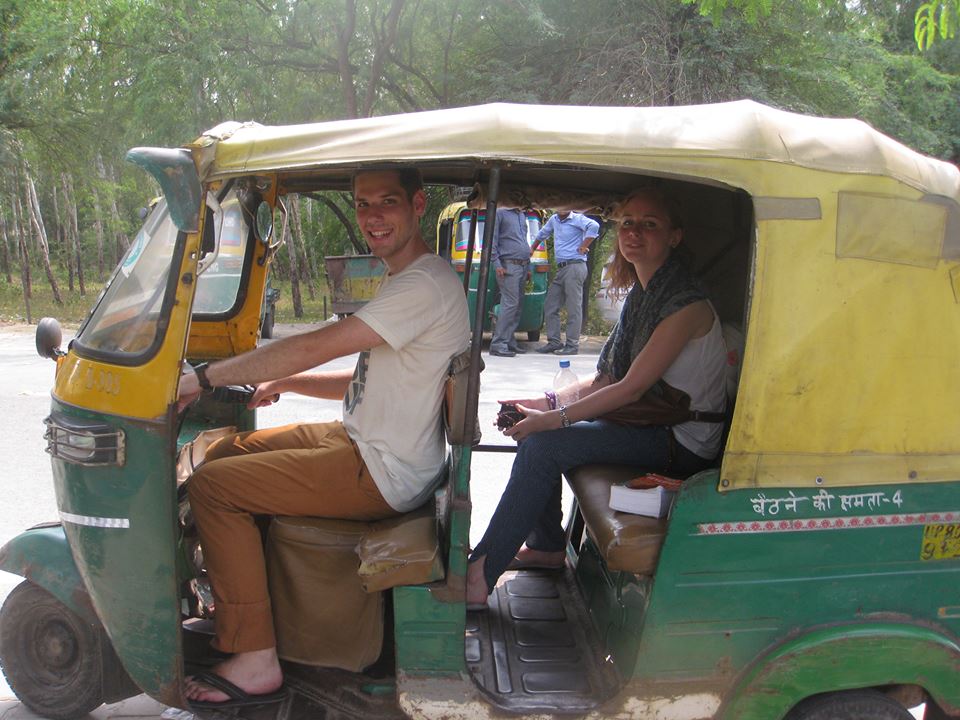 David (pretend) riding our Rickshaw
Touts and sellers in Agra
There are a lot of people who want to sell you things and when I say things, I mean every kind of thing! We often heard in a loud voice: "Postcards, chai, water!", and sometimes after that in a lower voice "ganja, ecstasy, speed, ketamine!" One of our answers was: "We are already happy, thanks."
Maybe because we were used to the irritating sellers we didn't get very bothered from them. We often just ignored them, didn't look at them and went ahead. From time to time we even made jokes with them. You just have to say in a very insisting voice: "No!" or "No, thanks!"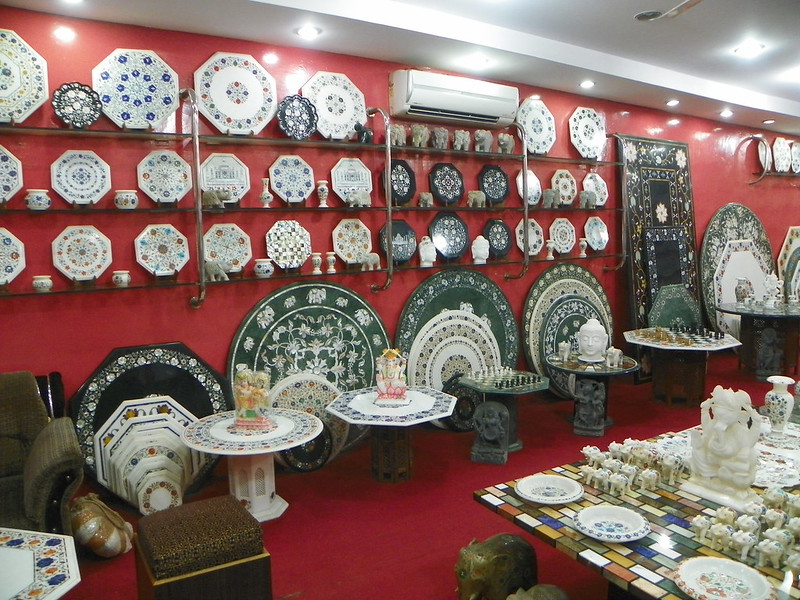 Marble Shop (Photo Credit – Juggadery)
Places to eat in Agra
Our trip to Agra was not complete without tasting some very delicious Indian food offered at these suggested restaurants.
Hotel Sheela Restaurant
We had breakfast in our hotel. The menu is big, good for breakfast and the coffee is also very nice! The peaceful and beautiful atmosphere is framed by the garden.
Lakshmi Vilas: South Indian Food
It's a cheap Indian restaurant with awesome food.
Saniya Palace Hotel: Rooftop restaurant
The view from the rooftop restaurant was okay, you can see the Taj from there but it was very dark in the evening. Nevertheless it was fine to eat there and to enjoy the romantic atmosphere!
Our Accommodation on our Agra trip: Hotel Sheela
The hotel where we stayed was near the Taj Mahal and in the heart of Agra. When you enter the Hotel Sheela you go directly from a hectic street life to a more peaceful garden facility where you also can visit the charming restaurant. The room is okay and our beds were clean enough. Generally we were happy with the quality of the hotel!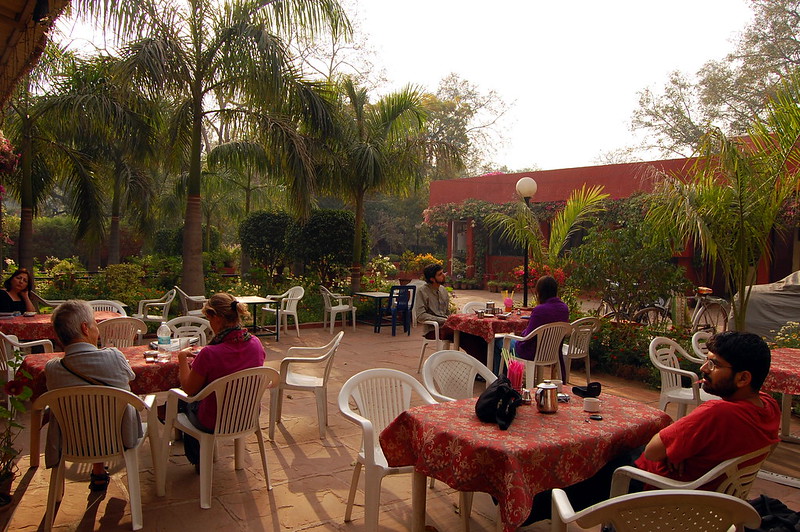 On our trip to Agra, we chose to stay at the Hotel Sheela (Photo Credit – PTWO )
Click on Plan Your Trip for your ideal itinerary.
helping you travel your way
Everything you need to know about India is here We have tried writing about everything you may need help with for your trip to India, If you need help in planning a trip to India Get in touch with us to to plan your trip of a life time.