Festivals of Kerala
The God's Own Country has a number of festivals they celebrate, each more vibrant and wondrous than the first. However, these are celebrated at different times of the year. Each with its own relevance and reasoning behind the timing and rituals. From boats racing across the backwaters, to an 800-year-old festival of dance, read all about the festivals of Kerala and when to visit Kerala to experience them.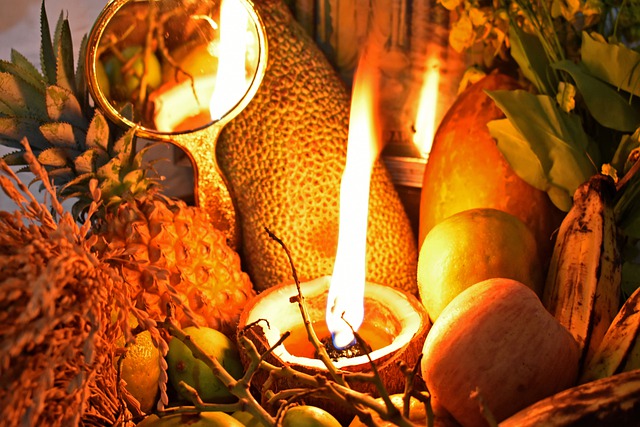 Rooted in years of tradition, the festivals of Kerala are each as interesting and different as the other
Attuvela Mahotsavam
At Attuvela Mahotsavam, lights float gently down the river, a scene straight out of a Disney movie. Entire temples reconstructed on boats light up the night. Flanked by colourful canoes and moving to the thumping beat of the drum, the boats move down the Moovattupuzha river to welcome the Goddess Bhagavathy of Elanku coming to visit her sister Goddess of Kodungalloor on this day. It is known throughout as Elamkavu Attuvela Festival or the Floating Festival of Kerala.
Thousands throng the shore to watch the boats light the way for the grand reunion. In the meenam month of the Malyali calendar, falling between March and April, the two processions begin. Kerala's temple festivals are characterised by delighted chants, drum beats, elephants and fanfare. In contrast, the Attuvela Mahotsavam is unusually serene and transcendental.
When: In the months of March – April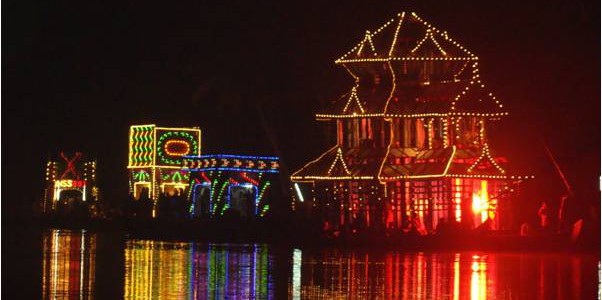 Watch boats come alive with fantastical lights in Kerala
Theyyam
Rooted in 800 years of folk tradition, Theyyam is one of the most popular festivals of Kerala. Also, Theyyam is a famous ritual art form that originated in North Kerala, consisting of a number of dance and art performances. Each of these demonstrate and brings to life the rich mythological and cultural traditions of God's own country. Filled with colour, music and a range of mythological acts, Theyyam is a must-witness.
When: Theyyam falls in the period between April to December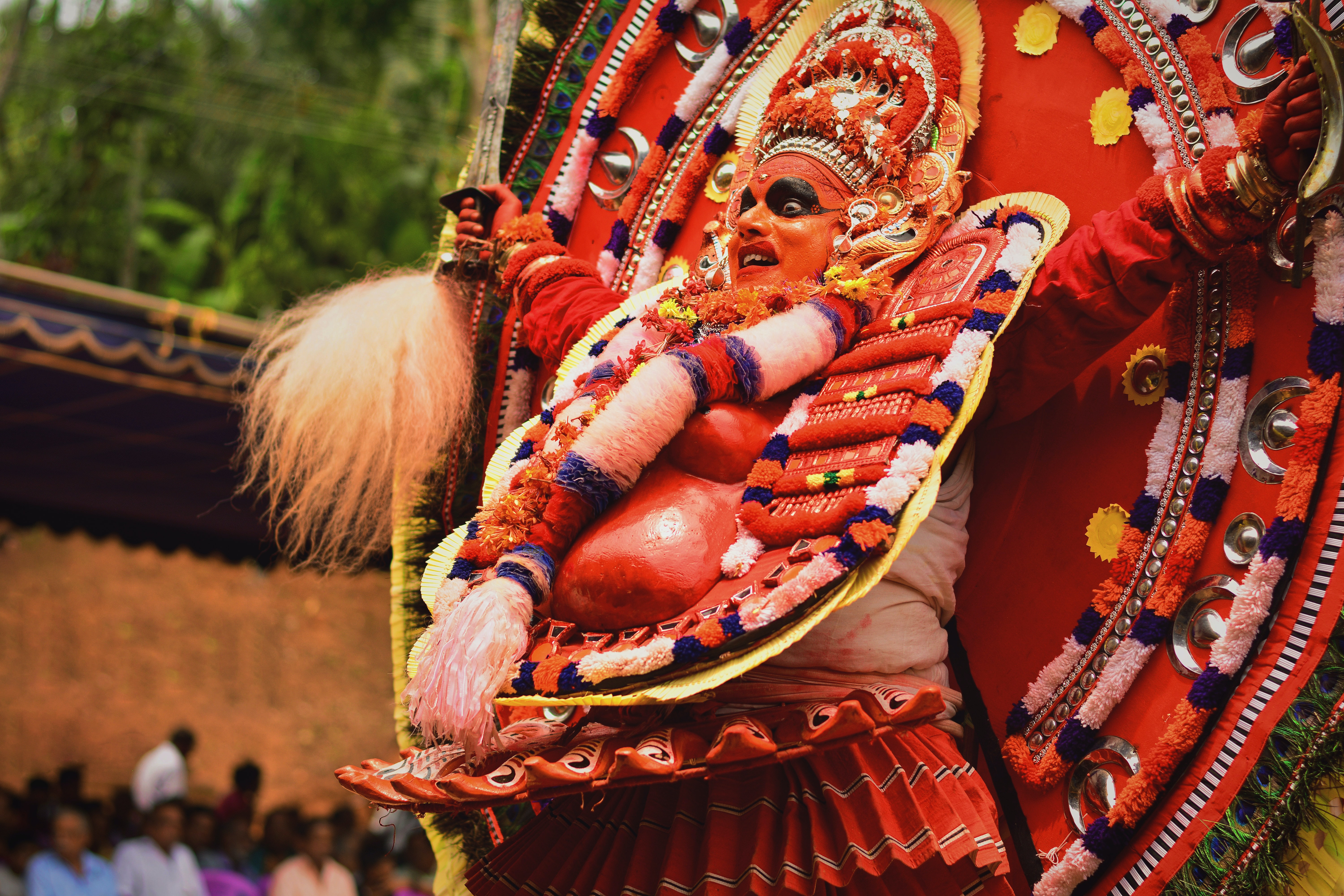 Theyyam celebrations in Kerala are a cacophony of colour and festivity!
Boat racing festival
The charming backwaters of Kerala are famous world over. And nothing gets as exciting as watching boats skimming over the surface, rowed by sturdy men racing for the win. Riding mainly on the teamwork and sync between each of the rowers, it is enthralling to watch. The races happen in various locations, but some of the most popular races are the Champakulam Moolam Boat Race (Alappuzha), Nehru Trophy Boat Race (Alleppey), Payippad Jalotsavam (Payippad Lake) and Vallam Kali (Punnamada Lake). Celebrated over three months, this is a festival of Kerala we highly recommend you witness.
When: Boat Festival falls in the period between July to September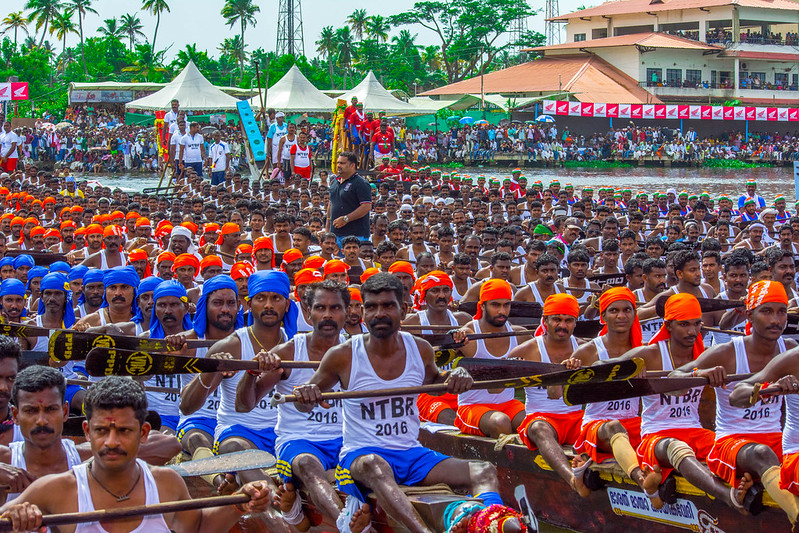 Rowers wait with anticipation for the boat race to start (Photo Credits – Avinash Singh)
Onam
Also known as the Harvest festival of Kerala, Onam is celebrated all across India. However, it has originated in Kerala. Accordingly, you can imagine the fanfare in the state that it calls home. Onam's 10-day celebration is best experienced in Kochi, where a royal parade kickstarts the celebrations. The fanfare is evident throughout Kerala, with colourful floral decorations adorning every home. Music, dances and fireworks fill the air on the main auspicious Onam day. We highly recommend eating a Sadhya meal; the customary feast, it consists of nearly 20 to 25 vegetarian dishes and a few desserts served on a banana leaf.
When: Onam falls between August and September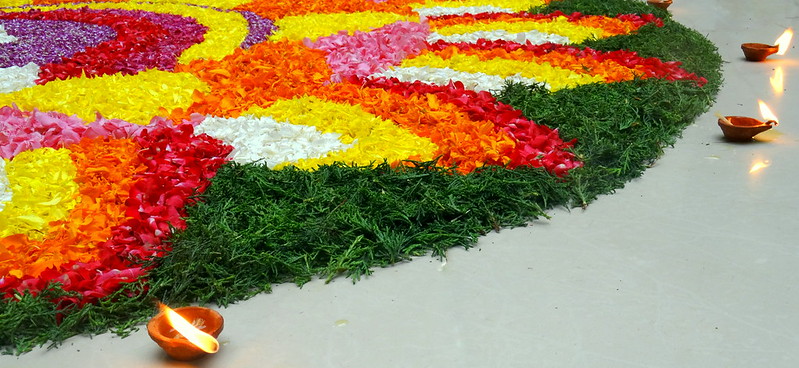 Beautiful flower rangolis (Photo Credits – Rajeev K)
Vishu
Vishu marks the beginning of the New Year for the Malayalis, the ethnic group of people originating from Kerala. This is a festival that is best experienced when staying at a homestay. You will find that it is mostly at home where the fanfare takes place. Take part in a pooja, a religious worship ritual, and enjoy a fulfilling and absolutely delicious Sadhya meal later.
When: Vishu falls in the month of April
Rooted in tradition, the dates for festivals of Kerala are decided in accordance with the Malayalam calendar along with the local traditions and customs. Because there can always be changes according to the customs and rituals associated with each place of worship. These months are only an approximate. If you're looking to travel to Kerala and want to experience a festival, let us know. We can help you plan the ideal trip, just click Plan Your Trip!
helping you travel your way
Everything you need to know about India is here We have tried writing about everything you may need help with for your trip to India, If you need help in planning a trip to India Get in touch with us to to plan your trip of a life time.