Travelling to India around a festival
One universal truth about India is that festivals are probably the best firsthand look at its culture. Most have colourful stories and rituals attached to them and the people really know how to have a good time. Let's just take you through a few of the most famous ones so that you can plan your India travel around a festival in India.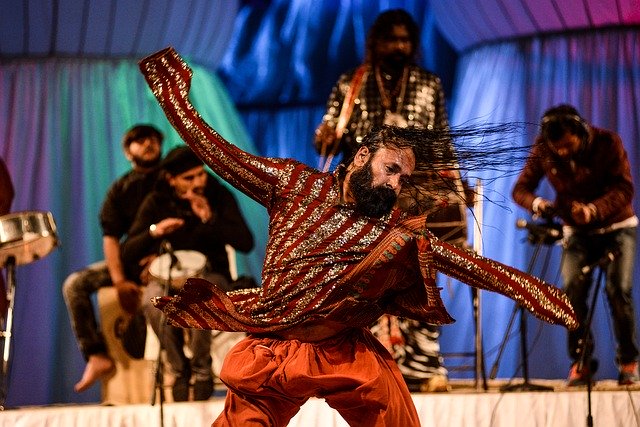 Performing at the beat in music festivals of Rajasthan
Enjoy the festivities of Diwali while travelling in India
It brings in the Hindu New Year – the day Ram, the hero in the 'Ramayan' returned home after defeating Ravan, a ten-headed demon who abducted his wife. They call it the festival of lights. It's easily the most celebrated in India with lamps, lanterns, firecrackers and the Diwali Pooja (prayer ceremony).
When do we celebrate it?
It lasts 5 days starting with Dhanteras and finishing up with New Year. Diwali is the third day, the day of the full moon between October and November. In 2014, it is on 11th Nov (dates keep changing each year according to the Hindu calendar).
Best place to be to enjoy the celebrations
The whole country just lights up, especially North India. In Varanasi, they conduct huge Diwali aartis with elaborate lamps and chants at the Ghats. Rajasthan comes alive and amongst the metros, Delhi has a Diwali worth witnessing.
If you're travelling to India during the Diwali season, make sure you book well in advance – tickets, bookings, guides. Everything becomes a bit more expensive at this time. A lot of noisy streets and all the smoke from firecrackers are the price you pay for visual delight and superb food.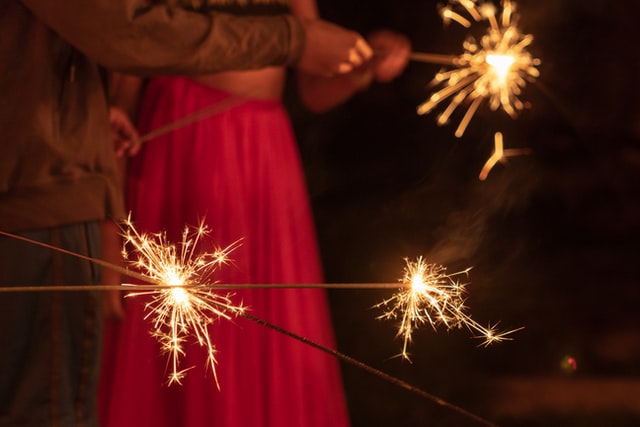 Festival of lights (sparklers) (Photo Credit – Madhukar Kumar)
Celebrate Holi
This 2-day riot of colours celebrates the bounty of spring. It's called the "Festival of Colors" and people bathe each other in dry and wet colours, have rain dances, drink bhang (a cannabis paste) and 'thandai'.
When and where to enjoy the celebrations?
It's usually the day after the full moon in March (a day before in some eastern parts). In 2014 it's on March 17. On the night of the full moon, they burn a Holi pyre (on which the mythical demon Holika was burnt) to destroy evil. North India offers unique Holi experiences in Rajasthan, Uttar Pradesh (Barsana, Mathura, Vrindavan), Shantiniketan (Kolkata), other parts of West Bengal and Delhi amongst metros.
Almost every household in India celebrates Holi and it really is fun. The only things to be careful about are checking if the colours you're using are toxic and if people are largely intoxicated. All in all, the trick to enjoying this one is to stay safe but go into it with no inhibitions.
Onam in Kerala
This is South India's harvest festival with flower decorations on floors outside all houses. They're meant to welcome the mythical King Mahabali. People shop and prepare feasts. There's a lot of song, dance and games but the highlight is the snake boat races. You absolutely must catch one of these.
When and where to enjoy the celebrations?
Celebrated in Malayalam speaking parts of South India, it is really big in Kerala, especially Thrissur with its Puli Kali (tiger play) festival on the last day of Onam. It starts in the first month of Malayalam Calendar and Thiru Onam, the 10th day from Atham is the most celebrated. After Thiru Onam, there are 2 more days of celebration.
If you're travelling to Kerala during Onam make sure you make advance bookings as ticket prices sky rocket and the best accommodation get occupied quick.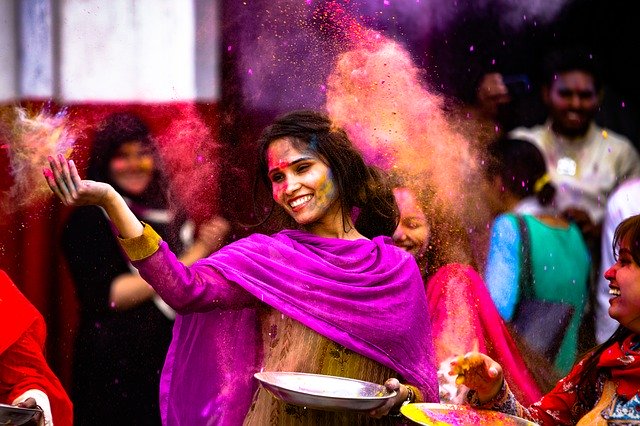 Celebrating the festival of colours – Holi
Ganesh Chaturthi in Mumbai
Eleven days of festivities and colourful processions carrying Lord Ganesha idols characterize Ganesh Chaturthi. It is a celebration of the birthday of the Hindu God with an Elephant head. People bring Ganesha statues home and place them in public stalls, worship them for a few days and then submerge (Visarjan) them in style.
Mostly celebrated in the state of Maharashtra and by Maharashtrians elsewhere in India, it falls on the 4th day of the new moon in August or September and lasts 10-11 days. Ananta Chaturdashi (10th day) is the biggest day.
The festivities go hand in hand with heavy traffic, blocked routes and a lot of noise on the streets, especially in Mumbai and Pune.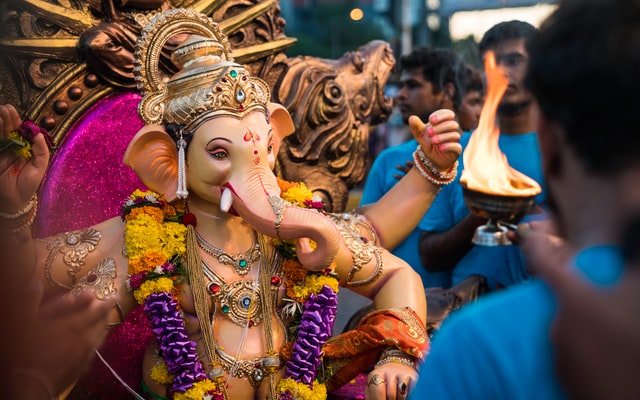 Ganesh Chaturti in Mumbai (Photo Credit – Chabilleasy Mawa Unsplash)
Pushkar Camel Fair
This 15-day camel trading fair is held in Pushkar, near Ajmer in Rajasthan. People come here in huge throngs. The first 5 days are for camel trading after which pilgrims take dips and conduct rituals in the holy lake. Camels are all decked up and shaved. There are camel beauty pageants, dancing contests, races and what not. Musicians, acrobats, dancers, magicians, carousel rides, snake charmers; this fair has everything you've associated with India of the yesteryears and more.
If you're planning on visiting Rajasthan during the fair, book well in advance unless you want to pay through your nose for an average accommodation. And be careful of godmen and other freeloaders trying to fleece you in Pushkar.
Rajasthan Musical Festival
You camp in the Thar desert (Rajasthan) and revel in 4 days of absolute auditory and visual delight. There's a bunch of stages, a superb and extremely diverse line-up of music artists from all over, visual art and many more experiences.
There are no fixed dates for the music festival and it keeps changing. If you are interested, keep visiting http://www.ragasthan.com/ to stay in the loop. You should prepare well for extremely cold nights and relatively hot and dry weather during the day's since you're going to be outdoors most of the time. Book your passes well in advance, this festival is becoming more famous by the year.
Jodhpur Riff
The Rajasthan International Folk Festival at Mehrangarh Fort in Jodhpur, Rajasthan is a great experience for people any age from any culture. UNESCO calls it a "Peoples Platform for Creativity and Sustainable Development". It has Sir Mick Jagger for its International Patron. Dates always coincide with the year's brightest full moon, Sharad Purnima and the festival always has brilliant concerts and events. Again, this is a time of the year when Jodhpur gets very crowded so you should make all your bookings well in advance for a hassle-free experience.
Decorated Camels in the fair, Pushkar (Photo Credit – Ashish Sangai)
helping you travel your way
Everything you need to know about India is here We have tried writing about everything you may need help with for your trip to India, If you need help in planning a trip to India Get in touch with us to to plan your trip of a life time.