Things to do in Bundi
'I used to be like curd and I found friends like Bundi on the way, my whole life became raita'
– Anwesha Priya
Located in the narrow valleys of the Aravali Hills in Rajasthan, Bundi is a charming princely state that got its name from Bunda, one of its former rulers. While Bundi is popularly known for its magnificent palaces, majestic forts, this small rustic town has so much more to offer! From step wells to Chhatriya's and picturesque lakes, Bundi will be the stop where you will experience living like a royal and have a relaxing time.
If you are wondering how to spend your time in this gorgeous town of Rajasthan? We've got you covered. Here's our guide on the top things to do in Bundi –

Beautiful Painting on the streets of Bundi (Photo Credits – Nevil Zaveri)
Explore the majestic Taragarh Fort in Bundi
VISITING HOURS – 09:00 to 17:00 hours, ESTIMATED TIME 2-3 hours, COST
Built on a steep hill by Rao Deva in the 13th century, Taragarh fort is one of the most impressive structures in Bundi and is also known as the 'Star Fort. Since the fort is located on a steep hill, it offers a panoramic and stunning view of Bundi. The entrance to the fort is marked by three gateways that are worth marveling at the other famous structures inside are;
The famous Grand Cannon or the 'Garbh Gunjam', the impressive palaces and the Rani Mahal, which was built exclusively for the wives and concubines of the rulers is quite intriguing.
Sadly, parts of the fort are now closed to the public but don't miss out on visiting Badal Mahal and Phool Mahal, as they have been painted with impressive artwork inspired by Chinese ceiling artwork.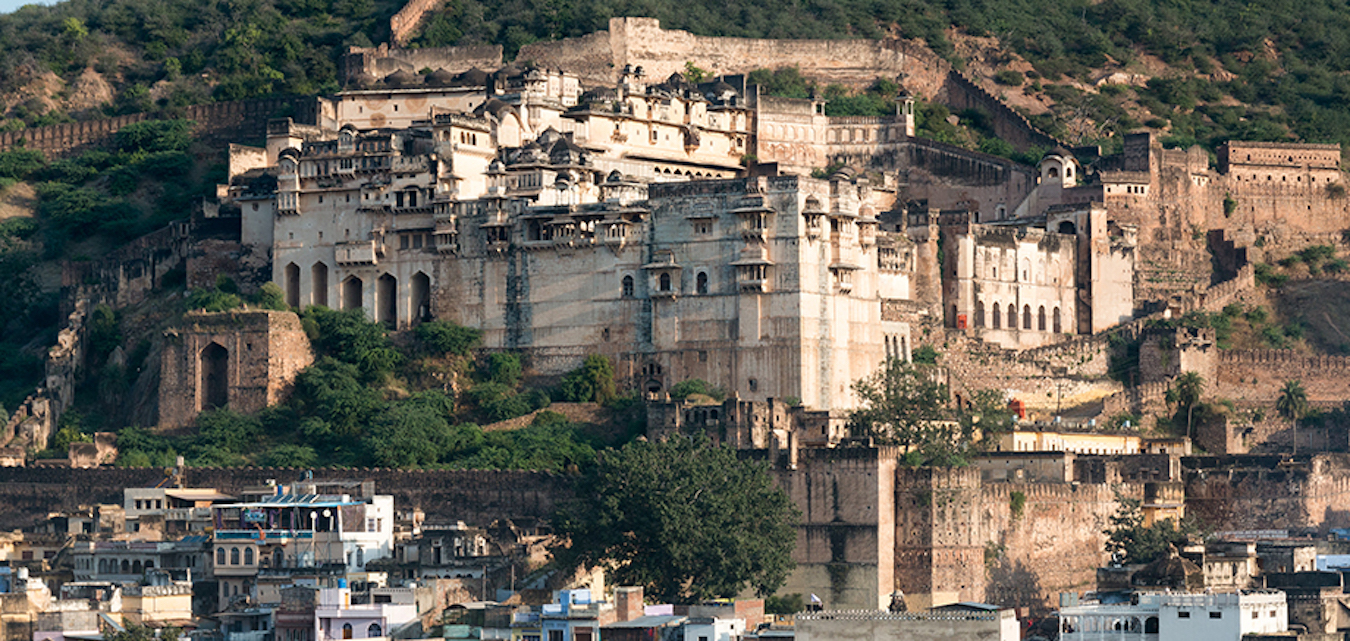 Bundi's intimidating fort will leave you breathless
Marvel at the Chaurasi Khambon Ki Chattri
VISITING HOURS – 07:00 to 18:00 hours, ESTIMATED TIME 3-4 hours, COST
Chaurasi Khambon ki Chhatri was built in 1683 by Rao Anirudh Singh to honor the services of Deva the nurse. This two-story marquee stands on a tall podium, and not only serves as a memorial but also as a place of worship respectively. The Chaurasi Khambon ki Chhatri is adorned with engravings of animals, and paintings on the pillars that have striking images of the lifestyle in the Rajput regiment in the 17th century
However, the highlight of this monument is the 84 pillars that support it! It is said that one can never find all 84 pillars, so the locals love challenging people to count all pillars. Don't miss out on this fun challenge as the result will surprise you!
One of the many things to do in Bundi is to discover the Step Wells
VISITING HOURS 07:00 to 18:00 hours, ESTIMATED TIME 3-4 hours COST
With over 50 kunds, tanks, and step wells, Bundi is popularly known as the city of step-wells or Baoris. The step-wells were means of providing, collecting, and storing water for the town but were also used as centers of religious ceremonies and social functions.
The step-wells are also known as baori, vav, kind, or Sagar in the local dialect and are of different shapes. Each of the Baoris unique in their own way; some with beautifully carved terraces, well-designed steps, and stunning carvings of elephants and sculptures.
However, the most stunning of them all is, 'Raniji Ki Baori' or Queen's Well, the largest baori in Bundi. It is 46 meters deep and was built by Rani Nathawatji in the 17th century. The Baori has places of worship on each floor and over a hundred steps that make it possible to catch water even when the water levels were very low. From the minute you enter this baori the beautiful carvings, gates, sculptures of gods, goddesses, and royal figures will have you fascinated.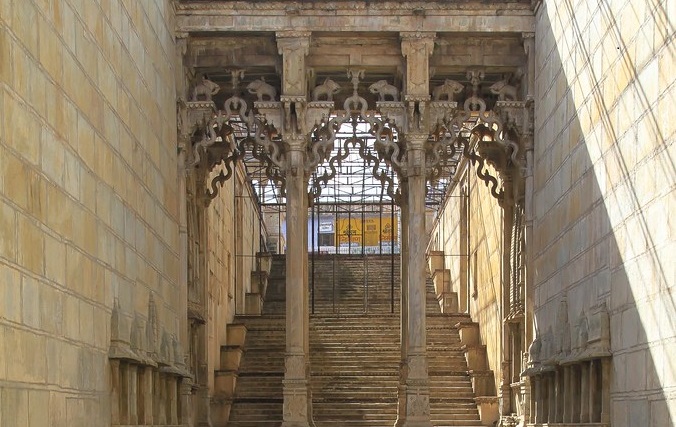 The stunning architecture inside the Queen's Stepwell in Bundi (Photo Credits – Carol Mitchell)
Spend the day at Nawal Sagar Lake
VISITING HOURS 07:00 to 18:00 hours, ESTIMATED TIME 3-4 hours COST – Free
Located in the heart of the city, Nawal Sagar is a man-made lake that served as the main source of water to the many Baoris (step wells) that surround it. Right in the center of the lake is a temple that is dedicated to Lord Varuna who is worshiped as the Aryan God of water.
The temple is partially submerged in water but still has pilgrims who come to seek the blessings of Lord Varuna. Another main attraction of the lake is the reflection of the forts and palaces can be seen in the water.
Grab your cameras and make sure to capture this! The Nawal Sagar lake can be best viewed from the Taragarh Fort or by the road lying adjacent to the lake. The lake looks beautiful at night when it is decorated with lights, and amazing reflection falls in the water.
We hope our list of things to do has given you a better idea of Bundi and the places you should see while you are there. If you are looking for a few more offbeat destinations in India, Bikaner should be on your list. We suggest you read our blog on Bikaner to know more.
Also if you and do have any more questions or would like our help, contact us, we would love to make your stay in India memorable.
helping you travel your way
Everything you need to know about India is here We have tried writing about everything you may need help with for your trip to India, If you need help in planning a trip to India Get in touch with us to to plan your trip of a life time.