Things to do in Varkala
Created by Viveka F,
Last Updated on November 21, 2023
Dance with the waves, move with the sea. Let the rhythm of the water set your soul free' – Christy Ann Martine
The jaw-dropping cliffside beaches along with the playful vibe of this town makes Varkala an ideal destination to just relax and have fun. While you often find people surfing along this beach, those who are not so adventurous can enjoy the sound of the waves and watch the perfect sunset.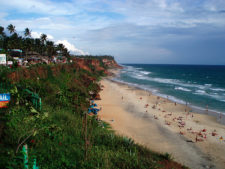 Ariel views of the cliff beach in Varkala (Photo Credit – Henrik Jagels)
Relax, Surf, Meditate and Repeat
It goes without saying that when you are in Varkala you will be spending most of your mornings and evenings on the beaches. However, what makes Varkala even more interesting is that there is so much to do at the beach. From relaxing to surfing, you can also grab your yoga mat and enjoy meditating by the beach.
Surfing – Varkala is known for surfing and it would be a shame if you left without experiencing this. Just imagine gliding through the most beautiful she of blue, with the backdrop of coconut trees and the cliff. The best Surf School here is the 'Soul And Surf' in the South of Varkala. Any of the beaches of the South Cliff is ideal for surfing.
Yoga – If you are a yoga enthusiast you know the beach is the best place to practice Yoga! Nothing can be more calming than the sound of the waves. The Soul and Surf School also organizes Yoga classes. They have different packages for you to choose from.
Ayurvedic Treatments – With our hectic city life and constant work stress our body undergoes a tremendous amount of stress. The answer to these problems is an Ayurvedic Treatment. There are multiple resorts in Varkala that offer these packages. You can get in touch with us to book the best places here.
There are several ayurvedic spas, restaurants that play some really interesting trance music, and shops selling souvenirs and T-shirts around the beaches. The best beaches to enjoy all of this would be Edava Vettakkada Beach, Black Beach (yes the sand is black), Odayam Beach, Chilakoor Beach, Thiruvambadi Beach.
Do note due to the rough currents swimming is dangerous no matter how well trained you are, so do be cautious. Ladies, you would want to avoid wearing a bikini on these beaches, as you might get a couple of stares.
VISITING HOURS: 24 hours
ESTIMATED TIME: 2 hours
COST: Free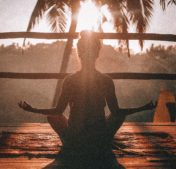 Tourist enjoying meditating by the beach, Varkala
Want to know more about the best places for Ayurvedic massages in India? Read this blog to find out.
Anchuthengu (Anjengo) Fort in Varkala
If you are looking for a break from the beaches and want to do a bit of exploring, pay a visit to the Anchuthengu Fort also called Anjengo Fort, as the British found it hard to pronounce the local name.
Established by the East India Company this square-like structure was used by them as a signal for the ships coming from England. Although not that well maintained and had multiple attacks by pirates and locals the East India Company still managed to keep it under control.
This complex also comprises tombs of the soldiers, bastions that mounted about 8 guns, and a century-old convent. You can sit back on the ruins and watch the sunset as on one side you have the mighty Arabain Sea waving at you from the other end.
VISITING HOURS: 24 hours
ESTIMATED TIME: 1 hour
COST: Free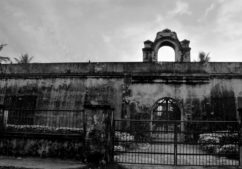 The entrance of Anchuthengu (Anjengo) Fort, Varkala (Photo Credit -Thejas Panarkandy)
Lighthouse Of Varkala
Just a few steps away from the Fort is the famous lighthouse that was built in 1684 by the Britishers. It served as a landmark for ships coming in from Britain.
You have a stunning birds-eye view of the Arabian Sea but to witness this you have to work for it! About a 280 steps climb up and you have paradise in front of you. So make sure you have your cameras on you to capture this moment.
VISITING HOURS: 24 hours
ESTIMATED TIME: 1 hour
COST: Free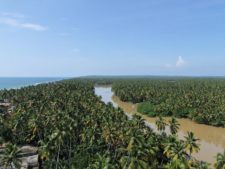 Views from the Lighthouse of Varkala (Photo Credit – Emmanuel DYAN)
Kapil Beach and Lake
You can get the best of both worlds here. On one side you have the golden sand beach and on the other, you have the calm lake surrounded by coconut trees.
You can choose to either have a picnic by the sea and enjoy the atmosphere there or hop onto either side and enjoy canoeing on the relaxing lake. No matter what you choose, serenity and relaxation are guaranteed.
VISITING HOURS: 24 hours
ESTIMATED TIME: 1 hour
COST: Free
Learn More: Comprehensive Guide on Travel Costs in India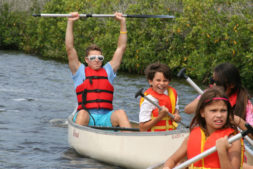 Family enjoying canoeing on the lake (Photo Credit – Episcopal Diocese of Southwest Florida)
A Day Trip To Munroe Island
About a 2 hour drive from Varkala beach is this beauty that is tucked away from most of the travelers. Wish to feel like it's just you and nature that exists in the world, drive straight to Munroe Island.
Not only will you enjoy the blue skies, the rustling sounds of the coconut trees but you also get to see the locals carrying on their daily tasks. Fishermen try their luck to get the best catch and women making ropes from coir. Enjoy a blissful afternoon by the backwaters.
So if you are spending a good 4-5 days in Varkala, a day trip to this island will make your journey even more special.
VISITING HOURS: 24 hours
ESTIMATED TIME: Half a day
COST: Free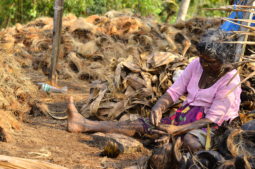 Women in the village making products out of coir (Photo Credit – Haris Crayon)
Arattu Festival in Janardhanaswamy Temple
If you are in Kerala between March – April and October – November, do check if your dates match with the days that this festival is celebrated. The Arattu festival is a huge deal in Kerala. It takes place for 10 days at theJanardhanaswamy Temple. You will get to witness a parade of elephants, colorful umbrellas that are heavily decorated, and Kathakali dancers showcasing their talent.
Explore and Uncover: Best Time to Visit Kerala
Learn More: Uncover Fascinating Things to Do in India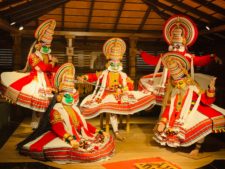 Kathakali dancers performing at the festival in Varkala. (Photo Credit Mayur Nair)
We hope this list will help you explore this town to its fullest. Have a look at this other interesting beach town of Kerala called Marai. If you are looking for a complete beach vacation or looking for a mix of beaches, adventure and history? You can get in touch with our travel experts who will assist you in carving an ideal itinerary for you.