Rock Climbing Destinations in India
Rock climbing and bouldering are great ways to get both an adrenaline hit and be amidst nature. And India, as we know already, has a wealth of natural beauty, a lot of which makes for fantastic climbing at both amateur and pro-levels. Though it's still an upcoming activity here, there are some great options! We've rounded up some of the best places for rock climbing in India.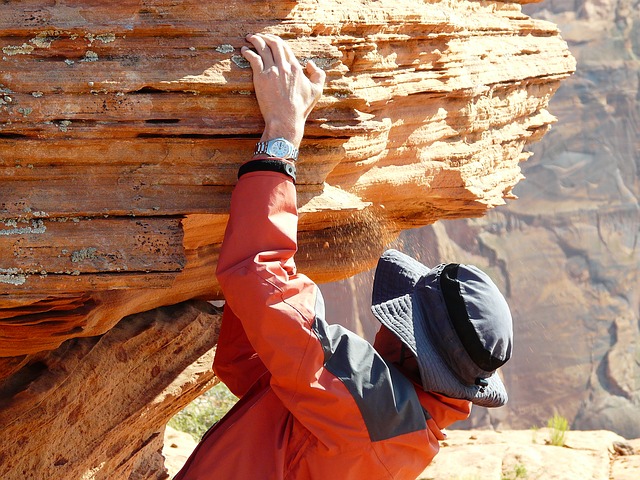 Bouldering in Hampi
First of all, what is rock climbing?
Rock climbing, much like mountaineering, is all about pitting yourself against the elements – the difference between the two being that you don't need Alpine conditions to go rock climbing, and there's no snow to deal with. Bouldering, similarly, involves using your hands and feet to get up large boulders. There's something undeniably thrilling and satisfying about being able to conquer a boulder or outcrop and get to the top using just the power of your body.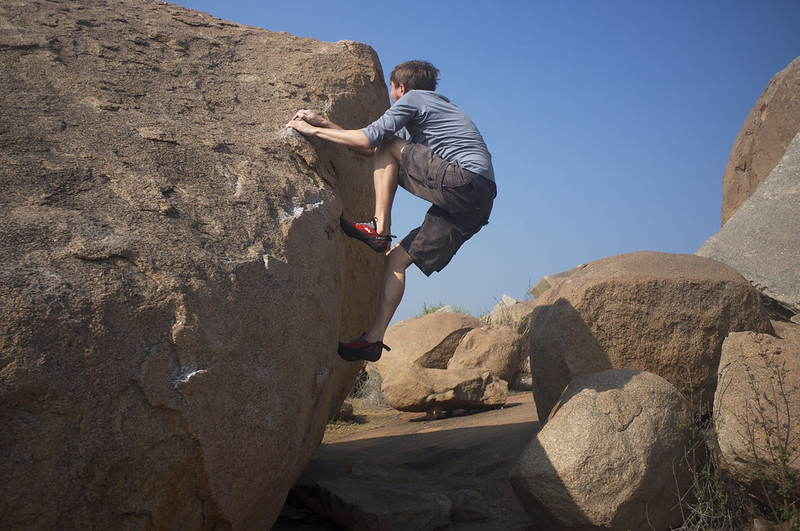 A thrill-seeker (Photo Credit – Aleksandr Zykov)
Who can go rock climbing?
You don't need to be an expert to go rock climbing or bouldering. As long as you're moderately fit and don't have any health conditions that prevent you from trying it, go ahead and give it a stab! However, like with other adventure sports, unless it's something you are trained to practice alone, make sure that you have a certified instructor with you. And, of course, make sure that you've got all your safety gear!
Need help planning your rock-climbing trip to India? Get in touch with us, we'll help you figure out your trip itinerary!
Here are some of the best places for rock climbing in India: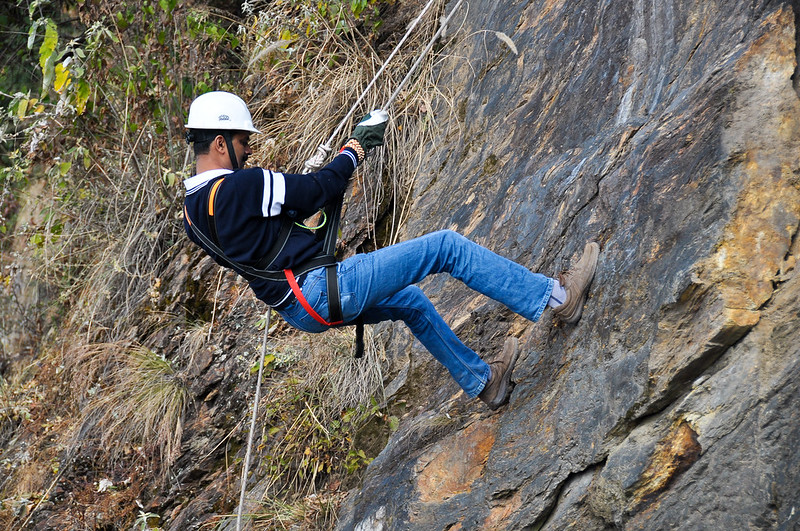 Anyone can go for rock climbing (Photo Credit – Guido-D90)
Parvati Valley, Himachal Pradesh
Situated in the Northern Indian state of Himachal Pradesh, at the confluence of the Parvati River with the River Beas, the Parvati Valley is a popular spot for mountain climbing. Indians, especially, visit this place to soak in the beauty of the rocky terrain and the beautiful meadows. The valley is also blessed with the Rudra-Nag waterfall, which only makes the rock climbing more fun! This area is also a trekker's paradise, so even if you're not looking to scale heights with your hands, it's worth visiting.
When you should go: Go in springtime and summer, from March to June, before the rains appear!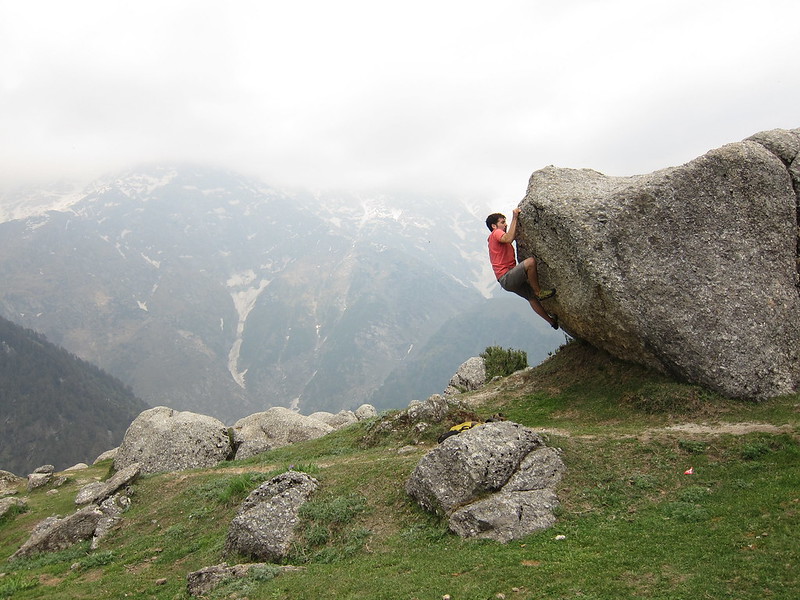 (Photo Credit – Ryan Weller)
Hampi, Karnataka
Hampi has long been a favourite destination with travellers for its immense wealth of culture and history, but what you might not know is that it's also one of the best places in India for bouldering and rock climbing. In fact, holds the unofficial title of the 'bouldering capital of India!' There are a whole lot of locations here to choose from, and you will also find reputed operators who will guide you if you're a first-timer. And, in your down-time, you can explore the quaint hippie town at your leisure!
When you should go: The winter months, from October to February, are when the weather is pleasant enough to be out and climbing. December is when the rocks will be the most crowded!
Rock climbing in Hampi (Photo Credit – Mike Kitsch)
Shey Rock, Kashmir
Bouldering in India is also an upcoming sport. Shey Rock is one of the best spots for rock climbing in the Kashmir region. This spot is close to Leh, and you can choose from the 20 bolted routes that have already been established there. They have varying difficulty levels ranging from easy to moderate.
When you should go: Ladakh's best visited from May to September, and the same applies for climbing season here!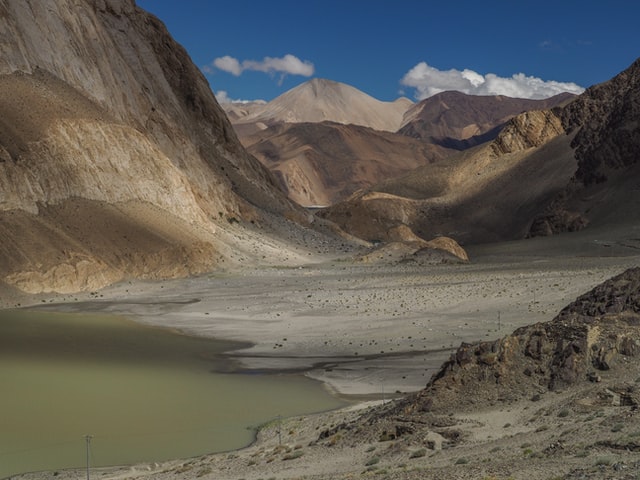 Badami, Karnataka
This town of ancient temples is another big name in the Indian climbing scene, and for good reason! Badami's red sandstone offers a vast variety of routes, suited for learners and experienced rock climbers alike, and you could spend days (if not weeks) making the most of this mix of culture and adventure! Badami offers some of the best rock climbing in India, and there are also schools here that can help you out if this is something you want to try.
When you should go: Visit between November and March, while the weather is most conducive to climbing.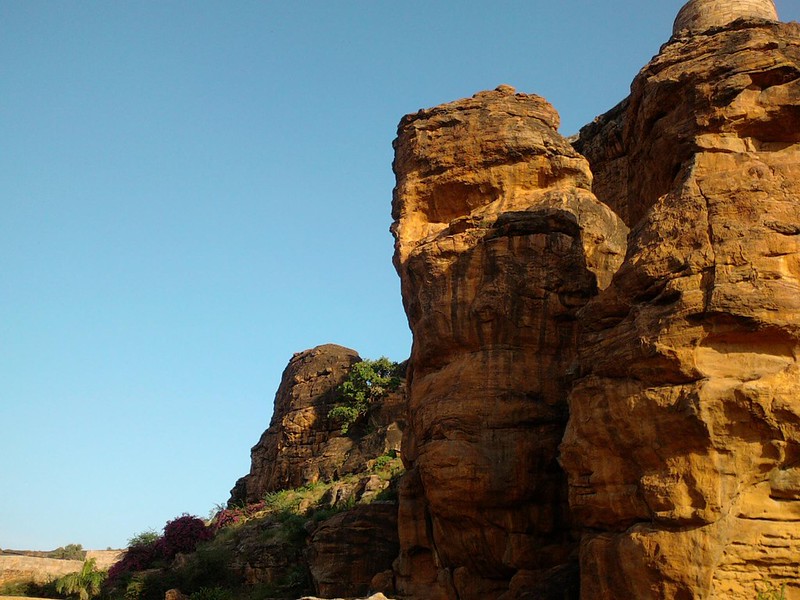 Rock (Photo Credit – Sandeep Matanavar)
Malshej Ghat, Maharashtra
If you are visiting the country right after the rains, don't forget to visit Malshej Ghat in Maharashtra. This entire region turns a vibrant green, making it a sight for sore eyes. Malshej Ghat is well-known and often visited by locals looking for a weekend away. Few know that it's also a great spot for adventure sport lovers, including fans of rock climbing. While you're here, don't forget to also go on treks in the area to truly make the most of the area.
When you should go: The rains trail out by September, and the region stays lush through till about March.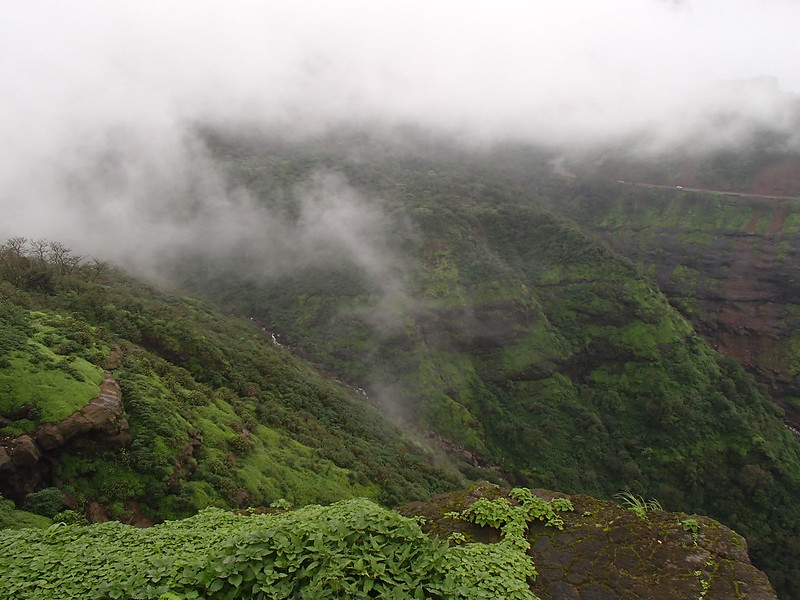 Malshej Ghats, Maharashtra (Photo Credit – Aditya Patawari)
We're here to help you plan your next personalized trip to India – get in touch!
helping you travel your way
Everything you need to know about India is here We have tried writing about everything you may need help with for your trip to India, If you need help in planning a trip to India Get in touch with us to to plan your trip of a life time.