Practical guide on Hotel Experience in Delhi, India
Delhi has really expanded over the past few years and this has led to a large number of hotels popping up in various parts of Delhi. You can choose to live in the heart of the city at Florence Hotel . You could try Woodcastle in Karol Bagh, with markets and activity at your doorstep. Whatever you like, we'll help you find the perfect hotel experience in Delhi.
Another popular (and often recommended option) is to live in service apartments/homestays in the residential areas of Delhi like Tree of Life, Saket House or Amarya Haveli. The location is more peaceful, better hospitality and spacious, tasteful rooms. Most importantly, Delhi is extremely well connected by Metro. Thus, if you choose to live in this part of Delhi, access to the tourist sights, airport and railway station is easy and convenient.
Besides, being the capital of India, Delhi has all the comfortable upper-end luxury hotels too. Imperial Delhi, is a delightful Heritage Luxury hotel.
In the hustle bustle of the city
Woodcastle
Although situated in the crowded market of Karol bagh, it's contrary to as it appears. Because, this is a good value for money option in Delhi. It has a communal area in the lobby (WI-FI available) where you can interact with other travellers. Subsequently, the rooms are a little small. However in contrary, it's still equipped with all basic amenities. It is close to the Karol Bagh metro station.
In Season INR 2500 onwards (USD 50+ / Euros 35+), Trip Advisor Reviews
Credit: Booking.com
Florence hotel and inn
Situated in karol bagh, central Delhi, Florence is surrounded by shopping arcades, entertainment plaza and a lot of hustle bustle. The rooms are of a good standard and would be what you would expect in any new developed modern room. Even though there is nothing spectacular about this property, you will still get good services and secondly, it's a good location.
In Season INR 3700 onwards (USD 75+ / Euros 53+), Trip Advisor Reviews
Lal Haveli
A great budget option near the New Delhi railway station in the backpacker area of Paharganj. Firstly, acceptably clean rooms and bathrooms, great central location, however, no real service and windowless rooms is what you would get. But, having stayed here before, for the price that they charge, each room has an air conditioner, television and hot water facilities. Great budget and value for money hotel.
In Season INR 1200 onwards (USD 18+ / Euros 130+), Trip Advisor Reviews
Centrally located – Credit: Booking.com
Comfortable in Residential Delhi
Tree of life
A popular pick for our guests. This cosy bed and breakfast is located in a charming residential part of south Delhi. It is set in a small, leafy street away from traffic and city. Moreover, an added advantage of staying at Tree of Life other than its lovely hosts, decorative furnishings is its proximity to the metro of Saket. Having stayed here ourselves we can safely say that this is an oasis in the chaos of Delhi. A hotel experience in Delhi like no other.
In Season INR 4500 onwards (USD 90+ / Euros 65+), Trip Advisor Reviews
A cosy bed and breakfast – Credit: Booking.com
Saket Bed and Breakfast
Very close to Tree of Life, Charming with great attention for detail. Very comfortable and hospitable hosts.
In Season INR 4500 onwards (USD 90+ / Euros 65+),Trip Advisor Reviews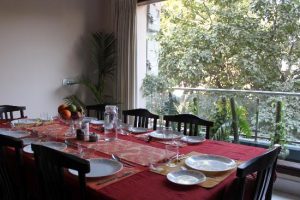 Charming and comfortable – Credit: Trip advisor
Amarya haveli
Located in the plush suburb of Delhi, Hauz Khas this is an ethnically decorated and jewel-coloured serene haven. There's lots of colour, Indian textiles, artefacts and imaginative design in the entire property. Having only 6 rooms this is a place you have to book early. This is not too far from the metro of Hauz Khas.
In Season INR 7500 onwards (USD 150+ / Euros 107+), Trip Advisor Reviews
Something Different
Shanti Home
Firstly, shanti means peace and that is what you will get in this tranquil getaway in janakpuri (delhi). The 17 rooms themed rooms are tastefully decorated and the service at the hotel is great. However, the only flaw is that in spite of its location well connected by the metro, is still too far away and isolated from all the tourist sites and markets.
In Season INR 7000 onwards (USD 140+ / Euros 100+), Trip Advisor Reviews
Tranquil and peaceful – Credit: Shanti home
Epitome of Luxury
The Imperial
Teak and rosewood, Italian marble, art deco architecture is what defines this luxurious property situated on Janpath (Central Delhi). Close to Connaught place this property is really close to where the action is with Bars, restaurants and the groovy market of janpath a stone's throw away. Because, remember that with 200 rooms this is still quite a large hotel, and it is also fairly expensive on your pocket.
In Season INR 17500 onwards (USD 350+ / Euros 250+), Trip Advisor Reviews
A beautiful luxurious accommodation in Central Delhi – Credit: Booking.com
helping you travel your way
Everything you need to know about India is here We have tried writing about everything you may need help with for your trip to India, If you need help in planning a trip to India Get in touch with us to to plan your trip of a life time.