Places to see in Pushkar
'Every big city has its little communities, but they don't have the quaint, small-town charm' – Michael Goss
Pushkar is one of the oldest cities in India. Located northwest of Ajmer, the tranquil city of Pushkar is a favored destination for thousands of tourists and devotees flocking to Rajasthan. It is a fascinating town that surrounds the holy Pushkar Lake. The main street is one long bazaar that sells anything and everything.
Furthermore, this place has a lot of eating options and innumerable temples!! Pushkar has 52 bathing ghats surrounding the lake and the vibe that this place brings is quite unlike any place else in Rajasthan. One could spend hours by the lake watching the sunset while hearing the soothing chants of the temples, playing in the background.
Wondering what you can do in this beautiful town? We've got you covered. Here's our guide on the best places to see in Pushkar.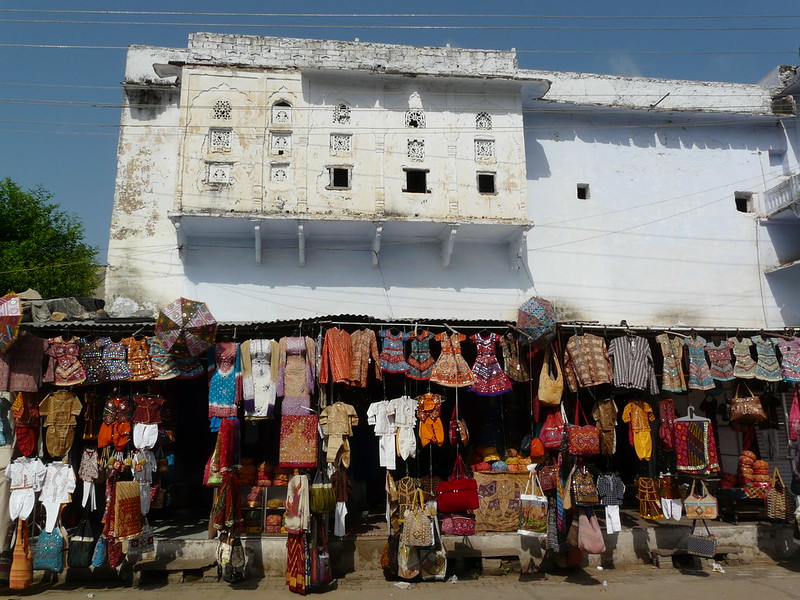 Pushkar street market
Savitri temple
Set at a climb of 650 steps, this temple is dedicated to Brahma's wife. Once you reach the top, you'll have a view of the city and lake second to no other.
While you can do this at any time of the day, we highly recommend experiencing the sunrise or sunset. It would not be more than a 1.5-hour walk from your accommodation to the top. While on top, try and wander beyond the temple as the view on the other side is beautiful too.
Recently they also have a cable car that takes you to the top. Since the final climb of 650 steps is hard on the knees you can opt for the cable car.
VISITING HOURS: All days
ESTIMATED TIME: 2-3 hours
COST: Free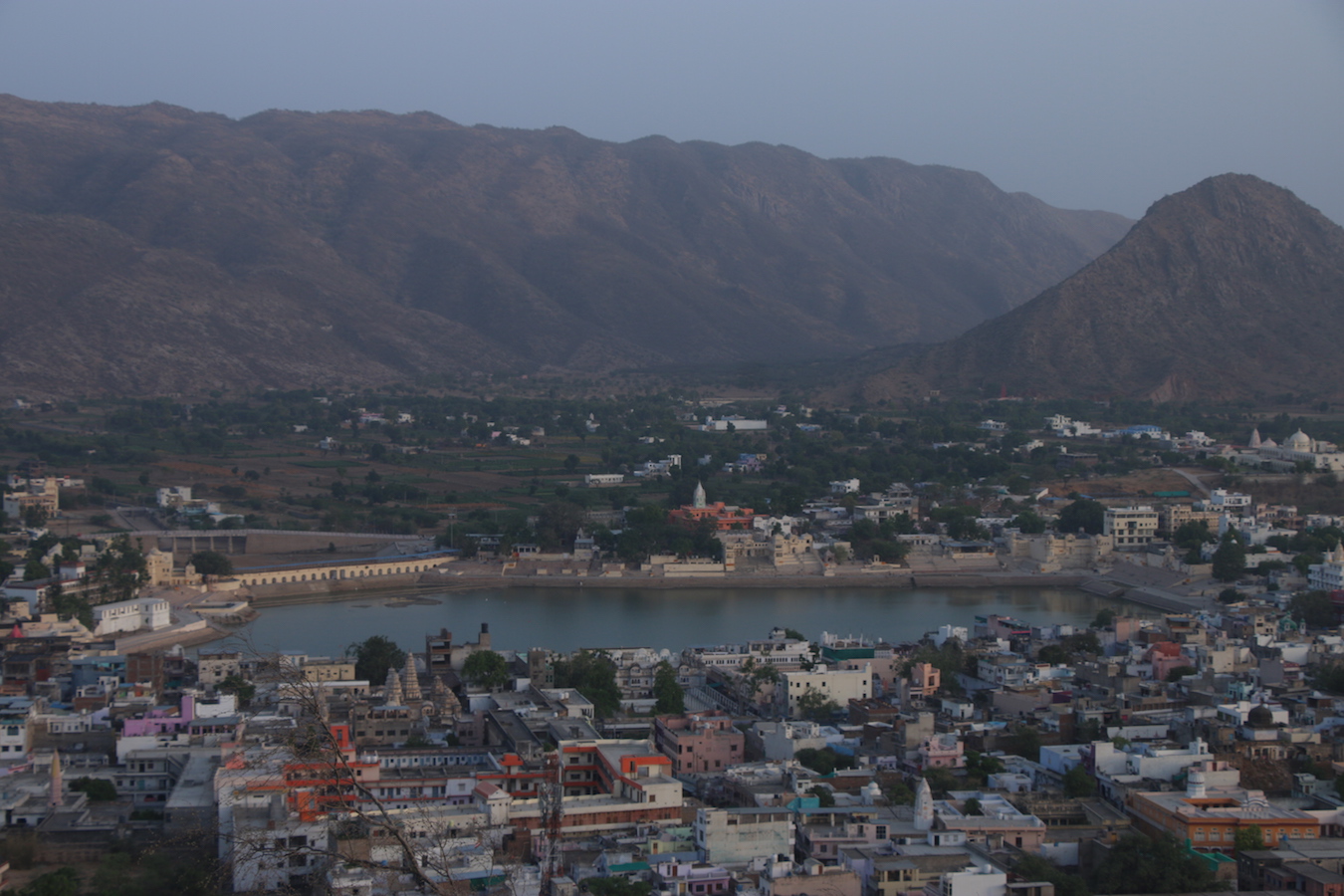 The view of Pushkar from Savitri Temple
the Brahma Temple
The one and only temple in the world dedicated to Brahma, the creator of the world in Hindu mythology. Legend has it that his wife placed a curse on him that restricts his worship to this one city. That is why this place is frequented by many pilgrims seeking blessings!
VISITING HOURS: All days
ESTIMATED TIME: 15-30 mins
COST: Free
Pushkar Lake
VISITING HOURS: All days, ESTIMATED TIME: 30 mins- 1 hour, COST: Free
The centerpiece of this lazy hippie town, the lake is not meant for swimming and is considered one of the holiest places in India. Someone might try to con you out of your cash in exchange for a few mumbled blessings and a thread around your wrist, don't fall for it.
Find a quiet spot on the endless shoreline and watch the world pass you by in the slow-motion setting that comes naturally to the sleepy city. As the sun sets, head to Sunset Cafè, sit on the steps and watch drummers and artists welcome the night.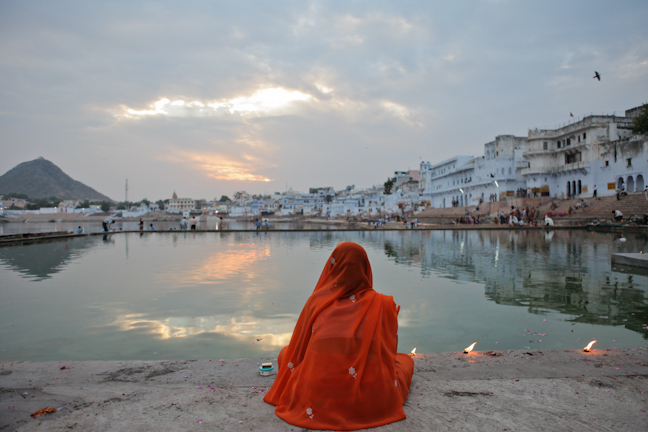 A woman praying at the holy lake, Pushkar (Photo Credit -Jason Rufus)
Pap Mochani Temple
A short walk from the village and a good 20 minutes climb to the top lay the Pap Mochani (Gayatri) Temple. Once you reach the top you can enjoy the beautiful panoramic view of the town of Pushkar, the mountains, the desert, and everything in between. The climb isn't difficult, but if you are visiting during the monsoon, it might get a little slippery as there is no paved path.
A sunrise/sunset view from the temple is totally worth it. If you like hiking, we recommend doing both Savitri and Pap Mochani during your time in Pushkar. On the whole, they are both short hikes with a very rewarding view!
VISITING HOURS: All days
ESTIMATED TIME: 1-1.5 hours
COST: Free
Ajmer Dargah
Juxtaposed to the sacred Hindu city is the mausoleum of a Muslim Saint – Moinuddin Chishti 15 km from Pushkar in Ajmer and is a very sacred place for Muslims. You can either make a trip from Pushkar to Ajmer and back (especially if you plan to rent a scooter/bike) or visit it before or after your train (as Ajmer is the railway station).
VISITING HOURS: All days
ESTIMATED TIME: 30 mins- 1 hour
COST: Free
A Day or two in this hippie town will have you rejuvenated and all ready for your next destination! However, if you are puzzled about what to do next, here is a blog on travel routes across North India, to continue your adventures across India. You could also get in touch with our travel experts who will assist you in personalizing your trip, giving you the best tips and suggestions for your adventure in India.
helping you travel your way
Everything you need to know about India is here We have tried writing about everything you may need help with for your trip to India, If you need help in planning a trip to India Get in touch with us to to plan your trip of a life time.