Introducing your kids to India
India's a big fan of families. The rich in history and culture is a great way to introduce your kids to India. We've never been big on individualism and the family is seen as the epitome of our great institutions. Travelling with your pack means that you're already one step closer to blending into the culture. You'll find yourself better equipped to experience a country that is designed for family life.
For example, most hotel rooms won't charge extra for children to sleep in the same rooms as their parents regardless of whether it's a two-person bedroom or not. The same goes for restaurant deals and entrance fees to local attractions. You'll also be able to avail of endless "Family offers" that basically toss you bulk deals at cheap prices.
First, you can refer to this excellent series of blogs by Gregor and Sarah from Canada on their own experience carting three kids under the age of 15 across the country for two whole months. There's more here, here and here. Beyond that, we've listed some tips specific to travel in India: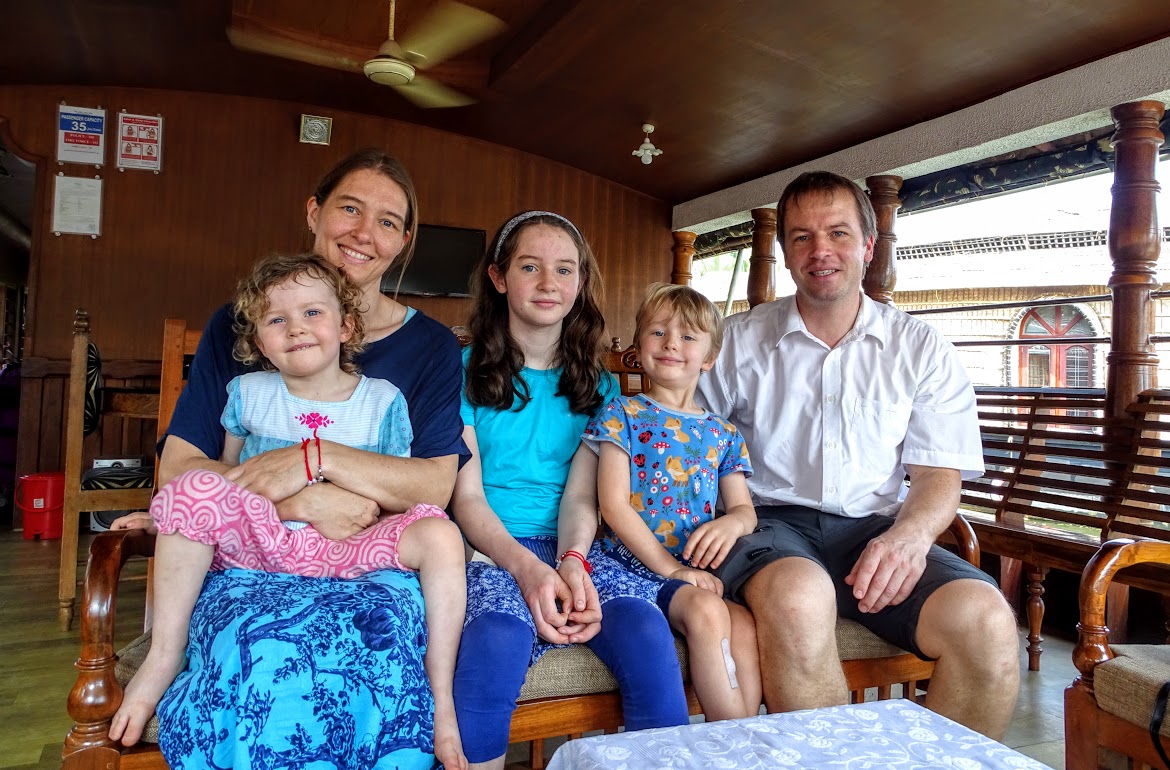 Our guests in Kumarakom houseboat (Annika Kästle and family)
Food and Drink
Eat a lot: India has no dearth of diverse snack foods to keep the kids pumped up. But, you might want to avoid the spices or the street food in view of their more delicate digestion. Of course, you don't want your child to completely miss out on what is a big part of the Indian experience. Maybe let them have a small bite, but keep medication handy.
Remember that not many restaurants here have a kid's menu because people tend to order a few common dishes for the table and then share them.
Hydrate: Yes, it will be hot. Long walks and museum tours aren't going to help the situation. Carry bottled water with you everywhere. Always mix in a spoonful of flavoured glucose for the kids.
Buy your own groceries: Apart from bottled water, you might want to have some milk and cereal on hand for a tender stomach. India has a lot of trusted packaged brands so you don't have to worry. Opt for a packet of our beloved Maggi instant noodles after a long day.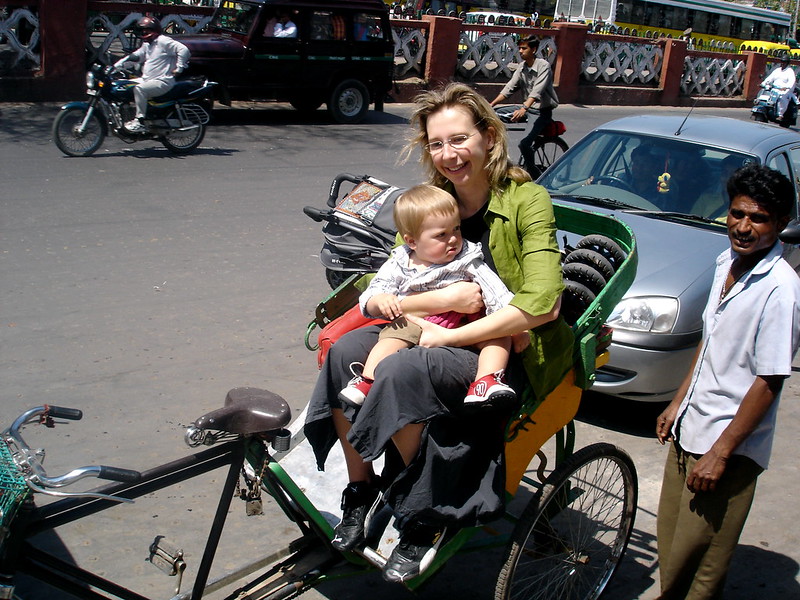 Kids will love touring around in Rickshaws, something completely foreign to them! (Photo Credit – Per Mosseby)
Keeping your kids entertained
Carry distractions: The chances of you getting bored in India are pretty slim, but who really knows how kids work? Make sure you have books or games to keep them occupied before they wander off.
Sleep well: Constant travelling means that you can let them drop off on buses or trains between destinations. This won't be as restful as a good night's sleep in a soft bed. In India, the good news is the hot afternoons drive everyone in for a deep nap after a heavy lunch. But, the bad news is that mosquitoes and insects rule the night so stock up on repellent.
Attend workshops: Kids prefer doing to seeing and India can be quite accommodating of this. Not only official workshops but even a street vendor or an auto driver will be quite happy to explain things to children. He may even let them try their hand at it.
Encourage them to make friends: Your kids probably want to get away from you after two weeks in the same hotel room so keep an eye out for possible companions. From fellow travellers to local neighbours, it'll be great for them to see someone their own age for some time. And if it's a local, they're more likely to learn about Indian life from them than another tour guide.
Encourage your kids to make friends with the cheeky local children their age (Photo Credit – Alfie Ianni)
Safety Measures
Keep them within your sight at all times: This applies to any sort of travel, but India is exceptionally crowded and often fast-paced. Hold hands, and don't feel ashamed of tying a little string around a little one's wrist if it makes you feel safer. Bright shiny objects will call to them from everywhere and you've got to be vigilant.
Get a doctor's opinion: While some visa offices make you take certain shots before you leave, they are not your pediatrician. Your pediatrician will be better equipped to give you a personal opinion on what you should prepare your kids for. Bring your medication with you along with a copy of the doctor's prescription in case of customs hassles.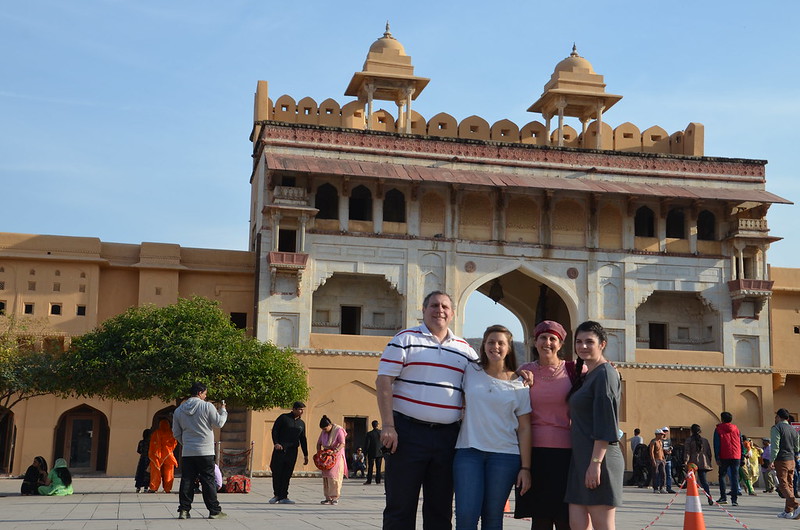 Going to India as a family is not as difficult as one might believe (Photo Credit – ybenyaacov)
Tips for making your life easier
Be flexible: Leave buffer spaces in your plans in case someone catches a bad cold or wants to hang out at the zoo a little longer. There's a fair chance they may decide that they just don't want to see another fort. Or they may demand to know where the promised tigers are instead, and you might find that you can actually accommodate that. Don't rush things.
Stroller etiquette: India's not the best city to bump your baby around on wheels. Pavements are often poorly laid or simply non-existent, and many buildings may not have lifts. Opt for a baby carrier if they're still small enough.
Take a trial run: Take your kids somewhere nearby for the weekend just to determine how they feel about being away from home. How much you need to pack and how travel affects them. If you're preparing for India, introduce them to some of the foods in the comfort of your own home to see how they react.
Don't abandon the familiar: Do they have a favourite brand of peppermints not available here? Carry them. India can often be a wholly alien and often confusing environment for children so it's good for them to see something from home.
Plan nappy changes in advance: Don't expect to pull into any highway pit-stop and find a changing station. You've either got to improvise or look up restaurants and hotels with these amenities in advance. Shopping malls are usually a good bet, but don't be afraid to lay your baby down on a clean cloth near the washbasins in a pinch.
Let us know if you've had any child-friendly (or not so friendly) experiences that we can add to the list!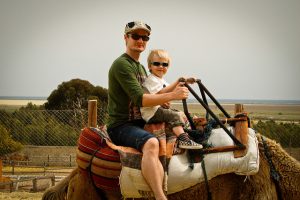 Find an activity for the entire family to enjoy like Camel riding through Rajasthan (Photo Credit – Antti Niskanen)
helping you travel your way
Everything you need to know about India is here We have tried writing about everything you may need help with for your trip to India, If you need help in planning a trip to India Get in touch with us to to plan your trip of a life time.