Dispelling the myths of travelling in India with kids
Travelling to India with children: Experiences of a Canadian family with kids aged 12, 10 and 5
When we told our friends that we were going to take our kids to India for two and a half months, some of the responses were "What! Are you crazy!" "Aren't you worried about them getting sick?" "Do you really think it is a safe place to go with kids????" "Why India, why don't you just stay in Europe?" "Wow, you are brave, but do you think it is responsible to take kids to India, they really don't have the same immune system."
Well, I am happy to say that taking your kids to India is a great idea. I feel like it is a privilege and a real education for kids. There is so much beauty, history, culture, and religion in India, not to mention, really lovely people and wonderful food. Depending on how you travel, you may not be out of your comfort zone at all, or even better, you may be out of your comfort zone and you will see how resilient and adaptable your children are.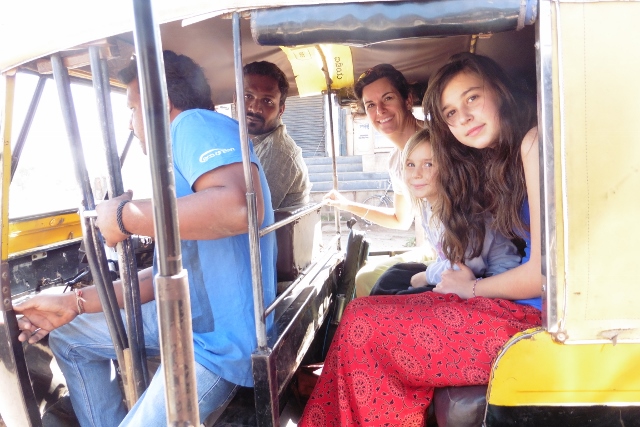 Travelling by Tuk Tuk from Hospet to Hampi
Initial experiences of big-city Mumbai
When we arrived in Mumbai from snowy Berlin, we jumped in with both feet. We got into a taxi at 6 in the morning to take us to our hotel in Colaba, just over an hour away. You would have thought that it was mid-morning anywhere else with all the action. There were loads of people out and about, traffic and honking had started, there were people sleeping on the streets and all the vendors were just getting set up to start their long day of selling.
After a bit of a nap, we went out for a walk to explore a bit. There was lots going on for us to adjust to; the smells, the heat, the noise, the traffic, the number of people on the streets, the street people begging and following us. After a little while, we went back inside, debriefing the experience with the children. They found it busy! Funnily enough, on the next outing only three hours later, this was the new normal and the kids got to see how people live in big cities – and they had no problems navigating this norm from then on.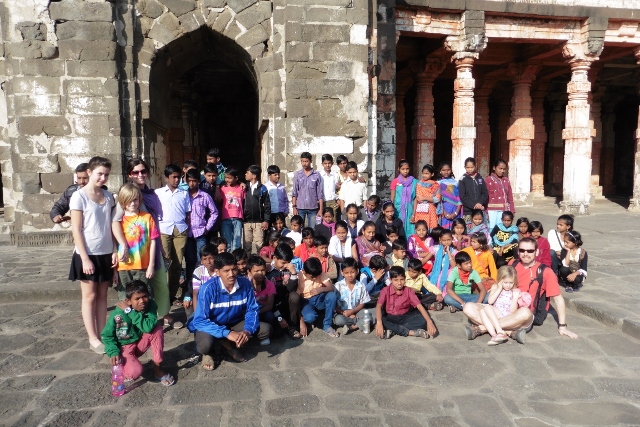 School trip we met at Fort Daulatabad who wanted a photo with us
Places in India we visited with our children
We have visited loads of places in India, from the caves to Hampi, to the beaches of Goa and down through Kerala. All of the places have their own set of challenges but most importantly, they all have their unique beauty. In Mumbai, we saw how resilient people are and how they are all trying to make a living. We saw so much honesty and pride that we found it inspiring.
At the caves of Ellora and Ajanta, we marvelled at a civilization's rich history and incredible talent, ingenuity and perseverance to create something of such remarkable size and beauty. In Hampi, the landscape is so beautiful and other-worldly that you wonder how places like this exist. Of course, there is the fun of the beaches, playing in the waves and visiting spice plantations. There are mountains and tea plantations, it goes on and on. In India, there is lots of everything and you will never have enough time to explore it all.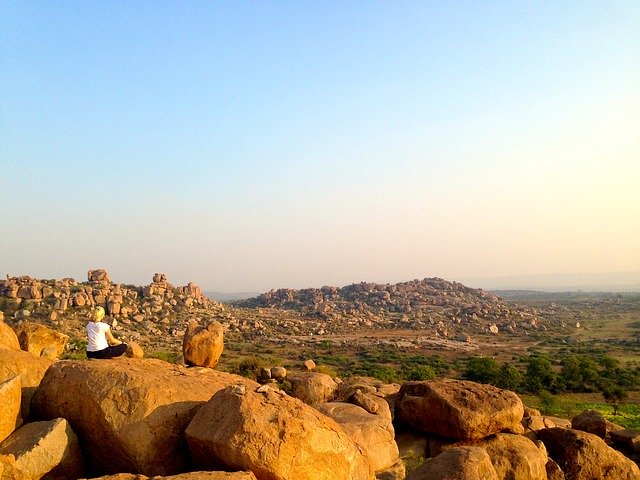 Scenic view of the boulders at Hampi (Photo Credit – Pixabay)
What the children learned
Yes, there is poverty and yes, many places are dirty. For us, these are excellent opportunities to show our children how so much of the world lives. In Canada, you would never see so much garbage strewn all over the roads, thrown over the hillsides, in the rivers, etc., so this does several things on our family trip. It makes us appreciate the wealth and infrastructure in our own country (and perhaps feel less resentful about paying taxes), it makes us grateful for our own good fortune, and it allows us to understand what challenges developing countries are facing and accept that all progress is on a continuum.
We see the interconnectedness of the world and how our actions at home affect other countries. The learning and understanding of effects of pollution can be seen in some parts of India and not in others. But essentially it is all learning and understanding through experience.
We have walked the streets at night everywhere and have felt less danger than I would at home. When we have accidentally overpaid, people have pointed out the mistake and returned our change. We have found kindness and generosity everywhere we have been.
Food
In six weeks, no one has been sick (well, our youngest had a bit of heatstroke but that had more to do with chatting parents than any fault of India!). We have eaten in local restaurants and have had no issues at all with sickness. I actually thought that I might trim down a bit after a Christmas in Germany, but no luck! The food in India is so good that you will eat well. Of course in some of the more touristy places, your kids may be eating Nutella pancakes, pizzas and pasta but in many places, there were no other options than curry – and they managed fine. We always asked the waiters for less spice and between the rice and sauce and naan bread, the kids were never hungry. Add a tasty lassi to their meal and they were happy. For the parents, we love the food!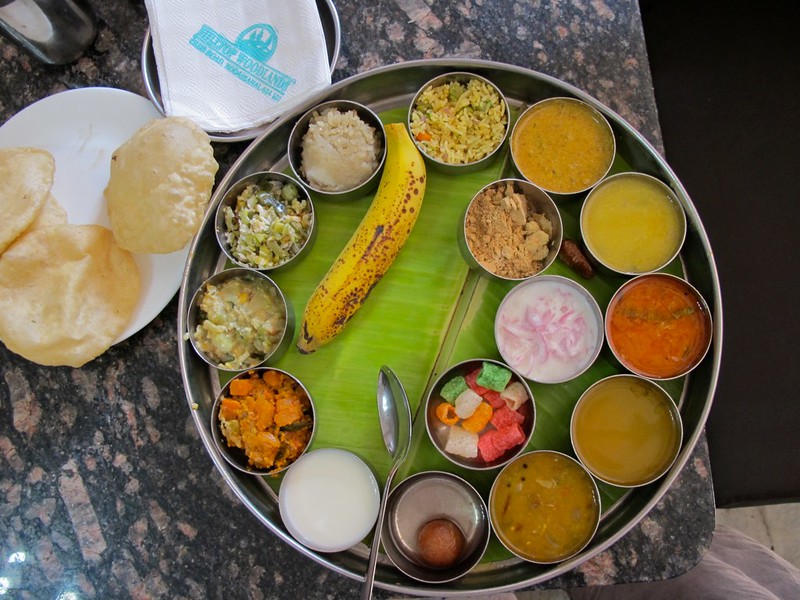 Indian Thali – a selection of little dishes of curry with bread and rice (Photo Credit – leliebloem)
Final Verdict on travelling to India with children
So I suppose I would close with two comments. One is that the only danger we have found in India are falling coconuts – seriously, I have had two coconuts fall within twenty feet of me. Now that is a large miss, but if one did drop on my head, I don't think I would fare too well. In many places, they have nets under them, in most places they don't. So I won't sit under a coconut tree, but that is a pretty easy danger to avoid and that is the only real danger I look out for here.
And finally, I would say that "No, I am not crazy for taking my kids to India, but rather I am giving them the gift of a lifetime." I am opening their eyes, showing them the world, breaking down stereotypes and giving them an experience that they will never forget." I would recommend it to anyone.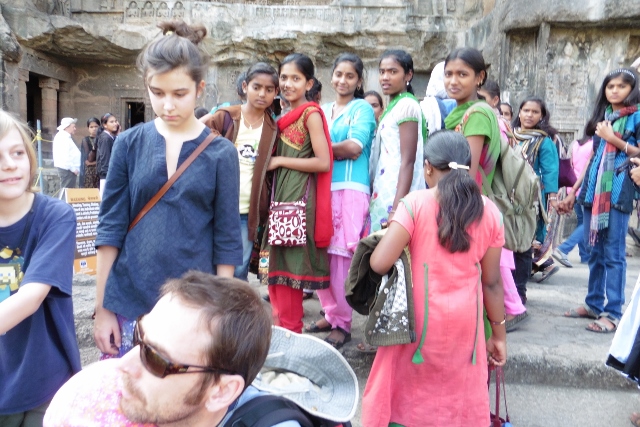 Crowds interested in Talia and she is overwhelmed
helping you travel your way
Everything you need to know about India is here We have tried writing about everything you may need help with for your trip to India, If you need help in planning a trip to India Get in touch with us to to plan your trip of a life time.