Festivals in India
India is bright and loud and wild and passionate, making it a master in the art of revelry. Did you think wild parties were all about tequila shots and glo-sticks? Try some bhaang and pichkaris or an all night dandiya session. Yes, these words may feel strange in your mouth right now but we'll probably have you singing ganpati bappa in the streets before you're done. Here's the low-down on a veritable riot of Indian festivals, religious and otherwise. Structure a trip around your favourite choice for a madly immersive journey to the heart of the Indian community. Read all about the festivals in India.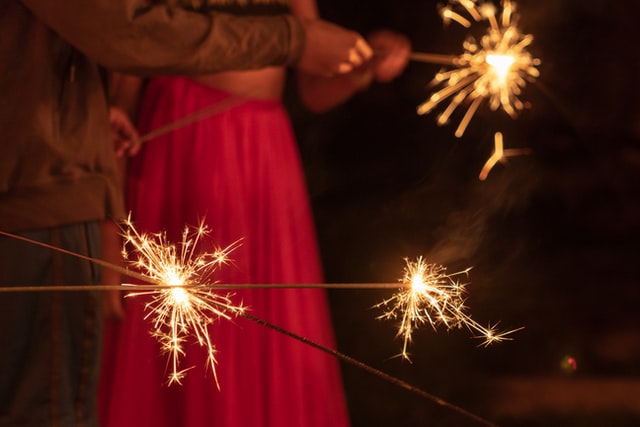 Festival of lights_ sparklers : Credit – madhukar-kumar
Makar Sankranti – kite flying festival
For a country that's careening into a future of BPOs and IT professionals, we fall back on our agricultural roots hard when it comes to harvest festivals. Celebrated in widely differing ways across the states, harvest festivals in India are worth witnessing. The heart of the season is born of plain and simple gratitude for a bountiful crop, and a welcome break after months of debilitating labour.
The Gujarati arm of this fiesta, celebrated most passionately in the state capital of Ahmedabad, is Makar Sankranti. It is more widely known as the kite flying festival of India. The name refers to a specific movement of the sun on the equinox, heralding the arrival of longer and warmer days. Whole families take to their rooftops to let loose clouds of brightly coloured paper kites held taut by strings laced with crushed glass and other abrasives.
Why so violent? The aim of the game isn't just to brighten up the sky; with careful calculation and remarkable skill the kite flyers loop their own kites around those of their opponents (or annoying neighbours) and swiftly cut them down to be claimed as booty. Get ready for age-old rivalries and edge-of-your seat level excitement.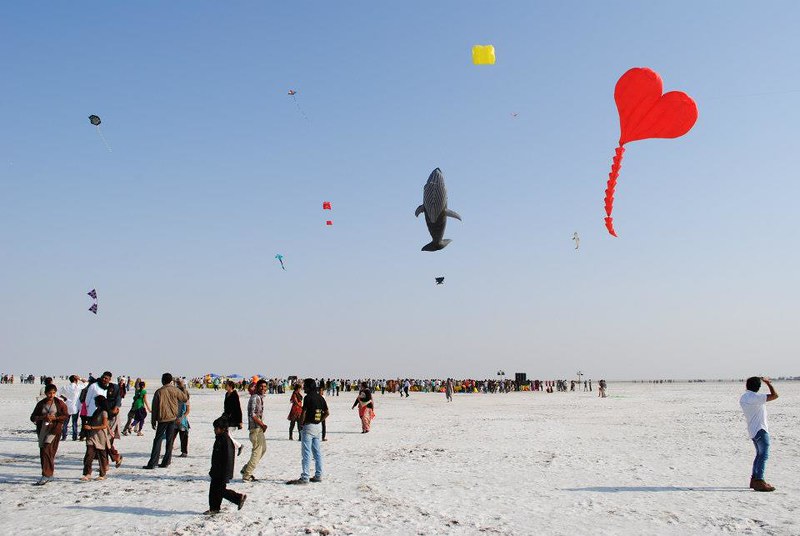 The colorful kite utsav in Gujarat (Credit_Kaushik Patel)
Holi – the famous festival of india
Possibly the most famous of festivals in India, Holi is all about having fun. We'd recommend finding a nice family-run homestay to celebrate with, as the crowd on the streets can get a bit rowdy. Fueled by the heady bhaang, a local concoction of milk and marijuana, people drop their responsibilities for a day. They look to bring a little colour into their lives, either by chasing each other around smearing powder on their faces or flat out dunking each other in buckets of coloured water. Water guns or pichkaris around, be prepared to have water balloons dropped on you by strangers as you pass innocently under their balconies. Any attempt at reproach will only earn you a shout of 'bura na mano, holi hain', that is, don't get upset, it's holi!
While the festivities often take a dark turn with several cases of molestation and driving under the influence filed each year, it's important to also know the reasoning and religious significance behind it. The revelry is the second of a two-day celebration of the triumph of good over evil. According to Hindu legend, a young boy is saved by Lord Vishnu from his evil aunt's murderous intent. This is celebrated by lighting bonfires, her weapon of choice, and dancing around them.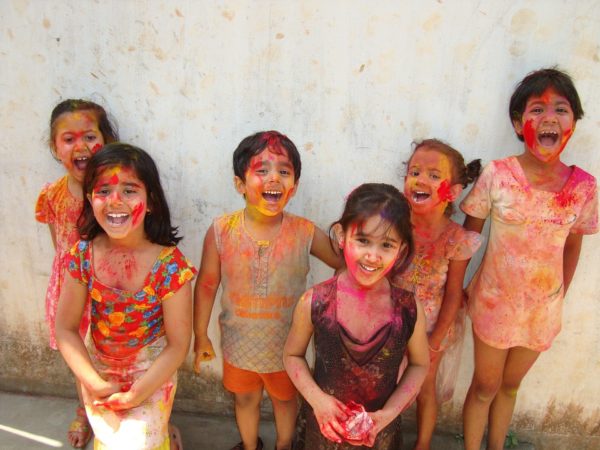 Festival of colours – Holi! – Photo Credit – Shekharchopra85.
Diwali – the bright festival of india
The most elegantly beautiful of them all, the festival in India known across the world, the festival of lights. Clay lamps, diyas, are set in doorways to welcome the goddess of wealth, Lakshmi. Patterns of coloured powder and flower petals form rangolis on every doorstep. Of course, with indrustrialisation there's also been a huge influx of firecrackers and curtains of fairy lights hanging down the sides of buildings, but the more the prettier, right?
Since it's also the start of the Hindu New Year, it's an excuse to buy new clothes, gorge yourself on sweets and meet long-lost aunts and cousins at the annual family bash. If you don't have a party to go to, the streets will serve just as well for you to listen to the lilting strains of bhajans (devotional songs) drifting out of windows. Remember that Diwali isn't a festival that involves intoxication and be respectful of that. If you can find a family to adopt you for the week you get to dress to the nines and run around with sparklers for the night.
Varanasi is a beautiful place to understand the religious side of things. Set a diya afloat on the river as devotees take a dip on this auspicious night. Hymns and chanting fill the air as the entire river lights up in a sea of flickering flames drifting gently along its surface, a picture that will move you regardless of your religious leanings or lack thereof.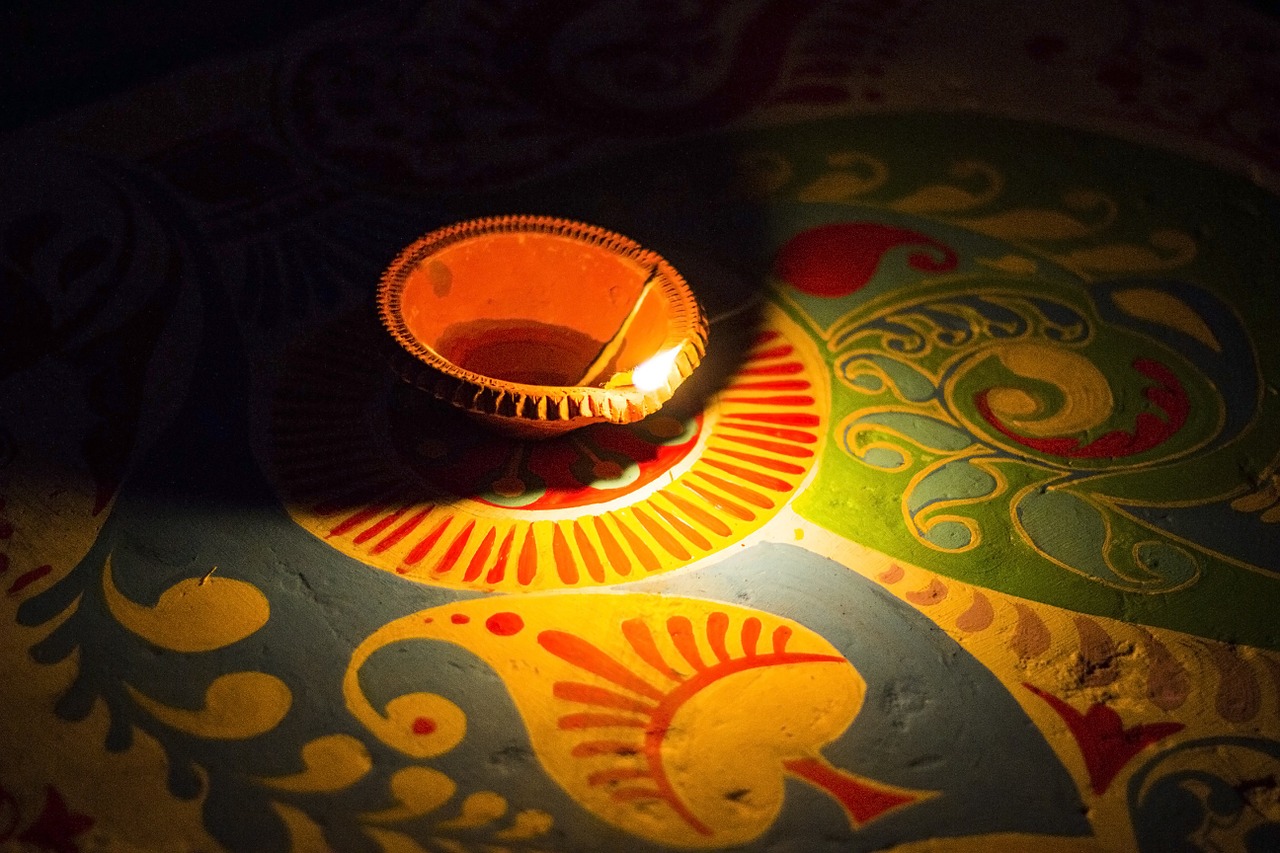 Celebrating the festival of lights with sheer fervor
Janmashtami
Yet another Hindu festival of India, this one's a feat of athletic prowess celebrating the birth of the cheekiest of gods, Lords Krishna. As a child, he was said to have let nothing stop him in his eternal quest to steal and devour freshly churned butter. Local housewives took to hanging their pots of butter from the ceiling, out of the way of the toddler's greedy hands, but he quickly got a few friends to form human pyramid under him and nicked the lot anyhow. Thus began the tradition of 'Dahi Handi', stinging up earthen pots of buttermilk to be brought down by teams of devotees forming pyramids often over six stories high to break the pot and win cash prizes offered by local leaders.The most thrilling of these scenes is to be witnessed in Mumbai, where local governing bodies have been forced to put a cap on the height of these pyramids for fear of their safety. Another great option is Udaipur, tried and tested by one of our travellers.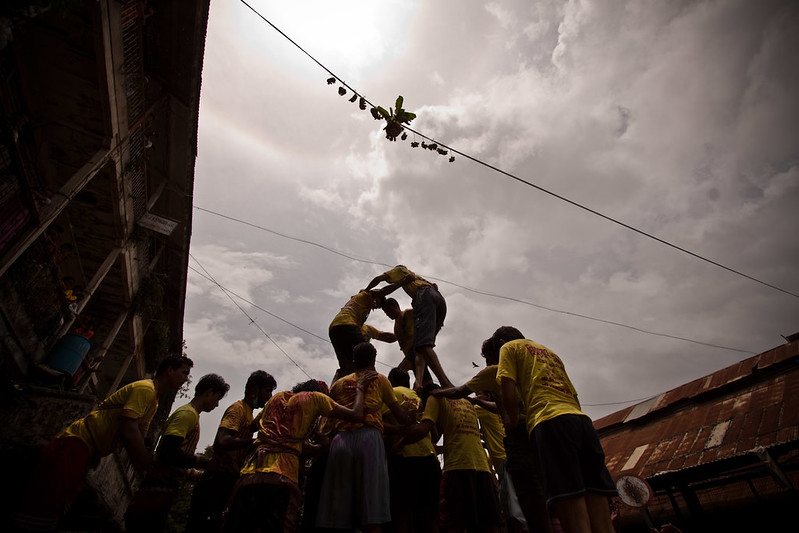 Pyramid being made by climbing on top of the team mate
Onam
The staple representative of South India in these lists, Onam is also a harvest festival in India, namely the harvest of rice. It is the most famous of the festivals in Kerala. It also celebrates the annual return of the demon King Mahabali to his beloved land of Kerala. Legend tells that the king was so fair and just that the people lived in a golden age under his reign, prompting the jealous gods to trick him into the underworld and away from his people. His return is celebrated with great pomp and splendor, notably the Aranmula boat festival that sees vast crews race Snake Boats down the Pampa river to the sound of traditional songs. The thrill of the race is heightened by the coloured flags and umbrellas on the shore
The most exciting aspect of Onam is the fact that the oldest river boat fiesta in Kerala takes place during this festival. The Aranmula boat festival also involves Snake Boats, which are occupied by a group of people, each racing against other while some oarsmen indulge in singing traditional boat songs. Contact us to help you get there!
helping you travel your way
Everything you need to know about India is here We have tried writing about everything you may need help with for your trip to India, If you need help in planning a trip to India Get in touch with us to to plan your trip of a life time.