Tipping in India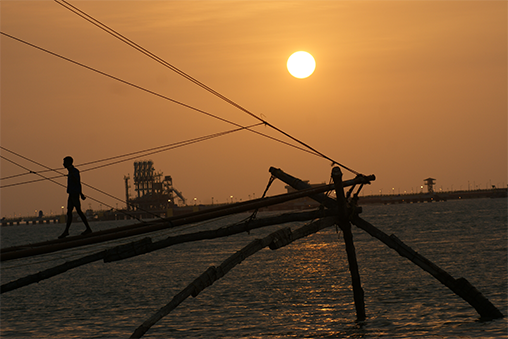 We get asked a lot on how much to tip in India at different instances. This can be used as rough guide on how much you should be tipping in India and at which instances.
What should you tip after meals at restaurants?
If eating a small meal, breakfast or snack with bill amounts less than INR 300, then tipping of 10% is expected/appreciated. If you have small bills handy, you can tip in multiples of INR 10 notes.
On bill amounts ranging between INR 300 to INR 1000, you can tip around 7% to 10% of bill amount. For example tipping INR 100 tip on an INR 1000 bill is a very good tip, you can also tip about INR 70 and that would be fine.
On bill amounts above INR 1000, tipping of 5 to 7% is sufficient.
Restaurants in Delhi and Mumbai often charge a 'service charge', not to be confused with 'service tax' (which is a government levied tax). When a 'service charge' is levied tipping is not expected.
What should you tip at hotels?
Tipping in India at hotels is slightly confusing and annoying at times.
As a rule we encourage tipping whenever it is possible. For example you see a central tipping box then do it cumulatively. If you do not find a central tipping box you can ask if they have one, or tip one central person at the reception and indicate this is a tip for everyone.
Cumulative tipping in India at hotels should be between 5 to 7% of the hotel tariff per night into number of days.
So if you are at a hotel that is INR 2000 a night and staying for 3 nights, then you should tip about INR 300 – 400 overall. When staying at expensive hotels reduce this to between 3 to 5% of tariff amount.
Not as a rule, but often bell boys will wait outside your room expecting for a tip. If you ask for a small task from room service, the staff might wait outside the door expecting a tip. More so, when there is no central tipping box.
We recommend avoiding tipping  in India individually. This might mean telling a bell boy a polite thank you with a smile and walking away. If in an uncomfortable situation, small notes INR 10 to INR 30 are a good tip for small tasks.
How does the tipping in India for drivers work?
At instances of Airport transfers you can tip between about INR 30 – 50.
If you rent a car for a day to tour the city, depending on how happy you were with his service tipping of INR 100 – 250 is adequate. Base this on if he gave you good local tips on places to eat, or monuments to visit and didn't take you tourist-trap shops.
If you take a taxi or a tuk-tuk (rickshaw) between point A to point B after deciding rate, tipping is usually not expected on these instances.
When you have a driver over multiple days, you should tip him between INR 150 – INR 300 if you are two to three people. If you are a bigger group please adjust the tipping. Again base this on how happy you were with his service and local knowledge.
How to tip guides?
You should tip a guide of a personalised tour between INR 100 to INR 300 per day depending on happy you were with their guided tour. If it is a group tour 10% of the tour price can be considered a fair tipping in India.
How is the culture of tipping in India in general?
While India culturally does not have a strong tipping tradition, it is expected and frowned upon when not offered at all at most of the tourist places.
We do recommend tipping in India at various instances as explained above but tip higher only when you are very happy with the service.
We also encourage tipping higher than the range specified if you feel an individual went out of his way to help you and you are extremely satisfied.
We would send you these and many more tips for traveling in India as well as sightseeing and culinary highlights in the cities you would visit if you plan your trip with us.