What To Do In Orchha
"Orchha is a great narrative of the magnificent architecture of the Bundela Rajput rulers. The ones who have a liking for historical places and history will find their trip to be of optimum usefulness and enjoyment."- Umesh
Orchha, having this beautiful town on your itinerary means that you are in for an extraordinary experience. The city has been rightly named Orchha which means 'hidden', as it managed to stay out of sight from the powerful rulers for centuries. And since then, we can say nothing has changed! Well only now, the powerful rulers are the tourists.
This offbeat destination has history that dates back to the 16th century and while there are temples and palaces for you to explore, its not too intense. The town has a very laid-back and relaxed vibe to it.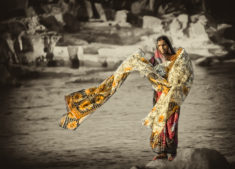 Lady drying clothes at the Betwa River, Orchha (Photo Credit – Mark Robinson)
JAHANGIR MAHAL
Jahangir Mahal is a fort built by the ruler, Vir Singh Deo in honour of the Mughal emperor Jahangir. As they cherished good relations, it was later gifted to him. A lot of detailing has gone into building this fort, from the remnants of paintings on the wall of this palace, to the mix of the Hindu and Muslim style of architecture.
The palace is built on the banks of the Betwa river and is surrounded by the forest, making it perfect for photography. A visit here will make you wonder how things would have been, if you lived during the time of these rulers. This is the main fort in the Orchha Fort Complex.
Visiting Hours: 09:00 to 17:00 hours
Estimated Time: 1-1.5 hours
Cost: INR 250 per person for foreign tourists, INR 10 per person for Indian tourists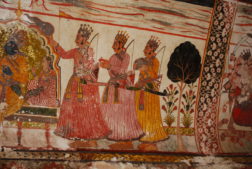 Paintings on the walls of the fort, Jahangir Mahal (Photo Credit – Jeff Hart)
THE LIGHT AND SOUND SHOW
If you have visited the light and sound show in Khajuraho, get ready to expect something similar. History enthusiasts would definitely find this show very interesting. This takes place in the Orchha Fort Complex. Do carry a mosquito repellent cream or spray. Quite often the show might not take place if there are insufficient attendees. However, before you purchase the tickets, you will be informed about it at the counter.
Visiting Hours: 19:30 to 20:30 hours in English and 20:45 to 21:45 hours in Hindi (March to September) & 18:30 to 19:30 hours in English and 19:45 to 20:45 hours in Hindi (October to February)
Estimated Time: 1 hour
Cost: INR 300 per person for foreign tourists, INR 200 per person for Indian tourists
RAJA MAHAL
Right across Jahangir Mahal is the Raja Mahal, which is another spectacular fort and is part of the Orchha Temple Complex. This fort is one of the oldest depictions of the Hindu Rajput culture. The paintings on the fort wall narrate enchanting stories of the past. While exploring the fort, you will actually get a glimpse of the lifestyle of the kings.
The fort consists of two other levels below, which just goes to show how massive this fort really is. If you've purchased the ticket for Jahangir Mahal, then you just need to present the same ticket at the entrance. Do remember that this ticket is valid only for one day. The fort complex also includes other structures like, the Sheesh Mahal, Phool Bagh and Rai Praveen Mahal, which are worth the visit too.
Visiting Hours: 08:00 to 17:00 hours
Estimated Time: 1-1.5 hours
Cost: The same ticket purchased at the Jahangir Mahal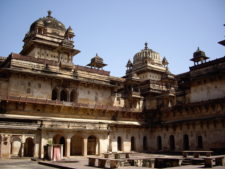 Mesmerising views of Raja Mahal (Photo Credit – krebsmaus07)
LAXMINARAYAN TEMPLE
This temple was built by Bir Singh Deo in the 17th century. This temple was built as the king believed that the Goddess of the temple (Laxmi) would watch over the fort and protect the town from any invaders. She is believed to be the Goddess of wealth and when you reach the top of the temple you will get a good view of the entire town.
The interiors of this fort have fresco paintings which narrate stories of Indian history and some mythological stories of Indian culture. Some of the paintings were destroyed by the Britishers, but later repainted by them as well.
Visiting Hour: 09:00 to 17:00 hours
Estimated Time: 30 mins – 1 hour
Cost: Free
Seeking blessings at the Laxminarayan Temple, Orchha (Photo Credit – Jeff Hart)
MAHARAJA CHHATRASAL MUSEUM
If you are travelling to Orchha by road from Khajuraho, on the way do make a quick stop at the Maharaja Chhatrasal Museum. It features a lot of artifacts and antiques of Maharaja Chhatrasal, who was once the King of Orchha. Through several restored objects like clothes, weapons and statues, this museum gives an insight into the livelihood and traditions of the kings.
There is no English-speaking guide here. However, you don't really need one as there are boards with information on every object displayed.
Visiting Hours: 10:00 to 17:00 hours (closed on Mondays)
Estimated Time: 45 mins – 1 hour
Cost: INR 100 per person for foreigners tourists (free for children upto 15 years), INR 10 per person for Indian tourists (free for children upto 15 years)
THE CHHATRIS OF ORCHHA
The Chhatris of Orchha also known as the cenotaphs, are monuments which you would see quite often when you google the city of Orchha. There are 15 cenotaphs, all at an elevated platform, in an umbrella-shaped dome-like structure. Each dedicated to different rulers of Orchha, a perfect stop for photography.
If you want to get the best shots make sure to go to the opposite side of the cenotaphs, which is right across the Betwa river. If you do not wish to enter the cenotaphs, you can just enjoy the view from the other side of the river.
Visiting Hours: 10:30 to 17:00 hours (closed on Mondays)
Estimated Time: 30 mins
Cost: Same ticket as the Orchha Fort Complex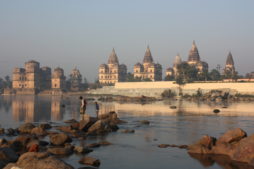 Views of the cenotaphs from River Betwa, Orchha, (Photo Credit – Arian Zwegers)
ACTIVITIES TO DO IN ORCHHA
Rafting on Betwa River
If you are looking for a break from the history, architecture and temples, Orchha has just the right activity for you! Around 1.5 kms from the Orchha Fort, rafting on the Betwa river is one of the best activity for adventure junkies. Organized by the Madhya Pradesh Tourism Board, the rafting charges vary depending on the season and the group size. Note: Rafting is shut during monsoons.
Visiting Hours: 10:00 hours to 16:00 hours
Estimated Hours: 2-3 hours
Cost: INR 1,000-2,000 per person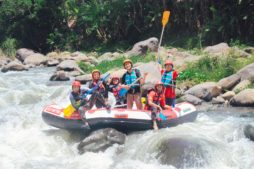 Rafting at the Betwa river
Wildlife Sanctuary
Enjoy the untouched landscape and discover the Wildlife Sanctuary of Orchha. The sanctuary boasts of hundreds of different species of birds and a few animals like sloths and langurs. It is unlikely that you will spot any wild animals however, it's still worth the visit for bird watching, photography and just enjoying nature. Best time to visit would be during the winter months.
Visiting Hours: 06:30 to 17:30 hours
Estimated Time: 2 hours
Cost: INR 50 per person for foreign and Indian tourists, INR 350 entrance fee with a car, INR 50 for a walking tour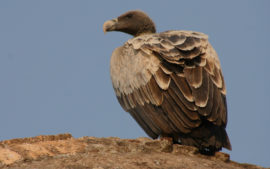 The mighty vulture at The Wildlife Sanctuary, Orchha (Photo Credit – Kandukuru Nagarjun)
Cycle Inside The Wildlife Sanctuary
Say goodbye to the classic jeep safaris in the Wildlife Sanctuary and get ready for a thrilling cycling experience through the jungle. Yes, another activity for the adventure junkie in you, which will offer you a unique experience. Spot some rare species of birds and don't forget to bring a camera along. Crossing through some of the narrow paths will bring out the inner daredevil in you.
Estimated Time: 2 hours
Cost: INR 250 to rent a cycle, INR 50 per person as entrance fee for foreign and Indians tourists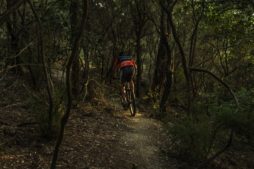 Cycling through the forests of The Wildlife Sanctuary, Orchha
If you are keen on spotting a tiger, here is a blog on the best Wildlife Sanctuaries that you can add on your route.
Relax By Betwa River
Wondering what to do in Orchha? Just kick your feet up and relax at the Betwa river. As ironic as it may sound, you will be amazed by the things that you can do by just sitting and doing nothing! From enjoying the peaceful sound of the river, to observing the locals stroll by and some enjoying a dip in the river. Carry a book and a camera along with you for good company. Some of the best pictures in your gallery would be from this location!
Estimated Time: Depending on how long you'd liked to relax and be one with nature.
Boys enjoying the waters of the Betwa River
Moving Around IN ORCHHA
Moving around Orchha is very convenient and will not be a hassle at all.
On Foot
We would highly recommend just walking around, to truly get a sense of what the town has to offer. Most of the sightseeing places are located very close to each other and are a delight to explore on foot.
Auto Rickshaw
While you have auto rickshaws (tuk-tuks) in Orchha, they do not work by meter. Which means you must settle on a fare before starting your trip. There are auto rickshaws (tuk-tuks) outside the railway station to take you to the main city. This ride would take about 20-30 minutes. As for when you go sightseeing, again it would make sense to just explore on foot or opt for a tuk-tuk ride.
Taxis
If you wish to book a car, you would have to book the same from a car rental service in advance, as there are no services such as Uber/Ola in Orchha.
After exploring the city of Orchha you will be rejuvenated and ready to explore much more of what India has to offer. Just a few kilometres away from Orchha, is the town of Gwalior. If you want to know more about this town have a look at this blog. Also, to continue your adventures across India, here is a blog on travel routes across North India. Get in touch with our travel experts who will assist you in personalizing your trip, giving you the best tips and suggestions for your adventure in India.
helping you travel your way
Everything you need to know about India is here We have tried writing about everything you may need help with for your trip to India, If you need help in planning a trip to India Get in touch with us to to plan your trip of a life time.