Staycations in Delhi
Delhi is a metropolitan city, rich in history, culture and food to die for. Life in the city can get hectic and exhausting. If you're looking for the perfect escape, this you guide to some of the best staycations in and around Delhi. Besides being the ultimate transit point for travelers looking to escape the city, Delhi itself is a great tourist destination. Many prominent monuments and historic structures, attract travelers and food enthusiasts from all over the world. In the new normal, where people are simply looking for a weekend getaway, there are several escapes in and around the city. Here's a go to guide for the perfect staycation in Delhi.
Delhi can be a chaotic mess, yet there are some places that will make you forget you're even in the city. Staycation homes to escape the large crowds and endless chaos. These recommendations are just right for your weekend getaway from Delhi.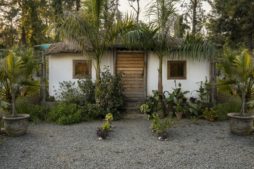 The perfect escape from the chaotic capital. Venture out to explore a whole new side of Delhi. – Credits: The Barn, Delhi
Tarudhan Valley golf resort
Just half an hour away from the city, head to this peaceful paradise. A picturesque location, overlooking the golf course and a beautiful lake. This vacation spot is accommodated with two dedicated in-house staff and the place has a warm charming vibe. Who knows, it may just tempt you to turn that staycation in Delhi into a long getaway. Equipped with all the amenities you could ask for, the villas here are ideal to unwind. An amphitheater, a pool, the lotus pond, a lovely garden of roses, all add to the charm of this place.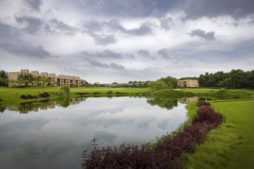 The gorgeous view from your villa at the Tarudhan Valley Golf Resort is sure to sweep you off your feet.
Sai Villa New Delhi
This posh B&B is situated in Greater Kailash-2. The location is great, as it is in close proximity to the main city, airport, and several important monuments. It's a beautiful place for a laidback staycation, workation or even a large get-together. As simple as it may seem, its charming decor is the highlight of this place. The property has a capacity of approximately fifteen guests. Plan your staycation in Delhi itself, while still being able to leave behind the chaos of the city life.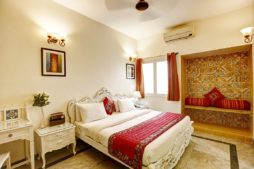 A charming B&B in Delhi with a touch of luxury to it – Credits: Sai Villa, New Delhi
The Roseate
The Roseate is a luxury resort in Delhi that preserve the rich heritage of the capital city while seamlessly incorporating all that nature has to offer. Pamper yourself with the endless amenities and the serene outdoors at The Roseate. Just an hour's drive from the center of Delhi, this place is definitely worth the price. This architectural beauty set amidst lush green landscapes, surrounded by water bodies is a one of its kind. The spa, the luxury lake facing accommodation, private suites and wellness retreat, sure make it the ideal staycation in Delhi.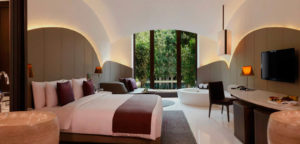 Pamper yourself as you bask in the luxury of this beautiful resort – Credits: The Roseate Hotels, New Delhi
Haveli Lal Darwaza, Sohna
This 300 year old manor, now an exquisite boutique homestay. is the perfect getaway. Nothing comes close to the experience of living like royalty for a couple of days. An escape where the real world ceases to exist for a short while. Besides being a royal manor, where one can experience the rural lifestyle, it is just as modern, equipped with the best of amenities. The elegant lawn and patio on the courtyard add to the charm of this lovely stay. Just a word of warning, it may be difficult to give up this royal lifestyle, the kind that spoils you just right. Haveli Lal Darwaza is located near Gurgaon, 40 minutes from Delhi. It has four bedrooms and besides being the ideal staycation home, it is also great to host gatherings or intimate events.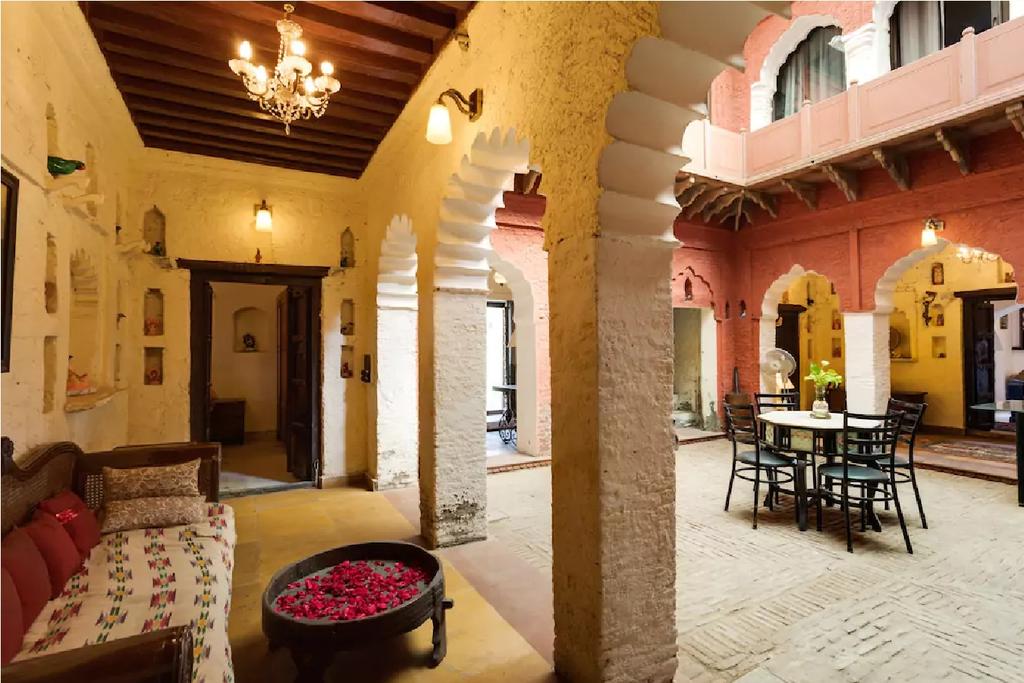 A heritage home that retains all of its old school charm but is still classy and the ideal boutique homestay for a weekend getaway – Credits: Haveli Lal Darwaza
The barn – A Farm Cottage
The Barn is a hidden gem in the chaotic capital city of Delhi. A cottage in a 2 acre horse farm with a gorgeous lawn and beautiful interiors. It is Rustic, yet the absolute definition of elegance. It's proximity to popular monuments like the Qutub Minar, the Lotus temple, and the Lodhi Gardens, also makes it a great stay for tourists. If you're looking for some place to relax and unwind, this is just the perfect place for an offbeat staycation in Delhi, with horses to accompany you. It's a home away from home with all the possible comfort, and luxury, to pamper yourself with. The Barn is also a great destination for a romantic getaway in Delhi.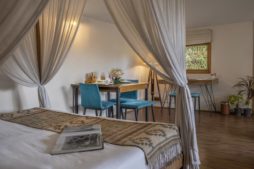 The elegant interiors of the charming farm stay in Delhi. – Credits: The Barn, Delhi
Sangeet Vilas
Surrounded by nature, hidden away in a dense cover of tall trees, Sangeet Vilas is the perfect villa for a staycation in Delhi. Whether its with a group of friends or a family gathering, you can have the villa all to yourself. The large villa is suitable for 12 guests with four gorgeous bedrooms and a private pool to add to the beauty of this escape. It also has a large lawn to bask in the beauty of this property. It's a modest place for a luxurious stay with a tranquil vibe. It's a great getaway place from the hectic routine and is suitable for parties, staycations, or even leisure.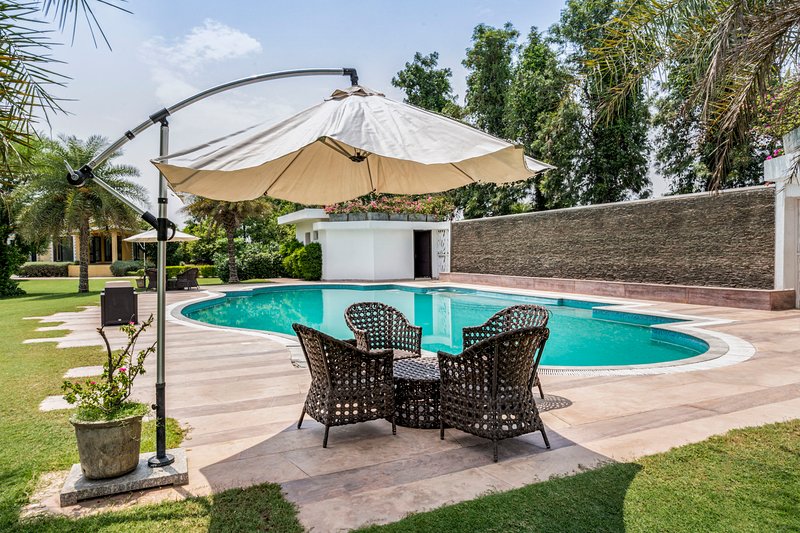 A picture perfect villa with a private pool to add to its charm. – Credit: Sangeet Vilas
Aanandum by vista rooms
Hidden in a secluded corner of South Delhi, Aanandum provides a tranquil escape from the hustle-bustle of Delhi, without actually having to leave the city. This 30 year old, 3 bedroom cottage is ideal for a serene staycation in Delhi. The interiors are tastefully designed and the endless amenities guarantee a comfortable stay. The lush green surroundings with a large lawn, amphitheatre and a private pool are the highlights of this gorgeous stay. To add to that, the villa is also pet-friendly, so you can take your little one along on your staycation. Well maintained, a courteous staff and equipped with all the possible facilities, you can be rest assured that you're in for a sheer treat. If you're looking for a unique experience in Delhi, this is just the place to visit.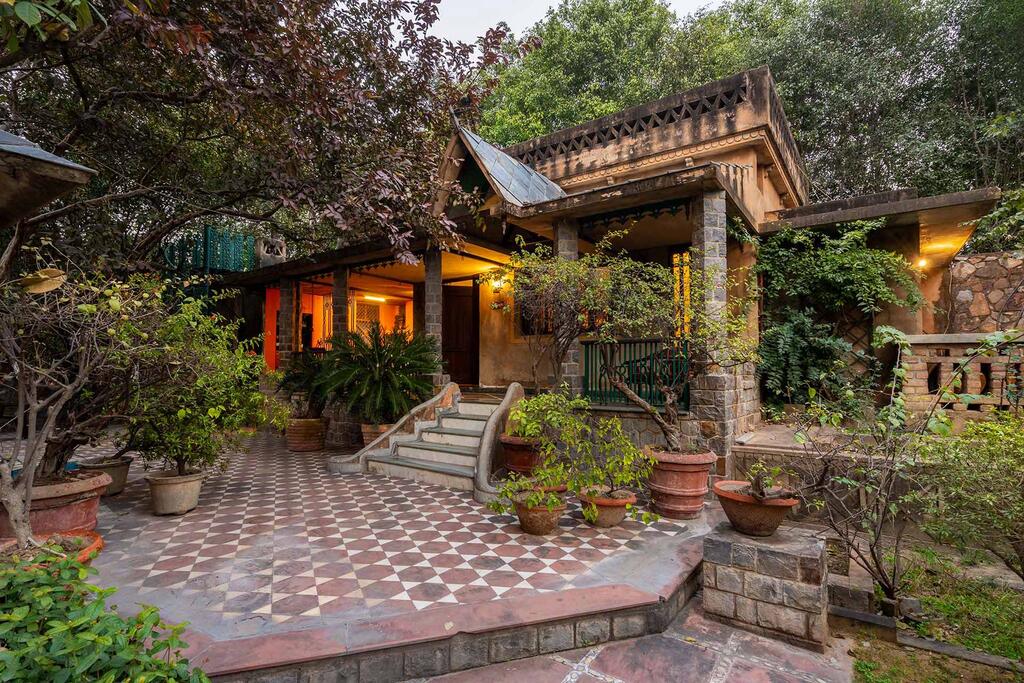 Feel free to judge this book by the cover. No amount of words or photographs can do justice the experience of staying here, but the exteriors alone are proof of how gorgeous the accommodation is. – Credit: Aanandum
Thikana Delhi
A perfect place to experience the warmth and hospitality of Delhi. This boutique Bed & Breakfast is a a luxury getaway, its highlight being the sheer simplicity and comfort. A home away from home, whether you're travelling to Delhi and need a cosy accommodation or whether you're looking to go on a staycation in Delhi. The ultimate experience is the rooftop barbeque at this BnB. Intimate, elegant and some of the best food you'll ever try, this one is a personal favorite!
Common area for guests at Thikana – Credit: tripadvisor
If you're craving that much needed break from being cooped at home, this is just the list you need. As borders open up for inter-state tourism, make most of it by pre-booking these stunning stays at exclusive rates! If you have any queries regarding rules or require tips before you plan your staycation in Delhi or any place in India, Contact Us! We'll help pick out the ideal stay to suit your preferences with offers you can't resist.
helping you travel your way
Everything you need to know about India is here We have tried writing about everything you may need help with for your trip to India, If you need help in planning a trip to India Get in touch with us to to plan your trip of a life time.