Staycation in Delhi
Delhi is a metropolitan city with a big history, rich taste in culture and cuisine. Traveling through the capital of the nation can be hectic and exhausting. The city is not only beneficial as the main transit point but it is also a great tourist destination. Many prominent monuments, historic structures attract travelers and food enthusiasts for cuisine from all over the world. In the new normal, where people want to travel for a break from the lockdown, do find places within the bustling city itself, a staycation in Delhi!
It may be grueling to travel in the hour-long traffic and crowded marketplaces, yet there are some places that will make you stay a little longer. Below mentioned are some places which would be just right for your weekend getaway.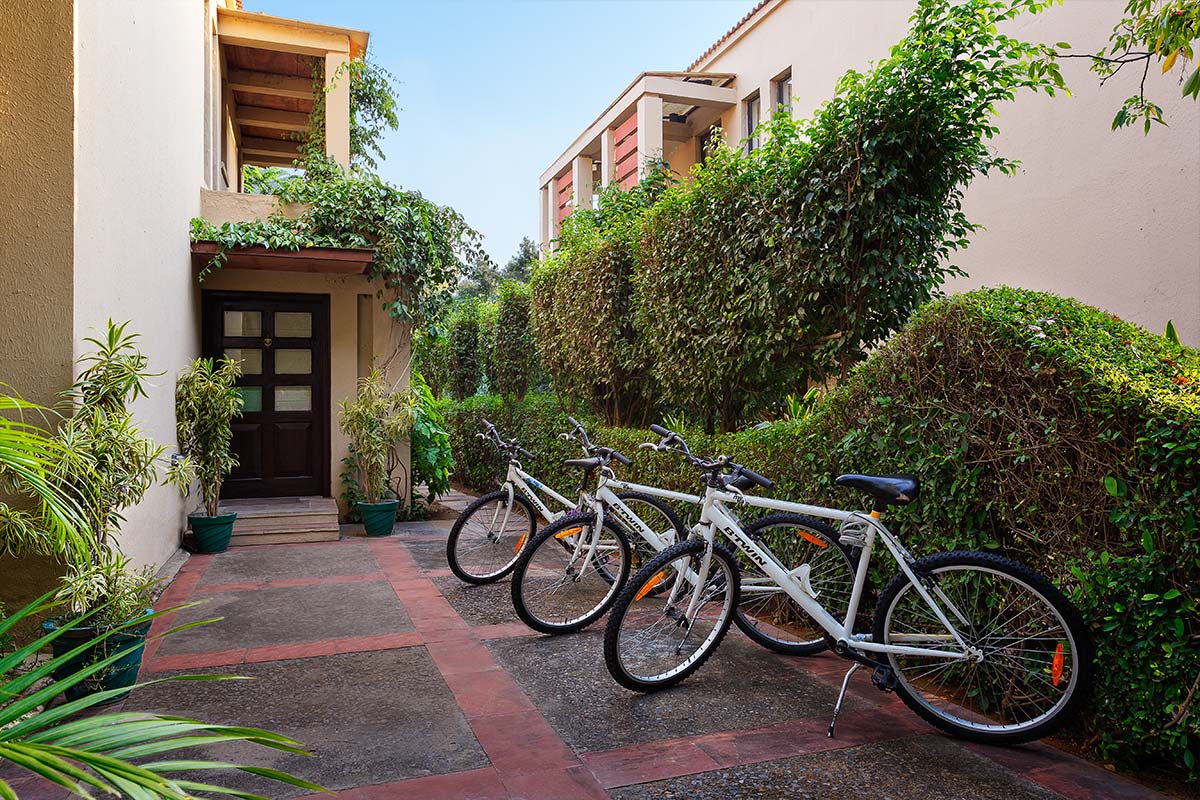 Cycling is fun during outings near beautiful pastures.
Tarudhan Valley golf resort
It's just half an hour's drive from the city to a peaceful location overlooking a golf court and a beautiful lake. The vacation spot is accommodated with two dedicated in-house staff and the place has a very warm and welcoming persona. A power package of pleasantness like an amphitheater, pool, lotus pond, a delightful garden of roses, and much more.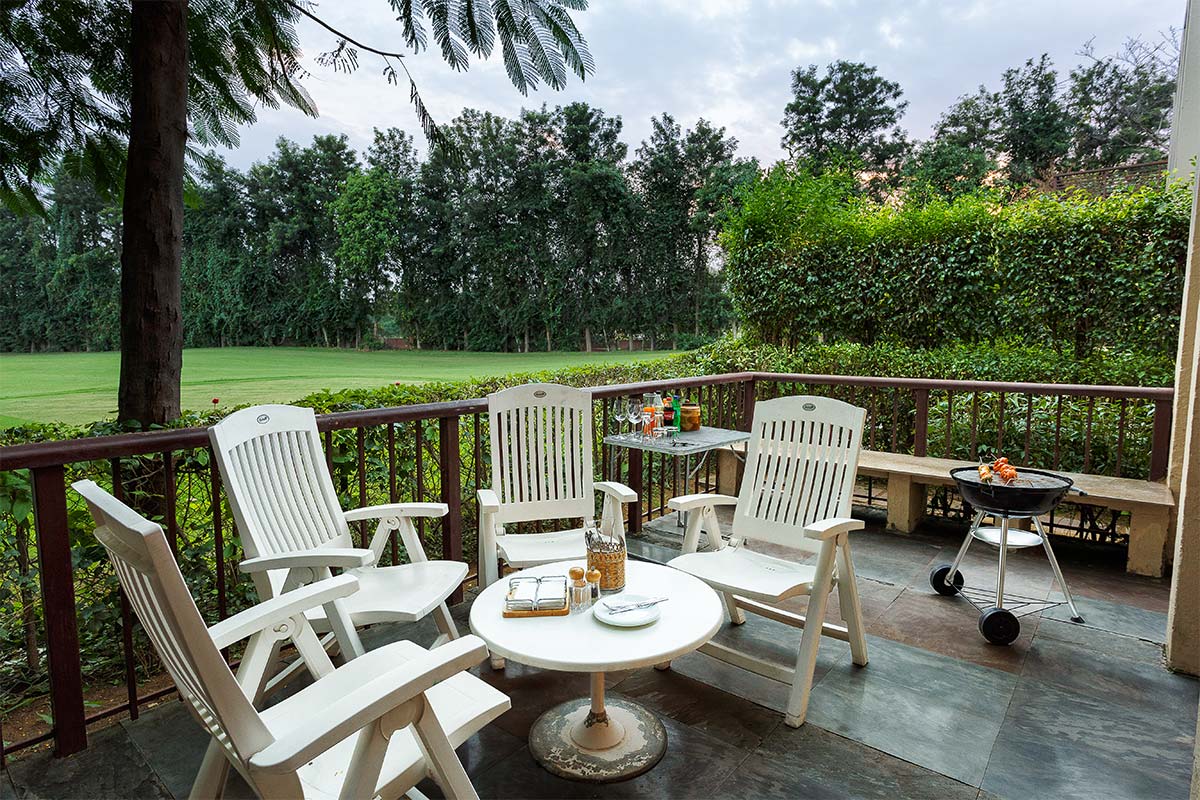 Barbeque on grill and chill
Sai Villa New Delhi
Situated in Grater Kailash-2, it is in very good proximity to the city, airport, and important monuments. It's a beautiful place for leisure, business, or even a get-together. As simple as it may seem, it's progressive decor furnishes the place well. The stay has the capacity to accommodate almost fifteen guests. Plan your staycation in Delhi itself leaving all the hustle-bustle behind.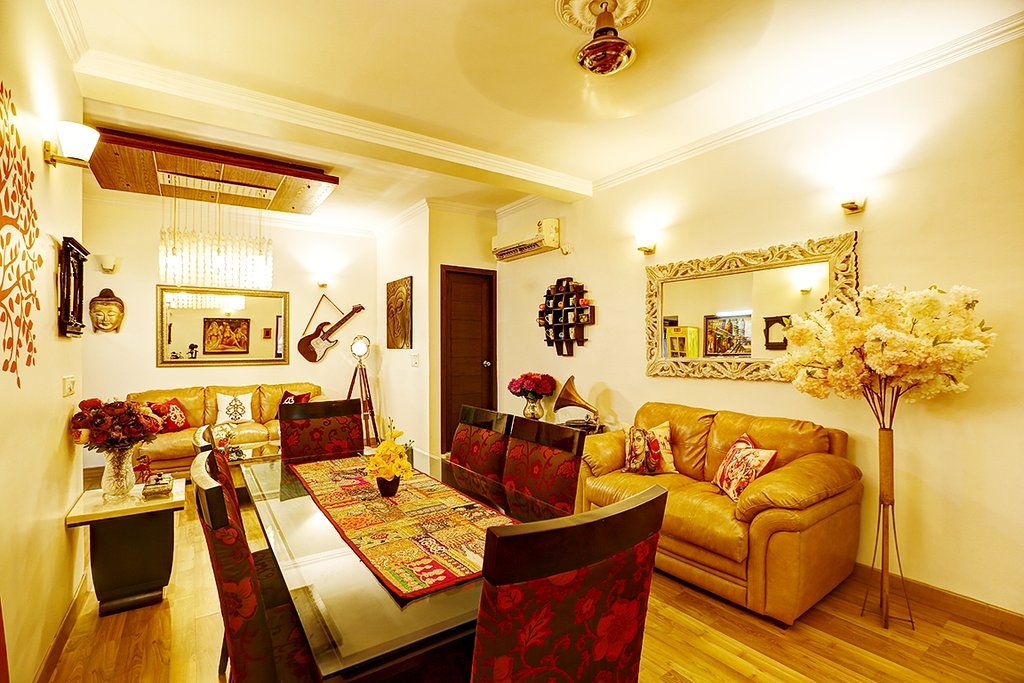 A well-lit sitting area – Credit: Sai Villa New Delhi
The Roseate
Treat yourself with a lot of pampering with the hotel's luxury and amenities. Just an hour's drive from the center of Delhi, this place serves right for its price. Beautiful located and maintained property with beautiful decor. It's all you need for a lovely staycation.
Haveli Lal Darwaza, Sohna
A century-old property furnished with a delicate and rich interior makes one feel like living in a royal house. It does include modern amenities for a relaxed stay without losing the essence of the era. The elegant lawn and patio on the courtyard are suitable for both an Indian or an inbound traveler.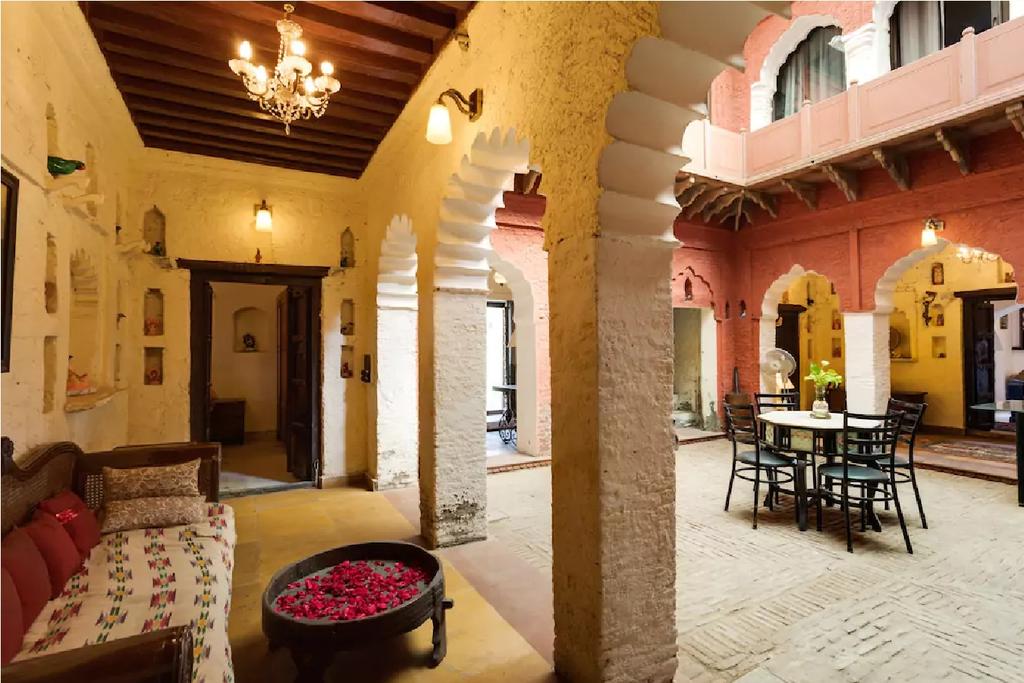 Calming courtyard with 100-year-old pillars held strong – credit: Haveli Lal Darwaza
The barn – A Farm Cottage
The Barn represents a very rustic look to a well decorated, simple yet serene cottage. It's quite close to the monuments of Qutub Minar, Lotus temple, and the Lodhi Gardens. A relaxed touch to your staycation in Delhi itself. Make you feel at home with additional comfort and luxury.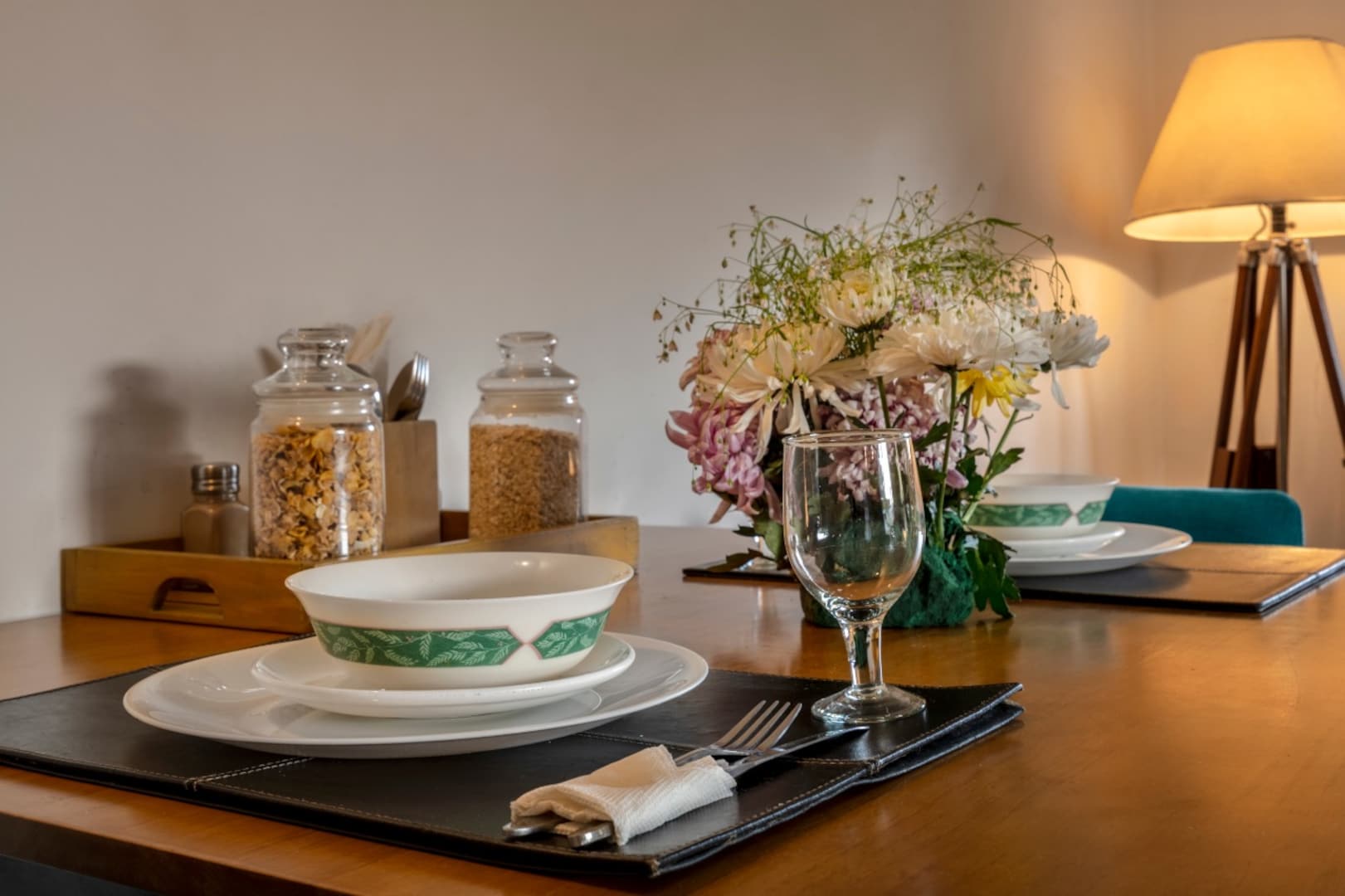 Have fast country-style – Credit: The barn
Sangeet Vilas
The stay is surrounded by lush tall trees on all four sides. It also has a big pool and a pretty lawn. It's a modest place for a luxurious stay with calming views. It's a great getaway place from the hectic routine and suitable for party's, staycation, or even leisure.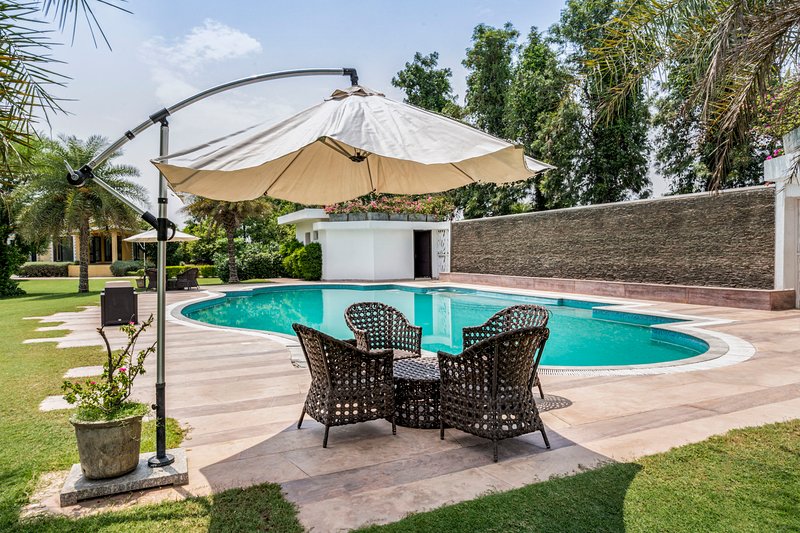 Pool completes a villa at times – Credit: Sangeet Vilas
Aanandum by vista rooms
The stay offers an environment that makes it hard to believe being in midst of a hustle-bustle of the capital. The owners boast of great care as the place has been well nurtured for a term of around 30 years. It is a must-visit for a unique experience in Delhi.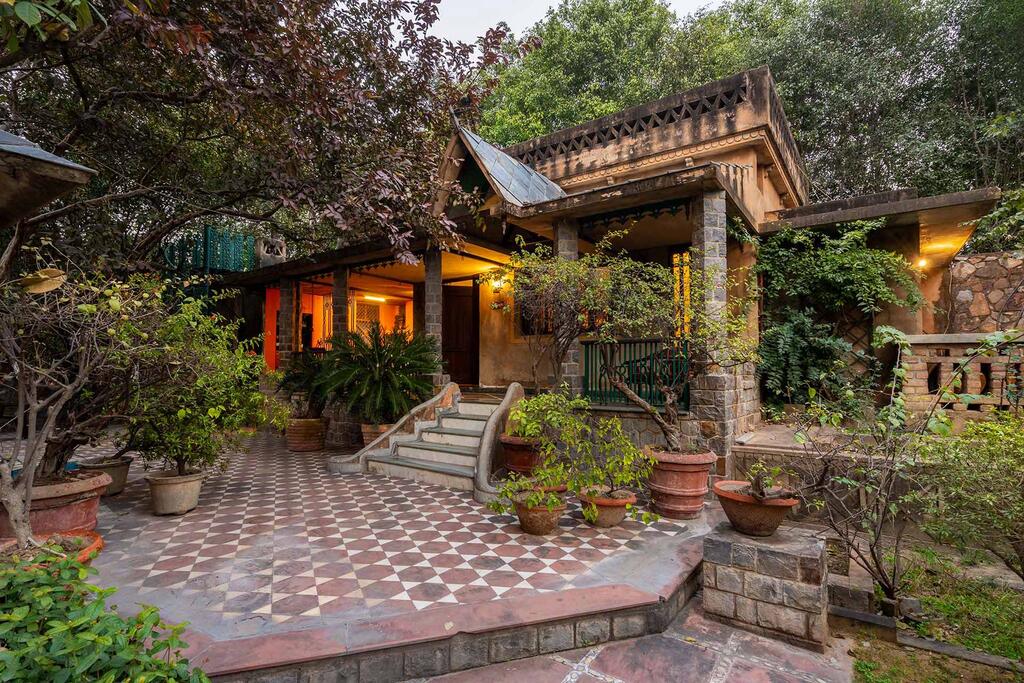 An entry to peaceful stay – Credit: Aanandum
Thikana Delhi
A place fit to help you feel the warmth of the Delhi lifestyle, amongst the luxurious affection of the service, find true simplicity and comfort at this place. A must is a barbeque on the terrace of this Bnb. The food has been always appreciated by the guests, a personal favorite!
These were some of the places you should stay if you are in need of a much-awaited break from the lockdown. As borders open for tourism in domestic destinations, make most of it by pre-booking the places with pleasant prices! If you have any queries regarding rules or require tips before you plan your staycation in Delhi or any place in India, Contact Us!
helping you travel your way
Everything you need to know about India is here We have tried writing about everything you may need help with for your trip to India, If you need help in planning a trip to India Get in touch with us to to plan your trip of a life time.