Villas near Mumbai
Villas are a different concept altogether, as opposed to staying at a hotel. It's a rather personalized experience with more attention to detail and better hospitality. In the last decade, concepts such as leisure trips, staycations, and home-stays in India, became increasingly popular. With this, the standards of better accommodation have risen beyond one's imagination. This has resulted in a range of villas in Mumbai, each with its own unique charm.
Who doesn't love a little space, nestled away from the daily routine and chaotic city life? Break out of the monotony and explore these hidden gem in the heart of nature. Here's a list of our favourite villas in and around Mumbai. Make the most of our COVID offers, and go on that much needed weekend getaway with your loved ones. Plan your trip today!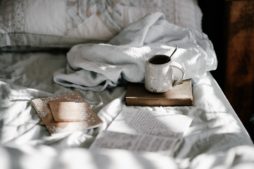 The ideal staycation homes for you to relax and rejuvenate – Credits : unsplash.com
LA CASA DEL SAXO
Simple yet classy interiors with a rustic finish on the outside, is what you can expect at La Casa Del Saxo. The best feature is its simplicity. Most guests admire the property for its upkeep and quality of service. It's proximity to the beach and easy accessibility from the highway makes this villa even more appealing. Definitely a must visit on our list of villas in Mumbai.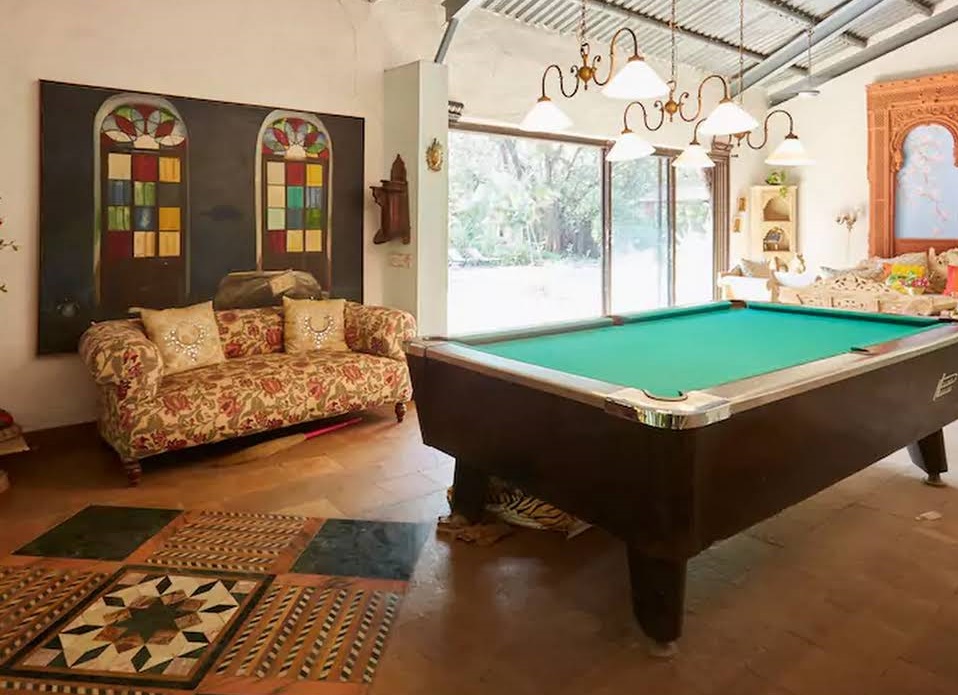 The Classy interiors are the highlight at Casa Del Saxo – Credit: Basera- la caza del saxo
Aashiyaanaa Villa – the palace
Aashiyaanaa Villa stands out for its unique decor, its rustic yet simple look, and its lovely garden. It's in very close proximity to the Daana Paani Beach. A key highlight that is rare when it comes to the villas in Mumbai. It's ideal for parties or celebratory gatherings. The ambience is beautiful, with vibrant lights and a stunning view, especially at dusk.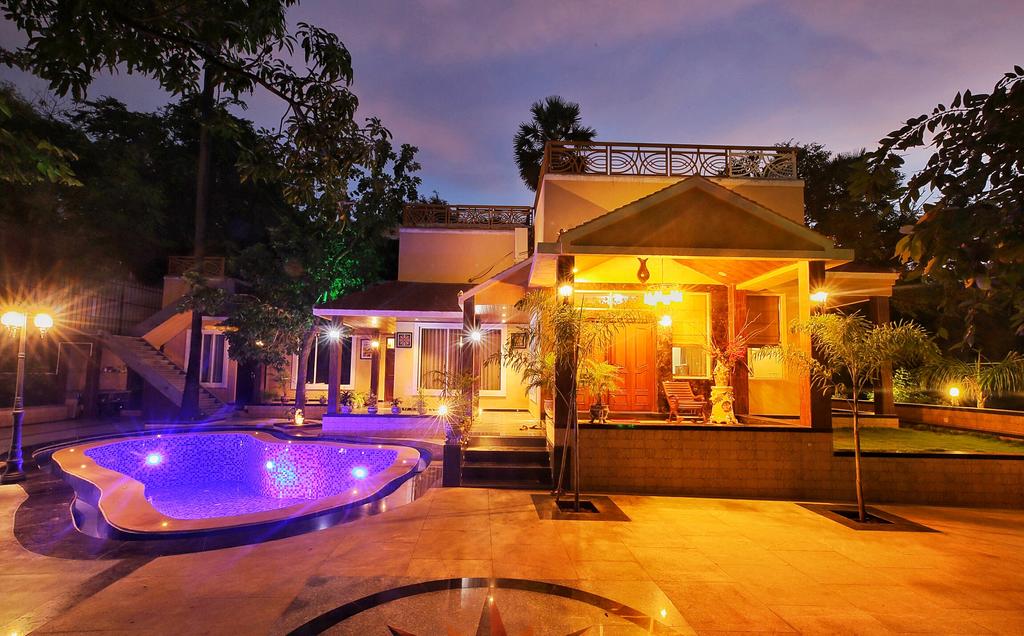 Aashiyaanaa Villa is a great place to host a large get together. Photo Credit : aashiyaanaavilla.com
Le Farm Luxury Farmstay
The perfect getaway, a luxury farmstay, with modern amenities. It's unique character makes Le Farm the perfect package of being pampered with sheer peace and comfort. It's a great place to capture the picturesque surroundings, with a beautiful lake, mountain view and a wide horizon that glows at dawn. Guests can engage in interesting activities like fruit picking, trekking, and even paragliding. Adventure enthusiasts are sure to love this chic villa in Mumbai.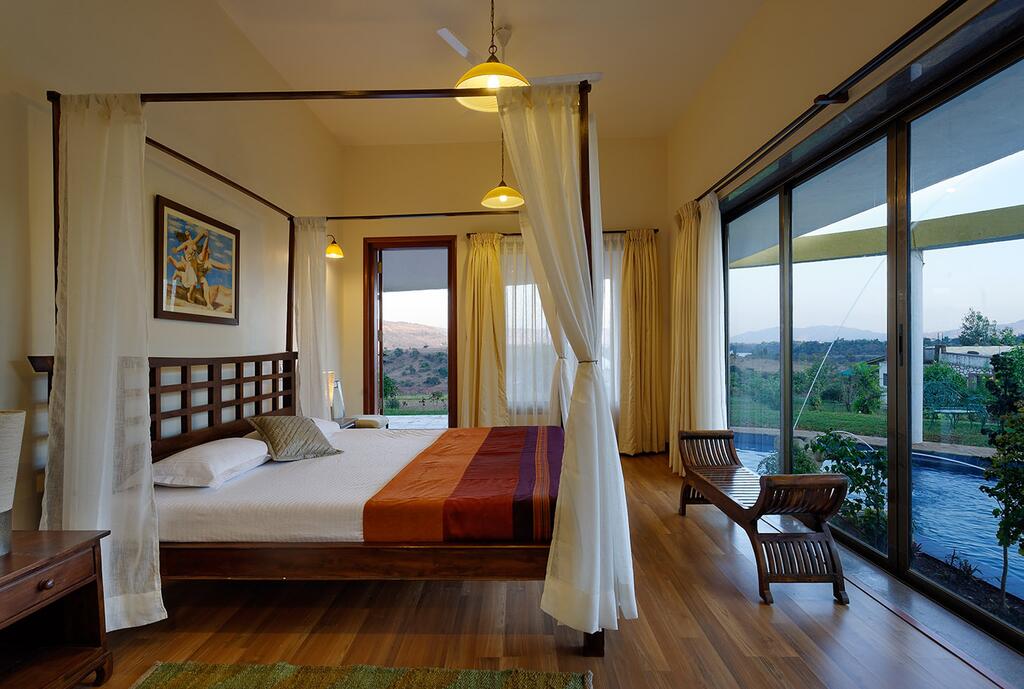 Luxury awaits at Le Farm – Credit: Booking.com
Residency Lake resort
Located in Mulshi, a couple of hours away from Mumbai, it is set in the Sahyadri Hill. With 12 luxurious cottages, Residency Lake Resort is the perfect staycation to pamper yourself. They are equipped with a wide range of facilities and the best of services at your disposal. From amenities like outdoor sports and indoor games to a large swimming pool and a spa to comfort you, you can indulge in it all. Basking in this luxury is sure to leave you feeling rejuvenated and relaxed.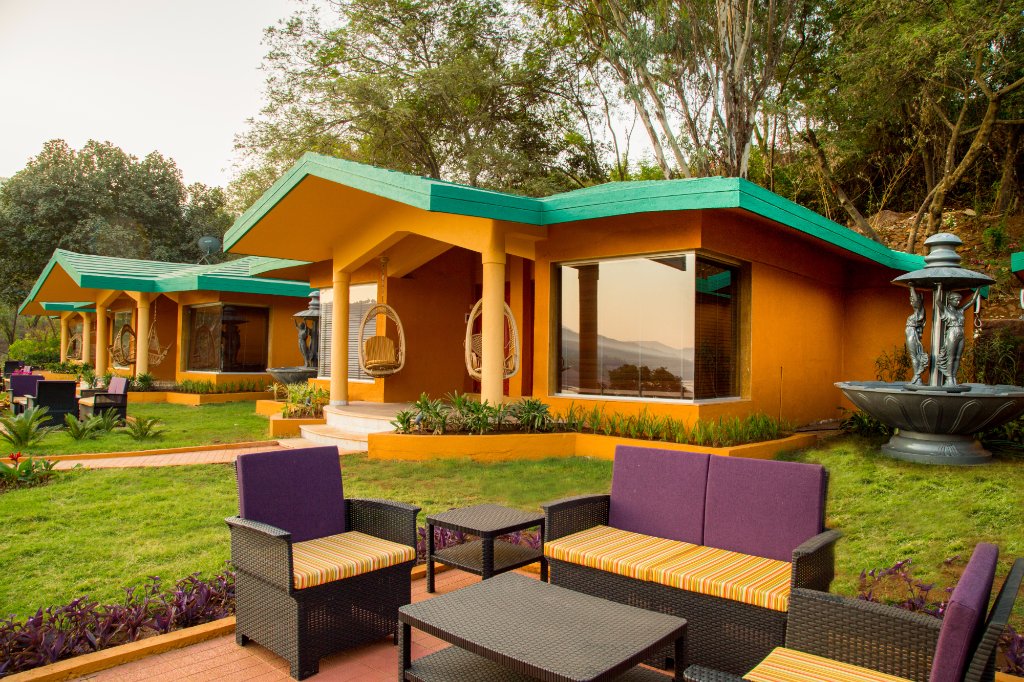 Bask in sheer luxury and pamper yourself with the best of facilities at Residency Lake Resort – Credit: TripAdvisor.com
Souzagad Homestays
A paradise for nature lovers, Souzagad Homestay is simple yet luxurious, and oh so spacious! Apart from the impeccable service, they are known for their authentic Maharashtrian cuisine and homely atmosphere. However, the highlight of Souzagad is the view of the Sahyadri mountains and a lake flowing by. It sure is tranquility redefined. A beautiful home away from home, this villa is the ideal retreat to unwind and escape the city life. Whether you're seeking peace amidst nature or looking to indulge in some adventure, this villa is perfect for all kinds of travelers.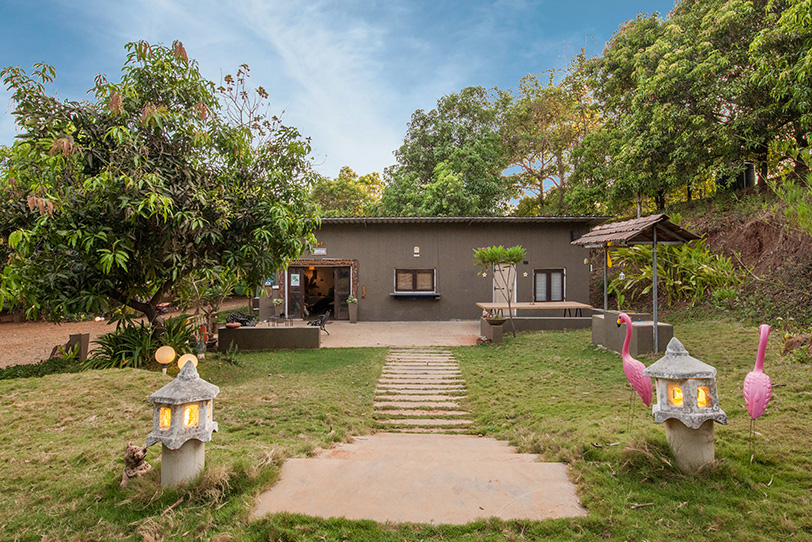 Souzagad Homestay is homely and welcoming. Credit: Makemytrip.com
Ama Stays and Trails
Ama Stays is sure to leave you mesmerized by its surrounding nature and tranquil vibe. Set by the sea shore, surrounded by coconut trees, this modern homestay is the perfect place if you're seeking some peace. Modern and cosy, Ama Stays is the ideal home away from home. It is easily accessible, yet away from the chaotic city life. This gorgeous villa is a stone's throw away from the beach. If you're looking for a laidback staycation to rejuvenate your soul, this is just the place to be at.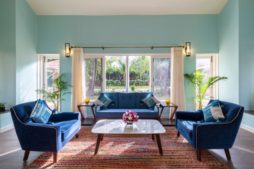 The chic decor to compliment the gorgeous location, adds to the tranquil vibe of this beautiful getaway.
Saffronstays RiverRock
This earthy villa with Manglorian cottage is set right at the riverbank. Just 35 kms from Mumbai, this 2 bedroom cottage makes for ideal weekend getaway. The picturesque view from the sun deck, the jacuzzi, and the aesthetic interiors, are the highlights of this gorgeous homestay. The ambience, the amenities and the hospitality, all add to the comfort of your stay. If you're looking for an escape with friends or family, this is just the place for you.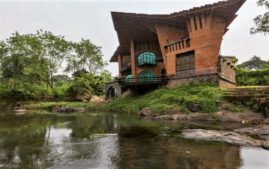 Like a cottage right out of a fairytale, this rustic homestay allows you to be one with nature – Credits: saffronstays.com
The Machan
The stay at Machan is a one of a kind experience. Ever wanted to live in a treehouse equipped with all the modern facilities you could ask for? Your dream has come true. The Machan is an exclusive eco-resort with tree houses that allow you to escape to Paradise. The view is simply stunning and so is the tranquil ambience. A must-visit luxury villa on the outskirts of Mumbai. Your very own getaway, right in the heart on nature.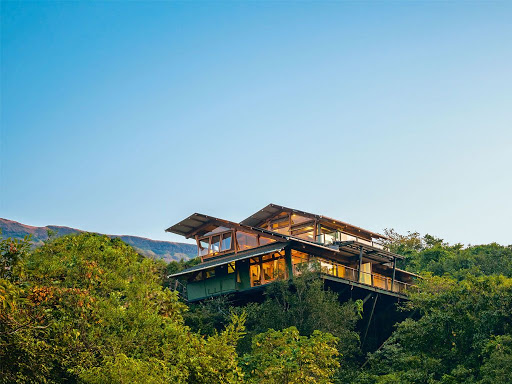 Tranquility at its best, a serene escape into paradise! credit: http://www.natgeotraveller.in forest-stay-the-machan-Lonavala
Arowana Woods – The arowana cliff
Situated at Pawna lake, atop a cliff, this 4 bedroom villa offers a breathtaking view. It's modern interiors add a touch of elegance to this beautiful escape. The swimming pool amidst nature, overlooking the surrounding cliffs is definitely the highlight of this stunning property. Arowana Woods also has similar properties at multiple locations in Maharashtra. Each with a unique charm to it and they're all accessible from Mumbai. A must-visit on our list.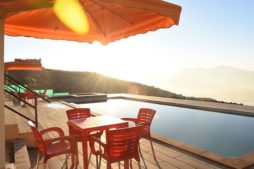 A spectacular view of the sunset by the poolside.
Besides these, there are many more such villas in Mumbai and the rest of India that will make you want to escape your routine life and take that much needed break. Contact us for bookings. For more recommendations that cater to your location and budget requirements get in touch with us We'll help you pick the ideal accommodation for your getaway!
helping you travel your way
Everything you need to know about India is here We have tried writing about everything you may need help with for your trip to India, If you need help in planning a trip to India Get in touch with us to to plan your trip of a life time.