Trekking in McLeodganj Dharamshala
A good friend of India Someday, Aditya Lalla shares his stay and trekking experience in text and pictures.
Walking across McLeodganj takes all of twenty minutes. Built up around a one way ring road (Temple Road going downhill, Jogiwara Road going back up) and a handful of side roads branching out from the main square at the Northern tip of the circuit, McLeodganj is a fantastic starting point for a number of great treks.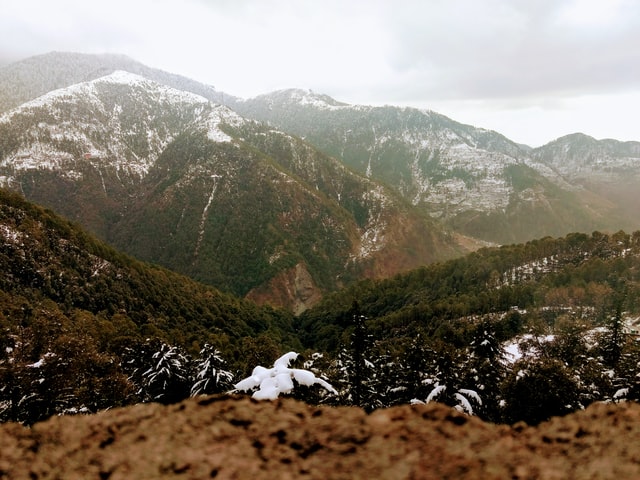 McLeodganj is a fantastic starting point for a number of great treks
Trekking in Mcleodganj Dharmshala
Heading due north out of the main square, through the local khao gully (lit. food lane) and bazaar, you will suddenly find yourself walking on a quiet paved road used only by the locals and the occasional cattle.
Known as the Dal Lake-McLeodganj road, it has almost no gradient and is a pleasant, scenic route approximately 2.5 kms long. Once at the Dal Lake, one can either go on a bit higher to Naddi Village or visit the Tibetan Children's Village.
Bhagsu Nag is a small village about 1.5 kms to the east of McLeodganj. Known for its Shiv Temple and spectacular views, it is also the starting point for a short but steep hike going up to Bhagsu Nag waterfall.
There is a guardrail, the path is paved, and there are steps for the steeper sections. This is a popular spot for most tourists visiting McLeodganj, so it's not unusual to see people of all age groups making their way up and down the route.
Bhagsu Falls., Dharamshala
Triund Hill
The most famous trek from McLeodganj is the trek to Triund Hill. You can either start from near the government primary school at Dharamkot, or from the German Bakery at Bhagsu Nag. The route up from Bhagsu Nag is a little shorter, but a lot steeper, and gets too slippery to attempt safely when it's raining. Both routes meet at a temple called the Gallu Devi Temple which is where the trek really starts.
Near the temple are a couple of cafes. These are the first in a set of three groups of cafes that you will come across on the way up to Triund Hill, and mark the end of the first leg of the journey. Each leg gets progressively steeper and slightly harder to climb, but the path is always well marked, and nowhere does the trek get more than moderately difficult.
Getting to the top takes between 2 & 6 hours, depending on the number of stops made and how quickly you walk, but the view is more than worth the hike. The journey up does give you occasional glimpses of what to expect, but the flat meadow on top of Triund gives you a spectacular panoramic view of the Dhauladhar Range on one side and the plains on the other.
Longer journeys are also possible, walking a 3 or more days circuit looping around to the snow line or onwards through sections of the Dauladhars, but these will require signing up with an experienced group of guides and carrying around the required food and survival gear.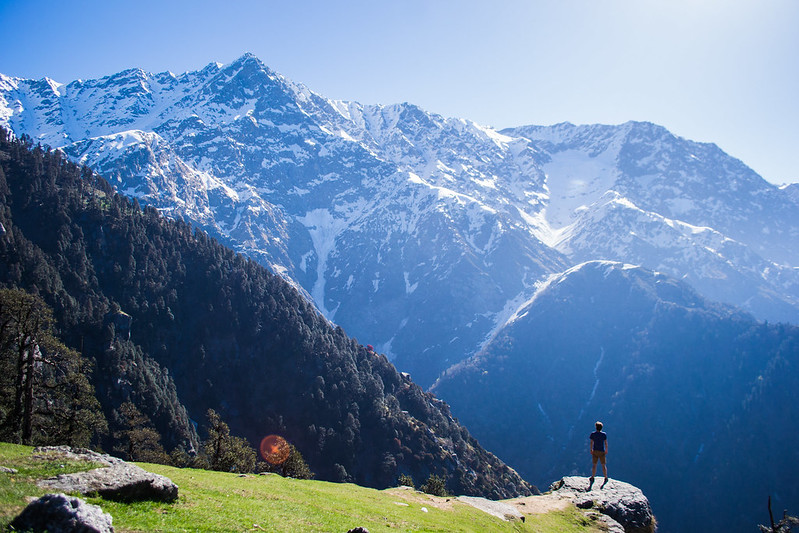 The most famous trek from McLeodganj is the trek to Triund Hill (Photo Credit – Rignam Wangkhang)
Where to stay in Mcleodganj
8 Auspicious Him View
It's simple, it's reasonably priced, and it's got a view of the Himalayas. A family run guest house on Jogiwara road with surprisingly large rooms. The 8 Auspicious Him View is a quiet and comfortable place to stay. Decor is exclusively pine wood, and the food is vegetarian (with eggs). The rooms are approximately INR 3,000 per night and the included breakfast is simple, but excellent.
Accommodation with wonderful views of the mountains (Photo Credit – Booking.com)
Where to eat in Mcleodganj
8 Auspicious Him View
Eat the breakfast if you're staying here. They serve traditional Tibetan breakfast food, and it is delicious. Especially the Him View Sandwich.
The Crazy Crepe Pancake (aka The Brew Club Book Club)
It's a cosy little cafe which serves incredible vegan crepes and waffles. You can choose your batter as well as the toppings (cinnamon oat flour crepe with apricot sauce? Done!). The portions are (really) big too (Nutella crepe with extra Nutella? Done, and done!).
They encourage you to sit around, read, and sip your brew of choice while slowly contemplating which particular crepe will be your indulgence of the day.
Shiva Cafe
Hidden away above the Bhagsu Nag waterfall, Shiva cafe is a great place to relax and while away some time. The path up is partly overgrown in places and not very well marked, but the astonishing view is worth the extra effort. You can choose to sit either inside or outdoors (weather permitting) while snacking on their offerings.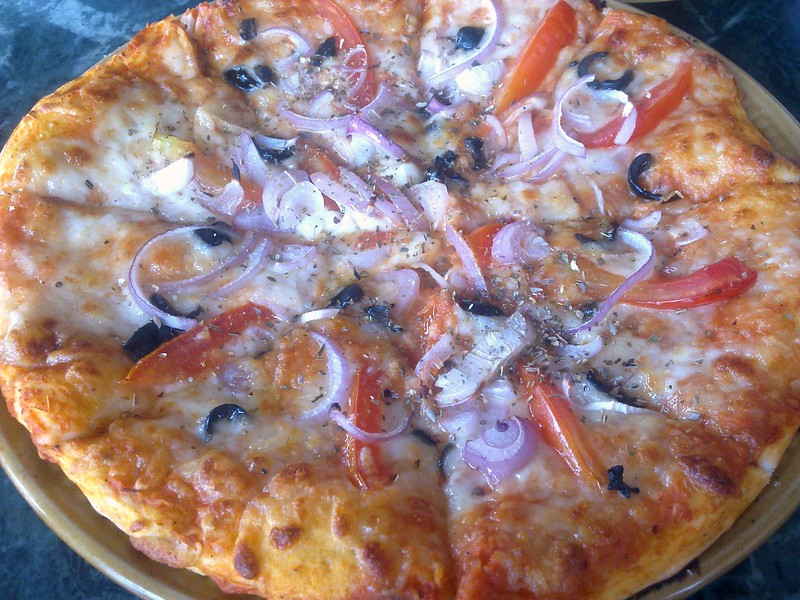 Jimmy's Pizzeria in McLeodganj (Photo Credit – Ankur Gulati)
What to carry/wear
Sensible shoes and a sweater or a waterproof jacket (in case it rains) should cover most short treks. Water and snacks are a good idea, but not essential since you're never too far from a shop or café. In case of overnight/multi-day treks – listen to what your guides suggest. The weather can be unpredictable, and the mountains unforgiving.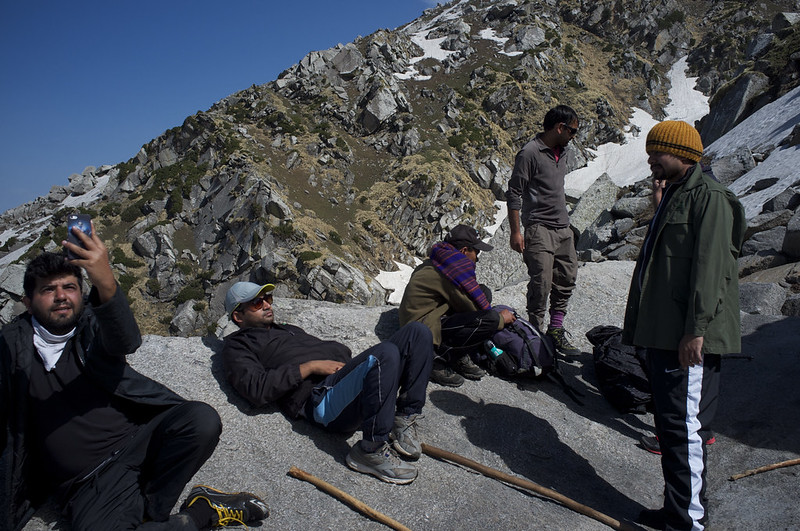 Prepare for trekking (Photo Credit – Aleksandr Zykov)
What else to do in Mcleodganj
McLeodganj is famous for being the residence in exile of Tibet's spiritual leaders. The Dalai Lama resides here, and the temple complex built around his house is the reason most people visit McLeodganj in the first place.
Visitors are freely allowed to walk around the entire complex (except for his holiness' actual residence). You can watch the monks pray, or learn about Tibetan history, or just sit in some of the spectacular gardens.
Do remember, this is also a seat of political power, and there is a blanket ban on all electronics carried by visitors. You will also find armed security guards cordoning off certain areas.
The Tibetan Children's Village is a non-profit integrated educational community for destitute Tibetan children in exile, and for the hundreds of those escaping from Tibet every year. The headquarters of the institute are found next to the Dal Lake. It now has established branches in India extending from Ladakh in the North to Bylakuppe in South. They have over 16,726 children under its care.
There are also a number of monasteries, stupas, museums, and libraries scattered in and around McLeodganj. These come with scriptures and histories carried by the people of Tibet to India.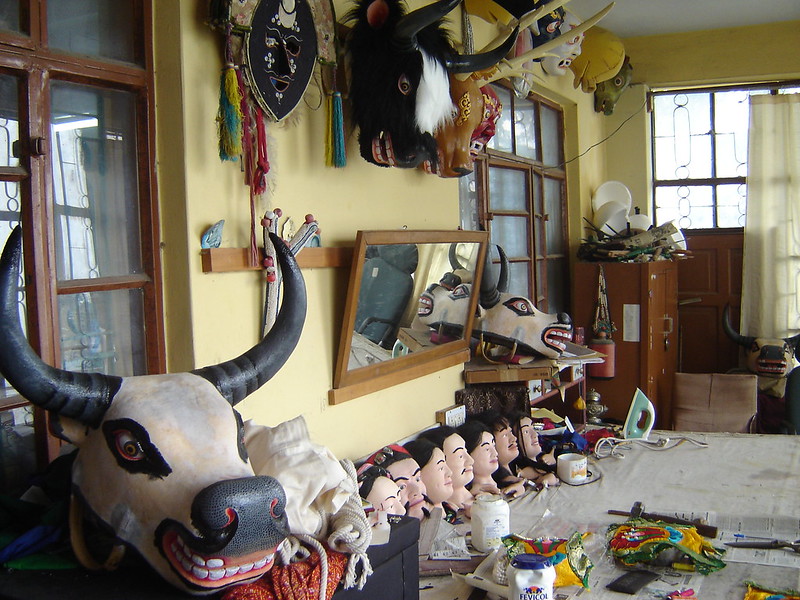 Workshop at the Tibetan Institute of Performing Arts in McLeodganj (Photo Credit – ptwo)
Let us know if you'd like more information or if you'd like to plan a trip with us, and we'd be more than happy to help.
helping you travel your way
Everything you need to know about India is here We have tried writing about everything you may need help with for your trip to India, If you need help in planning a trip to India Get in touch with us to to plan your trip of a life time.