COVID-19 Guidelines for Travelling to Himachal Pradesh in 2021
Situated in the Western Himalayas, this "Land of Snow" is proof that heaven does exist on Earth. With some of the most beautiful hill stations, enchanting villages, snow clad mountains and lush green landscapes, it's among India's most popular tourist destinations. Providing an escape from the heat, travelling to Himachal Pradesh is always a good idea, irrespective of the season! It is a haven for thrill seekers, adventurers and nature lovers. With McLeod Ganj being home to the Dalai Lama and traces of Buddhism wherever you go, you're likely to sense the strong influence of Tibetan culture. It is the ultimate destination for trekking, mountain climbing, skiing, rafting, paragliding, and every other mountain adventure activity, in India.
As for the threat of Coronavirus, Himachal Pradesh saw a huge drop in the number of new cases in 2021. The comeback from 2020 is a positive sign for the tourism sector, of the state, which is flourishing once again. Though the main occupation of the state is agriculture, the hospitality industry also contributes largely to the economy of this North Indian paradise. These COVID-19 state regulations, for Travelling to Himachal Pradesh, is everything you need to know while planning your 2021 holiday!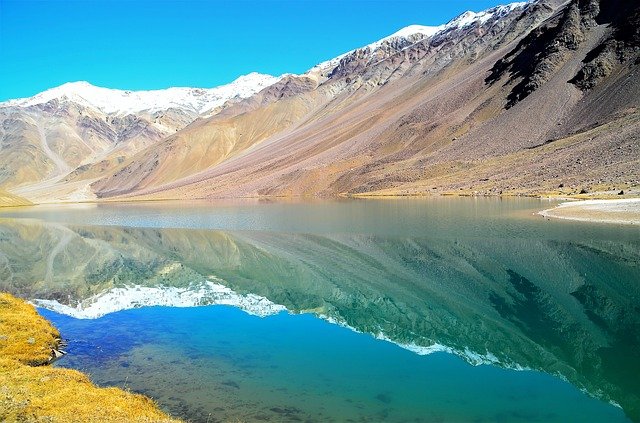 A reflection of the snow-clad mountains in the crystal clear waters. (Photo Credits: Pixabay)
COVID-19 UPDATES FOR Travelling to Himachal Pradesh IN 2021
Post lockdown people have left the confines of their home for a break from the stress and anxiety from the pandemic. Though the threat from the virus has not subsided yet there is a positive outlook to travel. If you are careful enough and follow the guidelines by the health department you can have a better holiday than you expected. Below are COVID-19 Guidelines for Travelling to Himachal Pradesh.
By Air: Passengers landing from red zones are supposed to undergo 14 days of institutional quarantine. Other passengers are required to quarantine themselves at home for two weeks.
By Rail: People travelling to Himachal by rail won't need an e-pass anymore. Thermal screening at all exit and entry points and registration of

Aarogya Setu

App is mandatory. Carry own clean linens while travelling especially for long journeys.

By Road: Traveling without a mask even inside a car can result in a fine of INR 1000-5000 depending on the region/ district in Himachal. However, it is not necessary to have a valid entry pass or proof of hotel reservations while visiting the state.

A birds eye view of Himachal Pradesh
Places to visit while travelling to Himachal Pradesh in 2021
Though it is a year-round destination, March to June & the month of September is the best time to visit Himachal Pradesh. It has some of the highest roadway passes in the world which are closed down in the winter. The Buddhist temples and monasteries are spectacular, while the view of the Himalayas is simply breathtaking. Every city, hill station and village, has its own unique charm. Each different from the other. Some are quiet, some are filled with exciting adventure sports. Some are spiritual hubs and others, a haven for backpackers. Here's a list of few of the best places to visit while travelling to Himachal Pradesh, for the ultimate Himalayan experience.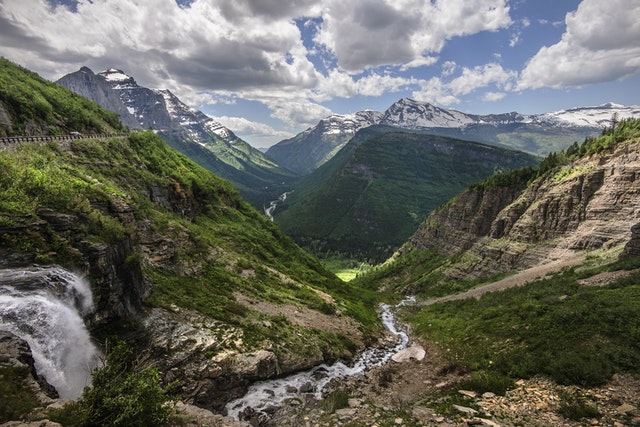 Whether you choose to go biking or trekking while travelling to Himachal Pradesh, these breathtaking views are just a glimpse of the heaven that awaits.
Manali
This enchanting escape has something in store for all kinds of travellers. From adventure sports like paragliding, trekking, and rafting, to the peace and quiet with mesmerizing views of the surrounding landscapes. Manali became a tourist hotspot initially because of its repeated presence in Bollywood films. Now with the advent of Social Media, it's become even more popular, being the picture-perfect town that it is. Manali is a year round destination, painted white in the chilly winters and a cool escape from the summer heat. For the ideal itinerary to explore this stunning hill station, read our list of the top things to do and places to visit in Manali.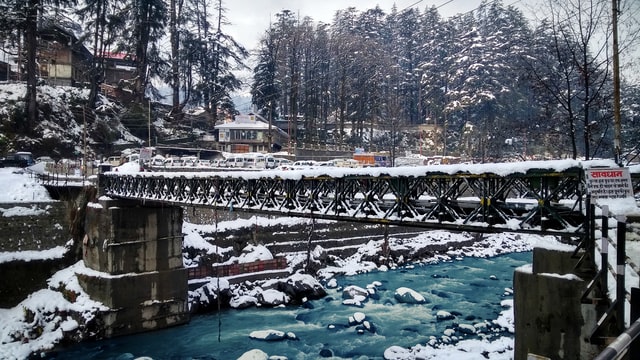 A bridge in Old Manali, and a tourist hotspot, mostly because of the Bollywood film "Bang Bang".
Dalhousie
Built during the British colonial era, Dalhousie is home to quaint churches that are architectural gems. This place was founded by Lord Dalhousie in the mid 19th century. This popular hill station is ideal for sightseeing, where the snow-clad mountains will leave you spellbound. Shopaholic or not, you won't be able to resist splurging at the Tibetan handicrafts markets. While you're in Dalhousie, take a day trip to Khajjiar, the "mini Switzerland of India". The picturesque landscapes with meadows, dense deodar forests and a lovely lake has definitely earned it this title.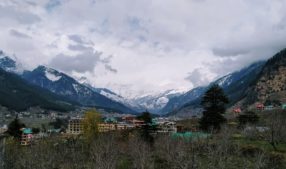 The stunning landscapes of Dalhousie, and the neighbouring Khajjar Lake, will simply leave you awestruck.
Shimla
One of the most sought after romantic and family holiday destinations, among Indians, is Shimla. You can witness intricate Victorian architecture while taking a stroll down Mall Road which is bustling with locals and tourists alike. The toy train ride from Shimla to Kalka is another unmissable experience. Shimla has an airport itself, with connections to all the major cities of India. Contact us to book your stay in a boutique cottage, or heritage homestay here. The best time to visit Shimla is during January when it snows and the land seems like a fairy tale come to life.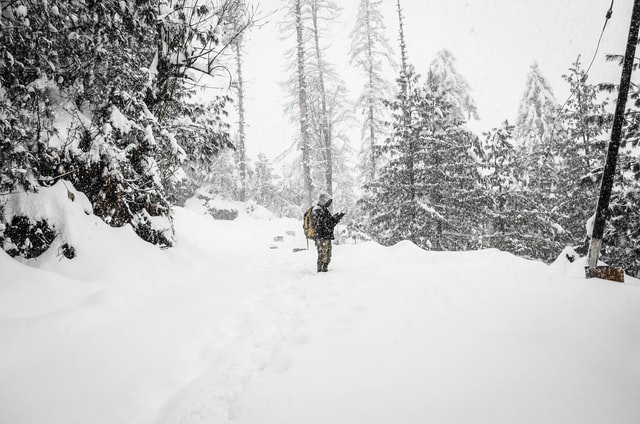 Shimla is painted in white with snowfall in the months between December to February.
Dharamshala
While travelling to the north of Himachal Pradesh, you will notice the influence of Tibetan culture. The 14th Dalai lama found refuge among the hills of Dharshamla, in Mcleodganj after being exiled from Tibet. In the Tsuglakhang Temple complex of Mcleodgang lies the Namgyal Monastery, also know as the Dalai Lama Temple. Here, you can attend the morning or evening prayers which are open to all. One beautiful experience for an insight into the Buddhist culture is the spiritual debate. Monks clap to make their point and this is often referred to as the "clapping debate". During your stay, make it a point to visit the Norbulingka institute here, which preserves the Tibetan culture and teaches Tibetan refugees everything, from the English language to Buddhist traditions. Dharamshala is also famous amongst thrill-seekers for trekking and other adventurous sports.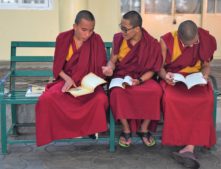 Preparations for the evening debate at the Monastery in Mcleodganj.
Kasol
Kasol is a charming, quaint village, two hours away from Manali. It is surrounded by dense coniferous trees and a stunning view of the majestic Himalayan range. It is also considered to be the base for many popular trekking trails. Besides being a haven for backpackers or the "hippie town", you'll also find a large number of Israelis here. A couple of days in Kasol will help rejuvenate your mind, body and soul. This Mini-Israel is brimming with the best of food and activities to ensure that there's never a dull moment. You can choose to lay back and do nothing, or go an adventure of your own. From exploring some of the most beautiful temples and camping by the river to chasing mountain peaks and arousing that adrenaline junkie in you.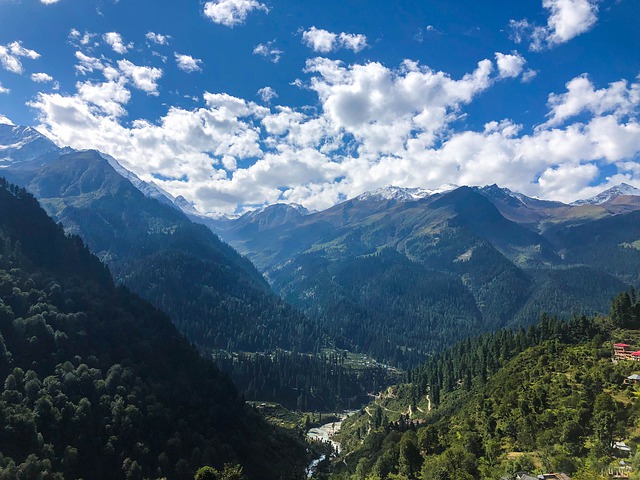 The breathtaking beauty of Himachal's "Mini-Israel"
Mandi
This picturesque town is vibrant and dotted with temples. It is adorned with lights during the festive months of February and March. The Shivratri festival which goes on for more than a week makes for a unique cultural experience. Mandi is the second most populous town of Himachal, after Shimla and is mostly popular among trekkers and pilgrims. This offbeat destination also happens to be the cultural capital of the state and as commonly known as the Varanasi of the east. Getting here: Shimla is the closest railway station, while Bhuntar (Kullu) airport is well connected to the northern states of India.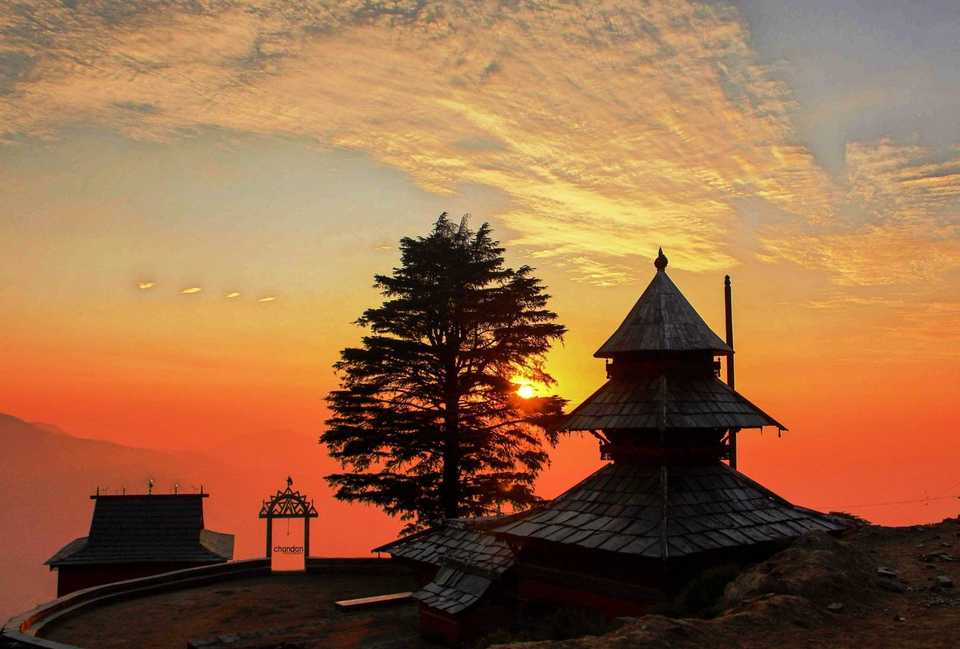 A gorgeous view of the Aadi Purkha Temple at sunset – (Photo credits: https://hpmandi.nic.in/)
Kullu
Set in the lap of nature with endless stretches of greenery and mesmerizing river streams, Kullu is the definition of bliss. It's central location makes it well connected to a number of tourist destinations like Shimla and Manali. If you're planning a road trip from Delhi or Chandigarh, Kullu is just the place to visit. Besides the numerous trekking trails and adventure activities, Kullu is brimming with tourist spots. From temples to national parks and from valleys to lakes, every sight is one that's worth witnessing. The exquisite beauty is the highlight of this nature lover's paradise, and will definitely make you fall in love with this spectacular town.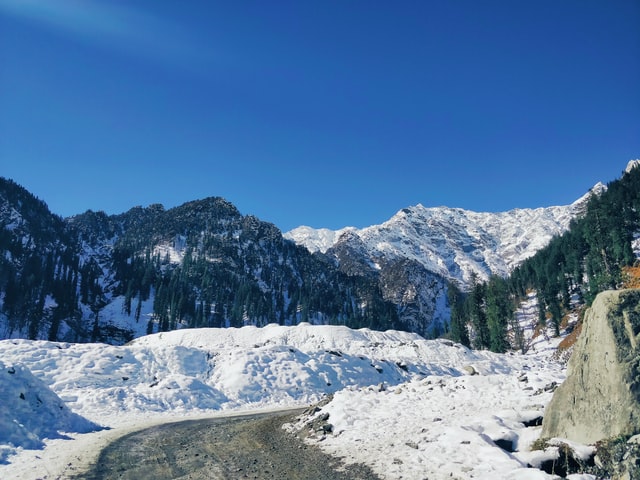 Snow covered roads leading to Kullu -(Photo credit: Abhishek_donda_unsplash)
Lahaul and Spiti valley
The alluring district of Lahaul and Spiti valley attract thousands of tourists throughout the year. This beautiful Himalayan gem has something in store for everyone and is ideal for all kinds of travellers. Whether you seek peace and solace or are looking for some adventure, you can have it all here. Visit the Kungri Monastery or one of the many other monasteries in the valley, go river rafting and especially spend a night camping and star gazing. The list of things to do in Lahaul and Spiti Valley is endless, but for more details, simply get in touch with us. We'll help plan walking tours to interact with locals and a stay at a local home for an insight into the traditions and culture of this beautiful Himalayan escape.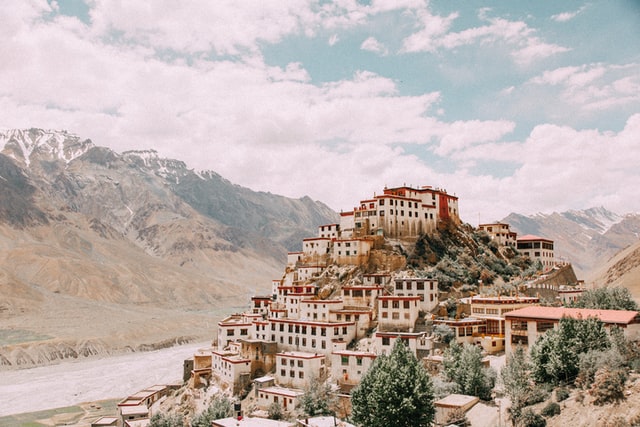 Key Monastery, in Spiti Valley, beside the white Spiti river – (Photo credit: Samantha-hentosh_unsplash)
Solang valley
A quaint picturesque valley an hour's drive away from Manali. The ideal duration to explore the valley and enjoy it to the fullest, is about 2 days. Like every other destination in Himachal, Solang too is breathtakingly beautiful but it's beauty is not the highlight. This year round destination is every adventure traveller and thrill seeker's haven. If you're looking to indulge in snow sports and winter activities, November to February is the ideal time to come here. It is the ultimate destination for skiing in Himachal Pradesh along with several other winter adventure sports. The winter skiing festival also takes places sometime during this period. However, if you're looking for a tropical getaway, where the temperatures are cool and the land is lush green, the summers are the best time to visit Solang. You can enjoy activities like zorbing, paragliding and make the most of the pleasant climate.
Paragliding amidst the snow clad mountains -(Photo credit: Jinu-k_Unsplash)
Discover your favourite destination and plan a week's trip among the peaks and snowy region. Make your personal occasions memorable by planing your ideal vacation or contact us to know about holiday packages and much more. Get acknowledged with what you can do after getting there. India someday at your service!
helping you travel your way
Everything you need to know about India is here We have tried writing about everything you may need help with for your trip to India, If you need help in planning a trip to India Get in touch with us to to plan your trip of a life time.