Things To Do In Lucknow
'The city smells of Nawab (kings), Kebabs and Aadab (politeness)' – Zainab Mariya
The first thing you will notice the minute you step foot in this city is, its rich heritage, monuments which stand tall and the warmth of the people who welcome you, also known as their 'Tehzeeb' (etiquette), that adds to the charm of this city.
The colonial history of Lucknow might have it's unpleasant chapters but this city has made sure it would not let it's past come in the way of graciously flaunting what the city offers. Those interested in art, history, food and architecture, Lucknow is your paradise.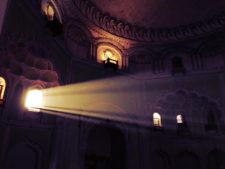 Interiors of the Bara Imambara, Lucknow (Photo Credit – Carlos Felipe Pardo)
A train ride away from Lucknow is the city of Agra (Taj Mahal). Read this blog for the perfect guide on this city.
1. British Residency
The British Residency is not just a cluster of rustic red buildings but holds great importance, as it oozes of the solidarity of the people during the British Rule. The enclosure was used by the Britishers, from the start till the end of their Raj (rule). Most importantly, it is here where they took refuge during the 1857 Struggle for Independence and The Lucknow Siege.
The bullet and canyon marks on the walls, coupled with the stories narrated by the guide of how the war went down will give you chills. There is also a museum here which will help give you a lot of perspective. The Residency also opens up to a wide garden adding to the beauty and serenity of the place. As the stories unfold along with the drama that went down, Lucknow makes sure she has your attention at all times.
VISITING HOURS: 09:00 to 18:00 hours
ESTIMATED TIME: 30 mins
COST: INR 50 per person for foreign tourists, INR 30 per person for Indian tourists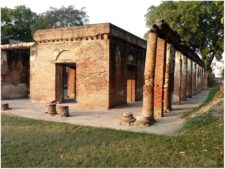 Remains of the British Residency, Lucknow (Photo Credit – Ramnath Bhat)
2. Bara Imambara
One cannot leave this city without visiting this architectural marvel! Bara Imambara was built by Nawab (king) Asaf-ud-Daula in 1784. When a devastating famine hit this region and the construction of this monument was part of the relief program. The Bara Imambara is probably one of the most elegant structures in all of Lucknow.
The elongated minarets, open courtyard and arched windows are the classic Mughal style of architecture. The complex has a mosque, step well and one of the most interesting structures called the Bhulbhulaiya or the Labyrinth. The Bhulbhulaiya is on the upper floor of the Bara Imambara. No one is allowed to explore this without a guide. Reason being, one would definitely (just like a lot of British soldiers) get lost in that maze-like structure.
Do remember to carry your torch and explore the entire monument with the guide. The guide adds to the experience, from the stories of the construction to all the secret magic/camera tricks they know.
VISITING HOURS: 09:00 to 18:00 hours
ESTIMATED TIME: 1-2 hours
COST: INR 500 per person for foreign tourists, INR 25 per person for Indian tourists (inclusive of Bara Imambara, Chhota Imambara).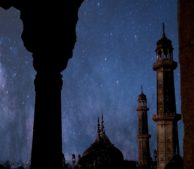 Midnight views of Bara Imabara
3. Chota Imambara
While the Bara Imambara would give you a vibe of mystery and confusion, the Chota Imambara is lighter yet delightful to the eyes. Also called the 'Nawabi Palace of Lights', make sure you visit this monument towards the end of the day to get some great shots.
The Chota Imambara is just 500 meters away from his brother Bara Imambara. Built by Nawab Mohammed Ali Shah, who has his tomb alongside his mother's inside. This was previously used as a hall for religious assemblies. However, now it's used as a congregation hall for the Muslims.
The Persian and Mughal form of architecture is jaw-dropping, the royal glass chandeliers, the double replica of the Taj Mahal, along with that you have the traditional Hammam (Royal Baths). There is so much to see and take in. So make sure you take your time to explore this magnificent monument.
VISITING HOURS: 06:00 to 18:00 hours
ESTIMATED TIME: 1 hour
COST: Same ticket as Bara Imambara
4. Rumi Darwaza
'Darwaza' literally means 'gate' and 'Rumi' means Rome, this gate lies between the Chota and Bada Imambara. Built by Asaf-ud-Daula, this structure was built as part of the famine relief program. It is an important landmark in Lucknow. Also known for its resemblance to the Turkish Gate built in the ancient Constantinople (Turkey).
India does not fail to show it's amalgamation of different cultures through the unique style of architecture, from the Mughals, to the Rajput and even a blend of Awadhi style. What is even more unique is, when you enter through the gates, on one side you enter from three arched doors and come out from the other end it will be one big arched door. Fascinating as it sounds, Rumi Darwaza is worth making a stop for photography and marveling at the skills of the people in the past.
VISITING HOURS: 06:00 to 18:00 hours
ESTIMATED TIME: 15-20 mins
COST: Free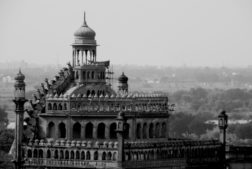 Aerial view of Rumi Darwaza (Photo Credit – Santulan Mahanta)
5. Jama Masjid
Just when you think the architecture of Lucknow cannot surprise you, the serene-looking Jama Masjid will captivate you. This is an important place of worship for a particular sect of Muslims, who come and pray here on auspicious occasions.
The construction started in 1857 by Muhammad Ali Shah which was left incomplete due to his sudden death. His wife decided to continue his vision. While you do find the common Mughal style of architecture- domes, miniatures, and the intricate designs keeps your eyes glued to this monument.
Another notable feature is the honeycombed pattern entrance which is colored in one of the prettiest shades of green. Make sure to dress modestly while visiting the Masjid.
VISITING HOURS: 06:00 to 18:00 hours
ESTIMATED TIME: 30 mins
COST: Free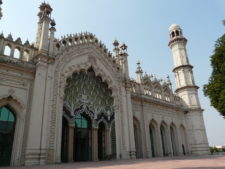 Entrance of Jama Masjid, Lucknow (Photo Credit – Varun Shiv Kapur)
6. La Martiniere College
While it may seem odd to have a tour of a college on your travel list, you would not want to miss out on this visit. When you first enter the premises, it will seem like you are visiting one of the monuments in Vatican City because of the strong European architecture.
This structure was designed by a French architect Claudie Martiniere, he was one of the officers at the British East India Company and decided to reside here. After his death he wished for all the structures constructed by him to be converted into educational institutes.
There is also a beautiful green tomb inside the college, fascinating as it sounds as you keep exploring this premise you will keep getting surprised. Make sure to visit this College on Sundays or after school hours.
VISITING HOURS: 08:30 to 18:00 hours (Closed on Saturdays)
ESTIMATED TIME: 30 mins
COST: Free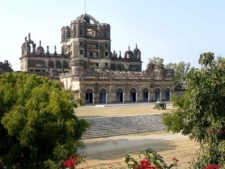 Entrance of the gorgeous La Martiniere College, Lucknow (Photo Credit – Ramnath Bhat)
Moving Around IN LUCKNOW
Even though Lucknow is not a very popular tourist destination it does have a fair number of ways to get you around the city.
Auto Rickshaw
Auto Rickshaws (Tuk-tuks) in Lucknow is an experience you must undertake.While you have to haggling for a price before you start your journey, what makes the tuk tuk ride so interesting are, all the myths and stories that the drivers narrate to you during your journey. Once you enter the old city, tuk-tuks are a great option to move around.
On Foot
Exploring on foot is a good idea as most of the sightseeing areas are clustered around one area. Moreover some of the buildings in the old city that you come across are great to stop and admire.
Ola/Ubers
A great option to travel around in comfort is Ola/Ubers. They are safe and reliable options, in case you do not want to go through the hassle of bargaining with the tuk tuk drivers.
Lucknow is your perfect off beat destination in India. With fascinating architecture and some of the best places to enjoy the Indian cuisine, Lucknow will charm you away. This list of things to do in Lucknow will have you covering all the right places of this city. You can get in touch with us if you'd like to know more about this city or wish to plan the rest of your journey across India.
helping you travel your way
Everything you need to know about India is here We have tried writing about everything you may need help with for your trip to India, If you need help in planning a trip to India Get in touch with us to to plan your trip of a life time.