Things to do in Goa
'Every Goan knows that hospitality is not a trend in their city, it's a tradition that they follow without any remark' – Unknown
Goa has a very laid back vibe that will have you slip into your relaxation mode from the minute you set foot into this town. Since Goa is known for its calm beaches, picturesque sunsets, and delicious food. It is the perfect place to unwind before you fly home or to your next adventure.
Goa is divided into two parts – North Goa that is known for its hippie vibe and South Goa that has a chilled vibe and serene beaches.
The beaches, sand, nightlife, culture and food are part of the vibe that attracts tourists to goa. However, the hospitality of the locals add a certain charm to the town and will surely make your trip to Goa memorable.
To ensure you make the best of your time here, we have curated a list of things you must do during your stay.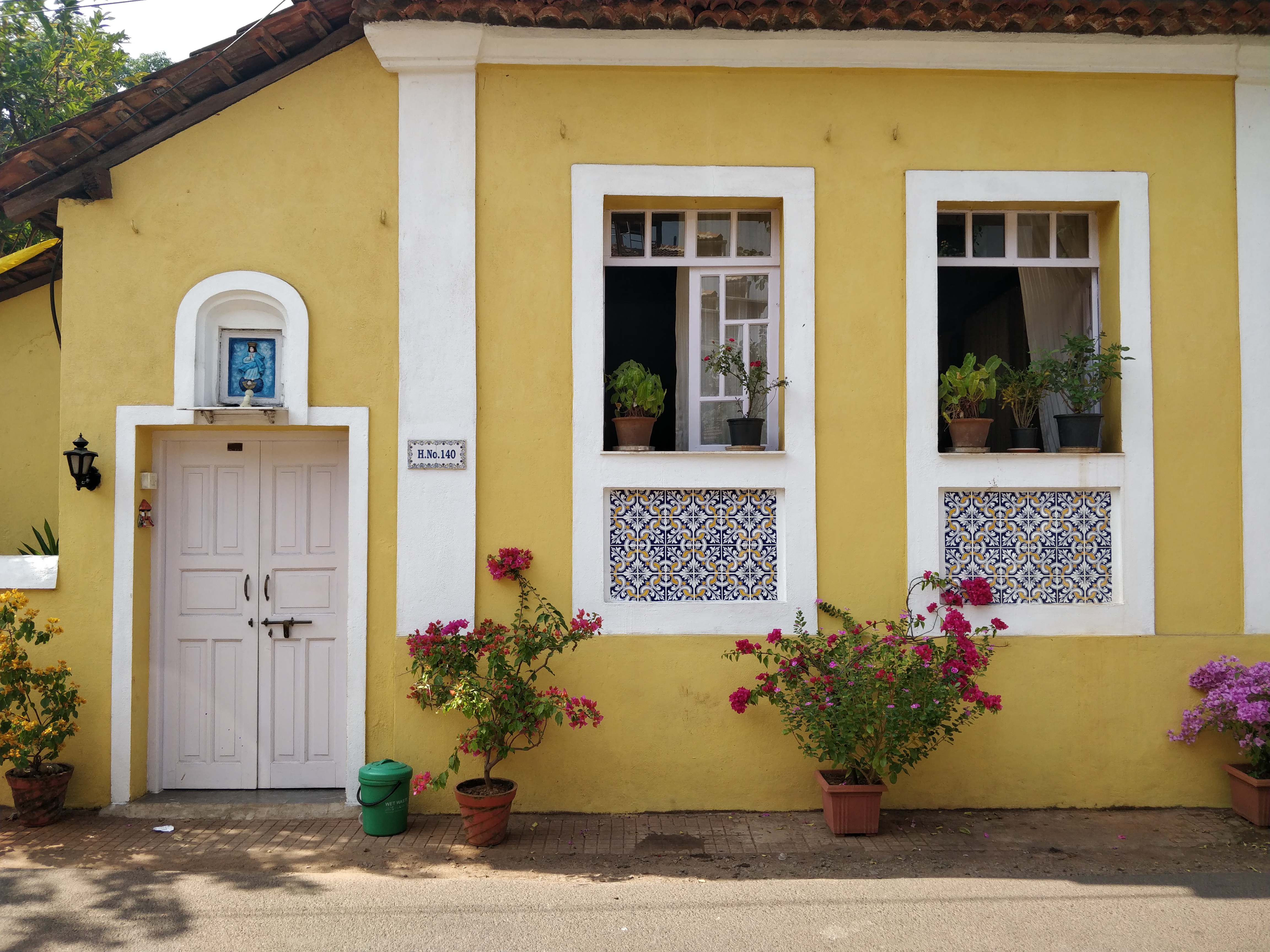 A typical Goan house
top things to do in Goa
A Day Trip to Panjim
Panjim is also known as Panaji which means the land that never floods is the capital of Goa. Panjim gives you the view of the mighty Arabian sea with the docked casino ships.
Once you are here, you will feel like you have been transported to Portugal. This is because of the structure, architecture, colours and everything has a touch of Portuguese influence!
The highlight of Panjim is Fontainhas, an old Latin quarter that has heavy Portuguese influence and comprises old villas and buildings with balconies painted in the traditional tones of pale yellow, green, or blue, and roofs made of red coloured tiles.
The colourful buildings, streets and cool winds will not only make you walk through the city joyous but also fill your gallery with beautiful pictures.
VISITING HOURS: 10:00 to 18:00 hours
ESTIMATED TIME: 2 -3 hour
COST: Free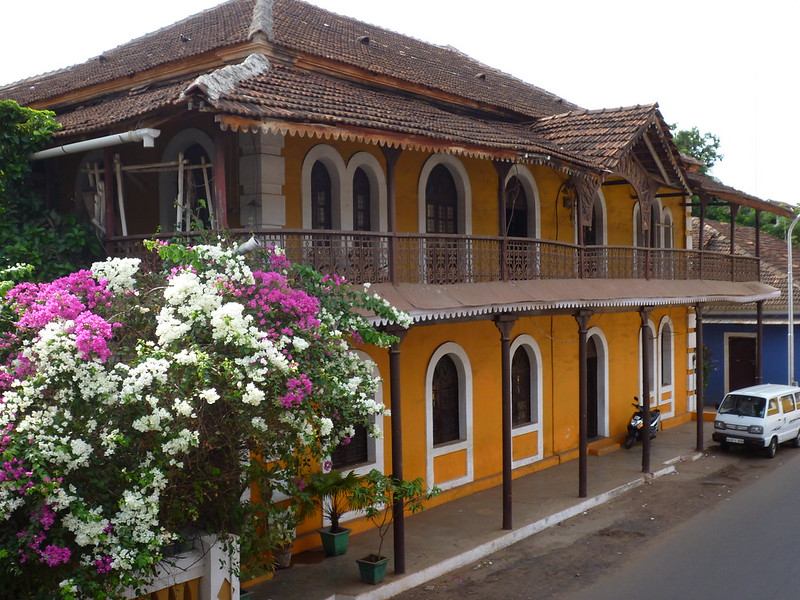 A building in Fontainhas with Portuguese influence (Photo Credit – urbz)
Goa's Oldest Church – Bom Jesus Basilica
Located in Old Goa, the Basilica of Bom Jesus was Built-in 1594 and is Goa's oldest church. This UNESCO world heritage site is of great importance to the locals and Catholics. It is home to the mortal remains of St. Francis Xavier who is known for his healing powers.
The body was shipped back to Goa in the 16th century and was buried under the main altar but exhumed around six years later and never buried again. The body is now placed in a mausoleum that is on the right-hand side of the church. It is brought down every ten years for public veneration.
Even if you are not too interested in spirituality, we would still highly recommend visiting this church, for its architecture. The marble mosaic that is decorated with precious stones, the carved columns and wood-carved floral decorations will leave you in awe.
VISITING HOURS: 10:00 to 18:00 hours
ESTIMATED TIME: 2 -3 hour
COST: Free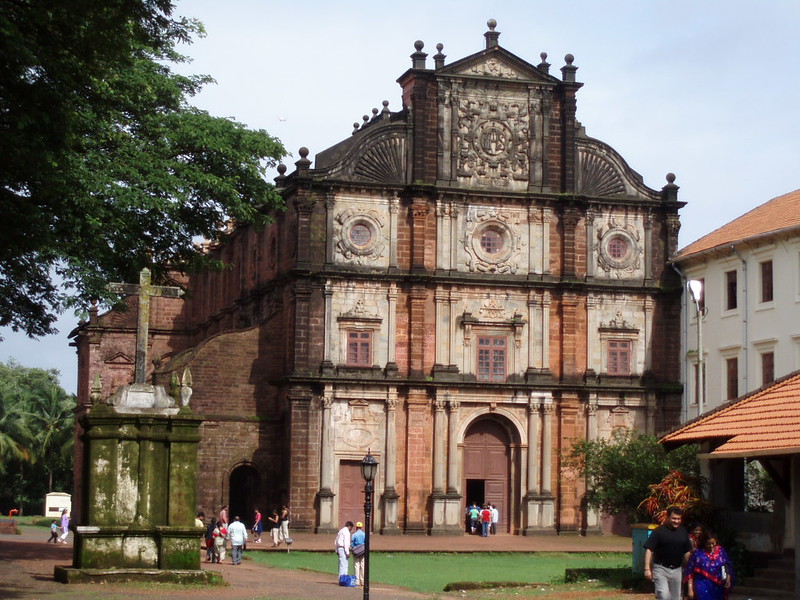 Bom Jesus Basilica – Goa's oldest church (Photo Credit – nImAdestiny)
Church hopping
Known for its stunning churches painted in white, a must-do when you are in Goa is Church hopping! The ancient churches here display the spiritual wealth and past glory.
The churches attract visitors who are not only intrigued by the brilliant architecture and charm but also because the interiors are adorned with stunning wooden carvings and high ceilings.
Each church is unique in its way and each one tells a tale of its own. The list of churches is endless but here are recommendation you must visit –
Immaculate Conception –

is in Panjim is known for its iconic stairways that lead to the church.

Se Cathedral – is one of the biggest churches in Goa and is home to the great golden bell.
St. Cajetan –

is one of the stunning churches in Goa and is not only inspired by St Peter's Basilica.

Holy Cross Shrine

has one of the most stunning interiors and a beautiful altar that will captivate you.
VISITING HOURS: 07:00 to 12:00 hours, 16:00 to 18:00 hours
ESTIMATED TIME: 4 – 5 hours
COST: Free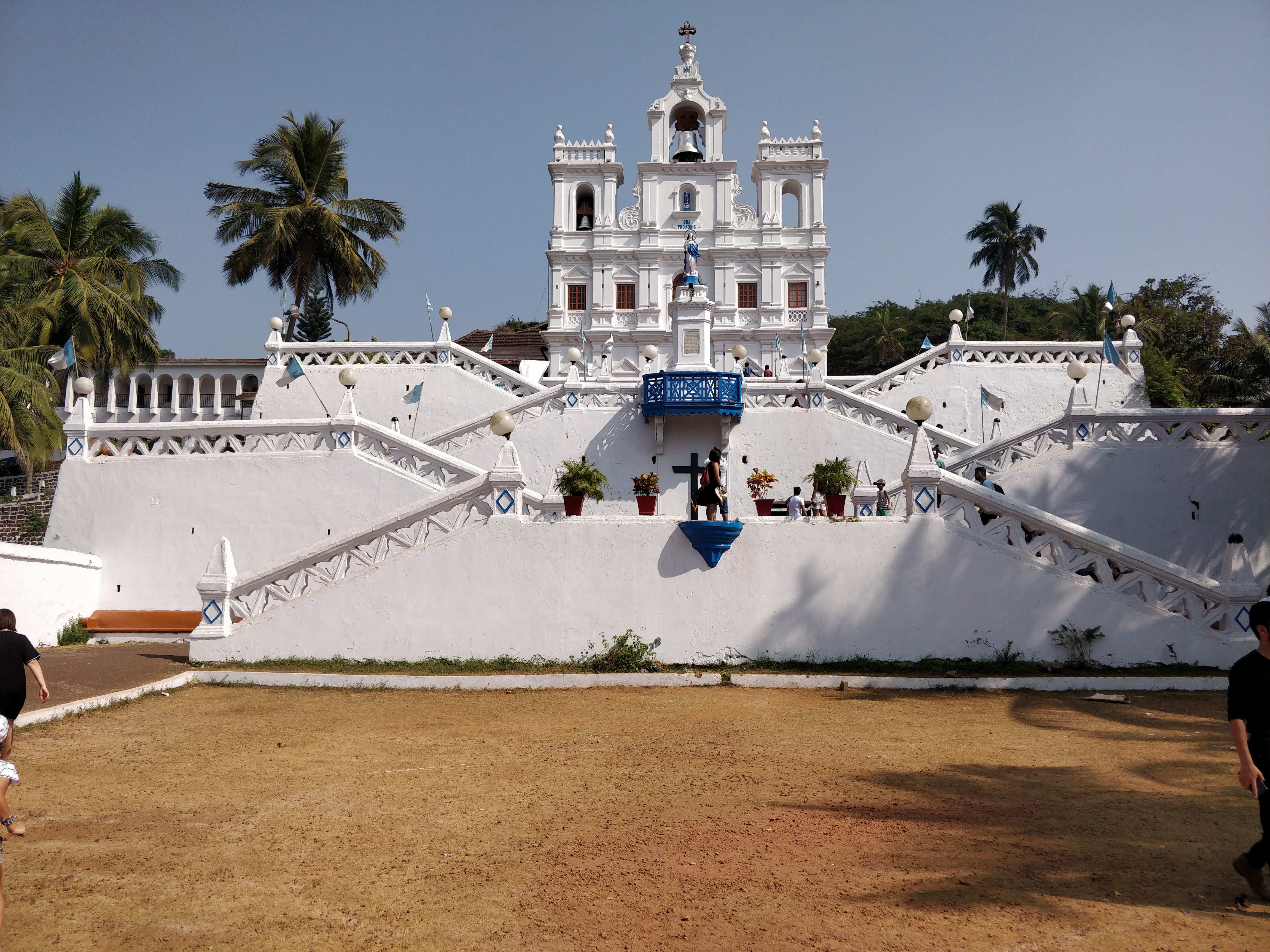 Immaculate Conception church
Chapora Fort
Besides the majestic Aguada fort that is popular among the tourists, Goa also has a few other forts. They are equally stunning and less touristy like the Chapora Fort.
The fort became very popular among the locals and college kids after the Bollywood movie Dil Chahta Hai was shot here and is popularly known as the Dil Chahta hai fort. The fort was built by a Muslim ruler and was later reconstructed by the Portuguese in 1717, who changed the name from Shahpurs to Chapora.
The emergency escape tunnels built by the Portuguese and the stunning view of Vagator beach are the highlights of this fort. Part of the fort stands tall as a witness to its past events and thus has a great historical value.
VISITING HOURS: 09:30 to 17:30 hours
ESTIMATED TIME: 1 – 2 hours
COST: Free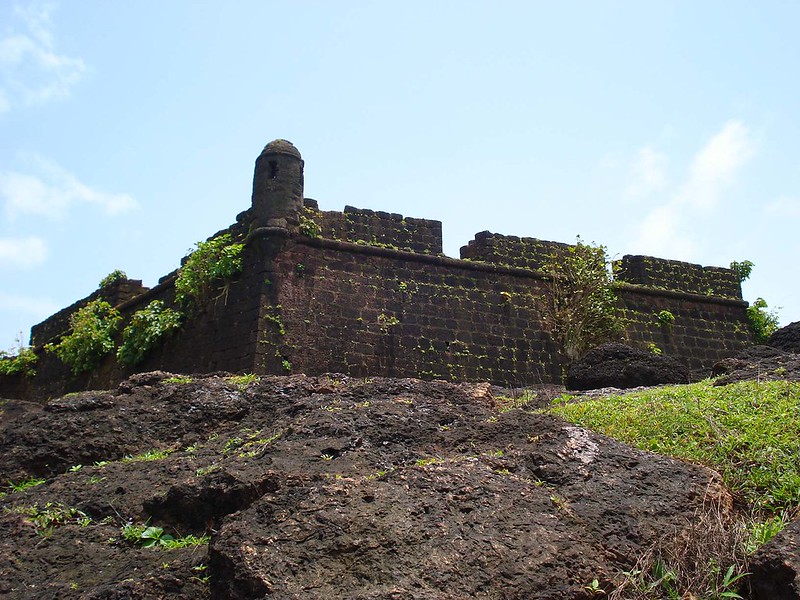 Chapora Fort
Explore The Beaches of Goa
When you are in Goa the best way to spend your day is to soak in the sun and get your beach tan! From stunning white sand crowded beaches with a crazy nightlife, to calm quiet beaches, Goa caters to every kind of traveller.
The beaches of Goa are very popular and many come here to jog, unwind, spend a day with their family or have a cosy picnic! The soft sand, the tiny shacks, calm water and stunning views are best enjoyed with a beer and a plate of french fries or calamari (deep-fried squids).
Almost every beach in Goa is swimmable so do carry your swimwear. However, please be prepared to get a few stares when you visit crowded beaches.
VISITING HOURS: 07:30 to 22:00 hours
ESTIMATED TIME: Depends on you
COST: Free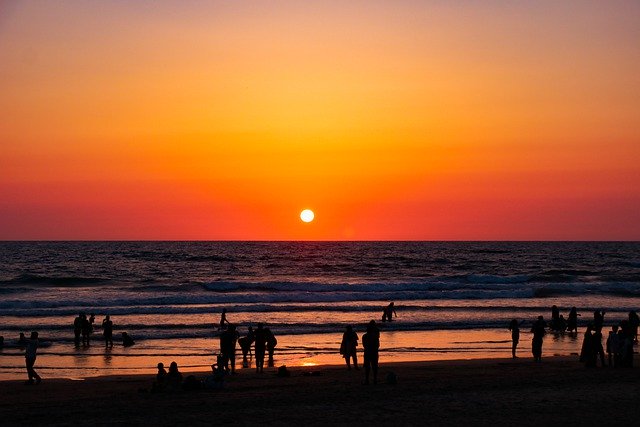 Stunning view of the sunset at Goa beach
Day Trip To Mapusa
One of the best ways to explore the culture and its people is by exploring the local market. Mapusa is one of the popular markets in Goa where locals come to buy their groceries and are famous for dry fruits, cashew and goan sweets!
As you stroll in the bustling market lanes you will not only explore the local culture but also the delicious local food! A must-try is the Goan Poi stuffed with Goan Masala Sausages. This dish is not only a speciality but also a staple in every Goan home!
VISITING HOURS: 11:00 to 13:00 hours, 16:00 to 19:00 hours.
ESTIMATED TIME: 1 – 2 hours
COST: Free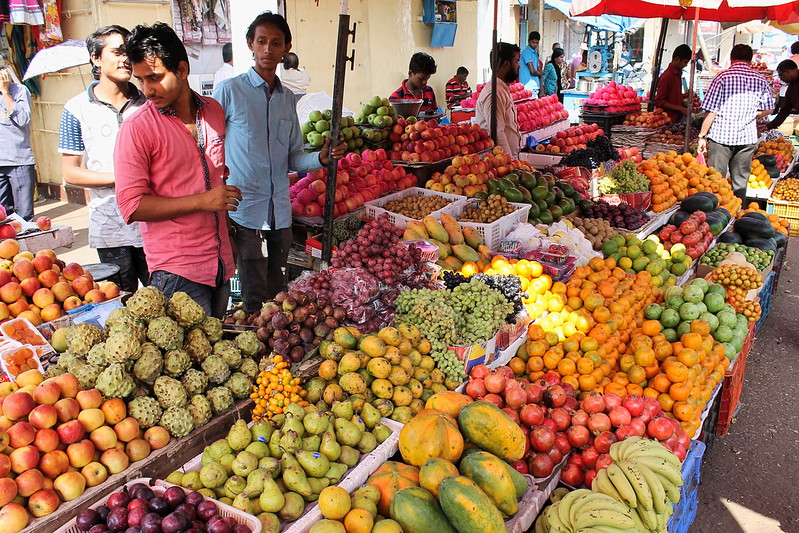 Fruit vendor in Mapusa Market (Photo Credit – Nicolas Vollmer)
Goa's Clubs for a wild night
Besides being known for its beaches Goa is known for its crazy nightlife and cheap booze that attracts a large number of partygoers. So if you are looking at experiencing the nightlife and want to let go and have fun head over to Goa's most popular pubs/clubsClub –
Cabana, Shiva Valley, Cafe la Musica, Leopard Valley, Soro or SinQ. End the night feeling like you're on cloud nine, literally!
VISITING HOURS: 20:30 to 1:30 hours
ESTIMATED TIME: Depends on you 🙂
COST: Free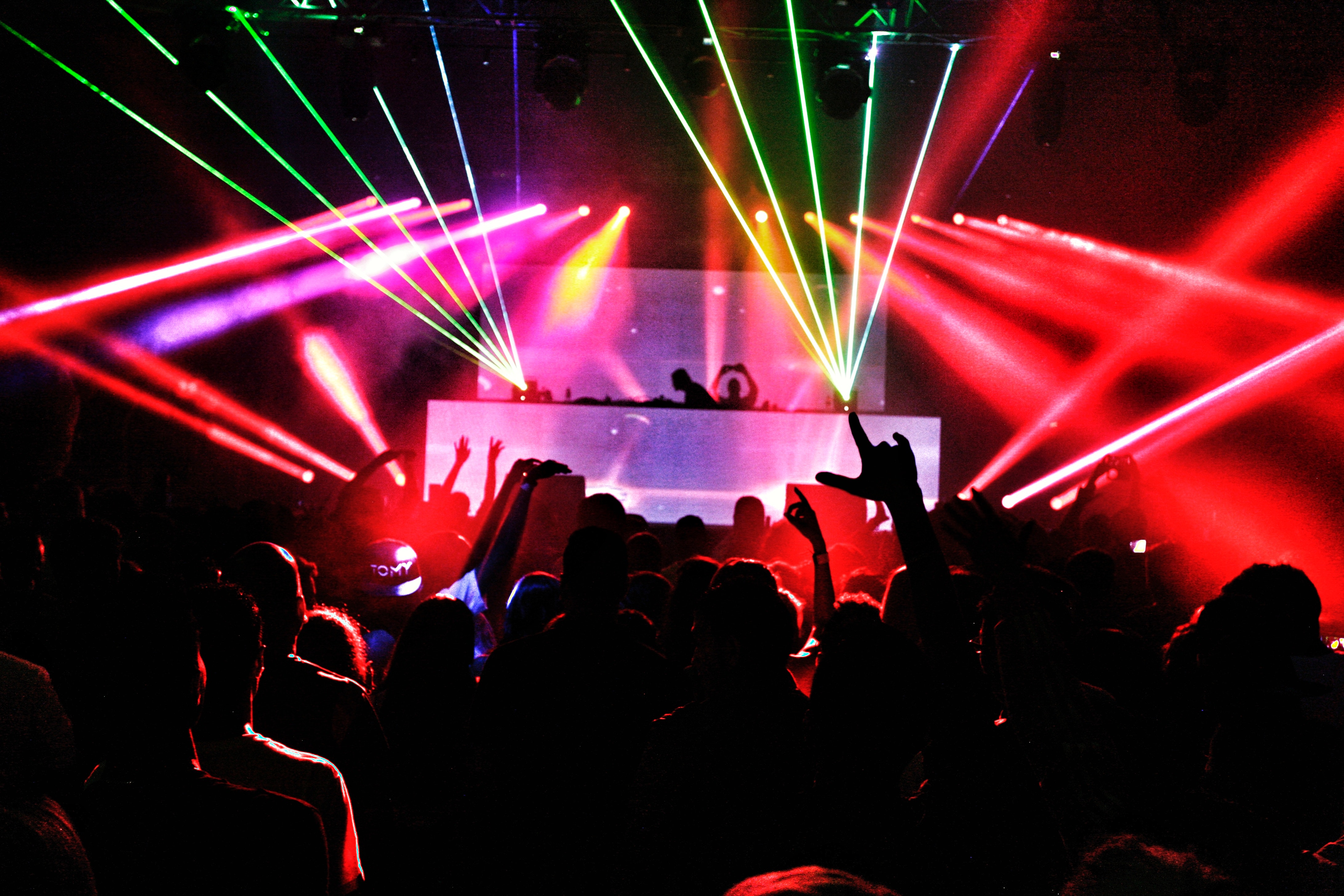 Partygoers in a nightclub (Photo Credit – Jerome Govender)
you gotta love a GOOD GAMBLE
If you are not a party person but would still like to experience the nightlife, you could visit one of Goa's most popular floating casinos. Goa is not only India's largest gambling city but also has the most number of licenced casinos in the country.
It's not Las Vegas but once you step foot into one of the casinos, you will not be able to resist yourself from playing a game or two of poker or trying your luck at the slot machines.
Each casino is unique and includes drinks, a lavish spread of cuisines and live performances to keep you entertained throughout.
Some of the most popular casinos that sail on the river Mandovi that you should visit are Big Daddy aka Maharajah Casino and Casino Pride. However, if you are looking for the Las Vegas experience the Deltin Caravela Casino and Deltin Royale Casino is a must-visit,
VISITING HOURS: 24 hours
ESTIMATED TIME: Depends on you 🙂
COST: Entry fee – INR 1500 – 2000 per person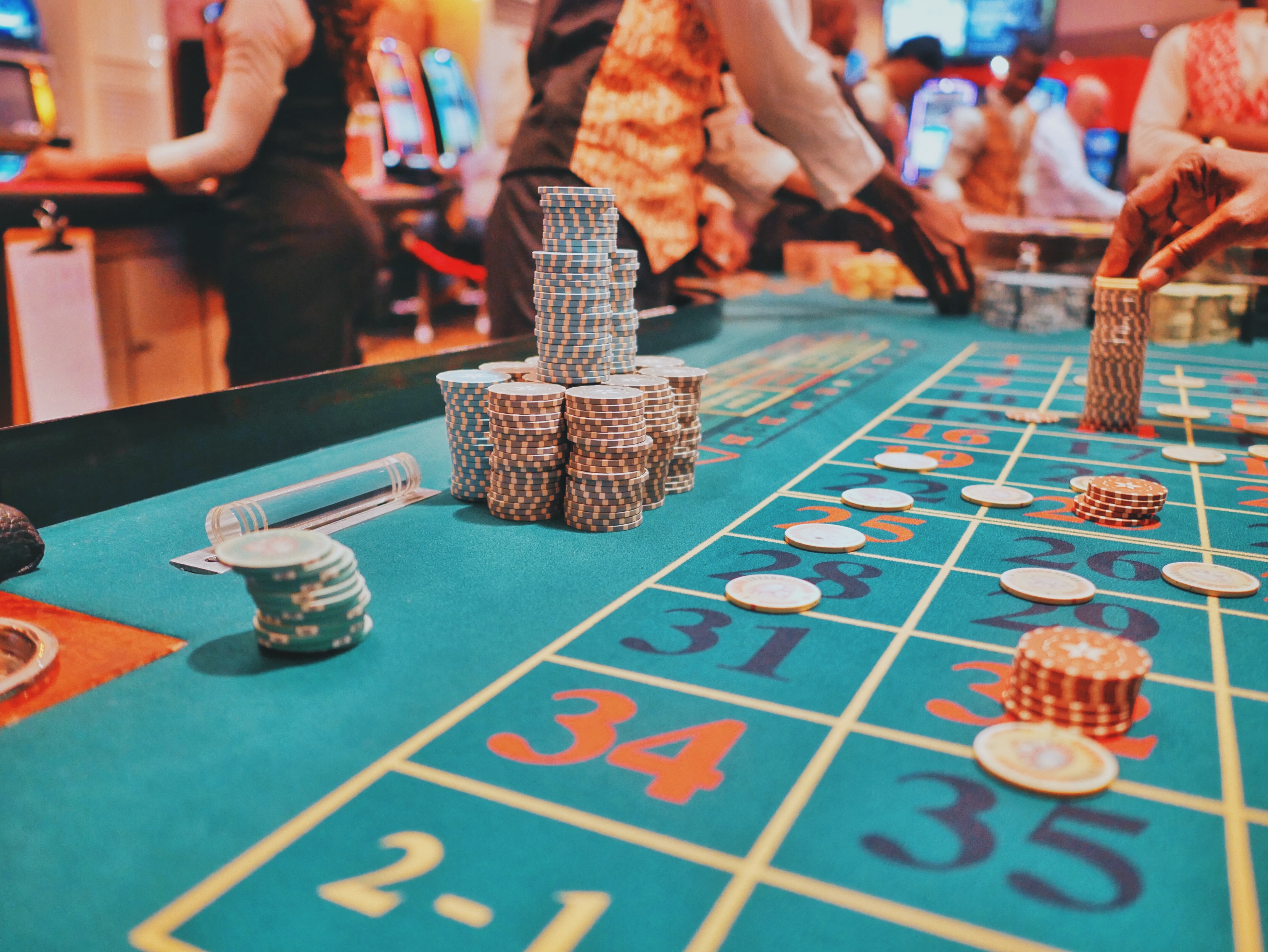 Poker Table
Reis Magos Fort
If you still have time you could visit the Reis Magos Fort. The fort is built on a hill slope that gives a stunning view of the Mandovi river and its surroundings!
This 400-year-old fort was built in 1515 and is one of the oldest forts in Goa. The Hindu-Portuguese architecture and the museum that give us a peek into the history of this place is very intriguing.
The stunning architecture and serene atmosphere make it the perfect spot to get away. It is s also a paradise for photo fanatics.
VISITING HOURS: 09:30 to 17:30 hours
ESTIMATED TIME: 1 – 2 hours
COST: Free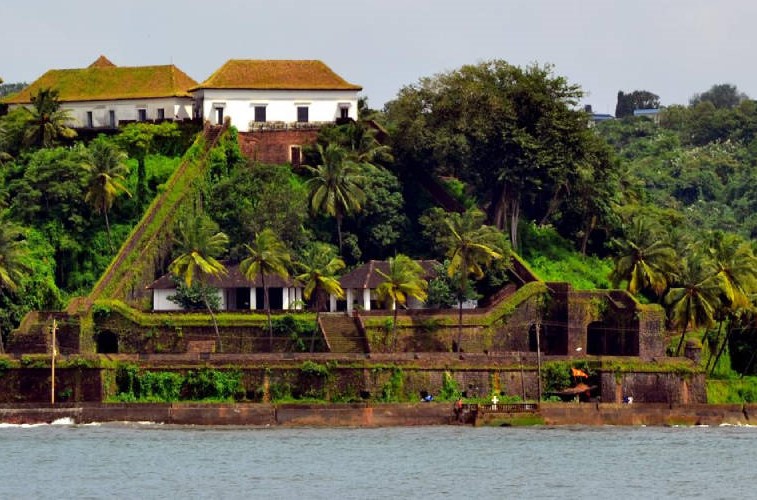 The Reis Margo Fort, built by the Portuguese, is an architectural marvel, rich in history. -(Photo Credits: https://goa-tourism.com/magos)
GET ADVENTUROUS IN GOA
Goa is more than just about lazing around on the beaches and enjoying the nightlife. You get to experience a different kind of high, it's a high you get by engaging in adrenaline-pumping adventurous activities. Make use of the pristine beaches and scenic views of Goa by challenging yourself to at least 2-3 beach activities while you are here. Below is a list of what you can do and which is the best place to experience this.
Surfing – Goa is one of the best places for beginners as the waves are not too big and it is relatively easier to balance. A surf lesson would ideally take you two hours and you can enjoy the best waves at Agonga beach, Ashwem or Arambol beach. The best surf school here is Surfwala which is between Mandrem and Arambol.
White Water Rafting – Very few people know that you need not have to go all the way up North to Rishikesh to enjoy the thrill of white water rafting, you get to do this in Goa as well! You can do this at Valpoi river which is in North Goa,
Canyoning – For those interested in highly adventurous activities goa Canyoning in Goa! Canyoning is when you jump into a fast-flowing mountain stream and allow yourself carried with the gushing water. You can enjoy this sport in Paleoem, they take you through a dense forest wherein you have tons of waterfalls to enjoy this sport.
Kayaking – If you are looking for something that is not too nerve-racking and more easygoing, Kayakingis for you. You can enjoy this at Patnem Beach in South Goa.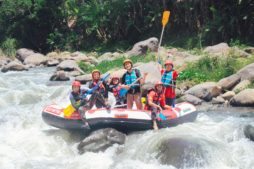 Travelers enjoying the thrill of white water rafting
You can get in touch with us if you'd like us to book something like this for you.
Dudhsagar Fall
Dudsagar waterfall is the highest waterfall in Goa and is close to the Goa-Karnataka border. The word 'Dudsagar' literally translates to 'sea of milk'. The reason why it's called this is, as the water comes gushing down from the height of 310 meters the water looks as white as milk. As this is close to the border of Goa- Karanatka you would need to hire a car to get here and do this as a half-day trip.
The best time to visit this is during the monsoon season. The rich flora and fauna around this waterfall make for the most picturesque view. If you'd like, you can even do a trek close to the waterfall for a different perspective of this mighty waterfall.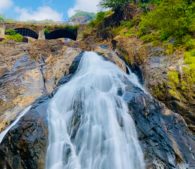 The mighty Dudsagar waterfall in Goa
Saturday Night Bazar
Ladies if you'll miss going on a shopping spree whilst in Goa, do not worry as the Saturday Night Bazar has got you covered! You can purchase almost everything here from jewelry to clothes, to spices, to antique products and much more.
However, if you are not a fan of shopping there are tons of other things to do here. You get to enjoy an evening of live music, good food and drinks, and just enjoying the Goan vibe. This Bazar is located in North Goa a few kilometers from Anjuna at a place called Apora. This is open from November to April every Wednesday.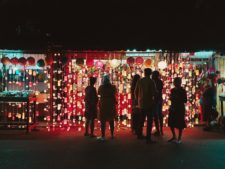 Tourists shopping at the Saturday Night Bazar in Goa
Festivals, fun, and frolic.
Goa just simply does not get the tag of being a fun place to party and enjoy. There are tons of festivals here because of which it upholds the title of being a place to party and enjoy. You not only get to experience the way these festivities are celebrated but also experience the cultural side of Goa. You will constantly find yourself smiling, having fun and enjoy watching the people around you celebrate their culture. Here is a list of festivals that you cannot miss when in Goa.
San Jao Festival – This festival takes place just before the monsoons in Siolim and Benaulim (North Goa). It was believed that when Mother Mary revealed to her sister (Elizabeth) that she was expecting Jesus, St John the Baptist who was in her (Elizabeth) womb leaped. This is why you will find all the young boys Goa get drunk and jump in the wells. They also go around asking for fruits and liquor. This is a completely crazy and wild festival.
Goa Carnival – Just before the 40 days period of fasting (Lent) the Goans celebrate for 3 whole days. By dancing, showcasing colorful parades, and of course with food and drinks. It takes place in the month of February at the city capital Panaji.
Three Kings Feast – This festival is more for those interested in the history or rather cultural happenings of the Christians in Goa. It is enjoyed by both Catholics and non-Catholics of Goa. This festival is celebrated for nine days in the month of January and is celebrated at Verem, Cansaulim and Chandor. The last day of this festival is the best day as you see young boys dressed as the three kings carrying the three gifts.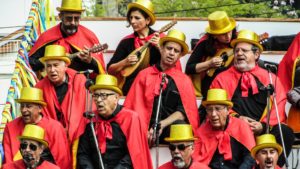 Performances at the Carnival.
ENJOY THE FAVORS OF GOA
Goa has tons of food options that will make your tastebuds tingle and your tummy do summersaults at the sight of the patter of food. You will definitely leave Goa with good vacation fat. The coastal food with traditional Goan masalas is a combination to die for. Here are some of the best restaurants with the best food.
Gunpowder – One of the most famous places to dine in Goa is the Gunpowder Restaurant in Assagao. With the cozy ambiance as this restaurant is set in a heritage Portuguese home. Try their prawn dishes or the beef fry. They serve some of the best cocktails in North Goa.
Martins Corner – To enjoy authentic Goan food book a table at Martins Corner, located in Betalbatim! With a very rustic setting, this restaurant is owned by Mrs. Carafina Pereira. You will enjoy the classic fish, curry rice which is like the staple diet of the locals. They also serve Italian cuisine but would definitely recommend the Goan food here.
The Fisherman's Wharf – With 3 outlets in Goa – Calangute, Panjim and Cavelossim this restaurant is another must-visit when in Goa. Once again set in an ancient Portuguese home, the vibe of this restaurant makes for a perfect dinner date. You should try the king prawn recheado, pomfret in butter garlic sauce or any of the typical Goan dishes like Vindaloo (Pork/Chicken).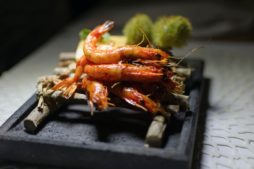 Mouthwatering butter garlic prawns.
Getting around in Goa
Goa is a small state, getting around will depend on which part of Goa or beach you are staying at. You would use a combination of foot, taxis and a motorbike. The latter being one of the best ways to explore.
Cars
If you wish to book a car, you would have to do the same from your accommodation or a car rental service in advance to avoid scams and travel in comfort.
Bikes/Scooters
One of the best and most efficient ways to explore the town is by bike. You can hire a bike for a day for INR 1500 – INR 3000 per day. Avoid the highways, unless you are experienced motorbike rider.
On Foot
While you can explore this town using a rented car, we would also recommend just walking around, to truly get a sense of what the town has to offer.
Hope our recommendations help you enjoy exploring Goa and if you need any assistance, simply get hit the Plan Your Trip button.
If you are wondering where to head next on your Indian escapade, you can head further down south. Kerala is ideal for some great hiking trails, relaxing amidst the lush green plantations and even spotting some wildlife. You can read our blog for more information!
helping you travel your way
Everything you need to know about India is here We have tried writing about everything you may need help with for your trip to India, If you need help in planning a trip to India Get in touch with us to to plan your trip of a life time.