Things to do in Bangalore
'Bangalore is the playboy that everybody adores, Its loud, unapologetic and aloof' – Helen Louna.
Many people know Bangalore as the tech hub and is for what it is popularly known as, i.e the Silicon Valley of India. However, beneath all of this this city makes for a lovely travel destination. Bangalore is a gem that is yet to be discovered, brimming with exciting things to do. With it's colonial architecture, numerous breweries and tons of dining options Bangalore has something special in store for you.
Most importantly, if you are looking to party the right way in India, Bangalore is the perfect place. It is known for its very happening cubs and pubs. Get ready to get high, marvel at the Victorian architecture and relax at the 'Garden City' of India. To make your travel easy, here are the top things to do in Bangalore.
a LIST OF THE TOP THINGS TO DO IN BANGALORE this 2021!
With a touch of ancient history and modern architecture, it is dotted with fort, palaces, modern industries, and skyscrapers. This makes Bangalore a perfect destination for those looking for a mix of both – History as well as a a glimpse of the modern, "Urban India"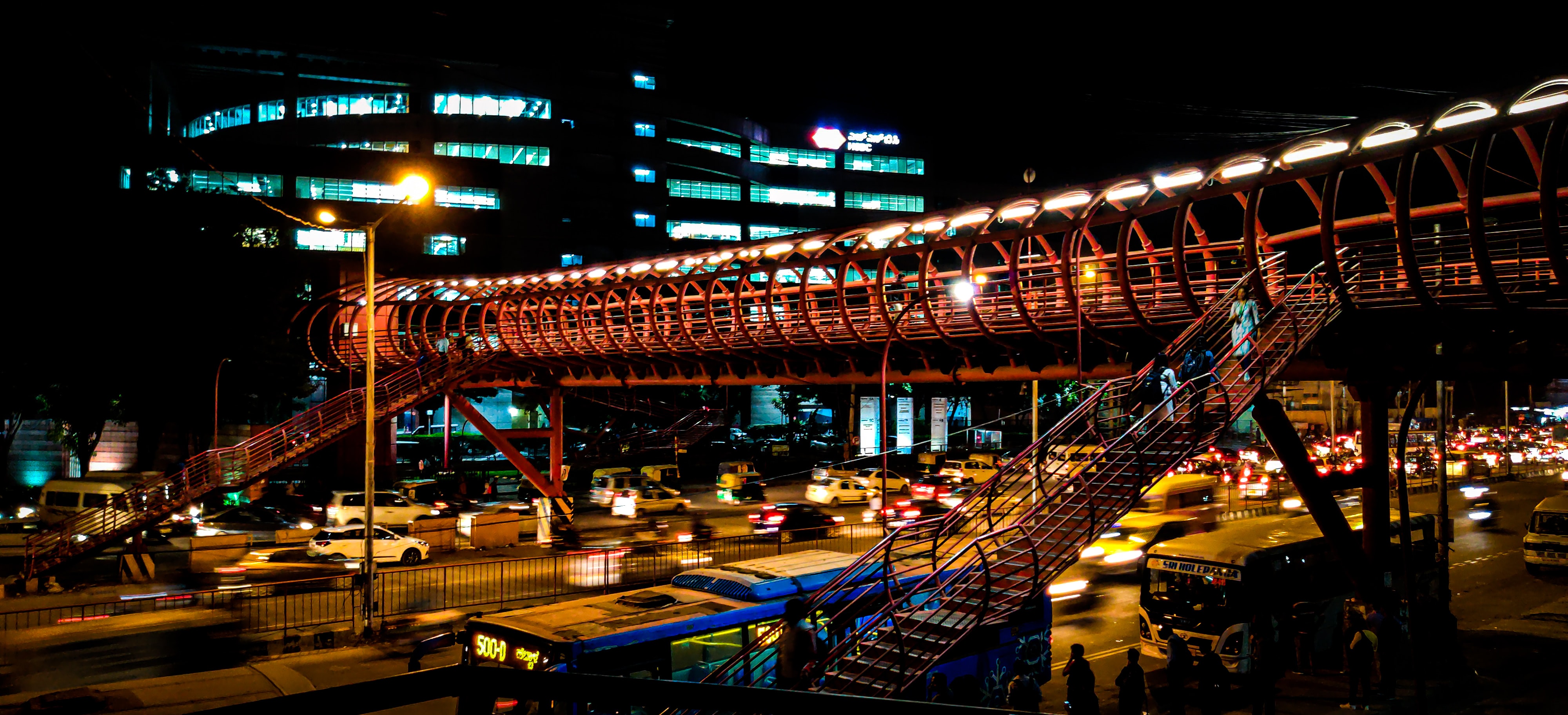 The busy streets of Bangalore at night time
Bangalore Palace
A must visit is the Bangalore Palace. The palace is now used to host events, weddings and cultural shows. However, it still gets a larger number of tourists who wish to discover the royal palace. This stunning palace spreads over 45,000 square km and was built in 1878 by King Chamaraja Wadiyar.
The vine-covered walls, the Tudor, British and Scottish Gothic architecture will make you feel like you have stepped into a countryside castle in England.
While the exterior of the place itself will captivate you, the interiors that are adorned with motifs, paintings, mesmerising wooden structures and carvings. It will surely take your breath away.
Also, do not miss out on exploring the Durbar Hall and the ballroom that was inspired by the Windsor Palace. They are stunning and one of the main highlights!
VISITING HOURS: 10:00 to 17:00 hours
ESTIMATED TIME: 2 – 3 hours
COST: INR 230 per person for Indian tourists, INR 460 per person for foreign tourists.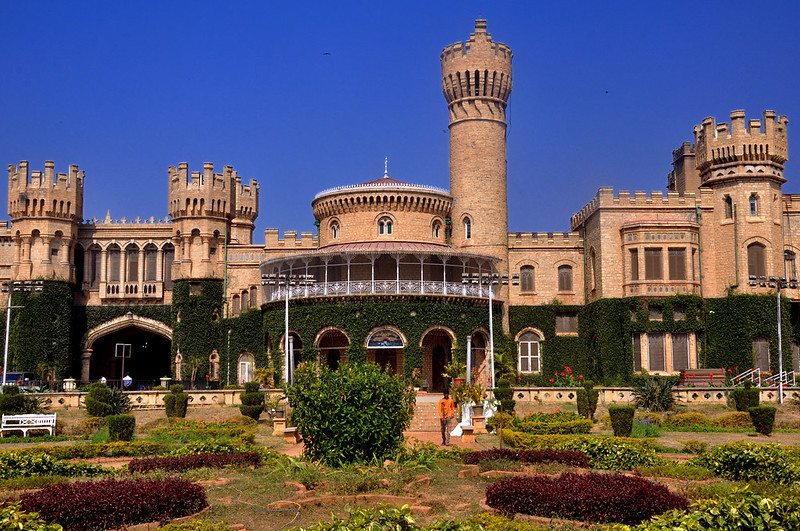 The stunning Bangalore Palace (Photo Credit – Amit Rawat)
Tipu Sultan Palace
Located just a few km from the main city, the Tipu Sultan Palace was the summer capital for the Mysore ruler Tipu Sultan. The palace was constructed with teak wood in the 17th century by Nawab Haider Ali Khan and is known as the Abode of Happiness' and 'Envy of Heaven'.
The Indo Islamic inspired architecture, the stunning wooden pillars, frescoes, arches, balconies and motifs will marvel you from the minute you set foot inside the palace.
The Durbar, the Zenana Quarters and mausoleum are a must-visit as they have a fascinating story to tell! You could also visit the museum in the palace if you wish to learn more about the life of Tipu Sultan and his rule.
VISITING HOURS: 10:00 to 18:00 hours from Monday to Saturday, 08:30 to 17:00 hours on Sunday
ESTIMATED TIME: 2 hours
COST: INR 15 per person for an Indian tourist, INR 200 per person for foreign tourist.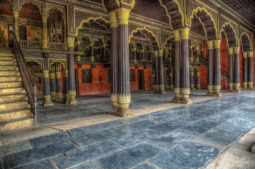 Interiors of the Tipu Sultan Palace (Photo Credits – John Hoey)
Devanahalli Fort
The Devanahalli Fort was built by the Gowda Family and since then the fort has had many additions and changes by its new successor.
Located near the birthplace of Tipu Sultan who is known as the tiger of Mysore. This small yet majestic fort consists of ancient houses and temples dedicated to local deities and is also home to many families who live inside it.
This fort stands tall as a witness to its past events and thus has a great historical value which history buffs will absolutely love!
VISITING HOURS: 08:30 to 18:00 hours
ESTIMATED TIME: 1 – 2 hours
COST: Free
BANGALORE PUB CRAWL
If you want a break from your regular sightseeing and are looking to enjoy, let loose and have some fun, go on a pub crawl in Bangalore! Known for it's very happening night life, you have to spare at least one night during your time here and experience this side of Bangalore. Some of the best pubs where you can enjoy a good drinks coupled with a cozy ambiance are – Toit Brewery, Vapour Pub and Brewery, 1522, SkyDeck by Sherlock's. Well the list can go on and on but these are our favorites of Bangalore.
VISITING HOURS: 18:00 hours to 02:00 hours.
ESTIMATED TIME: 3– 4 hours
COST: Depends on the drinks purchased.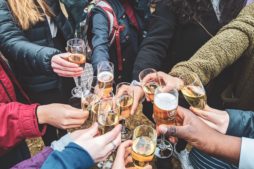 Travelers expressing good wishes before enjoying their drink.
RELAX AT CUBBON PARK
Bangalore is known as the 'Garden City' so it goes without saying that you can enjoy a nice quite afternoon at the gardens here. Pack a nice afternoon meal, accompanied either with your friends or family or you can choose the best company of a good book. The Cubbon Park is one of the best parks to do so. If you are visiting with kids there are some really interesting toy trains rides to keep them engaged. You also have poetry telling, theater and organic food stalls inside to keep you busy.
VISITING HOURS: 06:00 to 18:00 hours
ESTIMATED TIME: 1 – 2 hours
COST: Free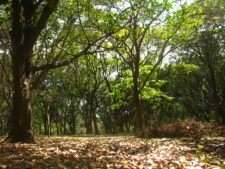 Peace and quite at the Cubbon Park (Photo Credit – Soham Banerjee)
St. Mary's Basilica
Built as a shrine in the 18th century, St Mary's was later expanded by the Britishers. St Marys is a popular destination among the tourists because of its French, gothic-inspired architecture and religious significance.
It is the oldest church in Bangalore and is one of the few churches in India that has been given the status of a Basilica. The Basilica is adorned with stunning towering facades, motifs and stained glass windows that will marvel you!
The Basilica also includes a statue of Mother Mary that is draped in stunning sarees for 40 days during the feast that takes place in September.
Religious or not, a visit to this Church should be on one's list as it has a history that is more than 100 years old and magnificent architecture is a treat for everyone!
VISITING HOURS: 06:30 to 21:00 hours
ESTIMATED TIME: 1 -2 hours
COST: Free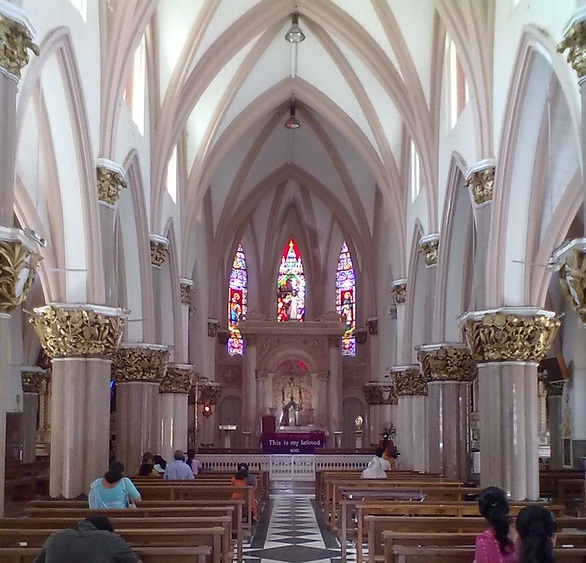 People praying in St Mary's basilica (Photo Credit – Vijay Krishna)
exciting Activities for a unique experience in Bangalore
SoBo Walk
Just like how every city has two distinctive parts, North and the South, in the same way, the South of Bangalore is the happening place to be as travellers and as a local. So hop on the 'SoBa' tour and you will get to explore this part of the town in the right way.
You will witness many interesting structures coupled with the numerous stories of the past, that the guide will narrate. No tour is complete without food, so get a chance to enjoy a meal in the typical Bangalorean style.
VISITING HOURS: 16:00 to 18:00 hours
ESTIMATED TIME: 2 hours
COST: INR 1,000 per person
Colonial Bangalore Walk
If you are a history buff or if you simply love to learn about interesting facts of the city you are visiting, do not think twice and book this tour!
Through this walk, you will get an insight into how the French Revolution, American War Of Independence and Battle Of Waterloo have a connection to the events played out in Bangalore!
Not only that you will also hear stories of other characters in your history books like Winston Churchill and Ronald Ross. Enjoy this best 2 hours of your time in Bangalore learning more about this city and its connections.
VISITING HOURS: 09:00 to 11:00 hours
ESTIMATED TIME: 2 hours
COST: INR 1,000 per person
Getting Around Bangalore
Being the capital of Karnataka, Bangalore has a fair number of reliable options to take you from place to place.
Auto Rickshaw
Auto rickshaws (tuk-tuks) in Bangalore are a convenient mode to move around if you wish to beat the traffic especially while going sightseeing.
The tuk-tuks generally run on meter however most of them refuse to do so and ask to settle on a fare before starting your trip so always make sure to haggle for the price and do not settle for the first amount told to you.
Uber/Ola and Car Hire
Bangalore does have taxis but we recommend using Ola and Ubers instead to avoid scams and travel in comfort!
If you wish to book a car, you would have to do the same from your accommodation or a car rental service in advance.
Metro
Bangalore Metro is fairly new and connects to almost every part of the city. It is one of the quickest ways to get around the city and skip the crazy traffic. The fare typically ranges from INR 20-60.
We recommend spending a day or two in Bangalore as it has so much to offer! We hope our things to do in Bangalore help you explore the city.
However, planning your journey can be quite overwhelming while trying to fit in all the hidden gems of this region. Some of the places you can add to your itinerary, if you're in Bangalore, include – Mysore, Coorg, Coimbatore and Wayanad.
If you're looking to plan the ideal trip, a blend of offbeat destinations along with tourist hotspots simply hit the Plan Your Trip button and get in touch with us. Let us help you plan the perfect holiday across South India or even further up north. A trip curated to suit your budget and time constraints while catering to all your interests.
helping you travel your way
Everything you need to know about India is here We have tried writing about everything you may need help with for your trip to India, If you need help in planning a trip to India Get in touch with us to to plan your trip of a life time.