Things To Do In Mysore 
Created by Priyanshi Thakkar,
Last Updated on October 23, 2023
Most of us are familiar with the famous tourist destinations in South India, like Kerala and Tamil Nadu. However, very few of us know of this gem in South India, in the state of Karnataka. Mysore is the cultural city of Karnataka and definitely lives up to this title. This cultural city reeks of royalty, history and has a very charming vibe to it. Its authentic old school charm and warm friendly locals, brings out the traveller in you rather than being a mere tourist. Isn't that the experience each of us thrives on? Here's a list of offbeat, interesting Things To Do in Mysore. Our guide to exploring this picture perfect region along with some of the best places to visit in Mysore.
The Temple located at Somanathapura is one of the finest examples of Hoysala architecture.(Credit_Bikash Das)
Mysore Palace
Just like what the Eiffel Tower is to Paris, Mysore Palace is to the city of Mysore. You cannot skip this beauty that was built in the 14th century. One can spend hours here just strolling in the corridors. You'll feel like you're a part of the royal mansion, with a journey that takes you back in time. Are you that social media addict who has to repost all of their travel experiences? Then this is just the location for all those insta-worth images. Do expect it to be relatively more crowded over the weekends.
And lastly, if you are here on a Sunday (or any public holiday), Mysore Palace will light up your evening (literally). The whole palace is illuminated with thousands of bulbs post 7 pm. The palace, lit up in the evening, makes for a whole new experience while viewing this gorgeous structure from a whole new perspective.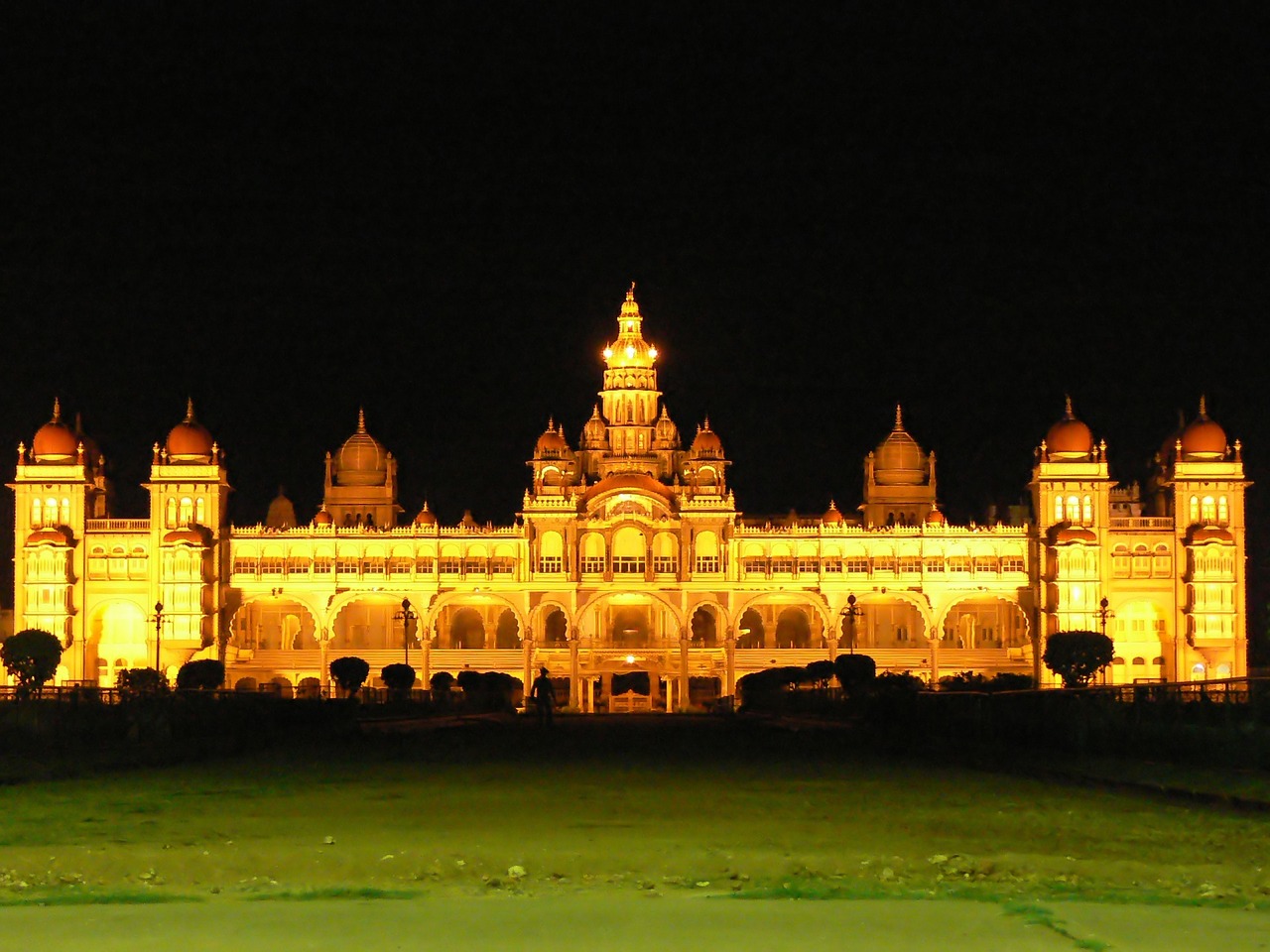 It's the most beautiful at night.
Cycle around the city
What better way to explore the city and at the same time burn that holiday fat. You could rent a cycle or go on a bicycle tour (INR 1,500 – INR 2,000). If you wish to do it on your own, be sure to explore some of these gorgeous sites, scattered across the city – Balmari and Edmuri falls, KRS Dam and Chamundi Hills. All these locations are quite easily accessible. Be sure to commence your journey early morning by 7am.
You will see a whole new side to this heritage town when you ride past these streets in the morning. This is a great way to gain insight into the cities local culture. Cycling past the streets and witnessing it all for yourself. A cycling tour allows you to truly explore the city as opposed to just visiting it by going to all of the popular places to visit in Mysore or the so-called tourist hot spots.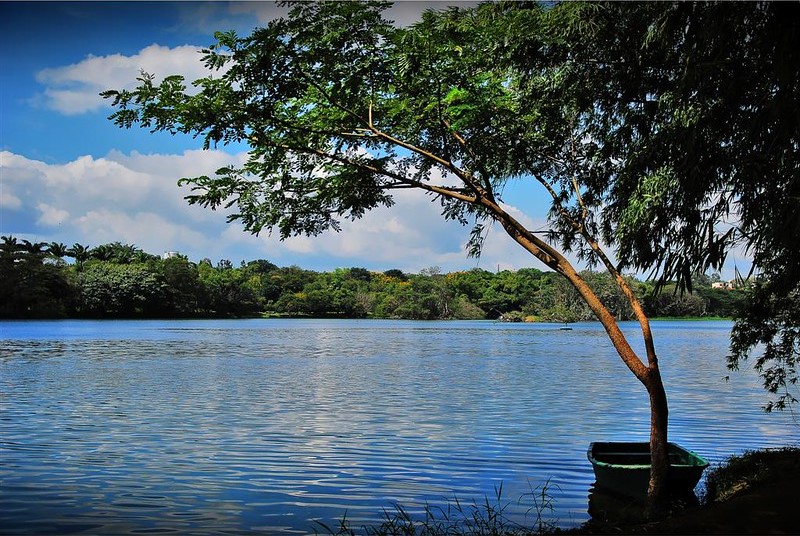 Karanji Lake (Credit_Riju K)
Sweat It Out To Chamundi Hills
If you feel like Mysore is a little too relaxing for you, don't get discouraged just yet. Set out on a scenic trail, not too intense, and trek up to the Chamundi Hill. This hill can be seen from any point in Mysore and you can ask the locals how to get there. There are about 1200 steps up this hill and once you're at the top, soak in the picturesque view of the entire city. Beware of the monkeys at the beginning of the trail. You don't want to chase a monkey who has your cellphone or stole the food you stocked up on. Once you complete your trek, rejuvenate yourself with fresh tender coconut water.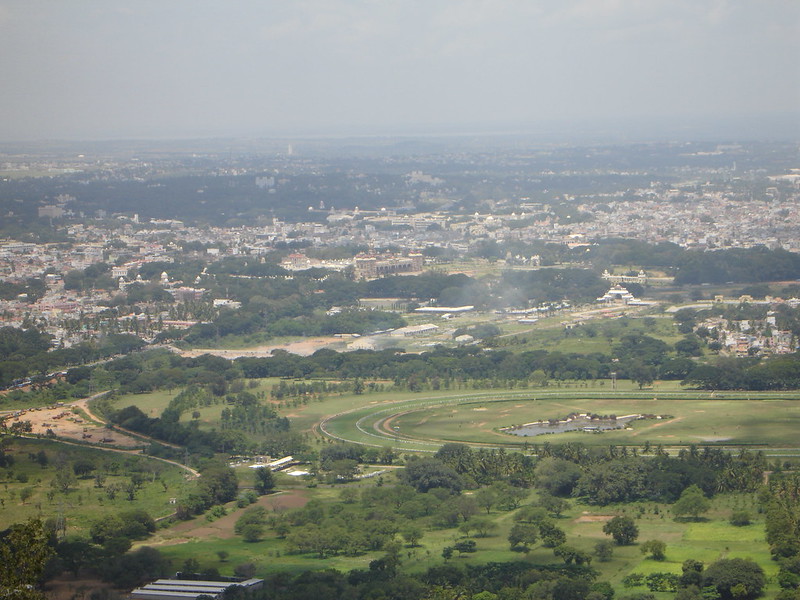 View from Chamundi Hills.(Credit_Matt Meyer)
For the foodie in you
For an authentic South Indian meal, ditch the fancy crockery and enjoy your meal on a Banana Leaf! Some of the best eateries to visit, include Mylari Hotel. An 80-year-old restaurant famous for its idli (steamed cake rice) and dosa (a pancake made of rice) served with some lentils. You have to try the famous Mylari dosa here! To truly experience the phrase 'Figure licking good', enjoy this meal without your fork and spoon.
Another Iconic restaurant that's existed for decades now is Hotel RRR. Known for its meat dishes, this little restaurant is almost always packed. It's menu may lack variety, but every dish on it is bound to leave you craving for more. Be prepared to eat off that banana leaf and have your mouth burning, given the incredibly spicy and yet simply delicious food.
Another favourite we highly recommend is Anima Madhva Bhavan. A taste of authentic Mysore heritage and a gem for all those vegans and vegetarians. A meal here provides you with a traditional home dining experience where not a single food item is prepared using commercial ingredients. A traditional unprocessed flavour that will leave your mouth watering. Be sure to visit this diner on an empty stomach to make the most of its extensive menu.
In case you wish to escape the Indian cuisine, you can visit this Italian restaurant – The Old House, the ambience and staff here is lovely and of course so is the food. A must try here in their Pizzas and Bruschetta. When it comes to places to visit in Mysore, the eateries are usually some of the top places, with the delicious, mouth watering food that each of them have to offer.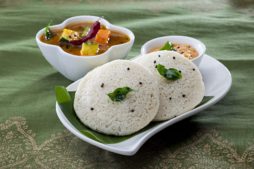 A hearty South Indian breakfast – Idli with a lentil soup and coconut paste.
The Mysore Markets
It's very unusual for Indian Markets to be quiet and lack the hustle and bustle. Well the markets of Mysore are not only quiet but are so colorful, well organized and less intense in comparison to the ones in North India (Rajasthan). Don't forget to get your cameras while visiting the markets here, there is so much to look at and just observing the local people carry on with their life is a sight by itself. These markets are definitely up there on the list of best places to visit in Mysore. Devaraja market is one famous fruit, vegetable and spice market. However, do take care of the scams here.
Discover: Rajasthan's Hidden Gems
Witness the craft of the craftsmen
Mysore is known for its local artisans who excel in intricate designs with respect to wooden sculptures, rose wood inlay work, kinnal craft, embroideries, block printing on sarees. One can sign up for the various tours organised and watch the interesting process of making the final product. If you are into fashion and interested in what goes on in making the material you wear, you can watch the making of Khadi cotton by the local women or the famous Mysore silk Sarees. These sarees are a patent of Mysore and will not be found at any other place.
Read Further: Decode India's Richness in Activities
Live the local life
One of the essentials to truly enjoy your time at Mysore is to spend your time there like a true localite. One can beat the Uber and travel round the city in a tonga, which is a colorful chariot ride. While you can't leave India without a sip of its famous chai, you can't leave Mysore without having its delicious Mysore coffee, it is a robust, deep color and strong scented coffee.
And lastly, the locals here are very proud of their culture and heritage, so you cannot forget to admire the grandeur and architecture of this city, from St Philomena's Cathedral (with Neo Gothic architecture), to Tipu Sultan's Tomb and The Railway Museum are just a few mentions that ought to make it to your list of places to visit in Mysore.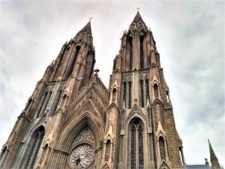 Buit in 1936, this architectural delight is the second largest church in Asia.
From the delicious food, to the stunning architecture and the hospitality of the local