Things to do in Ahmedabad
'Ahmedabad is a cultured city with a rich heritage of craft and theater' – Lillete Dubey
Ahmedabad, consider yourself fortunate to have this gorgeous city on your travel route. While you do require a fair amount of energy to explore this city because of it's chaotic nature, rest assured thrill and surprises will come along the way.
The best way to understand why this city deserves your attention is because of it's the splendid structures that will literally make you go 'Wooow'. It's narrow alleys reeking of heritage unknown to many, and most importantly for its food and lively bazaars (markets) that will have your mouth watering and eyes sparkling.
If you want to know more here is a list of things to do in this UNESCO World Heritage City.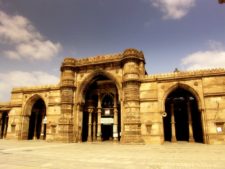 The marvelous Jama Masjid in Ahmedabad (Photo Credit – Saad Akhtar)
Sabarmati Ashram
Most of the travelers visit Ahmedabad simply because of this Ashrama. It is here where India's famous freedom fighter and a well-known figure internationally as a promoter of non- violence, Gandhi, stayed.
It is said that he chose this particular spot because on one side you had the jail and the other side the cemetery and any nonviolent fighter would end up in either one of these places. This is now a very peaceful ashram.
You also get an in-depth knowledge of his life as there is a library here. It tells you more about his teachings and gives you a better understanding of the revolutionary movements during India's Independence.
VISITING HOURS: 08:00 to 18:00 hours
ESTIMATED TIME: 1 hour
COST: Free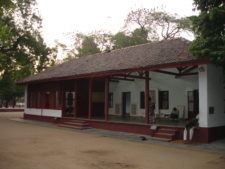 Gandhiji's home in Sabarmati Ashram (Photo Credit – Mano Ranjan M)
Calico Museum
Managed by the Sabarmati Foundation, this should be a must-visit for those interested in ancient and modern textiles. While Ahmedabad was flourishing in the textile industry you get a preview of the history of over five centuries of the different textile cultures.
The museum consists of ancient handlooms, manuscripts printed on palm leaves, traditionally woven embroidery on textiles and so much more. You would require prior reservations to enter the museum.
Don't miss out on the tour here as the guides will give you a more detailed insight into history through the years. There is also a gift shop if you cannot help yourself from purchasing a few of the textile items.
VISITING HOURS: 10:30 to 13:00 hours (closed on Wednesday)
ESTIMATED TIME: 1 hour
COST: Free
The Adalaj Stepwell
Just like how the Taj Mahal has a tragic and romantic story behind it, Adalaj Stepwell too has quite the drama. It is said that the king (Rana Veer) was killed in a fight by his enemy(Begada). Afterwhich, Begada fell in love with the king's wife. However, the king's wife agreed to marry him only if he completed the stepwell her husband was building.
The lover that Begada was, he agreed to do so, only to find that after the completion of this the queen committed suicide at the stepwell to avoid the marriage. Besides the tragic story, what makes the visit so interesting is the architecture, from the Hindu – Islamic styles used and the intricacy in the carvings.
This stepwell will have you marveling at the monument as soon as you enter the premises. Make sure to be here as early as possible to beat the crowds. This is just going to be the beginning of many more interesting yet beautiful structures that you will come across.
VISITING HOURS: 08:30 to 18:00 hours
ESTIMATED TIME: 1 hour
COST: INR 500 per person for foreign tourists, INR 20 per person for Indian tourists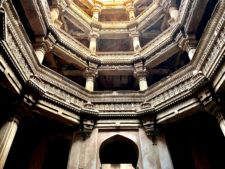 The different levels of the Adalaj stepwell
Sidi Saiyyed Mosque
No matter how rushed your schedule is, make sure you make time for this beautiful mosque. It will definitely make you feel like your travel to India was worth it! Built by Sidi Saiyyed in 1573, the work done on this mosque is undoubtedly out of this world.
The Indo Islamic form of architecture with its domes, arches, and famous 8 windows with latticework will captivate you. The most famous window is the 'Tree Of Life', the jali work done here is so detailed you will not help but continue gazing at this particular window. Considering the noise and traffic outside starting at this window will definitely give you some inner peace. Photography lovers, capturing the best shot here will be a challenge because of its height.
VISITING HOURS: 08:00 to 19:00 hours
ESTIMATED TIME: 1 hour
COST: Free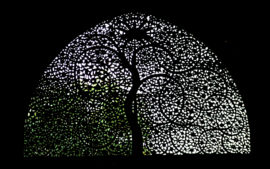 The Tree of Life motif on the walls of Siddi Saiyyed Mosque (Photo Credit – Kandukuru Nagarjun)
Sun Temple
Located about 100 kms away from Ahmedabad, make a stop here if you wish to get amazed by the art, culture, and craftsmanship of the people in the past. The Sun Temple was built in the 11th century by King Bhimdeva, dedicated to the Sun God.
This complex is divided into 3 parts: the Surya Kund (stepwell), Saba Madapa, and Guda Mahdapa. All the three structures will have you gazing at the craftsmanship, the symmetrical patterns, the god and goddess carved on the walls of these pillars.
Even the ceilings of these structures were not left behind; they are covered with beautiful floral motifs. You notice the hard work, dedication, and effort that would have gone into building something like this during that time.
VISITING HOURS: 08:30 to 18:00 hours
ESTIMATED TIME: Half A Day
COST: INR 500 per person for foreign tourists, INR 20 per person for Indian tourists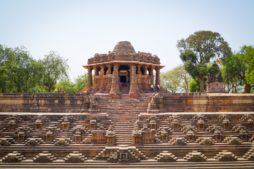 The stepwell at the Sun Temple, Gujarat
Photography, History and Beauty
While Ahmedabad has tons of places that you cannot miss here is a list of a few other monuments which are interesting and fascinating. If you have the time and love photography make a quick stop at these monuments
Jhulta Minar – Confusion is what you would feel when you visit the Jhulta Minar, also called the Sidi Bashar mosque. The Jhulta Minar literally translates to the 'swaying minarets', which is actually what the monument is about! It is said that if you move the upper arc of the minarets you see a very slight sway from side to side and after a few minutes you will feel vibrations on the other minarets as well.
Dada Hari Vav – Another beautiful stepwell of Gujarat is the Dada Hari Vav, which is just a ten-minute drive from the Julta Minar. This is over 500 years old and it's beauty here is unmatched to any other current-day structure. This is 4 storeyed vav (well) that has scriptures in Sanskrit and Arabic engraved on the walls.
Sarkhej Roza – Given the nickname 'Acropolis Of The East' visit this place and you will know why it deserves this nickname. This is a tomb built in honor of Sheik Ahmed Khattu a Sufi saint. This mausoleum has to be one of its in all of India. It beautifully portrays the Indo Saracenic style of architecture – the jharokhas (balconies), tall pillars, and jali work (latticework) is simply outstanding.
VISITING HOURS: 08:30 to 18:00 hours
ESTIMATED TIME: 30 mins for each monument
COST: Free
Lothal
If you wish to experience what time travel feels like, make a stop here! While most of us at some point in our educational life would have heard of the Harappan civilization, it's time to take a field trip now.
You will get to dive into those chapters of history and physically be there to witness the 5000 years old site. Famous for its drainage system, the dock used for trading, toys used by the kids, jewelry worn by women!
There is an ASI Museum, do go through that first, refresh your memory and then actually explore the whole town. While it is a 2-hour journey to get to this location if you are a history buff, make time to visit this site!
VISITING HOURS: 10:00 to 17:00 hours 9closed on Fridays)
ESTIMATED TIME: Half A Day
COST: INR 200 per person for foreign tourists, INR 20 per person for Indian tourists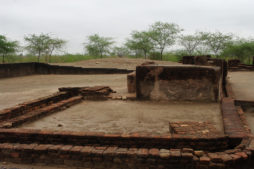 The historic site of Lothal, Ahmedabad (Photo Credit – Emmanuel DYAN)
ACTIVITIES IN Ahmedabad
Manek Chawk (Night Market)
While there are numerous markets all across India, which are interesting to visit. Well, this particular market in Ahmedabad has something very unique to offer which makes it a must-visit.
In the morning you have people selling fruits and vegetables, in the afternoon it turns into a jewelry market and in the night it turns into a foodies paradise. Yes, that's right, you have the food stalls and plastic chairs and tables where you can sit and enjoy the mouth-watering street food of Ahmedabad.
Some of the items that you must try are; Pav Bhaji (bread served with a thick veg mixed garvey), pani puri (fried crepe filled with savory sauces), and sandwich ice creams. These are just a few famous things on the menu that travelers enjoy. However, you have a wide variety of other options as well. These food stalls are open until 1:30 in the night. So you have a lot of time to keep trying different items until you are stuffed.
VISITING HOURS: 07:00 to 1:30 hours
ESTIMATED TIME: 2 hours
COST: Depends on items purchased
Heritage Walk
Not many people know that this city is a UNESCO World Heritage city. Hence, it would be shameful to have left this city without appreciating this, to say the least. The best way to know more about this is by opting for the heritage walk.
There are numerous maze-like lanes where you get to see these old heritage homes from their front door and porches. These homes will take you back in time. Another important thing that plays a big role in the heritage of this city is the pols. These pols were used as a protective measure when communal riots broke out. You will spot many such pols, few of them are not in the best condition.
You also will get to visit the vibrant Swaminarayan temple ancient temple and the peaceful Jama Masjid. Experience Ahmedabad in a whole new light through this walk.
VISITING HOURS: 07:30 to 10:30 hours
ESTIMATED TIME: 1 hour
COST: INR 200 per person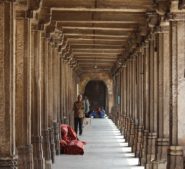 Worshipers at Jama Masjid, Ahmedabad
Moving around
Ahmedabad has a few ways to move around Below is a rundown of all the options you have.
Autorickshaw
Auto rickshaws (tuk-tuks) are the easiest and most convenient to move around. They run on the meter which means you can be stressed free of bargaining for a rate or worry about getting cheated.
Ola/Ubers
A great option to travel around in comfort is Ola/Ubers. It is a safe and reliable option, in case you want to avoid the heat and have to travel long distances for places away from the city.
Ahemdabad will definitely captivate you and will leave you wanting more of India. From its jaw-dropping structures to the hospitality. There are many other aspects of this city that will interest you as well. In case you wish to plan a complete trip from the best stays, to an additional travel trip, get in touch with us.
helping you travel your way
Everything you need to know about India is here We have tried writing about everything you may need help with for your trip to India, If you need help in planning a trip to India Get in touch with us to to plan your trip of a life time.