Best Staycation in Bangalore
Bangalore is one of the fastest growing urban cities, after Mumbai and Delhi. Also known as The Silicon Valley of India, this urban hub is dotted with hidden gems that allow you to find peace amidst all the city chaos. Bangalore experiences a relatively cool weather as opposed to other populated, urban cities in India. If you're looking to escape the city life without actually leaving the city, here's a list of some of the best places to stay in Bangalore. Take the weekend off and go on a staycation in Bangalore to spend some quality time with your loved ones.
Known for its nightlife and hospitality, Bangalore has a lot to offer. It is also a popular transit point for tourists visiting South India. The city is brimming with accommodation options, for a weekend stay, a staycation or even a workation.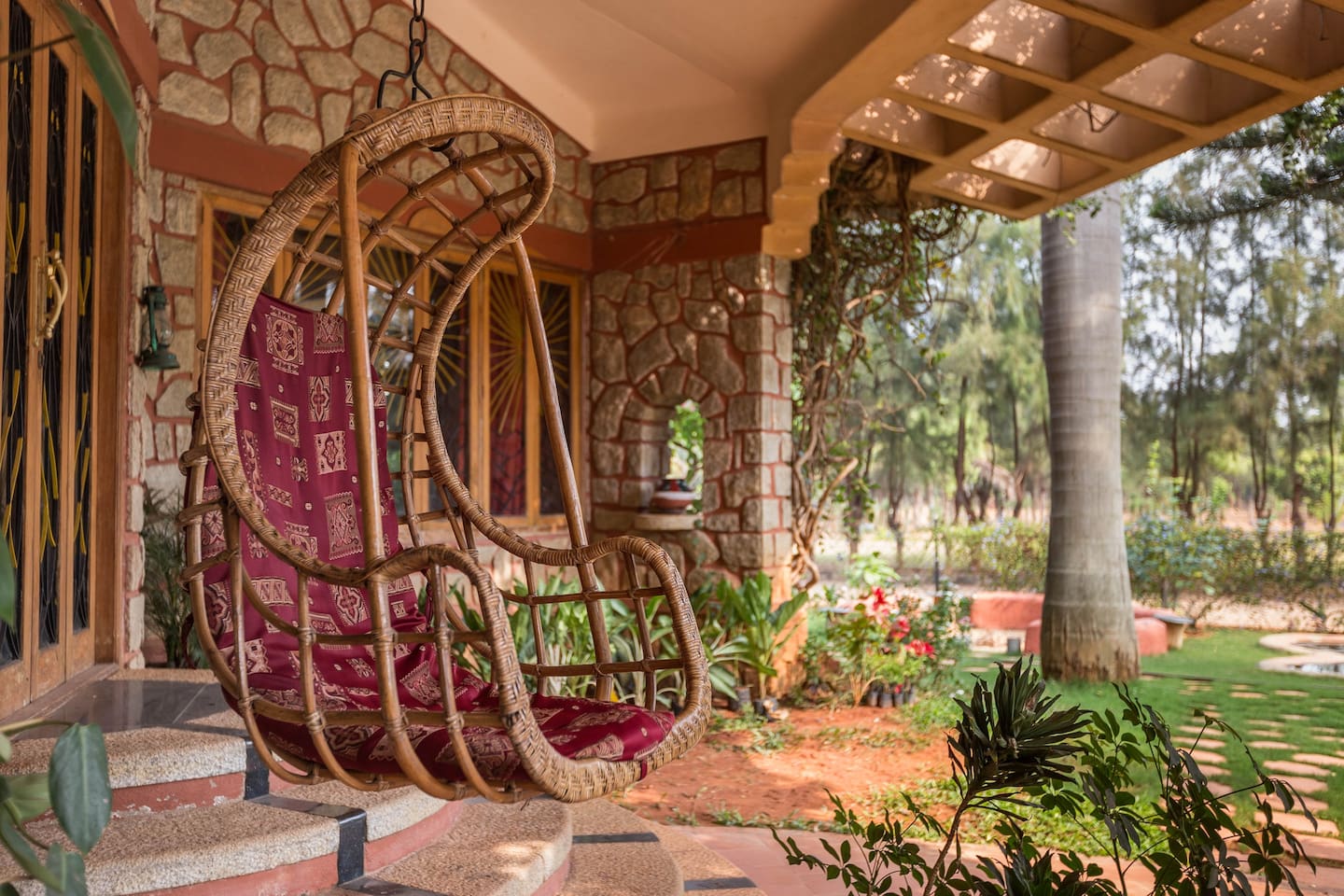 Relax and enjoy a book here, while the sun sets in the background. – Credit: Airbnb.com
Jade 735 – Retreat by Design
This gorgeous villa is a sheer treat to the eyes and definitely tops our list of the best places to stay in Bangalore. Don't judge this book by the cover, the interiors are even more stunning. With its vibrant decor and tranquil ambience, it transports you to a whole new world while allowing you to escape the city life. Jade 735 is just a 25 minute drive from the airport and free from all the city commotion. It is equipped with all the amenities for a perfect break from the mundane. A private pool, hot tub, gym, and a truck loads of space for you to simply relax. Looking to go on that much needed staycation in Bangalore? We've got you covered.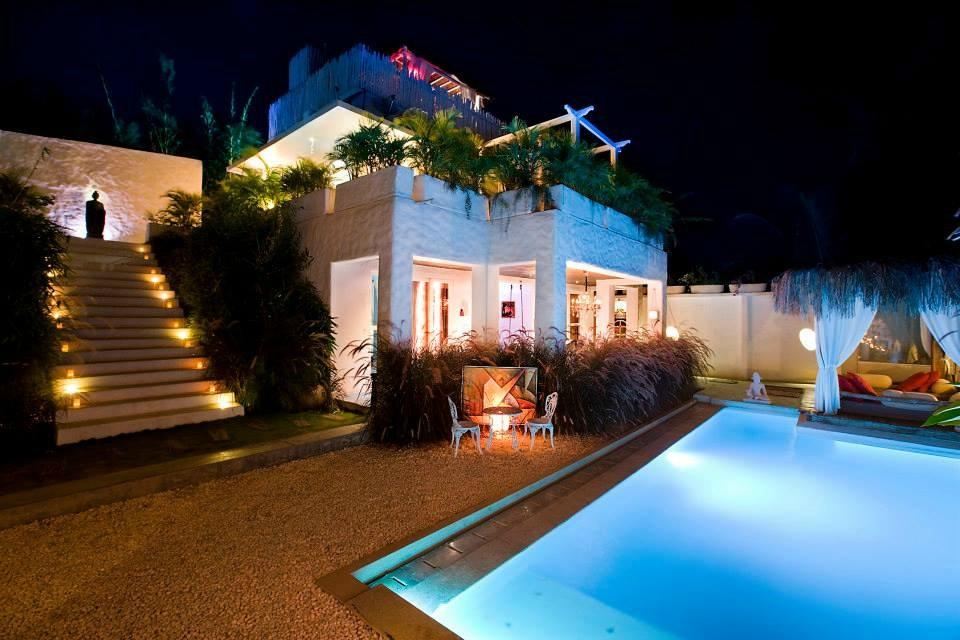 The ideal retreat for that much needed break from the mundane city life. – Credit: Jade 735
The Bougain Villa
Situated at the heart of Bangalore, this boutique hotel has a surprisingly soothing ambiance. The Bougain Villa is one of its kind. Here, you can find peace and tranquility, while being situated right in the center of the this bustling city. If you're looking to pamper yourself with luxury, this is ideal destination for a staycation in Bangalore. The chic decor, scrumptious food and wide range of amenities, allow you to experience the comfort of a vacation without having to leave the city. The Cubbon Park is within walking distance from the property.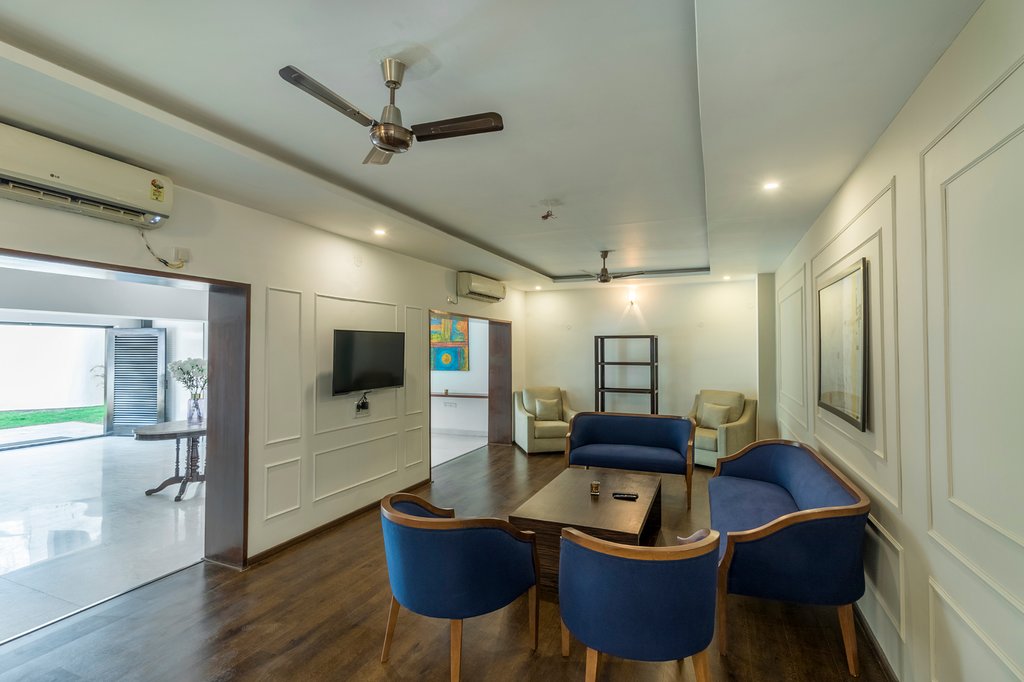 A ideal staycation to pamper yourself with sheer luxury. – Credits: the-bougain-villa.com
Melange Astris
Melange Astris is just 40 km from the airport and 4 km from the railway station. It offers serviced apartments with modern architecture and luxury services. It is equipped with a wide range of facilities like a swimming pool, a poolside cafe, and even a rooftop gym. The location of this property is perfect for a staycation in Bangalore. It gives you the comfort of living in a home, with all the luxury that you look for on a holiday. Set in the perfect neighborhood, one can head out to explore the city, go shopping at all the luxury boutiques and dine at some of the best restaurants without having to leave the area. If you're looking for a short getaway with family, Melange Astris is definitely one of the best places to stay in Bangalore.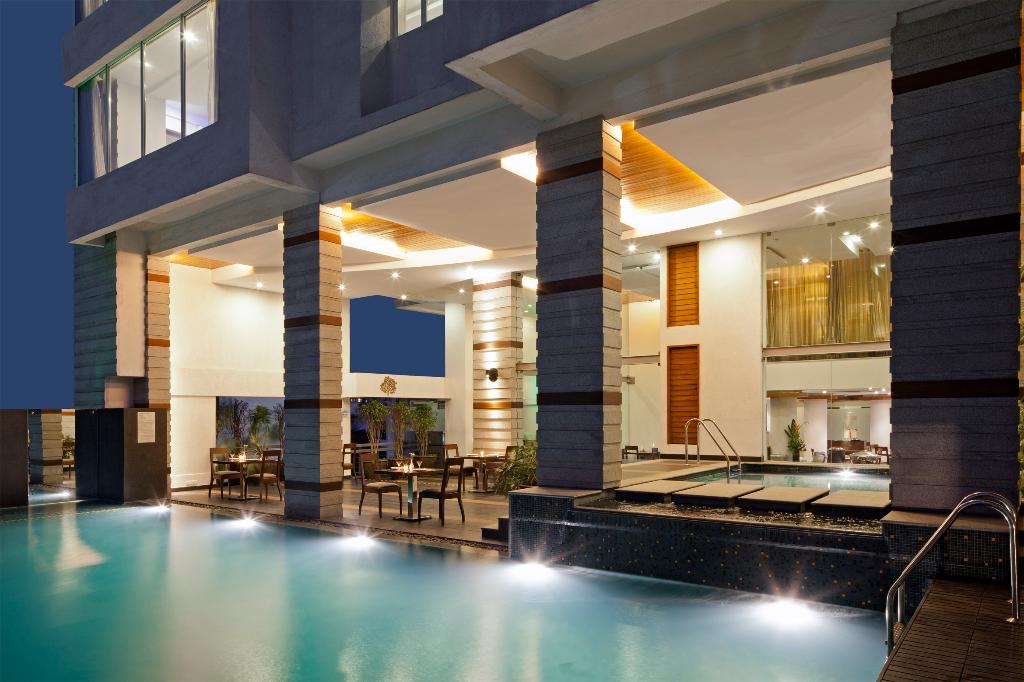 Serviced apartments with all the amenities you may need. A home away from home. – Credits: Tripadvisor.com
Le Roma Gardenia
This heritage Nature resort is perfect for a luxury staycation in Bangalore. Set in the outskirts of the city, it is everything you could ask for. Surrounded by greenery with spacious rooms, a gorgeous patio and private pool, Le Roma gives you a sense of warmth and comfort. The highlight is the interior decor, rustic with it's old school charm. It is a perfect breather from the lockdown and a great getaway from the bustling city.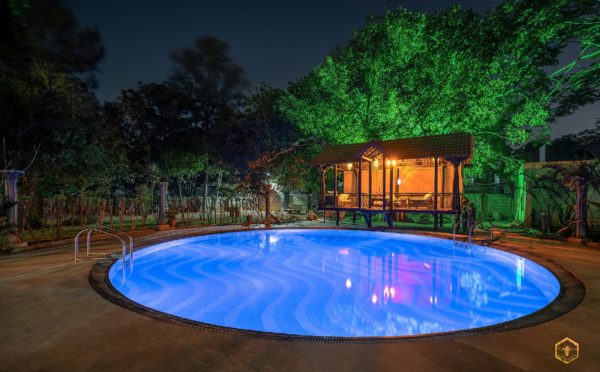 Relax by the poolside at night time and make the most of the tranquil vibe. – Credits: le_Roma_gardenia
Artistic Villa
At just 10km away from the Bangalore International Airport, this property royalty personified. This chic villa is spacious and enough to accommodate more than a dozen guests. It is equipped with all the possible facilities you could ask for, for the ideal staycation in Bangalore. An indoor gaming area, a private jacuzzi, a large space for outdoor games, a fireplace and a resident cook. With no neighbors in close proximity, it ensures complete privacy. Besides this, it overlooks a lush green garden and a waterbody that adds to the tranquility of this peaceful escape.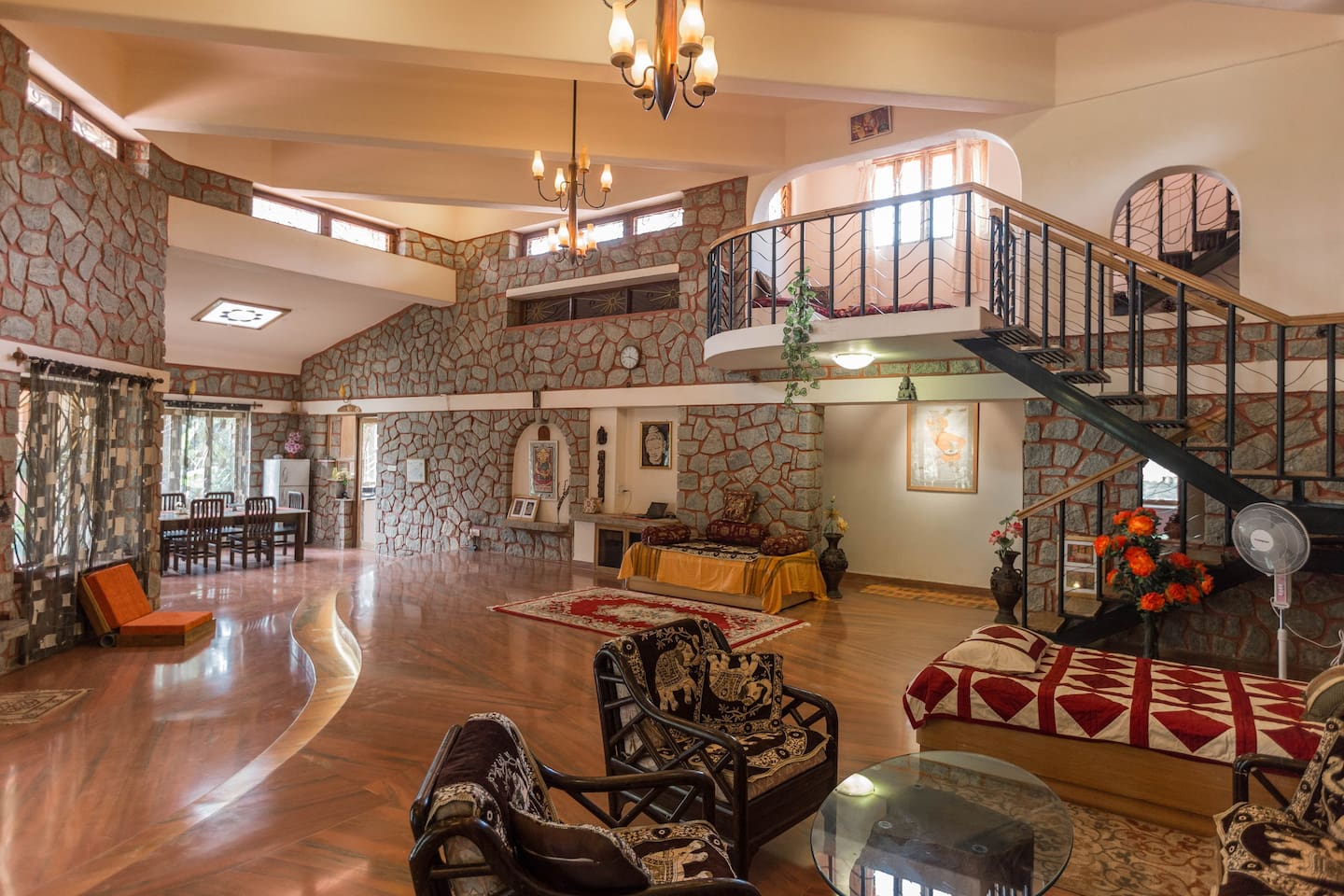 The royal, modern interiors of the charming Artistic Villa. – Credits: Airbnb.com
Aura Kalari
If you're looking to escape the chaotic city life, this eco-stay is definitely one of the best places to visit in Bangalore. This stay has a mud house and a tree house made of bamboo. Your stay here truly allows you to break free from the mundane, routine life. It is amazingly close to the city center, about 20 km from MG Road, Bangalore. It is the ideal spot for a staycation for nature enthusiasts or anyone looking to find solace in simplicity. The interiors are rustic and pay homage to all that nature has to offer. It is a silent retreat where the food is local, simple and yet absolutely delicious. If your seeking luxury, this may not be your first choice. However, if all you seek is tranquility and solitude then this is just the place to visit.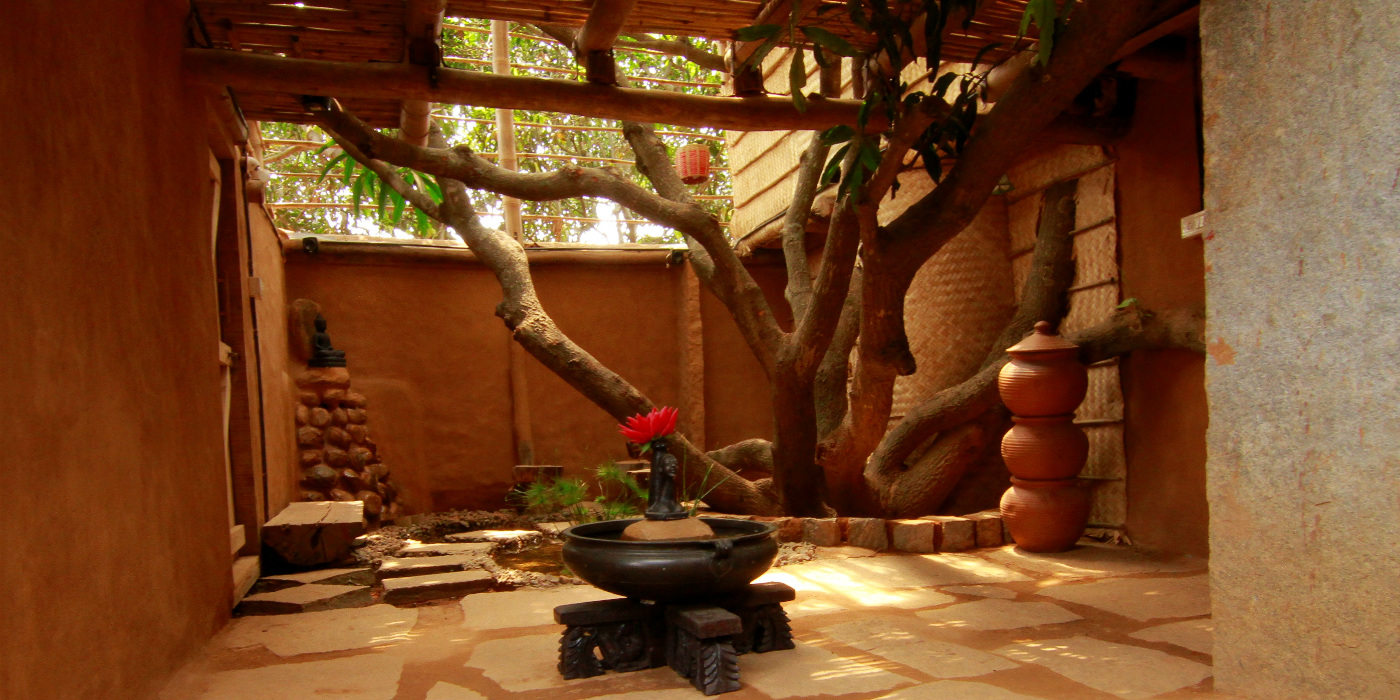 An eco stay, the best of it's kind, ideal for those seeking solace amidst nature. – Credits: TripAdvisor
Jade Lantern House
Set in the midst of nature, Jade Lantern House allows you to make the most of your staycation in Bangalore. Laze around in the lawn, read under the stars or simply allow yourself the pleasure of doing nothing. Set at the foothills of Nandi hills, enjoy the gorgeous view that the villa has to offer. The tranquil vibe of this villa is the perfect experience for a staycation in Bangalore. They provide all kinds of services, including a BBQ stand, a chef on request, the kind that you don't usually expect from a villa. Jade Lantern house is the perfect combination of luxury and simplicity, allowing you to feel at home and yet experience the comfort of a vacation.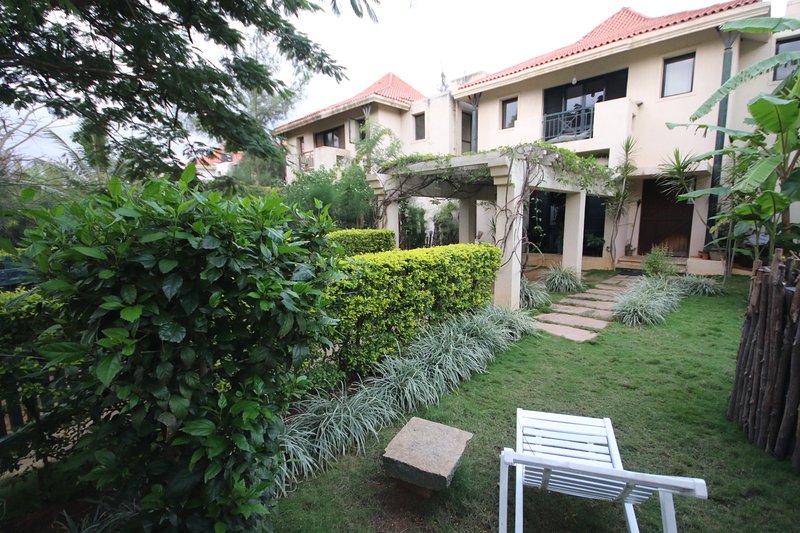 Jade Lantern House : Credit – yatra.com
We highly encourage travelling within India, post CoVid19. It is a means to support the local tourism industry. Small steps on our part is the only way to grow and move forward from the set back that the Indian tourism industry has suffered. With countless unique accommodation options, you're sure to find something that fits your travel style and caters to your requirements. Get in touch with us and we'll help you plan the ideal getaway that is customized to suit your needs. Plan your trip with the help of our assistance, feel free to contact us for bookings or more such recommendations.
helping you travel your way
Everything you need to know about India is here We have tried writing about everything you may need help with for your trip to India, If you need help in planning a trip to India Get in touch with us to to plan your trip of a life time.