Things to do in Bodhgaya
"Do not dwell in the past, do not dream of the future, concentrate the mind on the present moment." – Buddha.
Bodhgaya is such a unique place within India as it is a meeting point for Buddhists from all over the world. Pilgrims come from everywhere to experience the place where Buddha attained enlightenment beneath the sacred Bodhi Tree.
Even though it's only a small village on the outskirts of the bigger city of Gaya you can find authentic food from Japan, Tibet, or Thailand here.
And not just that: besides the big Mahabodhi Temple Complex you can visit numerous temples and monasteries from all Buddhist countries. All of them have unique designs and architectural features typical of their countries.
It's like going on a journey across the world in one day! The following is a list of temples, sights, and restaurants we think you shouldn't miss. All sights in Bodhgaya except for the museum have no entry fees. We hope you will enjoy the tranquillity and intense devotion!
A FEW PRECAUTIONS IN BODHGAYA
As every place of religious significance you should always respect the local rules:
Dress modestly

Remove your shoes at all temples

Be quiet in places of prayer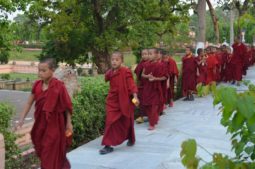 Monks at the Mahabodhi Temple (Photo Credit – Matt Stabile)
Mahabodhi Temple
The site where the holy Buddha attained enlightenment under the Bodhi tree. It is here that you have the Bodhi Tree here which is supposed to be a descendant of the original sacred tree. You have to leave your mobile phones, tablets, laptops, heavy luggage/ bags off the Mahabodhi Temple premises – there is a storage facility just before you enter.
You can take your camera but will need to pay a small fee for that. Then you'll get a ticket which you will need to present at the security check. If you come very early in the morning you can observe silently all the different groups of monks and pilgrims chanting and meditating. It is one of the most peaceful things to ever watch.
They even hand out free food and beverages to all the meditators. Around the temple which was built in the 2nd century AD, you can find smaller sacred sites where the Buddha meditated in the weeks following his enlightenment.
Altogether it's a large complex with an interesting garden and prayer wheels on the top promenade. You can also find the Mucalinda Lake named after the serpent king who protected the Buddha from storm and rain while meditating. Take your time, at least 1 hour, to experience the entire space and experience the tranquillity.
VISITING HOURS: 05:00-21:00 hours
ESTIMATED TIME: 30mins -1 hour
COST: Free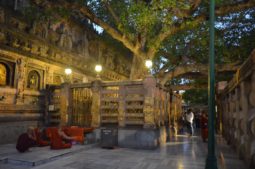 The sacred Bodhi tree inside the Mahabodhi Temple, Bodhgaya (Photo Credit – Matt Stabile)
Tibetan Temple – Buddha Temple
This temple is right across the entry to the Mahabodhi Temple. The monastery and temple complex is one of the largest in Bodhgaya and gets visited annually by the Dali Lama himself.
The highlight is the large Dharmachakra praying wheel, a 10-meter-high metal drum painted in golden and red color. It's believed that if rotated one may get remission from one's sins.
Other interesting temples: Mongolian Temple, Karma Temple (also Tibetan), Taiwan Temple, China Temple, Vietnam Temple, Burmese Temple, Shechen Tennyi Dargyeling, Tergar Monastery.
VISITING HOURS: 05:00-21:00 hours
ESTIMATED TIME: 30 mins – 1 hour
COST: Free
Royal Thai Temple – Wat Thai
If you have been to Thailand you will identify this massive complex on the main road as Thai immediately. Full of gold, steep arched roof, precisely designed garden. This Wat definitely also shows that Thailand is one of the most dedicated and wealthiest Buddhist countries.
There is also a hospital (in case of any medical emergency, you can visit this hospital!), a café, and a shop on the compound.
VISITING HOURS: 06:00-19:30 hours
ESTIMATED TIME: 20 mins -40 mins
COST: Free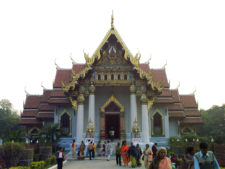 The entrance of the Thai Temple – Wat Thai(Photo Credit – Michael Eisenriegler)
Totora Tree
This is a suggestion for people who really want to go off the beaten path. When you already crossed the river to see the Sujata Stupa, you should also consider walking in the other direction (northwards, river upwards) to get to the impressively large Totora tree.
There are no signs, you have to ask the villagers and walk through a couple of small dwellings to get there. But it's worth the walk through rice fields and a nice landscape. Here you can get a feeling of how the Buddha must have felt when he reached his Bodhi-tree – the serenity, the peace, and the calmness.
You can sit under the tree and meditate or climb up the massive branches. However, be prepared that the village boys and kids might follow you here as they are as curious as you. If the locals won't know Totora Tree ask for Sarswati Temple (Mandir) which is close by.
VISITING HOURS: All days
ESTIMATED TIME: 1-2 hours
COST: Free`
Japanese Temple – Indosan Nipponji
Not too far from the Thai temple is also the Japanese Temple. Famous for their minimalism, this building is a perfect example of Japanese art forms and architecture – simple but beautiful.
It's a less crowded place as not many tourists come to this side of the town. Every morning around sunrise and every evening at 5 pm you can join the meditation session and listen to their chanting.
VISITING HOURS: 05:00-12:00 hours & 16:00-21:00 hours
ESTIMATED TIME: 2-3 hours
COST: Free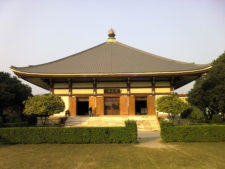 The peaceful Japanese Temple – Indosan Nipponji, Bodhgaya (Photo Credit – Michael Eisenriegler)
The Great Buddha Statue
Close to the Japanese and Bhutanese Temple you can also find the 80 foot (24.3m) high Buddha statue in meditation pose. It's also an important visiting point for all pilgrims coming to Bodhgaya. It took seven years to build and was inaugurated by the Dalai Lama himself in 1989.
VISITING HOURS: 07:00-12:00 hours & 16:00-18:00 hour (17:30 hours in winter)
ESTIMATED TIME: 30 mins – 1 hour
COST: Free
Royal Bhutan Temple
Right next door is the Bhutanese temple which is way more colorful and intricate. We find this temple especially interesting as Bhutan is a country most of us will probably never be able to visit so this temple enables us to get a glimpse of its culture and art.
VISITING HOURS: All days
ESTIMATED TIME: 30 mins – 1 hour
COST: Free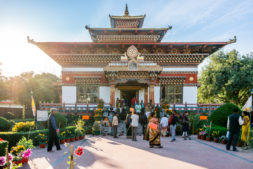 Pilgrims visiting Royal Bhutan Temple, Bodhgaya (Photo Credit – Shiva Shenoy)
Dungeshwari Cave in the Pragbodhi Hills or Mahakala Cave
The cave in the obvious hills close to Bodhgaya is where Buddha is said to have spent six or seven years as an ascetic before meditating below the Bodhi Tree. In the process, he almost starved to death and then later realized that self- abasement is not the correct way to enlightenment.
Now there isn't much to be seen here except a small golden Buddha statue. However, the trip here and the view from the top is nice.
It's at a distance of 20km towards the east, across the Fagu River. Rickshaws offer 3-hour return trips there or you get yourself a motorbike. Some people also walk there but do consider this only during clear not too hot weather.
VISITING HOURS: All days
ESTIMATED TIME: 2-3 hours
COST: Free
Sujata Stupa
This originally much larger and white painted stupa was built to commemorate the village dweller Sujata, a girl who fed Buddha after his six or seven years of asceticism with milk rice. It's a 20 minutes' walk from Bodhgaya.
VISITING HOURS: 07:00-18:00 hours
ESTIMATED TIME:1-2 hours
COST: Free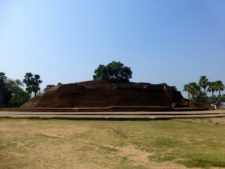 The Sujata Stupa in Bodhgaya (Photo Credit – Anandajoti BhikkhuFollow)
Get in touch with our team of experts if you are looking at planning your trip to this interesting city. Along with Bodhgaya, you can also add other interesting cities across North India. Here are a few common routes across North India to get an idea of what to expect.
helping you travel your way
Everything you need to know about India is here We have tried writing about everything you may need help with for your trip to India, If you need help in planning a trip to India Get in touch with us to to plan your trip of a life time.