Things to do in Bhubaneswar
'Bhubaneshwar, a city, my city, which seems never empty and is also never full, always embarrassing the newcomers and introvert visitors with warmth, looking after their necessity and not stupidity' – Anuj Panda
Bhubaneswar will usually be the first city you experience as it's the entry point to the state of Orissa. The city is often mentioned as the city of temples which is very true! If you open your Google maps in the old town of Bhubaneswar from any point you will see that you are surrounded by temples.
The city is home to some of the finest temples including Lingaraj Temple and Mukteswar Temple. Apart from these, the city also has some extremely informative museums that can brief you on the traditions of the artisans.
If you happen to be in the city on a Saturday or Sunday, consider yourself super lucky! You will love weekends more as you get to be part of a great informative walk organized by Ekamra Walks. This walk is absolutely free!! If you're in the city all you have to do is reach the meeting point at the given time and place stated on the website – https://www.ekamrawalks.com/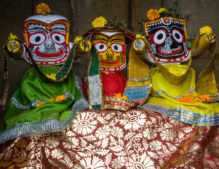 Deities of Orissa at the Mukteshwar Temple (Photo Credit – Mike Prince)
Rajarani Temple
Located in the middle of well-kept lawns, the 1100 century temple is perhaps the most renowned temple in Bhubaneswar. You will find carvings of women in different aesthetic dance postures and even some women admiring themselves in the mirror just like we do even today. The carvings are very detailed and it lets the observer paint a story.
VISITING HOURS: 08:00 hours to 17:00 hours
ESTIMATED TIME: 30 mins
COST: INR 300 per person for foreign tourists, INR 25 per person for Indian tourists.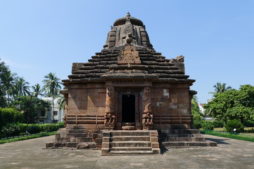 The Rajarani Temple in Bhubaneswar, Orissa (Photo Credits – Ankur Panchbudhe)
Mukteswar Temple
Known as the gem or jewel of Orissa, this temple is significant as it inspired the style of temples in Orissa. You must attend the walking tour that happens every Sunday at 06:30 Hrs by Ekamra Walks. You will get to know more about the significance of the temple. Around Mukteswar Temple, you will find some more sights like Ananta Vasudeva Temple and Parsurameswara Temple.
There's also a small local sweet stall named 'Maa Gouri Sweet Stall'. Located outside Parasurameswara Temple on the opposite road that has a variety of sweet options. It is the best way to energize yourself after the temple sightseeing.
VISITING HOURS: 06:30 hours to 19:30 hours
ESTIMATED TIME: 30 mins hours
COST: Free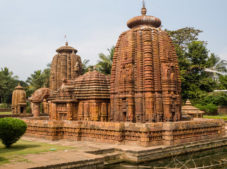 The exteriors of Mukteswar Temple, Bhubaneswar (Photo Credit – Mike Prince)
Lingaraj Temple
One of the major tourist attractions of the state and amongst the largest temples in Bhubaneshwar, the Lingaraj Temple. It looks as though it is a maze of temples. Do bear in mind that non – Hindus are prohibited from entering the sacred grounds. However, it's still worth a visit as there is a platform that offers a complete view of the temple and the smaller shrines as well. This has been built during the British era and it still stands tall.
VISITING HOURS: 05:00 hours to 21:00 hours
ESTIMATED TIME: 30 mins hours
COST: Free
Bindu Sarovar
This is one place that offers a quiet and calming atmosphere after all the temple spotting. Surrounded by numerous temples and shrines, Bindu Sarovar Lake is considered as a sacred lake. It is the largest water body of Bhubaneswar.
According to legends, Bindu Sarovar Lake was created by Lord Shiva by bringing water from all the holy places to quench the thirst of Goddess Parvati.`
VISITING HOURS: 24 hours
ESTIMATED TIME: 30 mins hours
COST: Free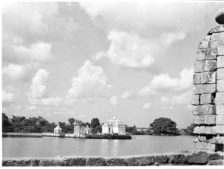 The great temple Bindu Sarovar by the lake (Photo Credits – Public.Resource.Org)
Museum of Tribal Art and ARTIFACTS
You will witness an entire spread of tribal artifacts and the way of life. If you're curious about what the tribes wear, eat, and how they sustained themselves away from the concrete world here is the place to be.
The most interesting aspect of the museum is the audio-visual interactive tour that even includes a set of augmented reality glasses that allows you to feel as though you are really amongst the tribes. You also get to see a short video that presents a complete overview of tribal life.
VISITING HOURS: 10:00 hours to 17:00 hours
ESTIMATED TIME: 2 hours
COST: Free
Ekamravan
Ekamravan, a beautiful peaceful garden located on the Western banks of the Bindusagar Lake adjoining the ancient Lingaraj Temple in the Capital City of Bhubaneswar. A variety of plants can be found here that were traditionally associated with Hindu Gods Goddesses. However, they also have spiritual and medicinal significance.
At the entrance, you will also receive a pamphlet that will help you learn the names and medicinal qualities of these plants. This garden gives a very meditative calming aura to its visitor.
VISITING HOURS: 08:00 hours to 19:00 hours
ESTIMATED TIME: 1 hour
COST: INR 25 for foreign tourists, INR 25 for Indian tourists, INR 10 for Children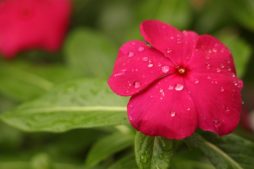 Blooming flowers at the Ekamravan Garden, Bhubaneswar
Kala Bhoomi Odisha Crafts Museum
An extremely well-maintained museum that has a bunch of fun workshops such as palm leaf etching, Pattachitra, Ganjapan Cards, Applique work and Terracotta. You will have to reserve seats for the workshop on the website www.odishacraftsmuseum.com at a nominal fee. They offer guided tours of the museum as well. Timings are 11:00 Hrs to 12:00 Hrs for an English guided tour that begins at the reception.If you happen to be in Bhubaneswar on a Sunday, do join the walk of the museum organized by Ekamra Walks. They start at 15:30 Hrs every Sunday afternoon. The best part about this is that it is absolutely free!!
VISITING HOURS: 10:00 hours to 17:00 hours (closed on Monday)
ESTIMATED TIME: 1 hour
COST: INR 50 for foreign tourists, INR 50 for Indian tourists, Free for Kids below 12 years
Udayagiri (Sunrise Hill) and Khandagiri Caves (Broken Hill)
Centuries ago these caves were the dwelling retreats for Buddhist and Jain monks. Both the caves share the same ground and so you can visit both in around an hour or so.
At Khandagiri, we would suggest that you climb to the top so that you don't miss out on a beautiful 18th century Jain temple. It offers a scenic and panoramic view of the entire city. We personally felt like this was a terrace view of the entire city.
VISITING HOURS: 08:00 hours to 17:00 hours
ESTIMATED TIME: 1 hour
COST: INR 200 for foreign tourists, INR 15 for Indian tourists.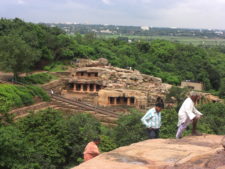 Travelers hiking up the caves, Bhubaneswar (Photo Credit – Sourav Das)
If you are wondering what next, we've got that covered for you. Click here to read more on the next city Puri which is about 2 hours away. You can even get in touch with our team who can assist you with the planning of a personalized trip for you.
helping you travel your way
Everything you need to know about India is here We have tried writing about everything you may need help with for your trip to India, If you need help in planning a trip to India Get in touch with us to to plan your trip of a life time.