Things To Do In Puri
It's often said that straight paths aren't as amusing and the curvy roads actually lead to beautiful destinations. Just as this saying goes before you get to Puri there are a few stops en route that you will definitely enjoy on your drive to Puri.
Below are a few stops to see and things to do in Puri. It can also be done on the way back to Bhubaneswar.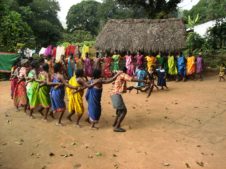 Villagers enjoying their song and dance in Orissa (Photo Credit – Achilli Family) Journeys)
Dhauli Shanti Stupa
Stupas in general as you know are one of the most recognized forms of Buddhist architecture. If you're wondering what is the relevance of the Stupa here and its significance. Here's the shortest history lesson on it:
A King named Ashoka during his reign in this state realized the intensity of war when the river Daya had turned red with blood. This horrific bloody river scene finally struck his senses and made him conscious of the cruelty of war. He then took up the path of peace and tranquility by choosing Buddhism.
This Shanti Stupa stands as testimony to his change of heart as he laid down his weapons and turned to spread the teachings of Buddhism. The overall structure of the stupa is beautiful in white with depictions of war on it while the peaceful Buddha maintains posture. Its white peaceful presence marks the importance of peace for future generations.
VISITING HOURS: 10:00 to 17:00 hours (closed on Mondays)
ESTIMATED TIME: 1 hour
COST: Free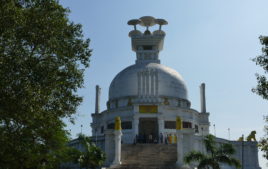 The peaceful Dhauli Shanti Stupa. (Photo Credit – Ankur Panchbudhe)
Light and Sound Show at Dhauli Shanti
If you would like a long history lesson, you can always attend a 35 mins Light and Sound Show at Dhauli. You get an interesting insight into what events took place that made this city and place so important. If you are a history buff do make time for this.
VISITING HOURS: 19:00 to 19:35 hours (April and May), 19:45 to 20:20 hours (April and May), 18:30 to 19:05 hours (December to March), 19:15 to 19:50 hours (December to March)
ESTIMATED TIME: 1 hour
COST: INR 25 per person for foreign tourists, INR 25 per person for Indian tourists.
Day Trip To Konark Sun Temple
This iconic temple shows how simple the surroundings of stone were brought to life. This standing structure also proves that this state has always had an artistic spirit ingrained from centuries ago. The Konark Sun Temple is also a UNESCO World Heritage site.
There are guides who sell pamphlets related to the history of the structure. If you would like to use the guide service at the site, the cost is approx. INR 200. Something that you shouldn't miss here is the light and sound show which is a great attempt to recreate the history of this temple. The light & sound show is closed on Mondays
Don't leave the Konark Sun Temple, unless you've spent time at the Interpretation Center which takes a different stance to the term 'museum' and is a must-visit to understand the architecture of the State.
VISITING HOURS: 06:00 to 20:00 hours
VISITING HOURS FOR THE LIGHT AND SOUND SHOW: 19:30 to 20:10 hours (March to October), 20:20 to 21:00 hours (March to October), 18:30 to 19:10 hours (November to February), 19:30 to 20:10 hours (November to February)
ESTIMATED TIME: 2 – 3 hours
COST: INR 600 per person for foreign tourists, INR 40 per person for Indian tourists.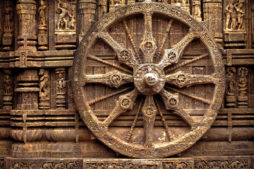 The Sundial at the Sun Temple, Orissa (Photo Credit – Dinudey Baidya)
64 Yoginis Temple/ Chausath Yogini Temple
This temple is dedicated to a female deity who was courageous enough to defeat a demon single-handedly. Instead of calling out to a male form for aid like most of the fairytales we've heard, the Goddess Durga herself took on 64 forms to defeat the demon. The pundit (i.e. priest) at the temple will give you a detailed description of all her 64 transformations in English and it's pretty fascinating to know this tale although mythical in nature.
I would suggest keeping some cash ready to offer as respect to the priest who uses it to buy the necessary devotional items for the deity. Approx INR 50 – INR 100 is sufficient. This donation is of course not compulsory.
VISITING HOURS: 06:00 to 18:00 hours
ESTIMATED TIME: 1 hour
COST: Free
Day Trip To Jagannath Temple
The Jagannath Temple in puri, particular, holds a very special place to a Hindu devotee. Most Hindus in the whole country believe that visiting this site will help them achieve 'moksha' which means eternal salvation. Jagannath is one of the 4 most holy pilgrimage sites in India.
The street to the temple is flooded with devotees all waiting in line to enter and offer their prayers. There is the continuous movement of people, a repeated rhythmic religious sound in the background and it feels like things never come to a standstill here. The entire picture makes you think of Karl Marx's most celebrated dictum 'Religion is the opium of the masses'
Foreigners are forbidden from entering the temple. However, you can easily get a clear view of the outside of the temple from Raghunandan Library. You can make a small donation to the library.
VISITING HOURS: 05:00 to 13:00 hours, 16:00 to 23:30 hours
ESTIMATED TIME: 1 hour
COST: Free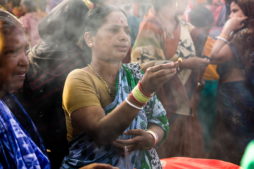 Devotees at the Jagannath Temple, Puri (Photo Credit – picturesbypriyesh)
ACTIVITIES to do IN PURI
Pipli Applique Village
If you're looking at taking something back home for family and friends or simply decorate your house with artworks from Orissa, Pipli is the main centre.
You'll find rows of shops lined up with colourful craftworks. The art is mainly done with cloth and bright colors. The street is filled with eye-catching wall hangings, lanterns, pillow covers, table cloths, and so on. Get to shopping and if you feel like it "Add to your cart"!
VISITING HOURS: 24 hours
ESTIMATED TIME: 2 hours
COST: Free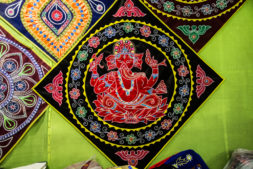 Art pieces displayed at Pipli (Photo Credit – Saurabh Chatterjee)
Raghurajpur – Meet the artist behind the Art!
In Raghurajpur, you can finally meet the faces behind the art that have been showcased in Orissa. This is a small village where families practice the same tradition for years. They are now recognized for dedicating their lives only to create art forms such as palm leaf engraving, tribal arts, silk painting, and so on.
The intricate details on the artworks are extremely impressive! Just a little heads up that some shopkeepers at the start of the village can be very persistent. Hence, we'd suggest taking your time in the village, moving further down the road to see more shops before you buy anything. One shop that we loved and found reasonably priced is – Bishnukinkar Mohapatra's shop. Your driver can help you locate this shop.
VISITING HOURS: 24 hours
ESTIMATED TIME: 1 hour
COST: Free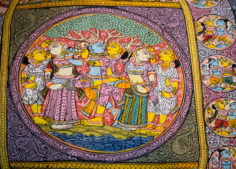 Artwork at the Raghurajpur, Puri (Photo Credit – Mike Prince)
Chilika Lake
This lake is famous for its rich biodiversity of bird species. You can take a boat ride from Mangalajodi Point to bask in the midst of the rich flora fauna while you're on the lake. As you are accompanied by a guide you also learn the names of the wide variety of birds you'll see.
Winters are the best time to see migratory birds. The boat facilities here are good and the guides, as well as staff at the counter, will assist in booking a boat for a reasonable amount. I'd suggest the early morning is the best time for this.
From the Satapada entry point of the same Lake, you can spot Dolphins. Dolphin watching is also quite popular among locals hence much more touristy. we'd recommend doing either one.
VISITING HOURS: 07:30 to 17:00 hours
ESTIMATED TIME: 1 hour
COST: Free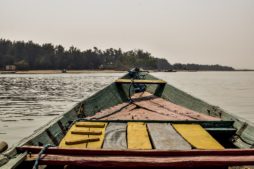 Calming waters of Chilika Lake.
Relax By The Beach
The best way to wrap up a day in Puri is to unwind and relax at the beach! The shoreline is massive and the beach is quite active but you can find your own peaceful spot. Enjoy the beautiful sunsets at the beach and don't forget to try out the seafood from the vendors you'll find on Marine drive road.
VISITING HOURS: 24 hours
ESTIMATED TIME: 2 hours
COST: Free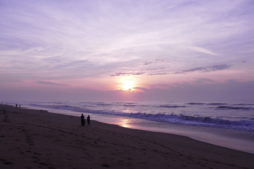 Sunrise at Puri beach (Photo Credit – Ankur Panchbudhe)
If you are still not convinced that Orissa is a must-visit travel destination for you, read this blog which summarises why this destination has to be on your list. You can even get in touch with us if you want to look at other travel destinations across India as well.
helping you travel your way
Everything you need to know about India is here We have tried writing about everything you may need help with for your trip to India, If you need help in planning a trip to India Get in touch with us to to plan your trip of a life time.