Internal Travel in Sri Lanka
Sri Lanka is 65,610 square kilometres of consistently breathtaking beauty. The journey to and from cities are as much of a destination in themselves as beaches, forests and waterfalls slip by your window in a gorgeous green and yellow haze. So what are the best ways to savour these views during internal travel? Here are your options for getting around Sri Lanka: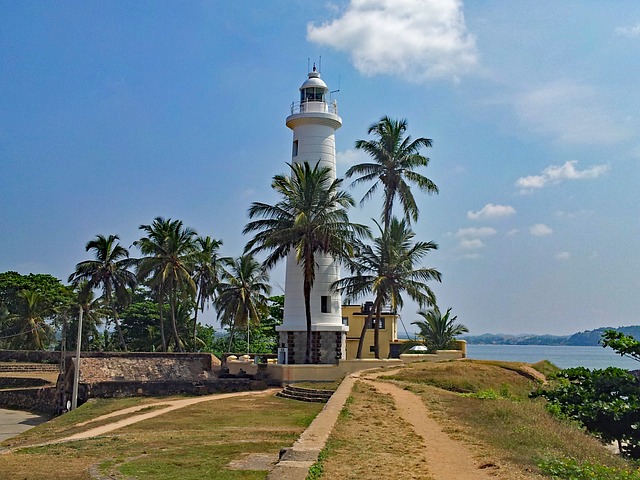 Galle Fort – Lighthouse
Car
Sri Lanka's roads are consistently good across the country, but they don't have a system of highways that most of us take for granted. This means slow traffic even on long journeys.
While renting a car on your own is an option, it's better and easier to find one that comes with a driver attached. This will be more expensive, about 30-50% more than in India. This is worth it though–all included you'll only be paying around USD 60 a day for a car that can fit three passengers. This includes road tolls, fuel and the drivers stay, food and pay as well. If you want, you can always leave a tip, but that's the only extra amount you'll be paying. Cars make everything more convenient with end-to-end comfort and great flexibility in timings and journeys. Since it's more expensive though, we'd recommend it only for those areas that are hard to reach by public transport, or for older (and richer) travellers.
Our experience: Both the instances when we rented a car, the car was clean and comfortable. The driver was polite, drove safely and spoke adequate English. Roads in Sri Lanka are good! They might not all be express highways, but at least they're not riddled with potholes.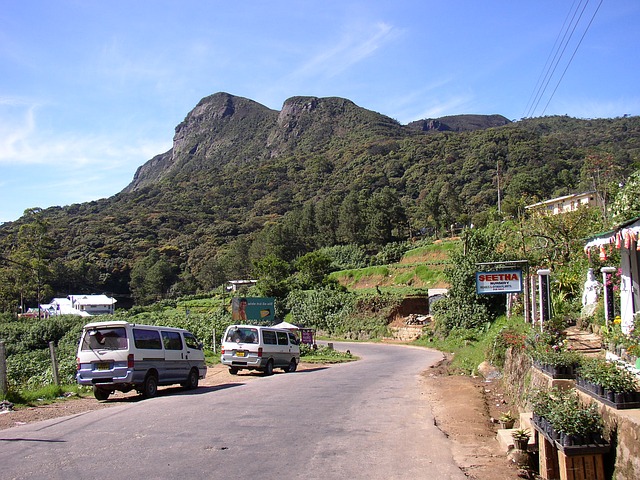 Local trains in Sri Lanka
Local trains in Sri Lanka are a gift from the universe. Comfortable, full of friendly locals and dotted with incredibly adorable railway stations along the way. They're incredibly cheap, priced at about the same as Indian ones. While the trains in Sri Lanka are punctual, comfortable and clean, the network isn't very extensive. They're great for travel between cities and towns, and very affordable.
There are 3 classes, though the 1st class (air-conditioned) is not available on all trains. The 2nd class is just as great, and the lack of air conditioning means open windows that bring you even closer to the view. First class costs about USD 15 for a 4 hour journey, and the 2nd class only about USD 4.
If you are willing to take trains in Sri Lanka then there are some routes that are once-in-a-lifetime experiences, like the route from Galle to Colombo that's almost 70% coastline. The inland routes to Nuwara Eliya or Ella from Kandy climb up the hills through tea plantations and lush fields, past waterfalls and farms. For these routes we'd recommend you book in advance so you can be assured of a window seat.
Our experience: We took our first train from Kandy to Nuwara Eliya and travelled unreserved 2nd class. The 80km, 4 hour journey cost us a little over one euro each! The compartment was airy and comfortable and we got a seat one hour into the ride. We took another 3.5 hour train from Thalpe to Galle! Another great scenic coastal route and the ticket cost us approximately only USD 2 each! We'd highly recommend taking the trains in Sri Lanka because they are cheap, scenic and easy to navigate.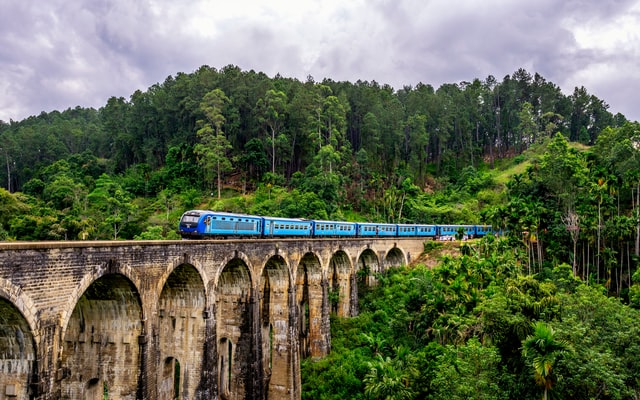 Nine arches bridge_ella_sri lanka : Credit-hendrik_cornelissen
Local buses
Buses have a far more extensive network than the trains in Sri Lanka, but the distances obviously take longer to cover. They're not often crowded so you can be assured of a seat, but you cannot book them in advance or online. Head down to the local bus station and check the timetable. Once your bus arrives bystanders will be happy to help you find it.
Buses are incredibly cheap and cost around USD 3 for air-conditioned and USD 1 for non air-conditioned coaches going on 4 hour journeys. They may not always deliver you straight to your destination, but they'll take you to a lot more places than the trains in Sri Lanka. You'll be restricted by the infrequent timings for less-common destinations. Many of these buses are smaller than usual and may not have a trunk for your luggage. It's standard practice to request passengers with backpacks to purchase an extra ticket and place their bags on that seat instead. If you're somewhere on the coast we'd recommend the bus even for very short journeys to save money so you can really savour the view.
Our experience: We took a local A/C bus from Anuradhapura to Kandy, a distance of 135 kms that took a little over three hours. The bus cost us around USD 3 each. However, the bus did not have a boot and our backpacks sat an additional seat we had to pay for. In total, less than ten dollars for three seats on an A/C bus! The bus was comfortable but if it were a longer ride I would have needed more leg room. Overall, we had no complaints. We took a bunch of local buses over a distance of 20-30 kms to explore towns nearby and each ride cost us less than 50 cents. We always had a seat though these buses were non-air-conditioned.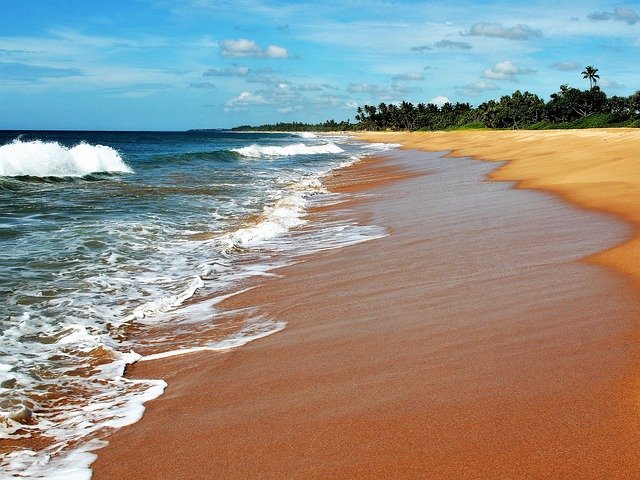 Other transport methods of getting around Sri Lanka
Two wheelers
These can easily be rented especially on the coast. Just let the manager of your hotel or homestay know. While a license isn't asked for, it's better to be a seasoned and confident driver as the traffic on all roads is fast and often heavy. It costs about USD 4 per day.
Internal flights
These are few, and expensive. We didn't take any since they're quite unnecessary in a country of this size.
Tuk-tuks
Tuk-tuks are the easiest option for getting around Sri Lanka. Colourful, exciting and all-around awesome. You'll find these everywhere and the drivers are all well-mannered even if they don't speak English. Since there's rarely a fixed price, it's best to check with your hotel manager what the average price should be for your journey and then bargain for it. They're perfect for moving about within the city and good for distances up to 35-40km as well.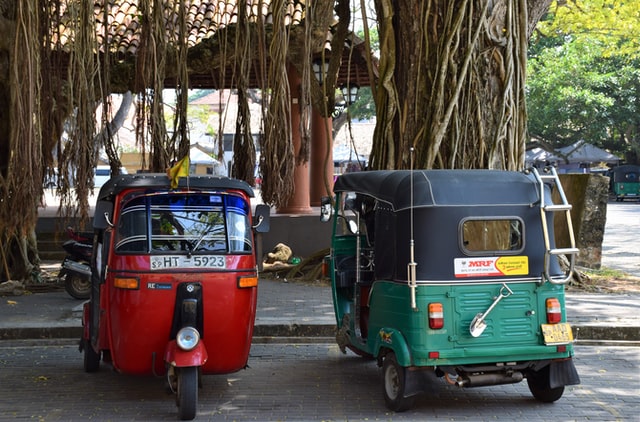 Colourful Tuk-Tuks in Srilanka
helping you travel your way
Everything you need to know about India is here We have tried writing about everything you may need help with for your trip to India, If you need help in planning a trip to India Get in touch with us to to plan your trip of a life time.