E-Visa and Visa on Arrival for India
A little background on E-Visa for India
If you've been thinking that it's high time the process of getting a visa to India became smoother, you've been thinking right! The Indian government since June 2014, has been aggressively putting in place an eVisa system for inbound tourists.
And the good news is, we're almost there – you'll most likely be getting your visa online for your next visit to India. It will reduce paperwork and make the whole process much easier for travellers. No more enduring long lines at embassies, convoluted verification and documentation process and other hassles!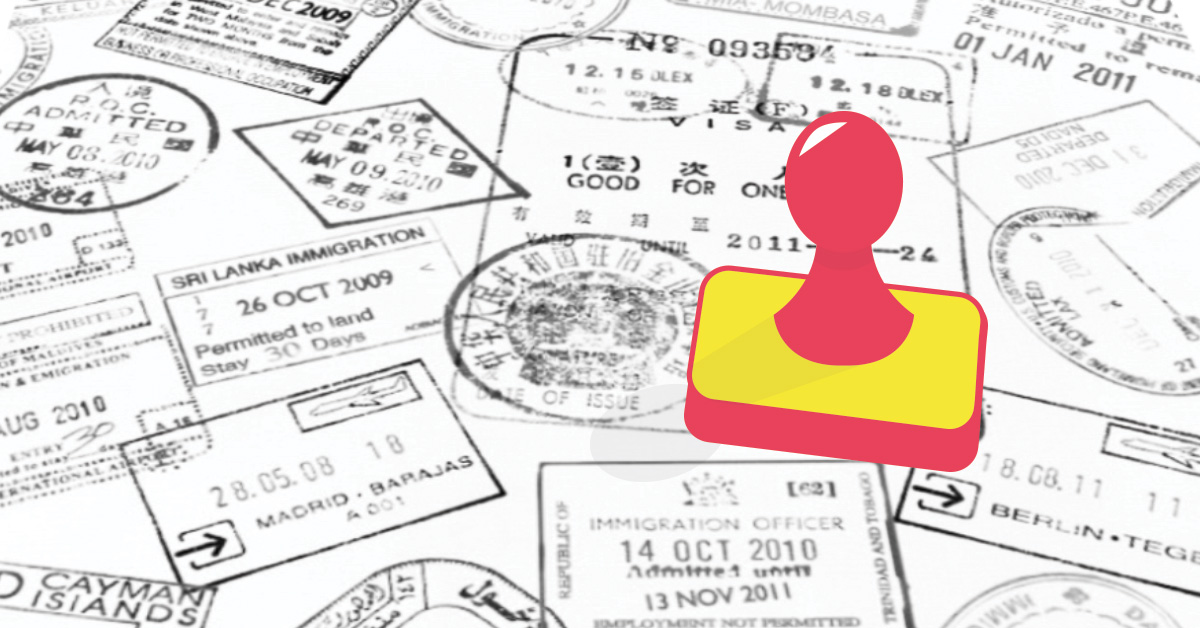 Getting a visa for India
E-Visa or Visa on Arrival for India? What is the difference?
The eVisa format being implemented resembles a Visa on arrival but is not exactly a Visa on arrival. Because the applicant needs to submit their Indian Visa forms online. Once submitted, pay the necessary fees online and they would be informed if the Visa is granted or not. You do not have to courier your passport or visit an Indian Embassy or consulate.
Once your Visa is granted you will be notified online. Using this, you can board your plane to India and the Visa would be stamped on your arrival in India. While similar, it is still not exactly a Visa on arrival and it would be a lot less cumbersome than couriering your passports or having to line up outside an Indian Embassy/consulate.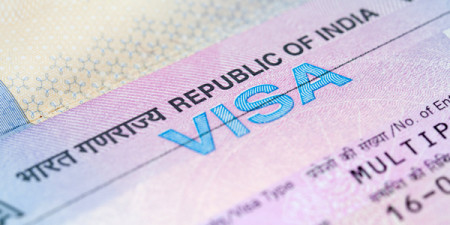 India Visa (Photo Credits)
Which countries can avail of e-visa for India?
Overall, so far these following countries are eligible, the most predominant ones being United States of America, United Kingdom, Germany, France, Australia, New Zealand.
The remaining list is Albania, Andorra, Angola, Anguilla, Antigua & Barbuda, Argentina, Armenia, Aruba, Austria, Azerbaijan, Bahamas, Barbados, Belgium, Belize, Bolivia, Bosnia & Herzegovina, Botswana, Brazil, Brunei, Bulgaria, Burundi, Cambodia, Cameroon Union Republic, Canada, Cape Verde, Cayman Island, Chile, China, China- SAR Hongkong, China- SAR Macau, Colombia, Comoros, Cook Islands, Costa Rica, Cote d'lvoire, Croatia, Cuba, Cyprus, Czech Republic, Denmark, Djibouti, Dominica, Dominican Republic, East Timor, Ecuador, El Salvador, Eritrea, Estonia, Fiji, Finland, Gabon, Gambia, Georgia, Ghana, Greece, Grenada, Guatemala, Guinea, Guyana, Haiti, Honduras, Hungary, Iceland, Indonesia, Iran, Ireland, Israel, Italy, Jamaica, Japan, Jordan, Kazakhstan, Kenya, Kiribati, Kyrgyzstan , Laos, Latvia, Lesotho, Liberia, Liechtenstein, Lithuania, Luxembourg.
Yes, we agree that it is a long list. It further continues with Madagascar, Malawi, Malaysia, Mali, Malta, Marshall Islands, Mauritius, Mexico, Micronesia, Moldova, Monaco, Mongolia, Montenegro, Montserrat, Mozambique, Myanmar, Namibia, Nauru, Netherlands, New Zealand, Nicaragua, Niger Republic, Niue Island, Norway, Oman, Palau, Palestine, Panama, Papua New Guinea, Paraguay, Peru, Philippines, Poland, Portugal , Qatar, Republic of Korea, Republic of Macedonia, Romania, Russia, Rwanda, Saint Christopher and Nevis, Saint Lucia, Saint Vincent & the Grenadines, Samoa, San Marino, Senegal, Serbia, Seychelles, Sierra Leone, Singapore, Slovakia, Slovenia, Solomon Islands, South Africa, Spain, Sri Lanka, Suriname, Swaziland, Sweden, Switzerland, Taiwan, Tajikistan, Tanzania, Thailand, Tonga, Trinidad & Tobago, Turks & Caicos Island, Tuvalu, UAE, Uganda, Ukraine, Uruguay, USA, Uzbekistan, Vanuatu, Vatican City-Holy See, Venezuela, Vietnam, Zambia and Zimbabwe.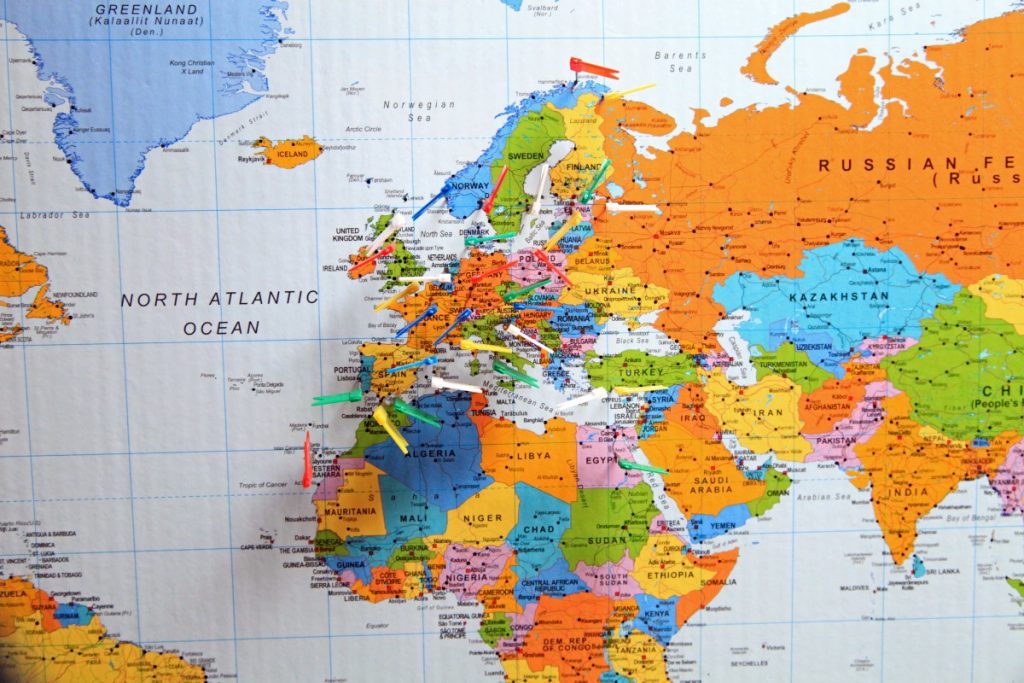 Countries eligible for eVisa to India
Which countries cannot avail of e-visa for India?
SAARC nations and Pakistan, Iraq, Somalia, Sudan, Nigeria and Afghanistan which are on 'prior reference" list are the ones that'll have tough luck as far as eVisas are concerned. There's some good news for Afghan nationals though, India may open its doors for them to stay for up to 2 years on humanitarian grounds, subject to checks and balances to avoid misuse.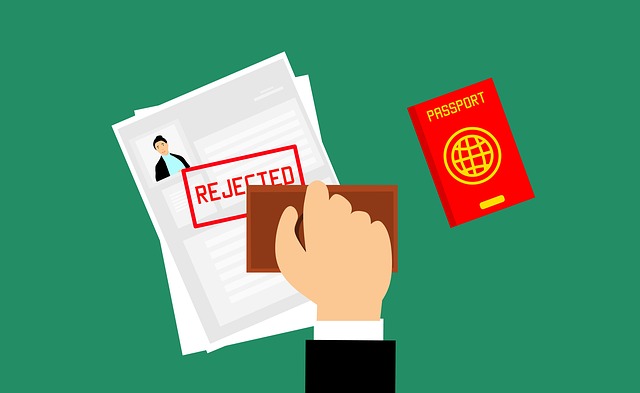 Visa Rejected (Photo Credit – Mohamed Hassan)
A brief overview of the e-visa process for India
With Electronic Travel Authorization (ETA) foreign travellers will be able to apply (through a website) for and receive an online confirmation of their eVisa within 3-5 working days. The facility will be available for a 30 day period from your date of arrival in India onwards.
The software for the eVisa system is ready. This will be in operation at 9 international airports. These are Delhi, Mumbai, Chennai, Kolkata, Hyderabad, Bengaluru, Kochi, Thiruvananthapuram. A dedicated website for the purpose of getting an eVisa is already functional. However, you will have to pay an additional fee to use the service. Visit https://indianvisaonline.gov.in/ to see if you can use the facility as yet.
Eligibility
PURPOSE: The Indian Government considers only four possible intentions as innocent. These are recreation and sightseeing, casual visits with friends and family, short duration medical treatment and casual business visits. Our apologies on not making a category for self-discovery.
PASSPORT: The original document should be valid for another six months from arrival and have at least two blank pages to fill up with Indian stamps. However, Pakistani Passport holders or people of Pakistani origin are not provided with this convenience. They must apply directly at India Mission for regular passports. Diplomatic/Official Passport holders, those endorsed on Parent's/Spouse's Passport and International Travel Document Holders will also have to make do with the regular method of obtaining visas.
Application requirements
PASSPORT: Submit a scanned copy of your passport's information page online here. However, make sure that it's signed and valid for 6 months beyond your stay in India. It's always good to have a full of blank visa pages for all your fun travel plans. Don't forget to carry it with you on your trip!
PHOTO: If you have a digital copy of a passport-sized photo, upload it to the website. If not, you could also use a scanned photo of a regular passport photo instead.
PROOF OF DEPARTURE: A confirmed round trip ticket always helps. As they know you're not trying to sneak in and start a new life.
PLEASE NOTE
For applications to be eligible you must take care of 2 conditions. Firstly, submission no later than 4 days prior to departure, and no earlier than 34 days before the date of arrival. You might want to consider a traditional visa if you're the kind that likes their itinerary done and dusted well in advance.
You can get a maximum of 2 Electronic Travel Authorizations (ETA) in a year. From which one would provide a maximum stay of 30 days.
You can pick-up a visa on arrival at Bangalore, Chennai, Cochin, Delhi, Goa, Hyderabad, Kolkata, Mumbai, and Trivandrum ONLY.
Carry a copy of ETA at the time of your travel (obviously).
Your visa is usually processed and issued in 3 business days (if approved).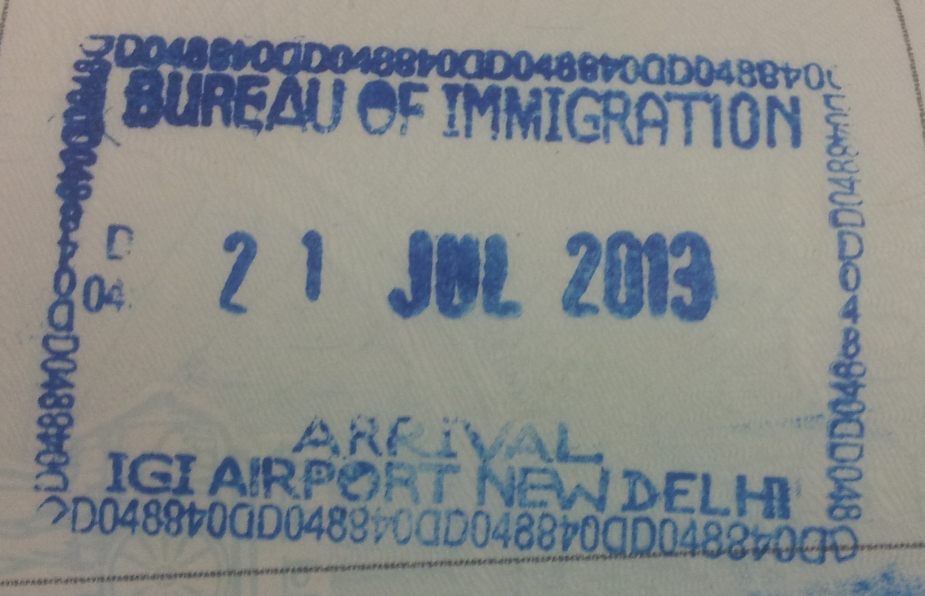 Visa Stamp
A word to the wise
The ease in the process of obtaining a visa will sure boost tourism. Accordingly, India's inbound tourism is expected to double in the next 2 years. In other words, if you aren't a fan of too many tourists, this new development may be a bit disappointing.
But if you plan and book in advance, choose your destinations smartly with a good advice, you're likely to have a great time. So do let us know if you are planning a trip to India and we would be happy to help!
Happy bureaucratizing to you!
helping you travel your way
Everything you need to know about India is here We have tried writing about everything you may need help with for your trip to India, If you need help in planning a trip to India Get in touch with us to to plan your trip of a life time.