Yoga Retreats In India
Stop whatever you are doing, close your eyes, and focus on your breath for a minute. How do you feel? Relaxed? At peace?! This is just a preview of what it's like at a Yoga retreat. If you are yearning for such an experience, breakaway from the mundane. Simply pack your bags, and get set for a journey of self-discovery at an Indian Yoga retreat.
There are multiple yoga retreat centres across the globe. However, what better country to practice this ancient technique, than where it originated. Being a yoga hub, India has tons of retreats for you to pick from. To make it easier, here is our list of the Best Yoga Retreats in India. They're tried and tested, and definitely worth the visit.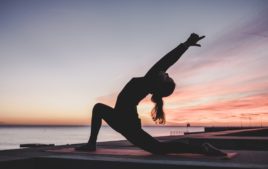 Stretch it out by the beach.
The Anahata Retreat, Goa
Goa is more than just parties, alcohol, and living the hippie life. Take a break from it all and experience a different side of this beautiful city. Allow yourself to connect with your inner being and to be one with nature. The Anahata yoga retreat in Goa will guide you to do this in the right way.
They offer group packages and have a pre-planned schedule that lists the different retreats, hosted by international yoga teachers. So before you start to chalk out your itinerary, take a look at their website. Do some reading and pick the form of yoga that you find most interesting. Goa is dotted with multiple yoga centres, however, Anahata definitely tops our list of Yoga retreats in India.
This eco stay is surrounded by nature, surrounded by palm-fringed beaches. The meals are nutritious, yet just as delicious. This centre is the ideal retreat that enables you to embark on a spiritual journey.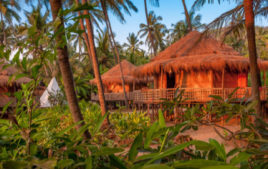 Anahata retreat is surrounded by greenery creating the perfect ambience for a yoga centre. (Photo Credits – TripAdvisor)
Ananda in the Himalayas, Rishikesh
If you are looking for a luxury yoga retreat in India, Ananda is the perfect yoga centre. Embark on your journey of self-discovery, at Ananda in the Himalayas. This Yoga retreat in Rishikesh, India, is one of the best there is. Rishikesh being the Yoga Capital Of The World, has the ideal ambience for a yoga centre. The positive vibe of the city and the property itself, add to the beauty of this retreat. They have a variety of holistic wellness programs from ayurvedic treatments and weight management programs to self-realization programs. You will definitely leave feeling like a whole new version of yourself. A destressed version, relaxed and rejuvenated.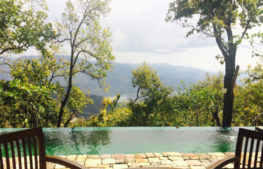 Mesmerizing views of the Himalayan ranges at Ananda in the Himalaya (Photo Credit – TripAdvisor)
Swaswara Yoga Resort, Gokarna
Swaswara in Gokarna goes above and beyond for its guests. They offer experiences that are not just restricted to yoga, but also motivates you to indulge in other therapeutic activities. From interactive cooking classes, to art and pottery sessions, to the art of meditation. The yoga workshops take place on a private hilltop with jaw-dropping views. What makes this one of our favourite Yoga retreats in India is the overall experience. The modern take on self discovery through various art forms helps you connect with your inner being.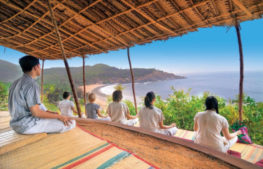 Travelers enjoying meditating on the hilltop perch at Swaswara Yoga Resort (Photo Credits – Booking.com)
Atmantan Wellness Resort, Maharashtra
Want to get away from the hustle and bustle of the chaotic city life? Atmantan Yoga Retreat is your perfect escape. About a 4-hour drive away from Mumbai, this hidden gem is the solution to all your problems. They run on the philosophy of educating and inspiring guests through enhanced lifestyle choices. This is what differentiates the Atmantan Yoga centre from other yoga retreats in India.
From the kind of food you eat, to your daily routine, they encourage a healthy way of living. So rest assured, you're in for some long term lifestyle changes. Changes that will help you cope with the stress and struggles of your daily life. They conduct their yoga sessions just by the lakeside which helps create the perfect ambiance. The picturesque setting is ideal for you to unwind.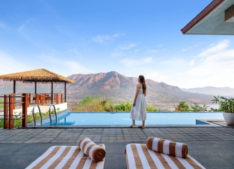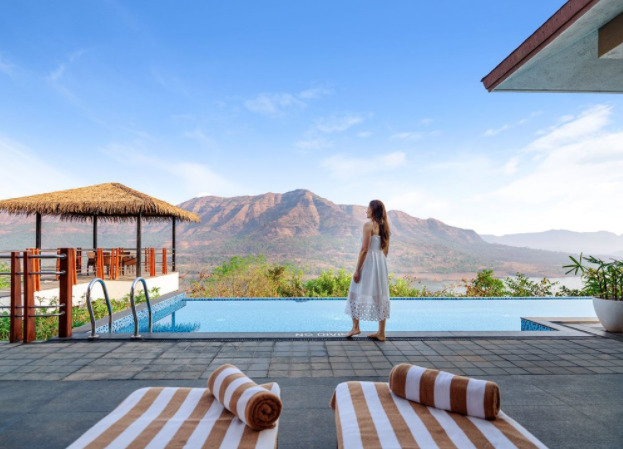 Take in the breathtaking views at Atmantan Wellness Resort, Pune (Photo Credits – Tripadvisor)
Parmarth Niketan, Rishikesh
Another one of our favourite Yoga retreats is Parmarth Niketan. It is among the many other Yoga retreats in Rishikesh, India. Here, you're encouraged to live a simple and wholesome life. If you are on a budget and are looking for an authentic Indian yoga retreat, look no more. Set by the banks of the holy Ganga, you will feel refreshed and rejuvenated by the mere beauty and ambiance of Rishikesh.
From a beginner's yoga retreat to a complete yoga immersion retreat, they cater to various needs and preferences. They have various packages based on your interests, budget & time constraints. The ashram does have a schedule, however, it does not have to be strictly followed. There is an evening Ganga Aarti that takes place just outside the ashram. The Aarti is an unmissable experience, whether you're at the retreat or just visiting Rishikesh.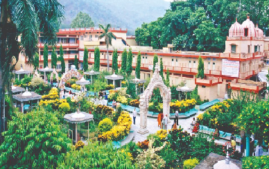 Feel the peace and calm at Parmarth Niketan Ashram, Rishikesh (Photo Credits – Tripadvisor)
AyurYoga Eco Ashram, Mysore
AyurYoga Eco Ashram is set on the banks of River Kabini, in the serene countryside of Mysore. The pristine beauty of this place takes you on a spiritual journey. It allows your mind and soul to truly rejuvenate. This Yoga centre has many packages, from 30 days yoga courses, to 2 week Ayurvedic packages.
Here, you not only learn about yoga and the asanas, but also the philosophy and science behind it. The teachers here help you understand how to apply the learnings of your retreat in your daily life. Besides the yoga courses and ayurvedic treatments, they also have other classes. Some of these include, Yoga and Art therapy, Thai massage classes, and Reiki healing courses. Not only is it one of the best Yoga retreats in India, it is also one of the best eco stays for those seeking a spiritual experience.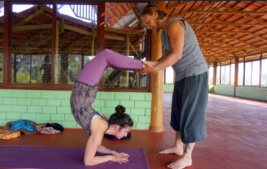 Intensive teacher training programs at AyurYoga (Photo Credits – ayuryoga-ashram.com)
Amrutham Ayurvedic Village Resort, Trivandrum
After Rishikesh, the next best place to familiarize yourself with traditional Ayurvedic and yoga practices, is in Kerala. This Ayurvedic Resort believes in the practice of freeing your mind and body from any toxic thoughts. The practises are focused on relieving yourself from the everyday stress and baggage. It helps you escape the chaotic urban lifestyle through yoga, meditation, and Ayurveda. If you are looking to destress, and connect with your soul, this is the perfect place for you.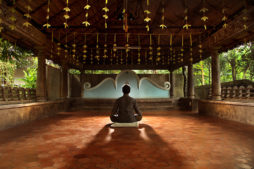 Meditating at the yoga centre in complete solace.
Anahata Healing Arts Center, Mysore
Set in a remote village close to Mysore is the Anahata Healing Arts center. Live a simple life, and feel one with yourself and nature, through yoga and meditation at this retreat. What makes it unique is that they do not have fixed schedules for guests. They believe that everyone has their own natural rhythm. They allow you to simply stay in tune and connect to this rhythm. The healing process involves making use of the various facilities at Anahata. You can enjoy other activities like cooking, henna art, and organic farming. Though it is different from what most Yoga principles are based on, it's methods have proved extremely beneficial. The key is to immerse yourself and make the most of what this center has to offer.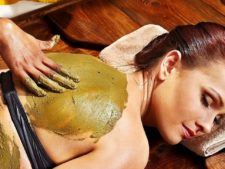 Ayurvedic Massage Therapy to help destress and feel rejuvenated.
(Photo Credits – Unsplash)
Traditional Yoga is a lot more than just asanas and testing your flexibility. Yoga and India are almost synonymous. Millions of tourists come to India to practise this ancient technique and rejuvenate their mind, body and soul. It is the perfect way to escape your hectic life and simply unwind. Yoga retreats are a way to connect with your inner being, a scientific practice that has become popular at a global level.
helping you travel your way
Everything you need to know about India is here We have tried writing about everything you may need help with for your trip to India, If you need help in planning a trip to India Get in touch with us to to plan your trip of a life time.