What to expect at Ranthambore National Park
One of the more popular and absolutely fantastic tiger reserves of India, Ranthambore National Park joins its counterparts in having seen a steady increase in Tiger populations. It is now pegged at well over 70 tigers, making your chances of sighting the majestic creature that much higher during a safari.
The Ranthambore experience is all about the game drives (safaris), and we recommend going on at least 3 during your stay. There are 2 safaris a day, an early morning safari that starts around 6 a.m., and an afternoon safari starting around 3 p.m. Each safari takes around 3 hours, and you are picked up and dropped back to your hotel.
We recommend spending the rest of the time relaxing at the hotel, we usually book a hotel with a pool so you get a break from the heat. Your Ranthambore accommodation will include all meals and an afternoon trip to the Ranthambore Fort as well.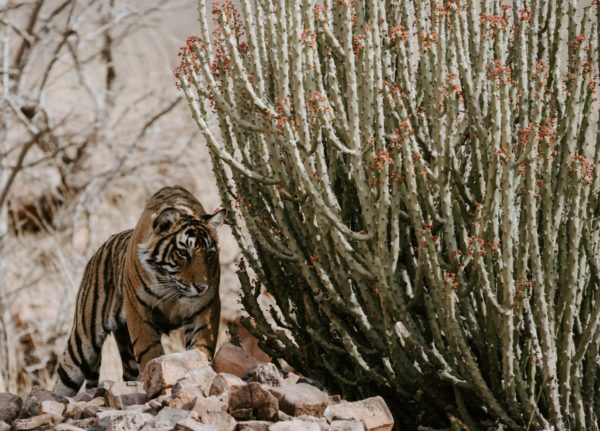 At Ranthambhore, the Bengal Tigers greet you! – Photo Credit Annie Spratt.
Are three safaris necessary?
The forests are beautiful, and bursting with wildlife. You will see innumerable deer (spotted and sambar), monkeys, gazelles, mongooses and a range of gorgeous birds, and if you are lucky you will spot sloth bears, leopards and the ever elusive tiger. In order to maximise your chances of seeing wildlife, and especially a tiger, we recommend going on three safaris; this will ensure you make the most of what Ranthambore has to offer.
Less than 25% of Ranthambore Park is open to tourists, and this is further divided into ten zones. Each zone is an independent area with no overlap. We will book you in different zones, so you get to explore a new part of the forest on each safari.
Will we spot a tiger?
We can't make any promises, but if you choose to go for the sake of the experience, you will not be disappointed! Having said that, on recent trips our guests have spotted a tiger at least once during their safaris, and even more than once on few occasions.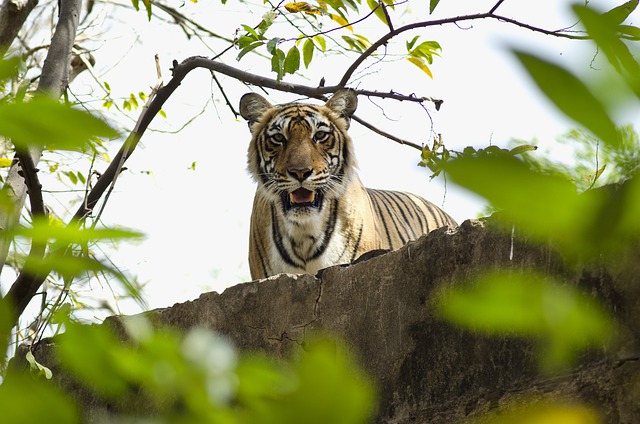 When is the best time to spot wildlife at Ranthambore National Park?
Go when it is hot and dry and your chances of spotting wildlife at any national park are the highest. It is at this time that you will always see a variety of wildlife by the watering holes, while the rest of the park dries up.
Mid March to June end and the month of November are excellent months for wildlife spotting in Ranthambore, alongside the winter months of December, January and February. The months of May and June see the least tourists, due to the excessive heat.
How the Safari works?
There are two safaris a day, the morning safari (starts at 5:30 a.m. in summer / 6:00 a.m. in winter) and the evening safari (starts at 2:30 p.m. in winter / 3:00 p.m. in summer). You are picked up and dropped back to your hotel, and you spend a little under 2½ hours in the park.
There are two vehicles used for the safari: an open six-seater jeep and an open twenty-seater bus (canter). We always try and get you booked in a jeep as it can cover more ground quickly and get in better proximity to the wildlife. However, the safaris need to booked well in advance (at least two months), and if open jeeps are sold out we will book you on a canter.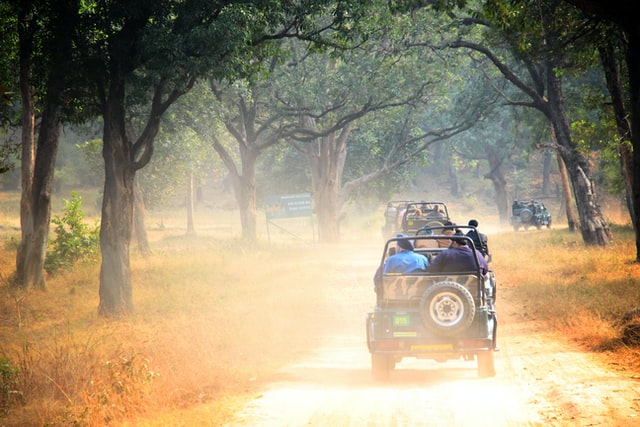 Make sure you book your wildlife safaris well in advance
How touristy is Ranthambore?
We will not lie, Ranthambore is a popular national park that draws tourists due to its large tiger population, and can be easily accessed especially while touring Rajasthan. That being said, the number of jeeps and canters (a total of 20, sometimes stretched to 24 during peak season) entering each zone are limited, which further gets dispersed within each zone. When one vehicle spots a tiger, calls are made and other vehicles will soon gather around.
The bottom line is, you will see tourists and you will see other vehicles, but you still get an unforgettable view of the wildlife. Overall, Ranthambore offers great variety to a sightseeing tour across Rajasthan. The forests are beautiful and you see a variety of wildlife, the accommodation is relaxed and the food is great!
India is home to nearly 50 tiger reserves
India has over a hundred national parks, half of which are tiger reserves (a national park that has a resident tiger, or tiger population).
The national parks of central India are ideal for tiger spotting, as it's drier forests minus the thick undergrowth make sightings that much easier.

Kanha, Bandhavgarh and Pench in Madhya Pradesh, and Tadoba National Park in Maharashtra are amongst the finest national parks in the country.

Corbett National Park at the foothills of the Himalayas have dense forests and wild elephants, alongside tigers, leopards and other wildlife too.

Dudhwa National Park and Kaziranga National park are both home to the rare one-horned rhinoceros.

Bandipur and Nagarhole National Park are beautiful dense forests in south India.
Do let us know if you would like us to plan a wildlife-focussed holiday to India, in which case your entire itinerary would be planned around different national parks. And if Ranthambore has caught your eye, simply click on 'Plan My Trip' and let's get started
helping you travel your way
Everything you need to know about India is here We have tried writing about everything you may need help with for your trip to India, If you need help in planning a trip to India Get in touch with us to to plan your trip of a life time.