Things to do in Pondicherry
Created by Schnel Sequeira,
Last Updated on September 21, 2023
Unlike most of the cities in Tamil Nadu, Pondicherry is very refreshing and pleasing to the eyes. With a blend of the French culture due to their rule for over 200 years in this town, the territory is distinctly divided into two. On one side you have a town of croissants and crêpes, known as the French town (White Town) and the other the town of Dosas and eating from a banana leaf also called the Tamil Town (Native town).
Pondicherry is an emotion, one that's difficult to articulate in words, but Suraj Rahul couldn't have been more accurate in his description of this quaint town.'You are in Pondy, if you see the walls as a background, then you are in Pondi, If you find people doing meditation in the beach, then you are in Pondi, you are in Pondi, if you find peace by walking down the street, then you are in Pondi, if you see people are happy riding cycles, then you are in Pondi, if you feel like home away in home away in one day, then you are in Pondi' , he said.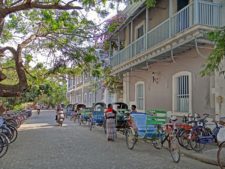 Cycling streets of Pondicherry (Picture Credit – Jean-Pierre Dalbéra)
Pondicherry is laidback, aesthetic, not too intense and most importantly has some cheap alcohol (thank you tax waivers for a few drunk nights), enjoy Pondicherry as she allows you to just be you and take back memories of more than just a pretty town but a memory of the happy place on your itinerary!
Here are some of the top things to do in Pondicherry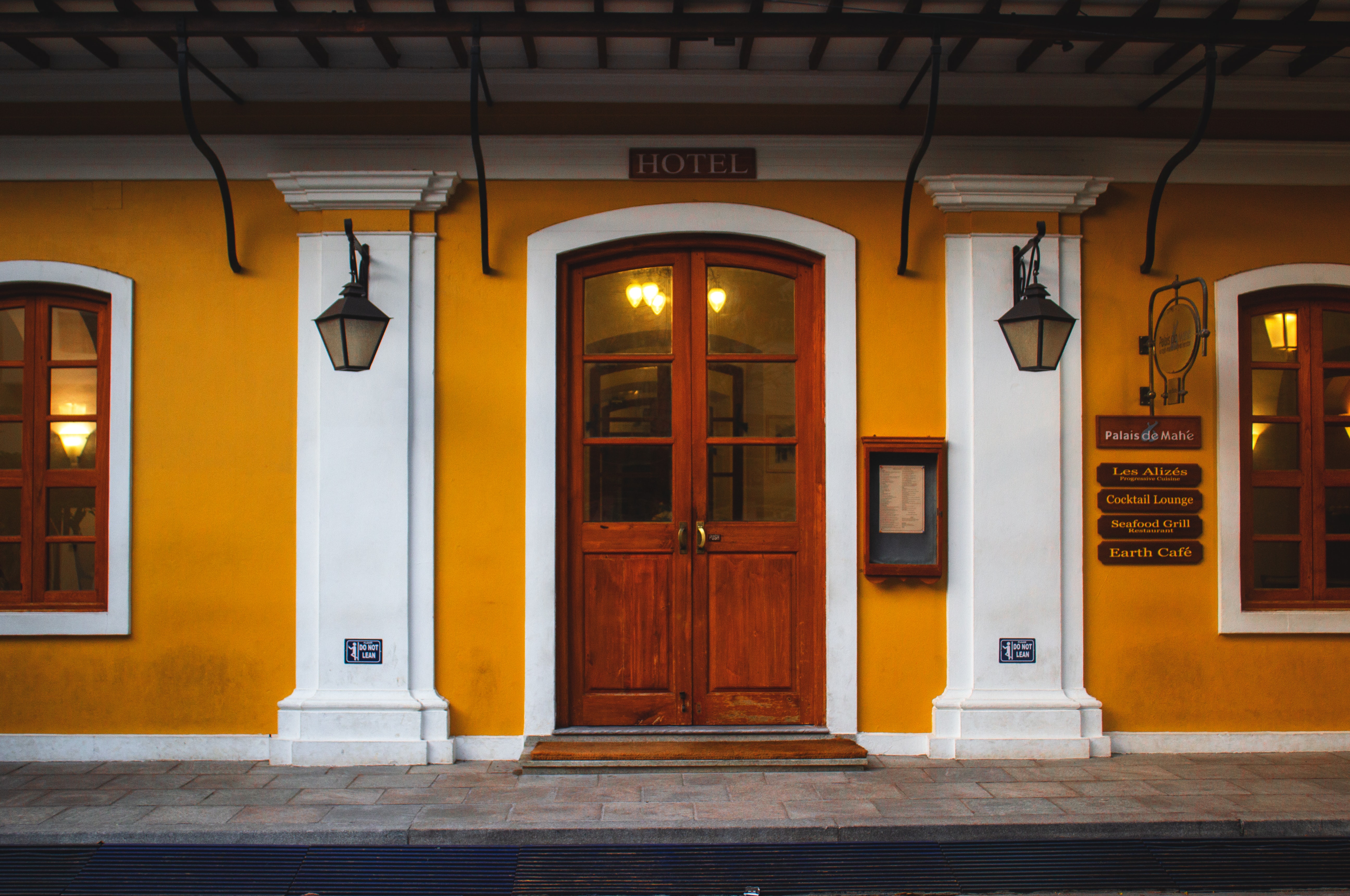 A heritage hotel in the white town of Pondicherry, standing out with its vibrant colours and French architecture.
spend a day at Auroville Town
If you've ever wondered what it would be like living in a society in peace and harmony, without religion, politics and nationalities coming in the way? Auroville in Pondicherry is the best example for the world! This experimental township is 20 mins from Pondicherry, attracts people from all over the world, many of which are permanent residents following Shri Aurobindo's philosophy.
You can spend half a day soaking in the place, going to the cafes, interacting with the people there or indulging in some shopping. The main attraction is the Matrimandir where you can go meditate, however only if you are really interested in meditating and getting in touch with your inner self, make sure you don't miss entering this golden dome at any cost. You have to go a day prior and get a pass, you can only get this in person.
VISITING HOURS: 08:00 to 12:00 hours, 14:00 to 18:00 hours
ESTIMATED TIME: Half A Day
COST: Free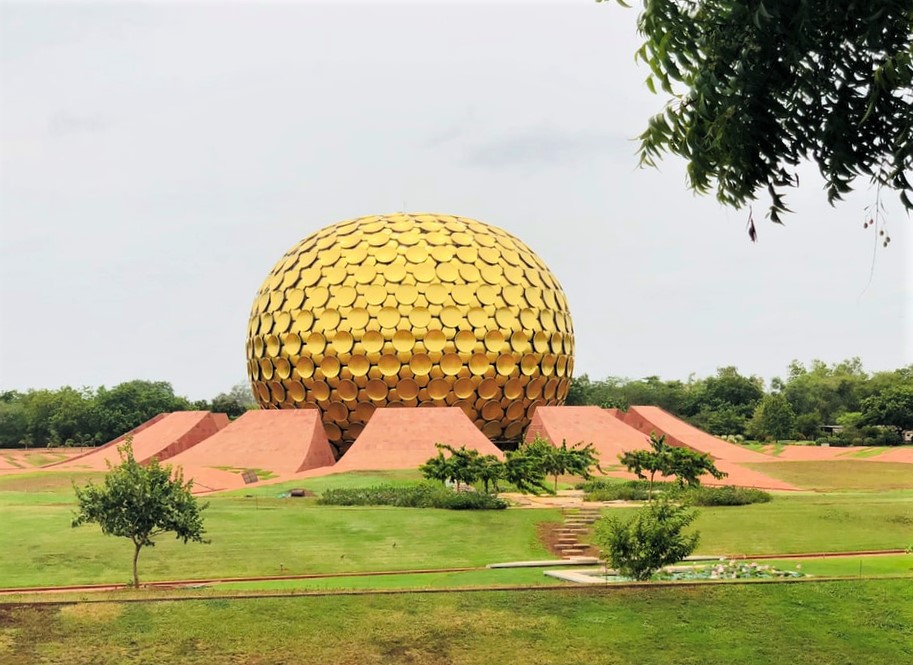 Matrimandir at Auroville Town. – (Photo credits: @mrinalrai_Unsplash)
Sri Aurobindo Ashram – A peaceful escape
If you have heard of Pondicherry you've definitely heard of the Aurobindo Ashram. This Ashram was founded in the year 1926 by Mirra Alfassa (also known as 'The Mother'), Auro Bindo and his followers (disciples). This ashram has gained a lot of recognition for the work they have done as a whole.
The ashram houses a mausoleum of 'The Mother' along with a library which speaks about Auro Bindos teachings. There is also a craft centre which sells Ayurvedic products and other handmade items. Overall while visiting this ashram get ready to get in touch with your spiritual side because of the serenity and silence maintained by the disciples there.
VISITING HOURS: 08:00 to 12:00 hours, 14:00 to 18:00 hours
ESTIMATED TIME: 1 hour
COST: Free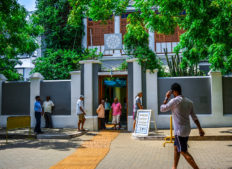 The entrance of Aurobindo Ashram, Pondicherry (Photo Credits – Avinash Singh)
Enjoy The Beaches Of Pondicherry
When in Pondicherry, you have to make sure you visit the pristine beaches here! As most of them are rocky and don't have the ideal waves to enjoy a swim, we would suggest avoiding going for one. However, that should not stop you from enjoying the fresh breezes and dipping your legs in the ocean.
Some of the best beaches to visit in Pondicherry include
Paradise Beach; you need to take a 15 min boat to get to the actual beach. Do note this ticket will be a restaurant ticket and will have a minimal fee. You will find a lot of travelers at the beach but it should not stop you from sipping on your pina colada and enjoy the sound of the waves.
There is also the Promenade Beach, where you can sit on the rocks and reminisce about your time spent in Pondicherry. Perfect to watch the sunset and relax.
Auroville Beach has some of the most spectacular sunrise views of Pondicherry. Mahe Beach is also a great visit especially at sunrise to watch the fishermen at work.
In case you are looking at surfing then your go-to beaches are Serenity Beach and Banyan Beach.
VISITING HOURS: 24 hours
ESTIMATED TIME: 1 hour
COST: Free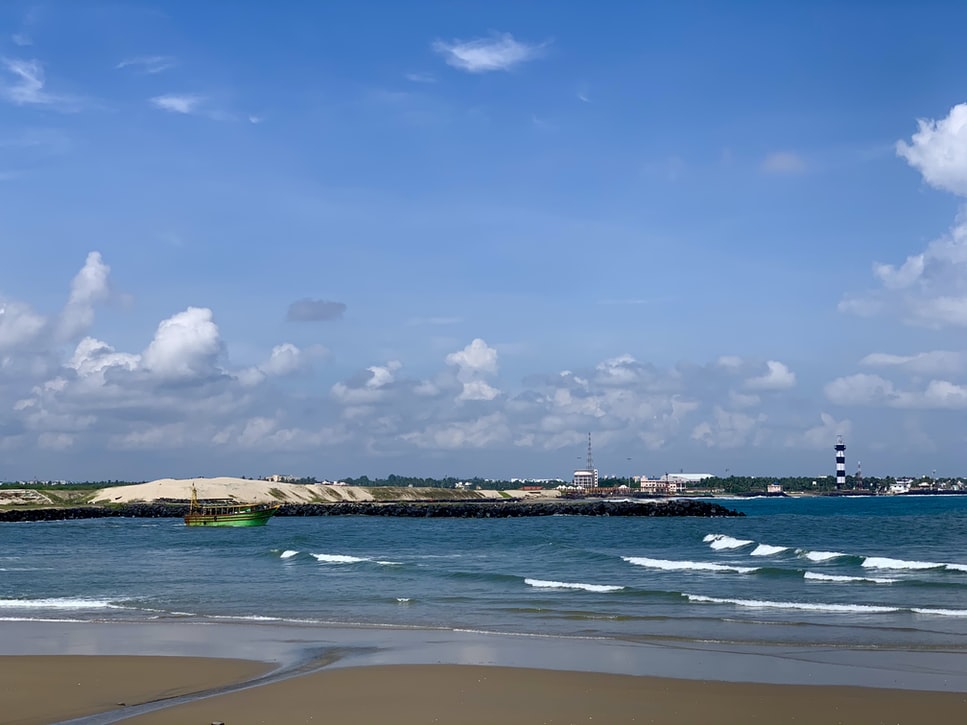 Veerampattinam beach, the lengthiest and one of the most beautiful beaches of Pondicherry.
the holy Churches of Pondicherry – A divine experience
The churches in Pondicherry will make sure you look at them not once but twice! The architecture and simplicity of these churches have a way of getting to you. The most important one being in the French town, is, 'Eglise de Notre Dame des Anges', with its pastel pink colour structure, symmetrical design and gorgeous interiors will catch your eye.
You also have 'The Immaculate Conception Church', flaunting its Roman style of architecture, what makes this church special is the paintings by Napoleon III, along with a visit made by the kindest lady 'Mother Teresa', more so this church is over 300 years old!
And the last that you can add to this list is, 'Basilica of the Sacred Heart of Jesus', with its Neo-Gothic style of architecture, this church is more simple, yet the stained glass windows, white and brown arches, and chandeliers make it exquisite! Make sure to stop by at least the