Things To Do In Amritsar
Founded by Sri Guru Ram Das ji, the fourth Guru of the Sikhs, in the 15th century, Amritsar is among the most important cities in Punjab. Besides being a major commercial hub, it is also the prime cultural, and transportation centre. This charming city is approximately 25 km away from the Pakistan border. It is commonly referred to as the holy city of the Sikhs. It's highlight is the majestic Golden Temple, besides the various places to visit in Amritsar and an endless list of things to do.
If you are looking for a bit of history, delicious food, a cultural and spiritual experience, Amritsar is just the place to visit. With bustling streets and a mesmerizing vibe, the city is truly one of a kind. The warmth and hospitality of the locals adds to the charm of this holy city!
Here's our guide on the top things to do in Amritsar.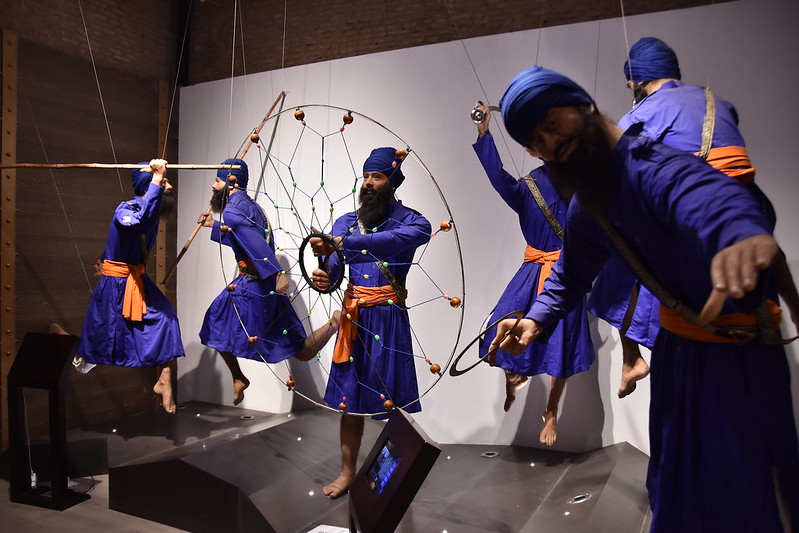 the Sikh 'gatka' static exhibit in Maharajah Ranjit Singh Museum And Panorama (Credit_shankar s.)
The Golden Temple – A HOLY SHRINE
On a lookout for the best places to visit in Amritsar? The Golden Temple is the first place that anyone you ask, will recommend. Located right in the heart of Amritsar, it is the most significant place of worship in Sikhism, also known as the Harmandir Sahib and Darbar Sahib. The golden temple is actually just a small part of the huge Gurudwara complex. This temple is made of pure gold, precious stones, white marble and is built on a rectangular platform. It is surrounded by a pool of water called the Amrit Sarovar. It is one of the most wisely visited places with over a lakh of followers and tourists coming in on a daily basis.
Walking around the complex and admiring its architectural beauty is a great experience. Do make it a point to visit the temple early morning when the Guru Granth Sahib is chanted for a spiritual experience. Also visiting the temple in the evening is a different experience as it's less crowded, very peaceful and extremely beautiful to see the reflection of the temple in the water when it's lit up.
As it is a sacred place, please avoid wearing shorts and short dresses. While entering you will be asked to cover your head when entering so we suggest carrying a scarf. If you forget to do so they will provide you with one or you can buy one on the way. Also, you will have to deposit your shoes at shoe counters and you will receive a token. Don't lose this if you want your shoes back.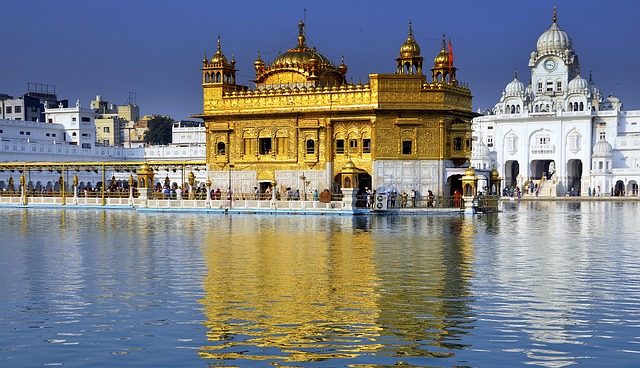 The Golden Temple in Amritsar in one of the most sacred spots for sikhs from all around the world and is also one the most visited tourist spots in India.
Guru ka Langar – Have a meal in the world's largest kitchen!
Initiated by Guru Nanak Dev Ji, Langar is a community kitchen where the volunteers from the sikh community serve free meals to everyone regardless of race, caste and religion. Langars are served in all Gurudwaras but the Langar in Amritsar is the worlds largest! They serve more than 50,000 people daily and more than 100,000 on festivals.
The food is prepared by the volunteers who chop, clean, and cook the veggies and even wash the dishes. The food is vegetarian and nutritious and the meals usually are roti (flat bread), rice, dal (lentils), and kheer. Sitting on the floor with the others and having the delicious meal is very unique as you not only get to interact with the locals, experience the culture but also the hospitality of the community. If you get the opportunity to volunteer in the kitchen or see it, don't hesitate to do so. It's one of the best things you can do.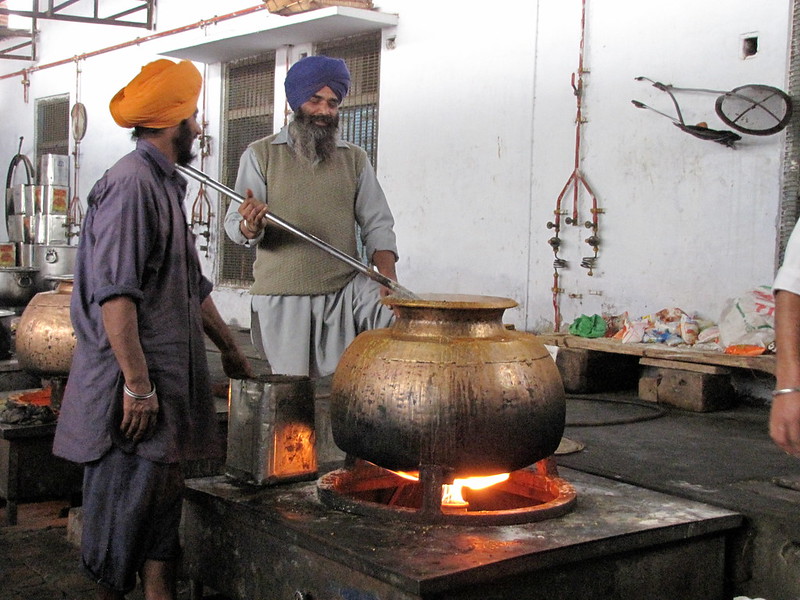 A Community Kitchen usually an integral part of any Gurudwara (Credit_ jasleen_kaur)
Visit the India-Pakistan Wagah border
The Wagah Attari border on Grand trunk road, also known as the Berlin wall of Asia, is the dividing line between India and Pakistan. Since 1959, every evening just before the sunset retreat ceremony known as the 'lowering of the flags' or 'Beating Retreat Ceremony' is held and it has become a very popular tourist destination over the years.
The 30-minute ceremony includes a parade by soldiers on both sides, drills that look like dance moves and high leg kicks, and ends up with both sides lowering the flags of their nations. The ceremony symbolizes brotherhood, an overnight truce and also a bit of rivalry as both the countries put on a show to display their strength.
When you are in Amritsar visiting the border for the ceremony ought to be on your list of places to visit in Amritsar. The experience is one of a kind. You will sense the feeling of national pride on both sides of the border. Thousands of people chant slogans during the ceremony, celebrating their country. The Indian side can often be overwhelming. More than 15,000 visitors daily and over 35,000 on public holidays and festivals gather for this ceremony. However, If there is tension between the countries avoid going at all costs as it won't be the same.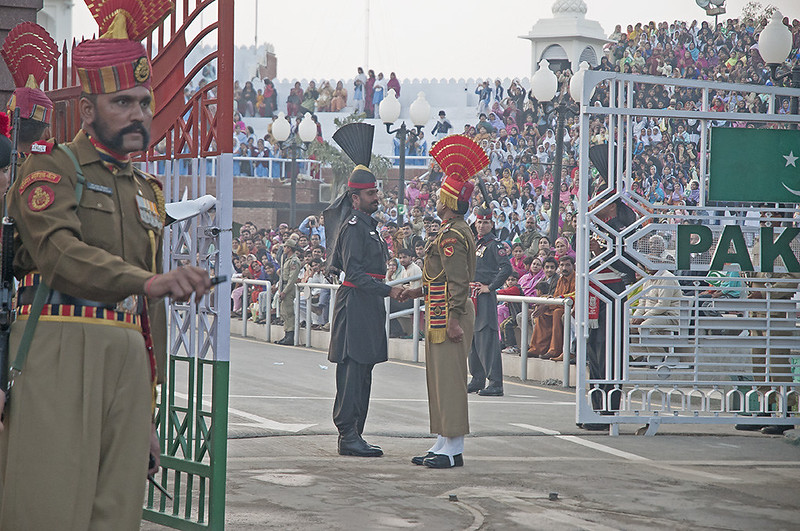 Large crowds gathered at the Wagah border to see the flag lowering ceremony at sunset (Credit_Koshy Koshy)
Shopping at Hall Bazaar
Time to splurge! Located just 10 minutes from the Golden temple, Hall Bazaar is one the oldest markets in the city. The entrance to the market is through the Gandhi Gate which is also known as Hall gate, it also has a giant clock. This busy market has rows of shops that sell electronic gadgets, clothes, ornaments and more. Hall Bazaar is known for its designer Chinese lamps, phulkari embroidery work (floral colourful stitch) and Pakistani juttis (shoes).
If you are looking for an Indian outfit, to wear for your visit to the Golden Temple, simply go here. You'll definitely find everything you're looking for. Also, it's a great place to shop for souvenirs to take back and experience a local Indian market that is bright and bustling. A few other markets you can shop at for authentic local designs and styles are Guru Bazaar, Lahori Gate Market, Rani Ka Bagh, and Shastri Market.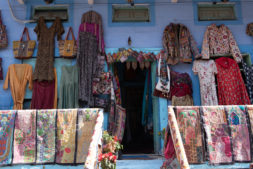 The burst of colour is bound to catch your attention as soon as you set foot in the markets of Amritsar
Bathinda Fort
Situated in the district of Bathinda just 1km away from Amritsar, the fort was built by Raja Dab during the period of 90-110 AD. Since then the fort has had many additions and changes by its new successor. The structure of the fort is like a ship that stands amidst the sand dunes. The Bathinda fort is also known as Quila Mubarak or Gobindgarh and played a very important role for the Delhi Sultanate during the reign of Razia Sultan India's first female ruler.
The fort also includes a Sheesh Mahal (Mirror Palace), the royal residence of the queen, the royal Kitchen and a gurdwara that was built to commemorate guru gobind singh's visit. This fort stands as a witness to its past events and thus has great historical value. It surely is among the best places to visit in Amritsar for all the history buffs out there.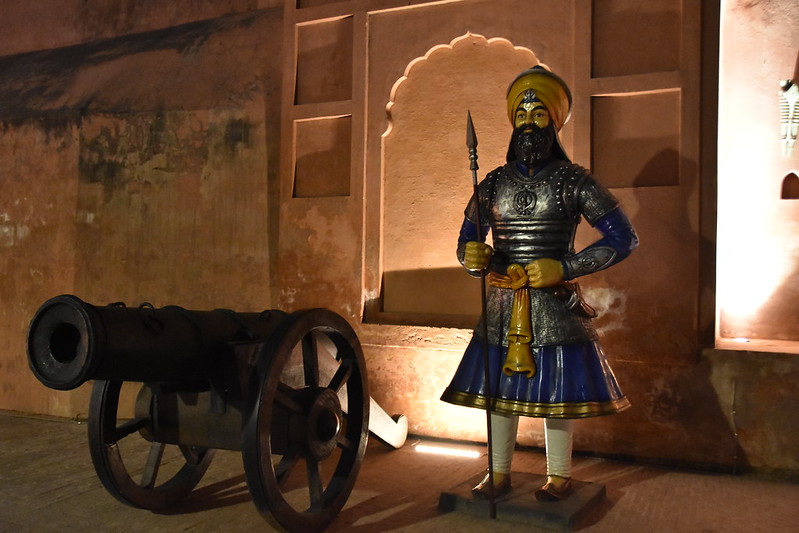 Inner Gate of Gobindgarh Fort(Credit_shankar s.)
Jallianwala Bagh
Located close to the golden temple, Jallianwala Bagh stands as a reminder of India's freedom struggle and the brutal shooting in April 1919 by the British soldiers. Here, they attacked a large, unarmed crowd of Indians. An attack in which hundreds of innocent Indians died and hundreds were left wounded. The incident left a deep scar on the country, and a memorial was constructed for those who lost their lives. The garden was built in 1951 and inaugurated by Dr Rajendra Prasad.
It is a mark of national importance and is one of the most visited places in Amritsar. There is a memorial tablet at the entrance which serves as a record of history. The garden includes a portion of the wall with bullet marks and a well in which many children jumped to save themselves from the firing!
Do visit this place not just for its historical value but also for the sound and light show which takes place in the evening. A show that will give you a glimpse of the incident.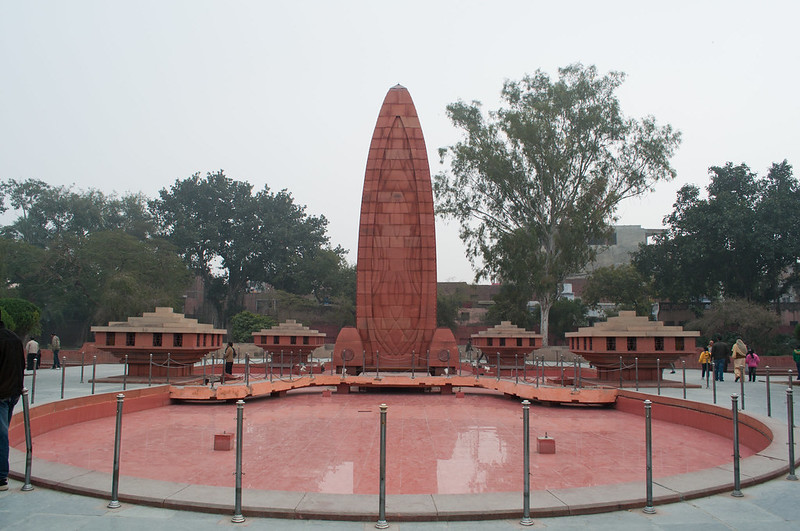 Inside the Jallianwala Bagh Memorial (Credit_Rishabh Mathur)
Try the mouth watering punjabi food!
Amritsar is every foodies paradise and it's time to sample some of the most delicious punjabi food served. The city has a number of street food stalls, restaurants and the famous Dhabbas all over that cater to everyone, vegetarians and non vegetarians. Food is a very important part to the city as it is involved in get together, festivals and even prayers.
Note their food is quite fatty but we highly recommend trying the food as it is completely different but one of the most loved cuisines in India, trust me your cheat day will be worth it. Here's a list of places to visit in Amritsar for some of the most delicious food you'll ever taste –
Ahuja Milk Bhandar
One cannot miss out having a glass of lassi when in Amritsar from Ahuja Milk Bhandar. Lassi is a cooling but heavy drink made of blended yogurt or buttermilk with a few spices, salt or sugar.
Chicken dinner
Looking for some non veg food? No worries Amritsar has so many stalls, restaurants that will cater to your cravings! Head out of your hotel and go on a street food spree. Do try the tandori chicken at Beera Chicken House and kebabs at Surjit Food Plaza.
Kulcha Land
A must try is the famous Aloo Kulchas at Kulcha land. It is a wood fire oven baked bread with a delicious potato filling. This is served with a blob of butter or some tasty chickpeas and a spicy coriander paste.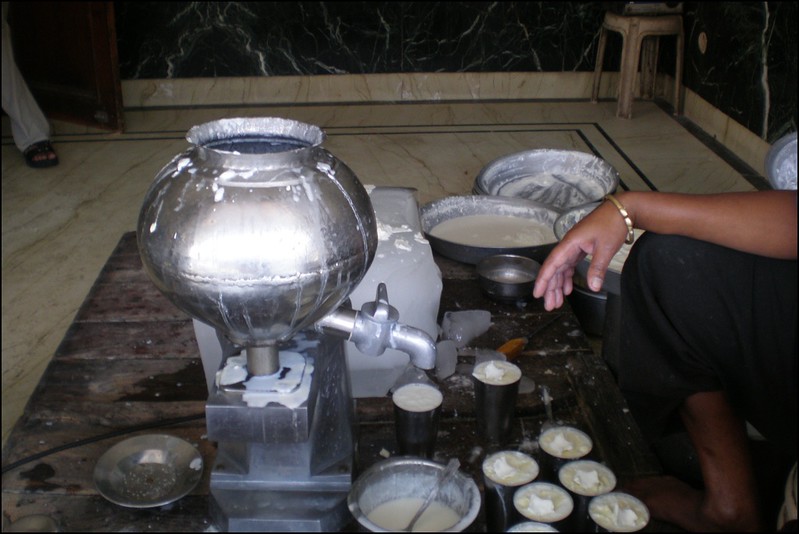 Lassi in Amritsar (Credit_Sean Ellis)
Live with a local
What better way to experience a city, its culture and people. Living with a local is completely different and adds a certain charm, especially a home stay. Staying at their home for a few days and and observing their daily lifestyle adds to the experience. It is also the best way to experience the hospitality of the people. Living with a local makes for an authentic local experience. Especially in a city like Amritsar with a culture so vibrant and unique.
All in all, we'd suggest spending a day or two in Amritsar. Especially since it has so much more to offer than just the Golden temple. Use this list as your go-to guide and you're in for a sheer treat while you explore this lively city. If you're visiting India for the first time, get in touch with us. We'll help plan the ideal trip for you, one that is customized to fit all your needs and interests. If you're in Amritsar, there are several neighboring cities that you ought to explore. Take a look at some of the routes taken up by our past clients. Better yet, simply hit the Plan Your Trip button and we'll help turn your dream trip into reality.
helping you travel your way
Everything you need to know about India is here We have tried writing about everything you may need help with for your trip to India, If you need help in planning a trip to India Get in touch with us to to plan your trip of a life time.