How to Avoid Tourist Traps in Delhi
With only 20 years under her belt, Claire Lovesti has already travelled to 3 continents, 16 countries, and 38 cities! Here's her insider scoop on grabbing a glimpse of the real Delhi.
Travelling always garners that secret sense of adventure; the rush of wandering down an unknown street, the slight fear in tasting a new dish, the unbelievable excitement at discovering another perch in the world that delivers a perfect sunset (because there's millions of them, hidden all over the world).
It's why I travel.
The only thing that ever bars me from visiting a new place is the authenticity I'm likely to encounter – and it's not all about commercialization, it's about the heart. While Disney World to some may seem too pristine, it's the whole Disney experience of walking down Main Street with a recreated vintage theatre on one side and a Starbucks on the other.
Whereas, when I wander into the Great Smoky Mountains and get into a traffic jam because of the busses lined up for Ripley's in Gatlinburg I have to wonder, is this too much of a tourist trap?
On my trip to New Delhi, I was never at a crossroads on whether to make the trip (India oozes with sincerity, it's impossible to miss it), but I did know that it has a propensity for luring tourists away from the real gems.
But how can visitors avoid tourist traps in India? Check out my list of do's, don'ts and everything in between to avoid falling into one of the tourist traps in Delhi.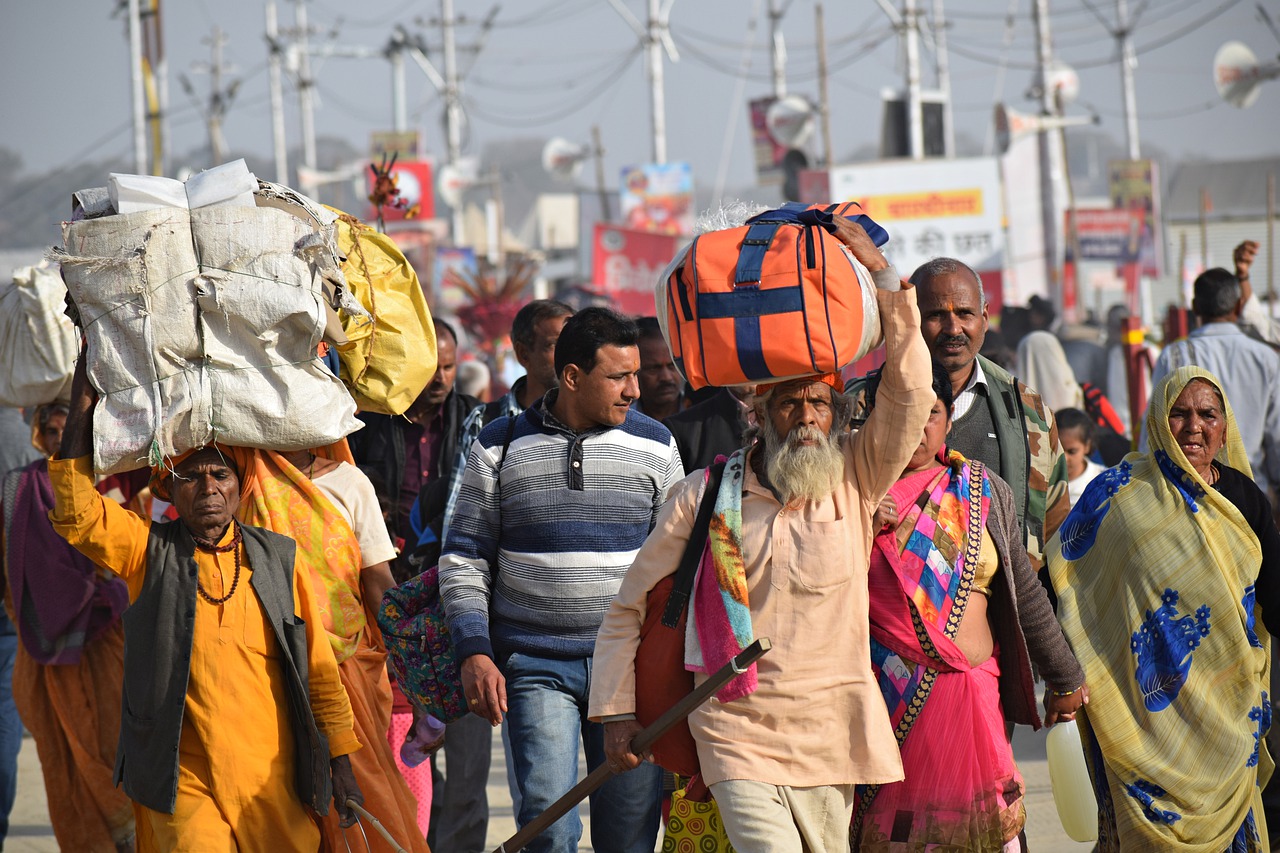 Travelling in India
Travelling
There are a few common tourist scams in India. While I tend to stay away from organized travelling in general (no travel agencies, no group tours), it does seem to make it easier in the long run, which is the main draw. When you're touching down in a foreign place, the temptation to grab anything that seems even the least bit coordinated has multiplied.
But, the key to Delhi is either to strike out on your own with the aid of apps (I like free tour apps that give me a walking guide of the city, like Historypin) or pre-book in advance. Everything from trains to hotels to excursions are going to be more expensive online, but it's also easier to get a feel for whether you're getting the best deal or just the walk around.
If you co-ordinate with an agency like India Someday, you have the hassles of travel and accommodation sorted out giving your explorations even more independence.
Scams in India to Avoid: For trains, be careful that you aren't buying a ticket for the waitlist. For taxis, go with flat fare rides (not private cars) that make a record of your name for the police. When in doubt, book online with a trusted site. Do I sound paranoid? Don't take it personally, I've just been on one too many "great deals" that ended with me seeing nothing but the alleyway of some famous museum and the back of a crowded bus.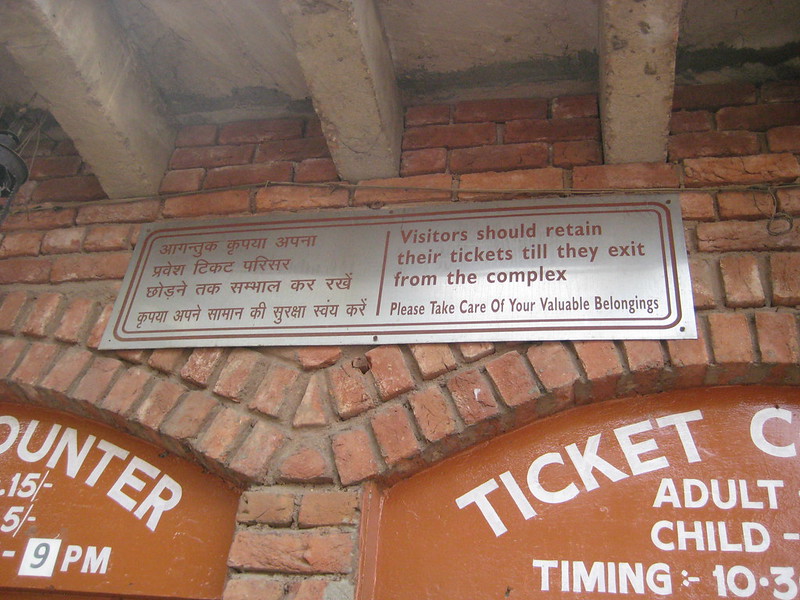 Avoid train scams (Photo Credit – Cambodia4kids.org Beth Kanter)
Popular sightseeing spots
Like any tourist city, there's going to be people hanging around the hot spots hoping to make a buck off the travellers. If you're in Delhi checking out the Red Fort, or wandering into a market that caters to travellers, you might come up against this: beggars.
My first experience with beggars was in Rome with the Roma. While I made classic mistakes there, I keep in mind a couple of things when I travel now that keep me from handing out rupees for every magician in Old Delhi.
If any group surrounds your mode of transportation or group and are performers, it's better to walk away without watching any of it. While some of the performances are interesting (and certainly new to many travellers), if you watch, you should give them some money. If you don't want to hand over any change, get out of there as quickly as possible.
Same goes for shoe shiners, kids, or magical acts – don't let them get more than 10 seconds of their pitch out, it's better to get the heck out of dodge.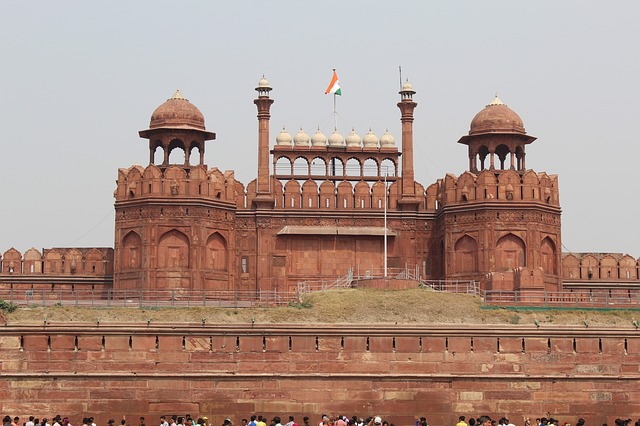 Red Fort (Photo Credit – Prajapati Harsh)
What to bring with you
While travelling, there's always a couple of things I never leave home without, and with Delhi, it's not any different.
Don't worry about clothes; jewellery, clothing, shoes, and other accessories are very inexpensive in Delhi, so if you run out of t-shirts and jeans, it's not hard to find affordable options to tide you over until washing day. Things you might not consider but are essential: water treatment tablets (or something of that sort), insect repellent, earbuds, sunscreen, and a SIM card.
Some of the worst bugs you can pick up abroad are found in the water, so if bottled isn't an option (or you just refuse to pay the big prices) take a SteriPEN with you. It uses ultraviolet light to kill the pathogens, viruses, and all manner of bacteria that can contaminate your water and it's small and travel-friendly. Sunscreen and bug spray are self-explanatory, as are the earplugs (Delhi is a beautiful, cultural mecca, but quiet it is not!).
As for the SIM card, this is a personal travel hack of mine to keep my data working wherever I am without sending my cell bill through the roof (don't tell Verizon). This "hack" doesn't require anything other than picking up a card on the way out of the airport and installing it in my phone. Most work automatically, and if not you just need to unlock your phone. It's easy, the service is cheaper, and you get better bars for making sure Dark Sky tracks the rainstorm heading your way.
You may shake your head at why this is a tourist trap to avoid, but trust me, being a sunburnt, itching, directionless tourist in the streets of Delhi will certainly make an example out of you for the next passersby – it's easier to just avoid with some clever packing!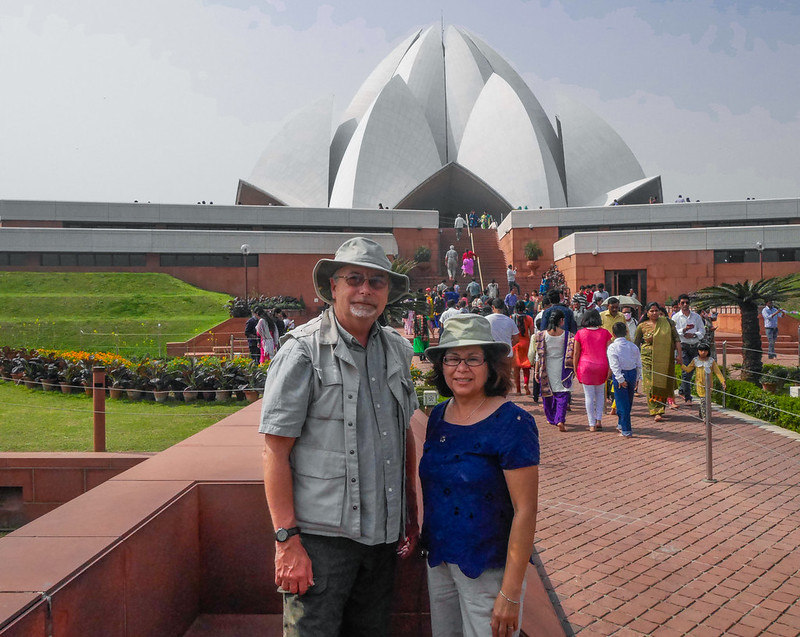 Clients outside Lotus Temple in Delhi (Photo Credit – Jay Galvin)
Shopping
If you see a lot of fanny packs, run.
All jokes aside, when it comes to picking up authentic knick-knacks in Old (or New) Delhi, the key is to look for places offering locally handmade items. As a rule of thumb, the smaller the market is, the better. I suggest hitting up places like Dilli Haat (traditional weekly market, go for the artefacts, stay for the performances and food) or Chandi Chowk (great for fabrics and spices), rather than the Central Cottage Industries Emporium.
I also have a personal preference for not buying any electronics or hardware, but rather traditional handmade items like painted dolls, lanterns, or beautiful sari scarves. For things from Tibet as well as Indian, hit up Janpath and Tibetan Market in Old Delhi for paintings, brassware, and cool jewellery. For a suit, head to Khan Market, and for upscale art and interiors, go for the smaller Sunder Nagar. These markets will be potentially crowded, but it's where all the hidden gems are.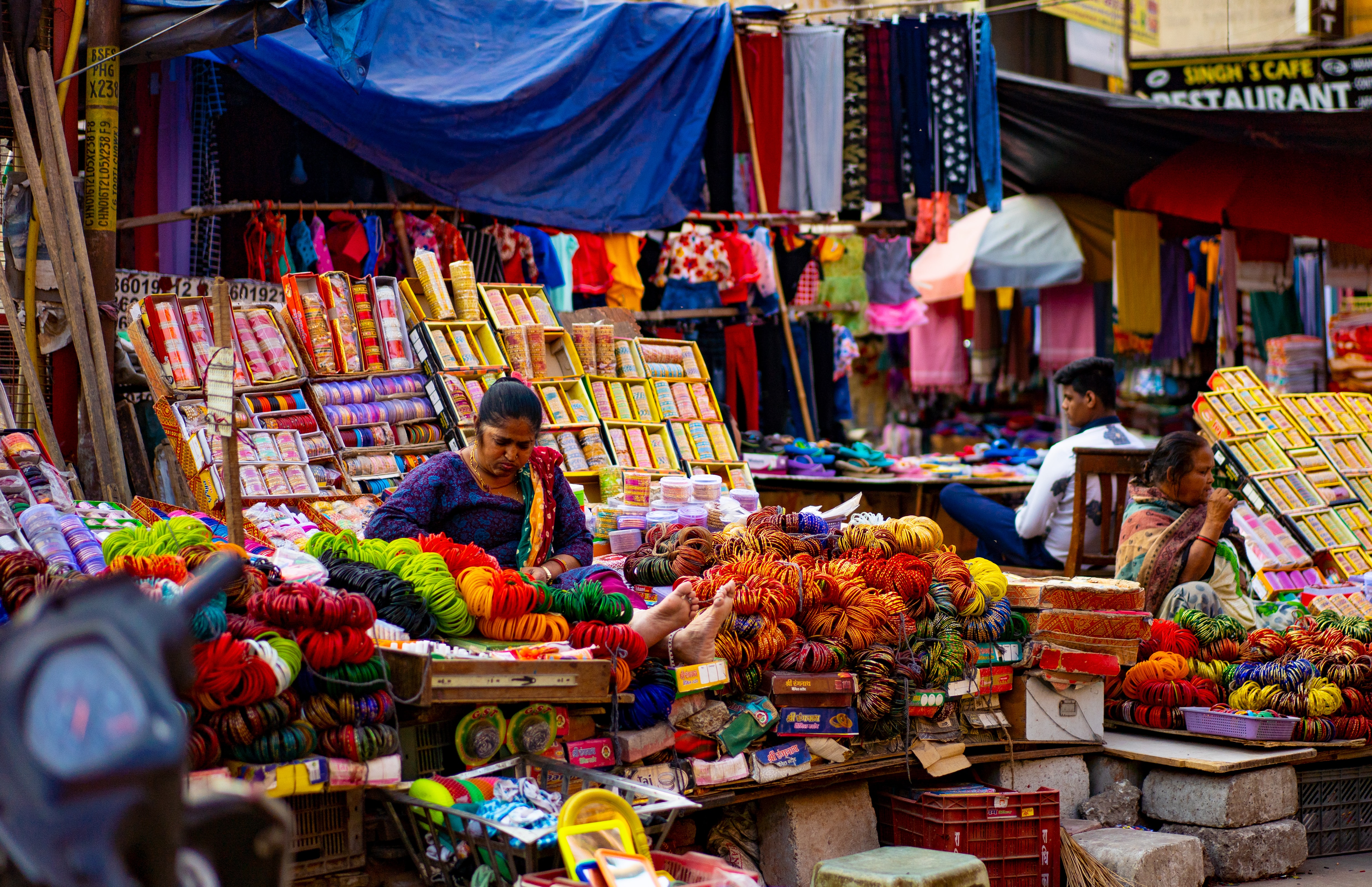 Shopping in India
Cash handling
Don't make a beginner mistake with the money; when it comes to bringing out the cash just remember, less is more.
When wandering markets or looking for streetfood (chaat, phirni, jalebi, and chai are on my list of must-try's), keep a couple of things in mind: haggling here is alive and well, and keeping your bills close to your chest is just a good rule of thumb. Otherwise, you'll be the target for the pocket snatchers in the market (every city has them, I'm not picking on Delhi!).
Whether it's your first time travelling in Delhi or your millionth, there are more charms than dangers in the streets of this old (and new!) city. With careful planning, it's easy to avoid them with ease and get back to what's really important: enjoying the experience.
Have any tips or tricks for making a trip to Delhi better? Leave your suggestions in the comments, I'd love to hear them! Click on Plan Your Trip for your ideal itinerary.
helping you travel your way
Everything you need to know about India is here We have tried writing about everything you may need help with for your trip to India, If you need help in planning a trip to India Get in touch with us to to plan your trip of a life time.