Thing to do in Dharamshala
Dharamshala!! The mere thought of this place paints a serene image, of gorgeous landscapes, in our head. A beautiful city of mountains, scenic views, momos, yoga and the iconic The Dalai Lama monastery. Dharamshala is a well known destination, courtesy His Holiness – The Dalai Lama. He was forced to escape into exile, and seek refuge in a town called McLeod Ganj, one of the most well known towns of Dharamshala. A town that's bound to captivate you with its charm. friendly locals, a cool climate, breathtaking views and some great treks. The highlight is the peaceful vibe of this town that soothes your soul.
One cannot deny the fact that it is the perfect travel destination for those who are looking for solace and serenity. Besides the ambience and landscapes, this place will allow you to embrace your spiritual being as well. Here's our list of the top ten places to visit and things to do in Dharamsala.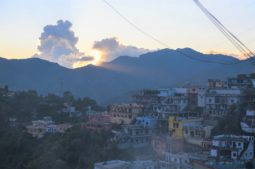 The gorgeous landscapes of Dharamshala that appear surreal especially at the crack of dawn.
The Dalai Lama Temple Complex
The first thing that should be on your bucket list on your visit to Dharamsala is visiting the Dalai Lama Monastery. I can assure you that even if you are not religiously or spiritually inclined, this temple will have a positive impact on you. You get to watch the monks chant their prayers, some in meditation and the views here are something you would not want to miss for anything. An interesting part of this monastery is the Namgyal Gompa, which is a place reserved for the monks to engage in a debate! Trust me, it's really something that you would not see anywhere else. So don't miss it. The debate takes place either in the mornings or afternoon.
It's open from 08:00 am to 08:00 pm all throughout the week. However, the ideal time to go there would be either early morning for a quiet meditation or in the evening, by 04:00 pm to attend the prayer ceremony and witness the monks debate.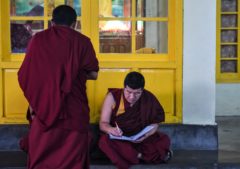 Preparation for the evening debate at the Dalai Lama monastery in Mc Leodganj
Kangra Fort
Well who said that Himalayan region lacks majestic forts like the region of Rajasthan? The Kangra fort which is about an hour and half drive from the main town of Dharamsala, will blow your mind away. This fort is on a cliff and is one of the oldest forts in India, the history dates back to the time during the Hindu epic (Ramayan and Mahabarath). It belonged to the Katoch Family and has survived about 50 attacks. There are 3 temples inside the fort and its history would be as interesting as watching a movie! Make sure you reach the Kangra Fort Terrace at the golden hour as the views of the town yonder and the river is breathtaking.
Do take the audio guide here, there is so much to know and it would be a shame if you left without learning more. The fort is open from 09:00am to 05:30 pm. There is a lot of climbing do you so make sure you have your exercise shoes on!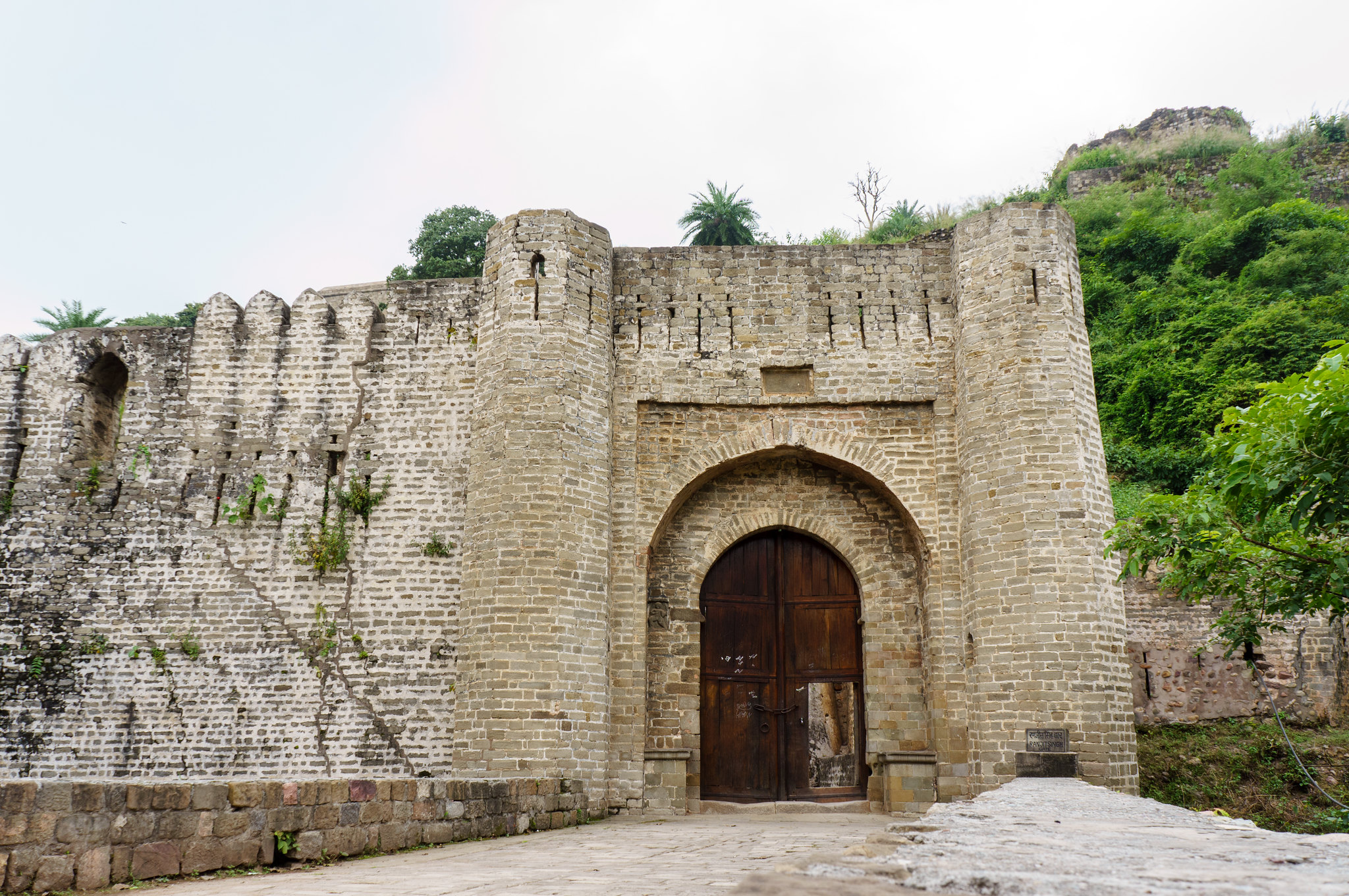 Built by the Royal Rajput family of Kangra State which traces its origins to the ancient Trigarta Kingdom- Photo Credit Mario Micklisch
Dal Lake
Looking for a quiet evening to just do nothing? The Dal lake is a nice peaceful location where you can enjoy some time alone or with your loved ones. The tall pine trees and the beautiful mountain ranges in the backdrop will most definitely make it picture perfect for your social media. If you are lucky and visit this location at the right time you will also get to enjoy a boat ride here. In the month of September, tourists from all over the world flock to this lake to experience The Dal Lake Festival, which is dedicated to Lord Shiva. The tribal people from around the town come to take a dip in the water of this lake. So if you are here in the month of September, you know where you have to be to experience this liveliness.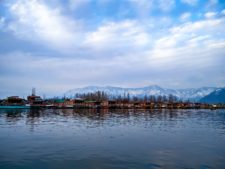 Dal lake with it's breathtaking view and serene ambience is an unmissable sight that ought to make it to your list of things to do in Dharamshala
Paragliding In Bir – A whole new high
Adventure lovers, Dharamsla has just the right activity for you to keep your adrenaline going! About 2.5 hours away from the main town of Dharamsala is where you get to enjoy this activity. They say that this can be done throughout the year, however the best time would be from March to May and October To November. Get a bird's eye view of the beautiful Himalayan mountain ranges, meadows and the untouched scenic locations, while soaring high in the sky. Bir Billing, a small town in Himachal Pradesh, is known worldwide. This paragliding hotspot was the first to host the Paragliding world cup. Looking to fulfill that lifelong dream of flying? soar high and explorethe skies while looking down on mans creation as you indulge in this exciting adventure sport.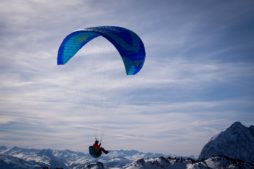 Bir Billing is renowned for Paragliding in India. An adventure sport ideal for all those seeking that adrenaline rush.
The Triund Trek
If Paragliding is too much adventure for you, and you are looking for something less intense, the Trek to Triund is just right. It's not too adventurous yet not too easy. It requires 4 hours of walking, 2 hours of climbing and another 2 hours to come back down. You can either choose to spend the night here sleeping under the stars and climb back down the next day, or you can do it as a day trek. One of the most important things that makes Dharamsala what it is, is it's scenic beauty. Hence, we would recommend spending a night here because it is worth it!
If you still feel that this is too much exercise on a vacation, you can do a small hike up to Bhagsunag waterfall which is right at the base of the Triund Trek. While you make your way up to the waterfall take a very small detour and visit the Shiva Cafe, a nice quirky cafe where you can enjoy a bowl of the classic Maggi Noodles.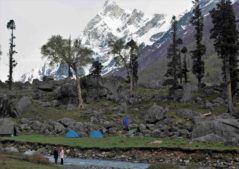 Looking for something exciting to get that adrenaline pumping? The Triund Trek is every adventurers paradise. Scenic views, a gorgeous trail and an adventure of a lifetime.
Shop Till You Drop
The local markets in India are not only fascinating and interesting in terms of what they offer, but you also get an insight on the life and culture of the people. When in Dharamsala make sure to visit the markets of McLeodganj. From Tibetian carpets and mats, to handicraft and carvings on metal and wood, to Kangra tea. This is just a small gist of what all they offer. There are many shops on the Temple Road,Central Square and you can also try Kotwali Bazar. Sometimes you might just catch a few local artisans selling their products there, they also love to chat and give you a whole explanation of how the product is made and how they started the craft.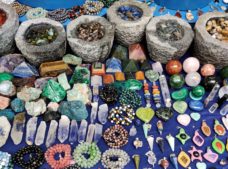 The main square of Mcleodganj that leads to the Dalai Lama Monastery is dotted with shops selling the most beautiful handicrafts. From gemstone accessories to knitted clothing and stone carved idols. A shopping spree you ought to embark on.
Live like a local, with a Local
Living with a local is one of the best experiences during your travels. You will get a real insight on the lifestyle of the locals, at the same time there is a cultural exchange. Living in the typical quaint Himachali homes would be worth it. They are so warm and welcoming, you would feel like home away from home. Here are some of the options for your homestay experience – The Divine Hima – for its hospitality, Navek-La Country Home – for it's jaw dropping views, the hosts are lovely and the bonus is that they have a dog on their property!
The other locations that you would want to stay at are Bhagsus or Dharamkot. As for backpackers who are looking for an even raw experience, you can opt to go to any of the villages. Ask them if you can lodge with them for a couple of nights, they will charge you a very minimal fee. However, do not expect anything super fancy, however you will get to partake in their daily chores if you wish to or even learn more about their customs etc.I can assure you have memories of a lifetime to take back with you.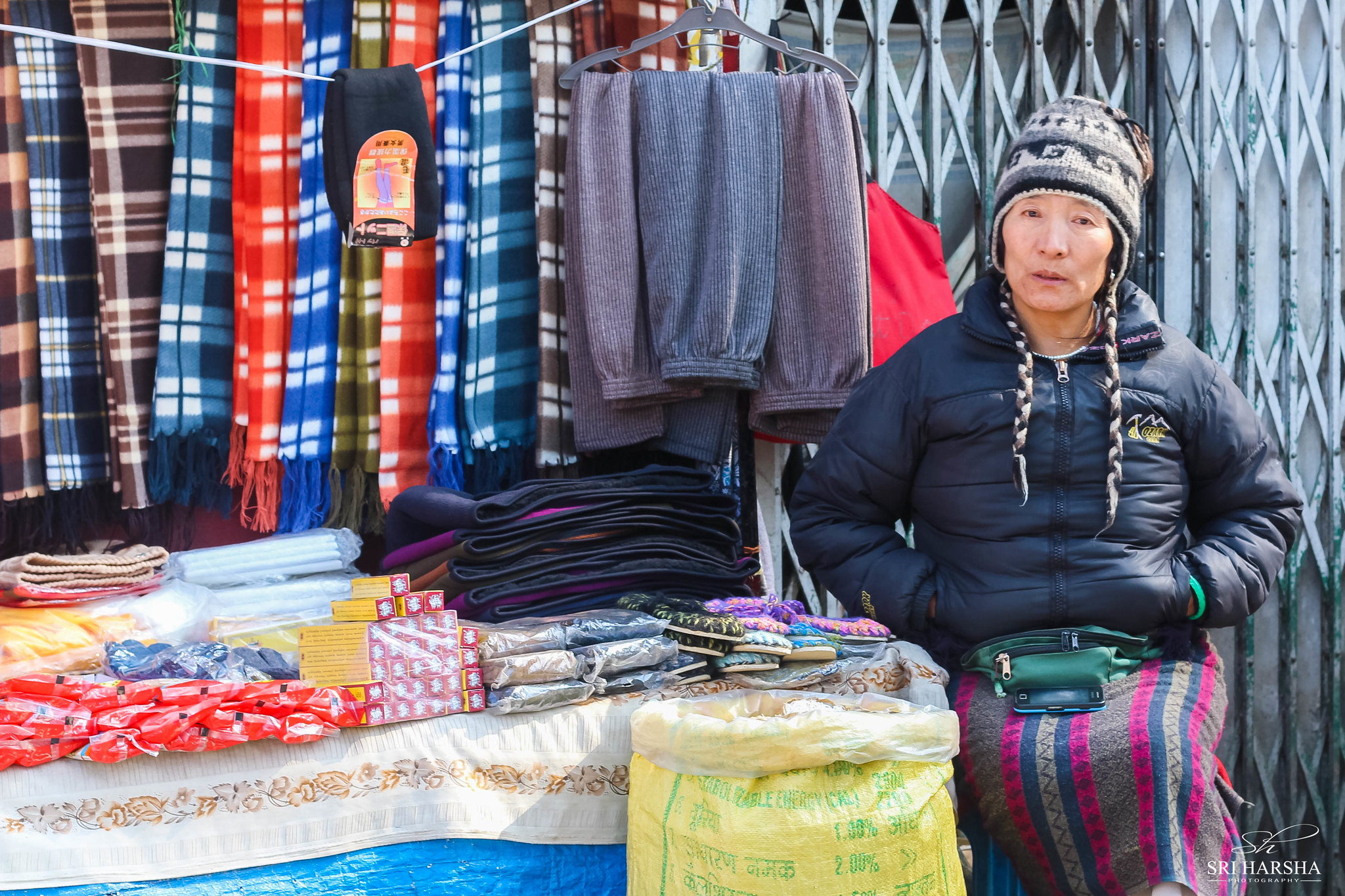 Dharamshala Locals- Photo Credit Sriharsha
FOOD, FOOD and more FOOD!
Dharamsala has some really yummy Tibetan food! The quaint and quirky cafes offer some of the most delicious meals ever! The cafes at Mcleodganj are the most talked about. Some of the classic meals are the thukpas (tibetan noodle soup), thentuk (pulled noodle soup) and momos. We would recommend to definitely try the street side momos over the ones you get at the restaurants. You can visit 'The Tibet Kitchen' for the thukpas. The other bakeries and cafes that you can visit are The Woeser Bakery – Not only is the food great, but the views from the terrace are spectacular. The cakes here are to die for! Tibet Quality Bakery is another hit. The garlic bread and cheese cakes here is a popular choice.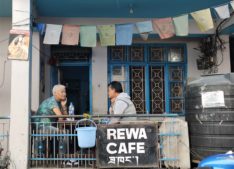 Dooted with cafes, multi cuisine restaurants and delicious street food, you can never run out of options when it comes to the best places to eat in Dharamshala.
Volunteer At The Lha Organization
The best feeling while travelling is to be able to give back to a community and Dharamshala will give you that space to do so. The Lha charitable trust allows for skill and unskilled individuals to participate and help build the Tibitean community.
There are different categories in terms of what all you can offer based on the number of days you have here. Or even if you are here for a very short while, you can just go to the reception of the organization, and give them more information as to how long you are here for, they will definitely find something for you. This organization is based in the town of McLeodganj and if you have spare time in hand, it would be really lovely to go make a change in someone's life.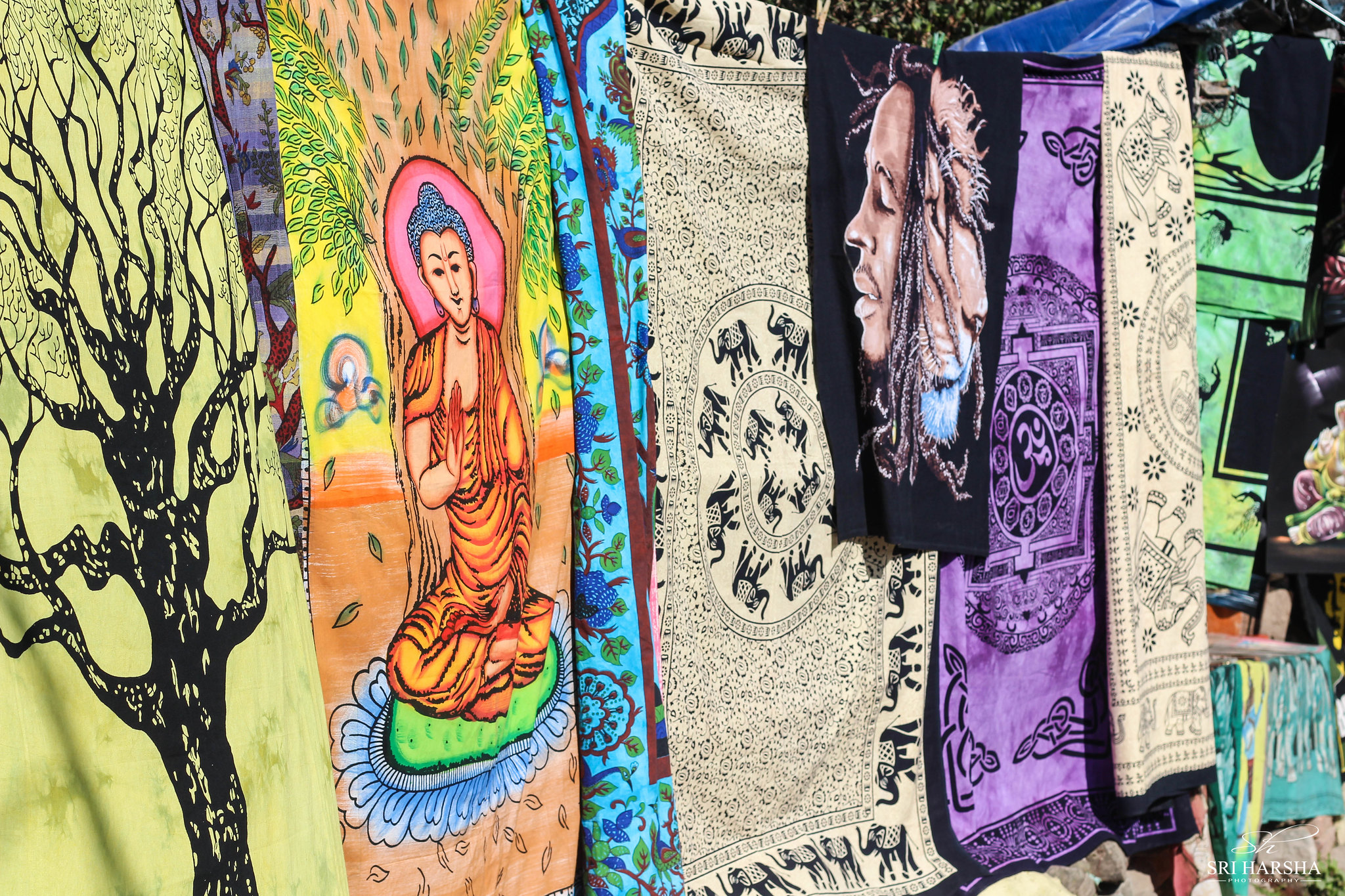 Arts & Culture tours in Dharamshala- Photo Credit Sriharsha
Dharamshalas Got Talent – Tibetan Institute Of Performing Arts
It is very important to preserve, appreciate and promote your culture and Dharamsla knows just how to do this right. The Tiberan Institute of Performing Arts is located halfway between Dharamkot and McLeodganj and is open everyday. Here you get to see different performances of music, operas and dance performances. They have an auditorium where events like Miss Tibet and many international film festivals are held. If you have the inquisitive bug in you, to know more about their culture this is a hotspot for you. There is a museum here as well, however it is open at a particular time. You can check with the reception to know more about this.
All you need to visit Dharamsala is the love for nature, culture and food. You would need a good 3 to 4 days in this location. If you want to know more as to which other locations you can cover, you can Click Here and fill up this questionnaire and get in touch with our experts who can assist you in planning the rest of your adventure to India.
helping you travel your way
Everything you need to know about India is here We have tried writing about everything you may need help with for your trip to India, If you need help in planning a trip to India Get in touch with us to to plan your trip of a life time.