Foires et festivals au Rajasthan entre 2017 et 2020
L'Inde est un pays riche en cultures et religions… Il existe donc de nombreuses foires et festivals en Inde que vous ne devriez pas manquer si vos dates de voyages en Inde concordent avec ces dates.. Nous avons liste ci dessous toutes les dates importantes concernant le Rajasthan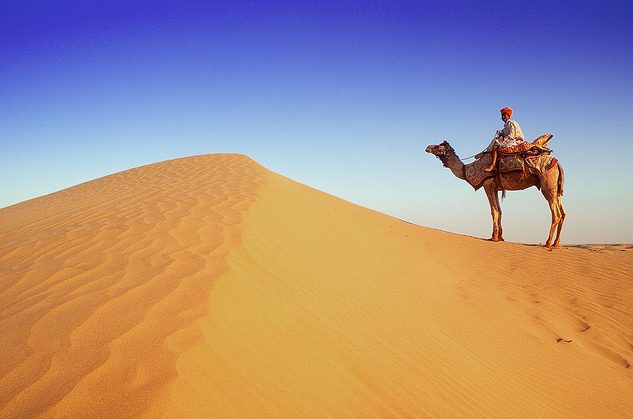 Rajasthan
| | | | | | | |
| --- | --- | --- | --- | --- | --- | --- |
| S.No | Foires et festivals | lieu | 2017 | 2018 | 2019 | 2020 |
| 1 | Kite Festival (Festival de cerf-volant) | Jaipur | 14-Jan | 14-Jan | 14-Jan | 14-Jan |
| 2 | Camel Festival(Festival du chameau) | Bikaner | 14-15 Jan | 13-14 Jan | 12-13 Jan | 11-12 Jan |
| 3 | Nagaur Fair | Nagaur | 1-4 Feb | 25-26 Jan | 10-13 Feb | 30 Jan- 2 Feb |
| 4 | Desert Festival | Jaiselmer | 8-10 Feb | 29-31 Jan | 17-19 Feb | 7-9 Feb |
| 5 | Beneshwar Festival | Dungarpur | 8-11 Feb | 27-31 Jan | 15-19 Feb | 5-9 Feb |
| 6 | Braj Holi Festival | Bharatpur | 7-8 March | 25-26 Feb | 16-17 March | 5-6 March |
| 7 | Dhulandi Festival(Holi) | Jaipur | 13-Mar | 03-Mar | 21-Mar | 10-Mar |
| 8 | Gangaur Fair | Jaipur | 30-31 March | 18-19 March | 6-7 April | 27-28 March |
| 9 | Summer Festival | Mount Abu | 9-10 May | 29-30 April | 17-18 May | 6-7 May |
| 10 | Teej Festival | Jaipur | 26-27 July | 13-14 Aug | 3-4 Aug | 23-24 July |
| 11 | Abhanari Festival | Dausa | 21-23 Sep | 10-13 Sep | 29-30 Sep | 17-19 Sep |
| 12 | Marwar Festival | Jodhpur | 04-05 Oct | 23-24 Oct | 12-13 Oct | 30-31 Oct |
| 13 | Ranakpur Festival | Ranakpur | 21-22 Dec | 21-22 Dec | 21-22 Dec | 21-22 Dec |
| 14 | Pushkar Festival | Pushkar | 28 Oct- 4 Nov | 15-23 Nov | 4-12 Nov | 22-30 Nov |
| 15 | Chandrabhaga Fair | Jhalawar | 3-5 Nov | 22-24 Nov | 11-13 Nov | 29 Nov-1 Dec |
| 16 | Bundi Festival | Bundi | 6-8 Nov | 26-28 Nov | 15-17 Nov | 3-5 Nov |
| 17 | Winter Festival | Mount Abu | 29-30 Dec | 29-30 Dec | 29-30 Dec | 29-30 Dec |
| 18 | Kolayat Festival | Bikaner | 2-4 Nov | 21-23 Nov | 10-12 Nov | 28-30 Nov |
| 19 | Dussehra Festival | Kota | 30 Sep – 17 oct | 18 Oct – 05 Nov | 07 Oct- 26 Oct | 25 Oct- 13 Nov |
| 20 | Kumbhalgarh Festival | Kumbhalgarh | 1-3 Dec | 1-3 Dec | 1-3 Dec | 1-3 Dec |
Des questions sur les foires et festivals en Inde ?
N'hesitez pas a nous contacter !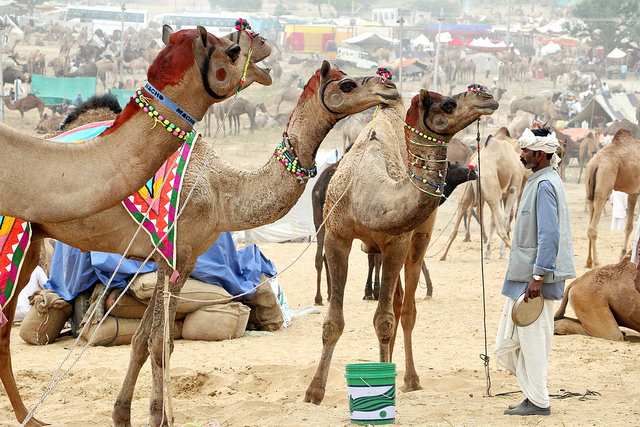 Camels of the desert
A Propos de nous – Nous sommes India Someday. Une agence de voyage francophone basée à Delhi et à Mumbai. Notre concept est la transparence ! Remplissez ce questionnaire en deux minutes et nous vous aiderons à planifier votre séjour en Inde.