WAT DOEN EN WAAR ETEN IN DHARAMSALA?
Alles wat je moet weten voor een fantastische vakantie in Dharamsala, geschreven door onze vriend en yoga-instructeur Chris. Het originele (Engelstalige) artikel en meer van zijn mijmeringen kan je hier lezen.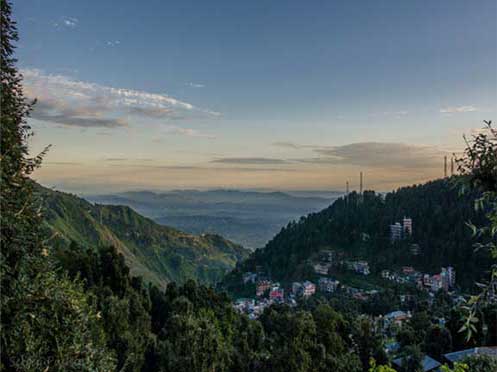 Dharamsala kan je het jaar rond bezoeken.
Je zal vele reizigers met genegenheid over Dharamsala horen spreken. Wanneer je arriveert in deze stad in de bergen begrijp je meteen waarom. Een groen landschap zo ver als je kan kijken, van het gras op de grond tot de zee van bomen die vanuit de vallei naar de bergtoppen klimt. Deze unieke omgeving creëert zijn eigen speciale vibe.
Veel toeristen komen naar Dharamsala om aan de stijgende temperaturen in de rest van het land te ontsnappen voordat de moessonperiode aanvangt (voornamelijk in mei en juni). Sommigen komen hopend op een kans om de Dalai Lama te ontmoeten. McleodGanj in Dharamshala is namelijk het ballingsoord van de Dalai Lama en zijn volgers uit Tibet. Je kan hier cursussen over boeddhisme volgen, allerhande workshops bijwonen, trektochten naar watervallen, bergtoppen en doorheen prachtige bossen ondernemen of gewoon genieten van het rustige leven in de bergen.
Wees wel gewaarschuwd dat het weer erg snel kan omslaan in Dharamsala. Het zonnetje kan het ene uur lekker branden maar mogelijk regent het het volgende uur pijpenstelen. Deze stormen kunnen voor adembenemende bliksemshows zorgen en de regen voedt de prachtige natuur rondom je.
In Dharamsala heb je drie belangrijke toeristische wijken, elk met een andere sfeer.
MCCLEODGANJ
Dit is de belangrijkste toeristische plaats in Dharamsala met vele shops en restaurants en uitzicht op de besneeuwde bergtoppen in de verte.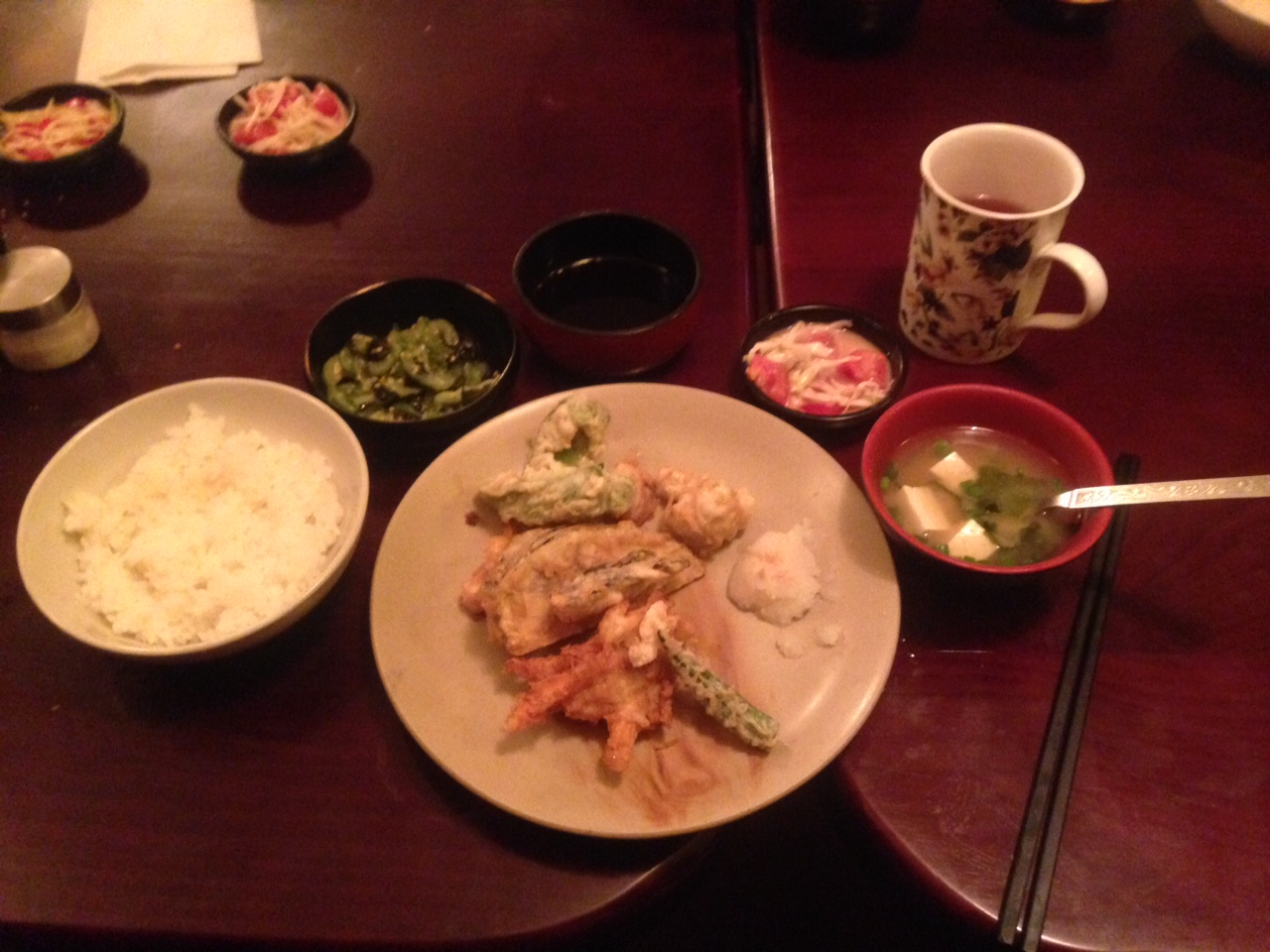 Food in Dharamsala
Lung Ta Japanese Restaurant: Dit is één van mijn favoriete restaurants in heel India. Het menu is volledig vegetarisch en je kan er elke weekdag van een andere dagschotel genieten, van sushi tot tofoe steak met een variëteit aan heerlijke bijgerechten. Zorg dat je op tijd arriveert want er is vaak een wachtrij. Een absolute must-try wanneer je in Dharamsala bent!
Cinema: Er is een kleine cinema die zowel Tibetaanse films als nieuwe releases speelt. Er worden elke dag enkele films vertoond en het weekschema wordt op de aankondigingsborden weergegeven.
Third Eye Tattoo: Er zijn vele tattoo artiesten in Dharamsala. Ik heb een tattoo laten zetten bij mijn vriend KD in Third Eye Tattoo en kan hem sterk aanraden! KD is erg behulpzaam en vriendelijk, de studio is hygiënisch en, belangrijkst, de resultaten zijn geweldig.
BHAGSU
Bhagsu en Dharamkot liggen op ongeveer 20 minuten wandelen van McLeodganj. De restaurants van Bhagsu zijn meestal goed gevuld met een breed scala aan toeristen. Ben je meer op zoek naar wat afzondering? Dan raad ik aan een guesthouse in Upper Bhagsu te zoeken. Hoe hoger je de berg op gaat, hoe meer rust je zal vinden. Je zal dan natuurlijk ook iedere keer bergop moeten wandelen, maar het uitzicht en de rust zijn het meer dan waard. Onderweg naar de kleine waterval kom je op enkele minuten van het centrum een openbaar zwembad tegen. Er zijn dus enkele opties om af te koelen op warme zomerdagen.
Singh Corner: In Bhagsu zal je overal kleine gouden doosjes zien. Hierin wordt de beroemde Bhagsu cake, uitgevonden in het Sing Corner restaurant, verkocht. Deze heerlijke mix van chocolade, karamel en koekjeskorst is erg verslavend en kost slechts 30 roepies voor de normale versie (toevoeging van witte chocolade en pindakaas is een beetje duurder).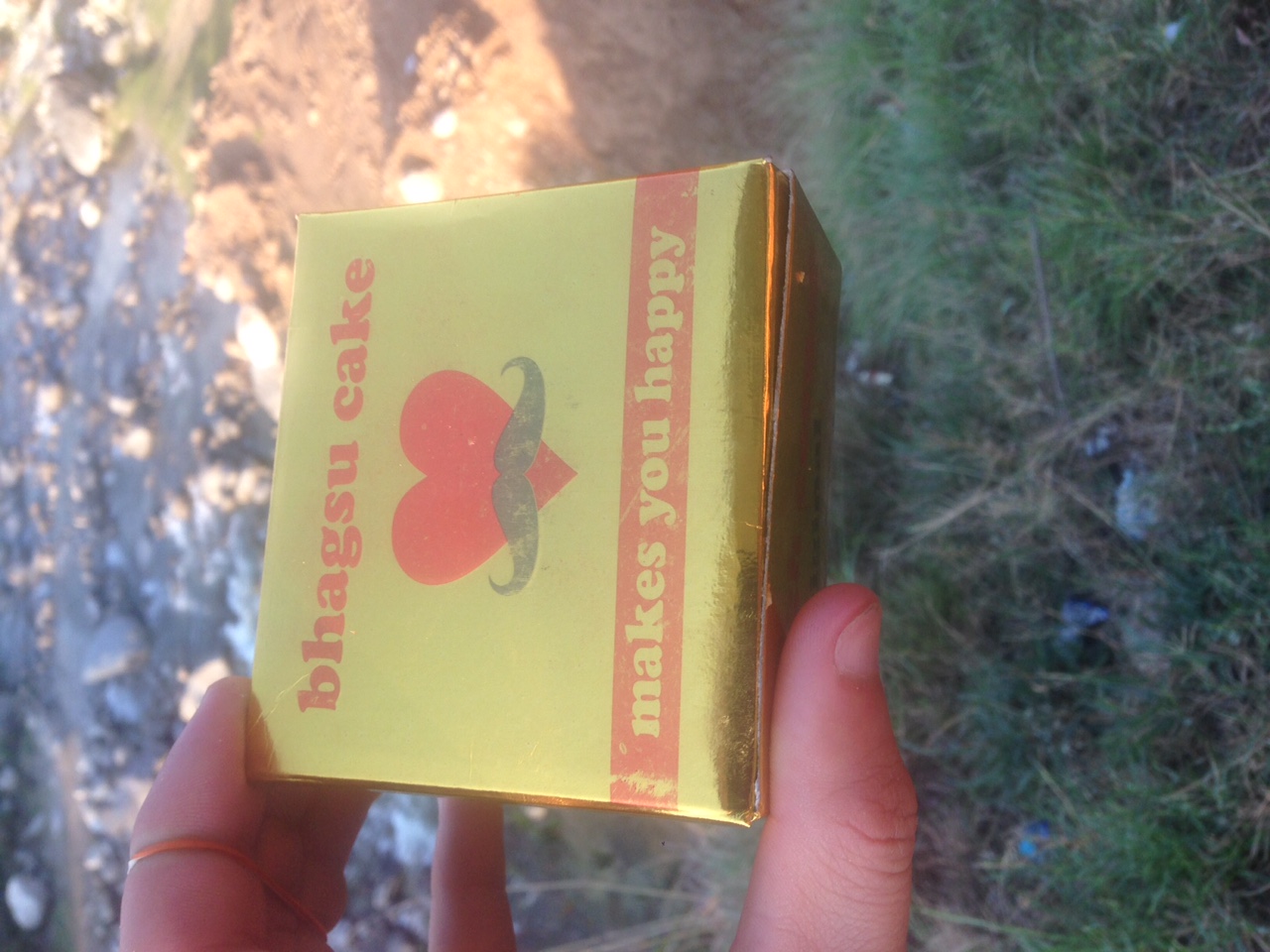 Art cafe: Deze kleine hanghout is erg uniek. Je kiest namelijk zelf wat je voor elke maaltijd betaalt. Elke dag kan je er een menu bestellen met een hartelijke soep, salade en sandwich en ze bieden ook enkele veganistische opties aan. Eet zoveel als je wilt en betaal wat je zelf gepast vindt. Alle opbrengsten gaan naar een goed doel om kinderen in nood te helpen.
DHARAMKOT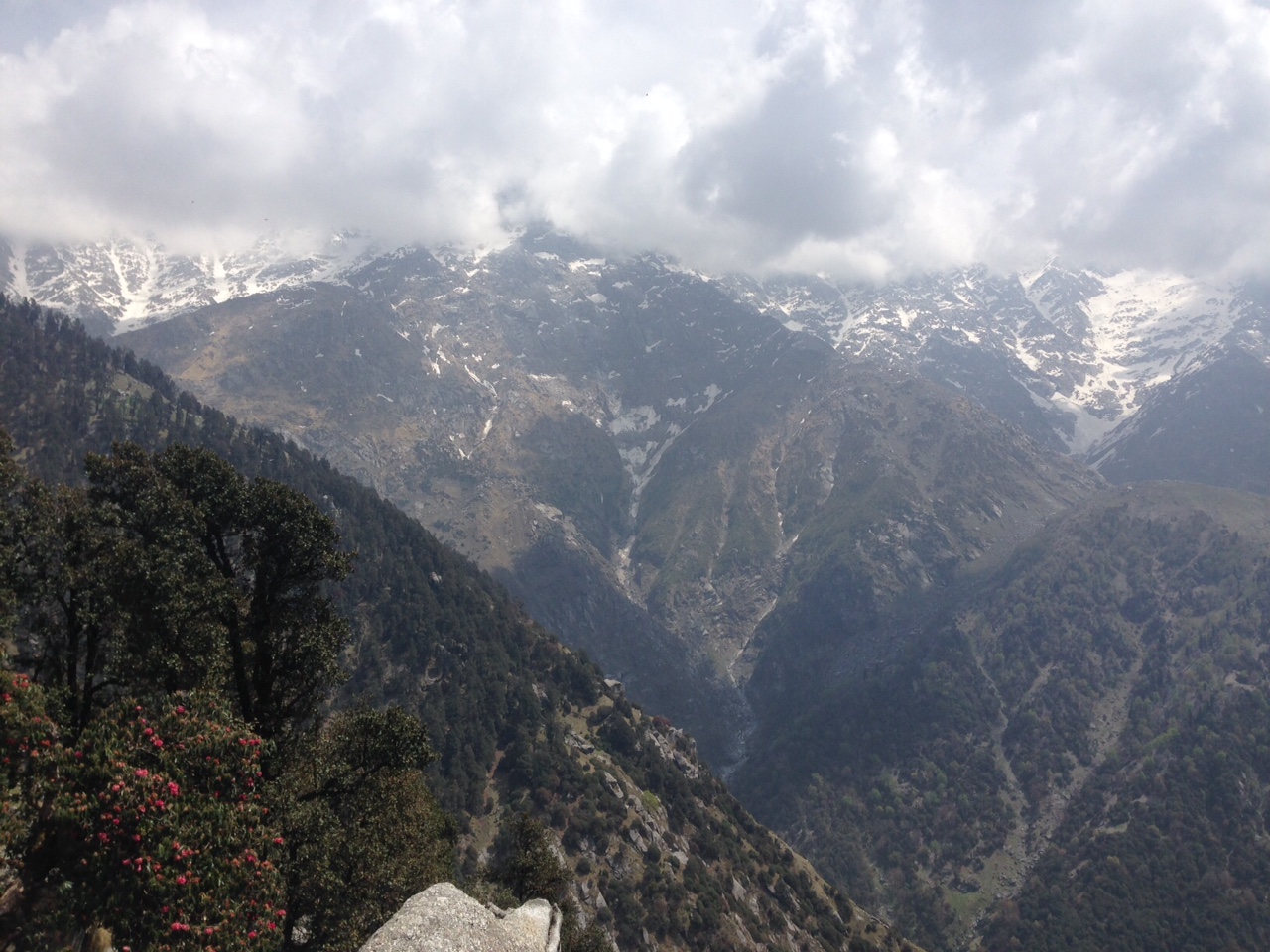 Verwacht je aan adembenemende uitzichten in Dharamkot.
Vlak bij Bhagsu ligt Dharamkot. Dharamkot is gelijkaardig aan Bhagsu maar dan vrediger, en ook hier geldt weer: hoe hoger hoe rustiger. Als je op zoek bent naar rust, dan ga je dus best naar Upper Dharamkot. Het is erg populair onder Israëliërs en je zal dan ook veel conversaties in het Hebreeuws horen.
Trimurti Garden: Trimurti Garden is een fantastische plek voor een gezonde snack. Ze hebben echt goede kombucha en veganistische cakejes en een mooie gemeenschappelijke ruimte om van de tuin te genieten.
The Bone and Body Clinic: Velen komen naar Dharamsala voor de chiropraxie kliniek van Ringo en zijn personeel. Patiënten die lijden aan rugpijn spreken lovend over de kliniek en blijven vaak maanden om te werken aan verlichting van hun chronische problemen.
Tashita: Tashita biedt 10-daagse introductiecursussen tot het boeddhisme aan. Daarnaast kan je er aan uiteenlopende boeddhistische en mindfulness gerelateerde retraites deelnemen. Je kan bovendien dagelijks (behalve zondag) aansluiten bij een groepsmeditatie in ruil voor een donatie.
Trek to Triund: Triund is de bekendste bestemming in de omgeving en dat is terecht. Een paar uurtjes omhoog hiken wordt beloond met uitzicht op besneeuwde bergtoppen, golvende heuvels en alle kleine huisjes die zich kilometers voor je uit verspreiden in de vallei. Deze plaats heeft een erg speciale energie. Je kan van hieruit nog eens ongeveer 45min omhoog wandelen naar de sneeuwgrens en een sneeuwbalgevecht houden of onder de sterren slapen (of tent huren). Langs het pad naar Triund vind je vele kleine chaishops om bij te tanken.
Watervallen: Er zijn twee watervallen in de omgeving, eentje in de buurt van Bhagsu en de andere aan de andere kant van de berg van Triund. De eerste bereik je in ongeveer 15 min vanuit Bhagsu en is redelijk klein maar je kan zwemmen aan de voet van de waterval. De andere bereik je in één tot anderhalf uur vanuit Dharamkot. Deze heeft geen grote, steile afgrond maar je kan de rivier opwaarts volgen, over grote rotsen klimmen en vele zwembassins met schrikbarend koud water vinden. Het is een erg aangename manier om de dag in de natuur door te brengen.
Cursussen en yoga: Hou gewoon de posters die overal ophangen in de gaten om te weten te komen welke workshops georganiseerd worden. Er zijn vele muziekscholen waar je bansuri (Indiase fluit), sitar of drums kan leren of zanglessen kan volgen. Tai chi, yoga, kristalgenezing en alles ertussenin vinden wekelijks plaats dus hou je ogen open voor alles wat je belangstelling wekt. Er zijn ook scholen die yogaleraar trainingen aanbieden zoals Trimuriti yoga en Sarvahuna yoga, dat ook meditatietraining biedt.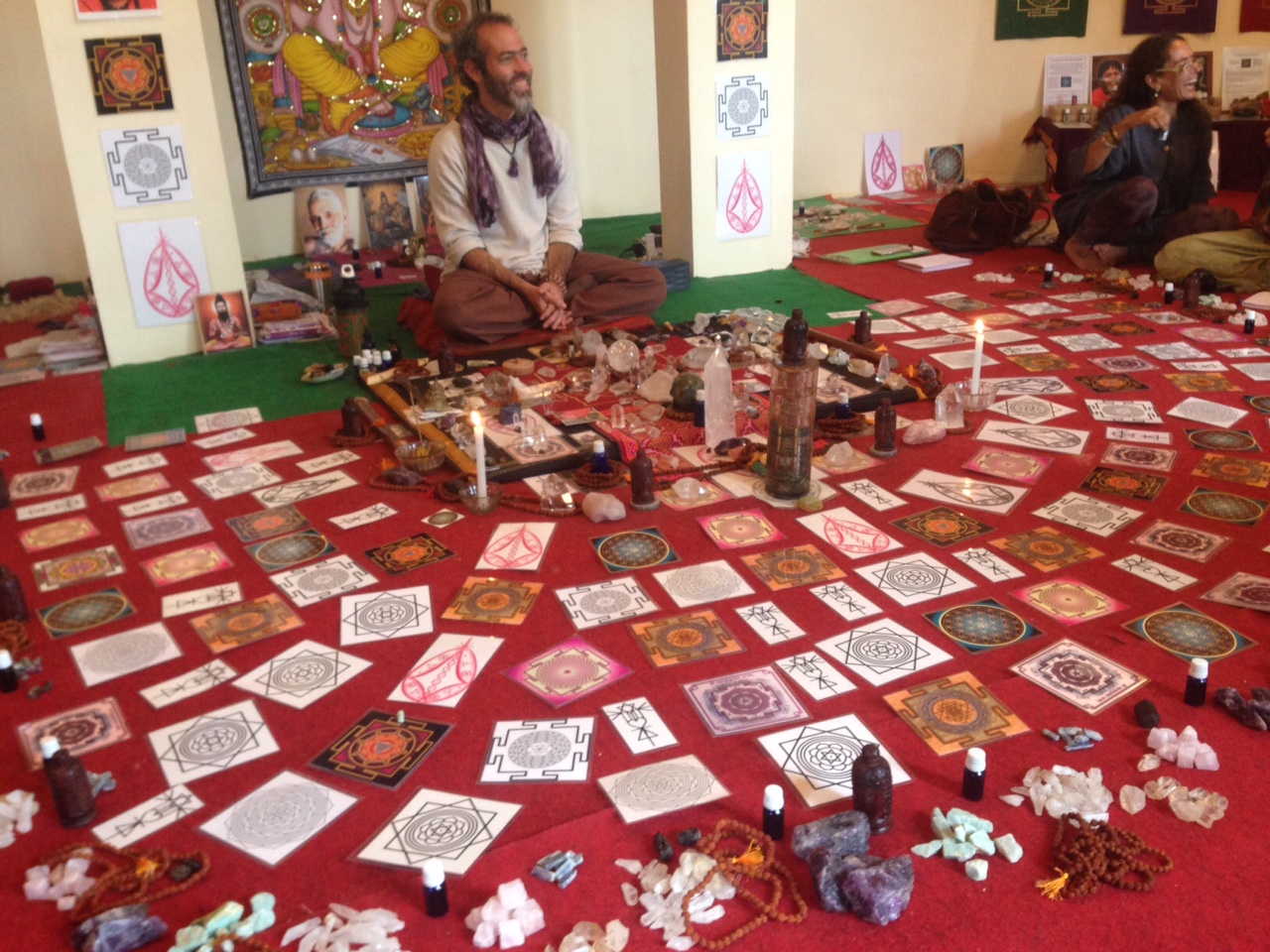 In conclusie
Dharamsala is de perfecte plaats om één te worden met de natuur en vele interessante mensen te ontmoeten. Er vinden steeds nieuwe cursussen en workshops plaats en je kan er genieten van prachtige uitzichten hoewel het zwaar kan regenen. Ben je een hardcore fan van natuur zorg dan dat je ook andere delen van Himachal Pradesh ontdekt zoals Parvati Valley en Manali. In Dharamsala heb je de keuze tussen de hele dag rondhangen in koffiehuizen, omgeven door interessante mensen, om rust en kalmte te vinden in de bergen of om deel te nemen in uiteenlopende interessante activiteiten.
De enorme verscheidenheid van plaatsen om te bezoeken in India en de grootte van het land maken het moeilijk om een reis in India te plannen. Welke plaatsen moet je bezoeken? Welke moet je overslaan? We zijn een jonge, energieke en vindingrijke reisorganisatie en we werken graag nauw samen met onze gasten om hen te helpen een spannende vakantie in India te plannen.