Luxury Routes in Rajasthan

You can find some of the best luxury routes in Rajasthan, if you're looking to be treated like royalty. Each of them being exciting and different. The larger than life state is known for its majestic havelis and old-world charm. There's no better way for us to describe the state, other than it being an enormous vessel that holds some of the country's most luxurious experiences. Being India's largest state, Rajasthan has numerous routes that you can take as you travel around. Here are a few travel routes with some top notch luxury hotels that you can follow when visiting Rajasthan.
ROUTE 1 (Delhi-Agra-Jaipur-Jodhpur-Udaipur)
This is one of the most famous luxury routes in Rajasthan because of the numerous luxurious experiences these cities have to offer. The route will take about 10-12 days and works best for those who are starting their trip from Delhi. 
Delhi being the capital of the country, makes it a hub for everything commercial and contemporary. And the Imperial Hotel is known for its old historical charm coupled with luxury. It's definitely one of the best ways to get ready for your trip ahead. The best part is that it's at a mere distance of 30 minutes from the International airport, and a stone's throw away from some great sightseeing spots in the city. 
Moreover, Delhi knows just how to pamper travellers. The city is home to numerous luxurious places such as Dusit Devrana Spa, amongst others. So rest assured, you'll definitely find enough luxury to soak yourself into, when you're in the country's capital.
If you're in Delhi, you can't miss visiting Agra and the great Taj Mahal. Lodge at the Amarvilas, situated at a mere distance of 600 meters from the monument. It's a luxurious delight, offering grand views of the monument from its suites.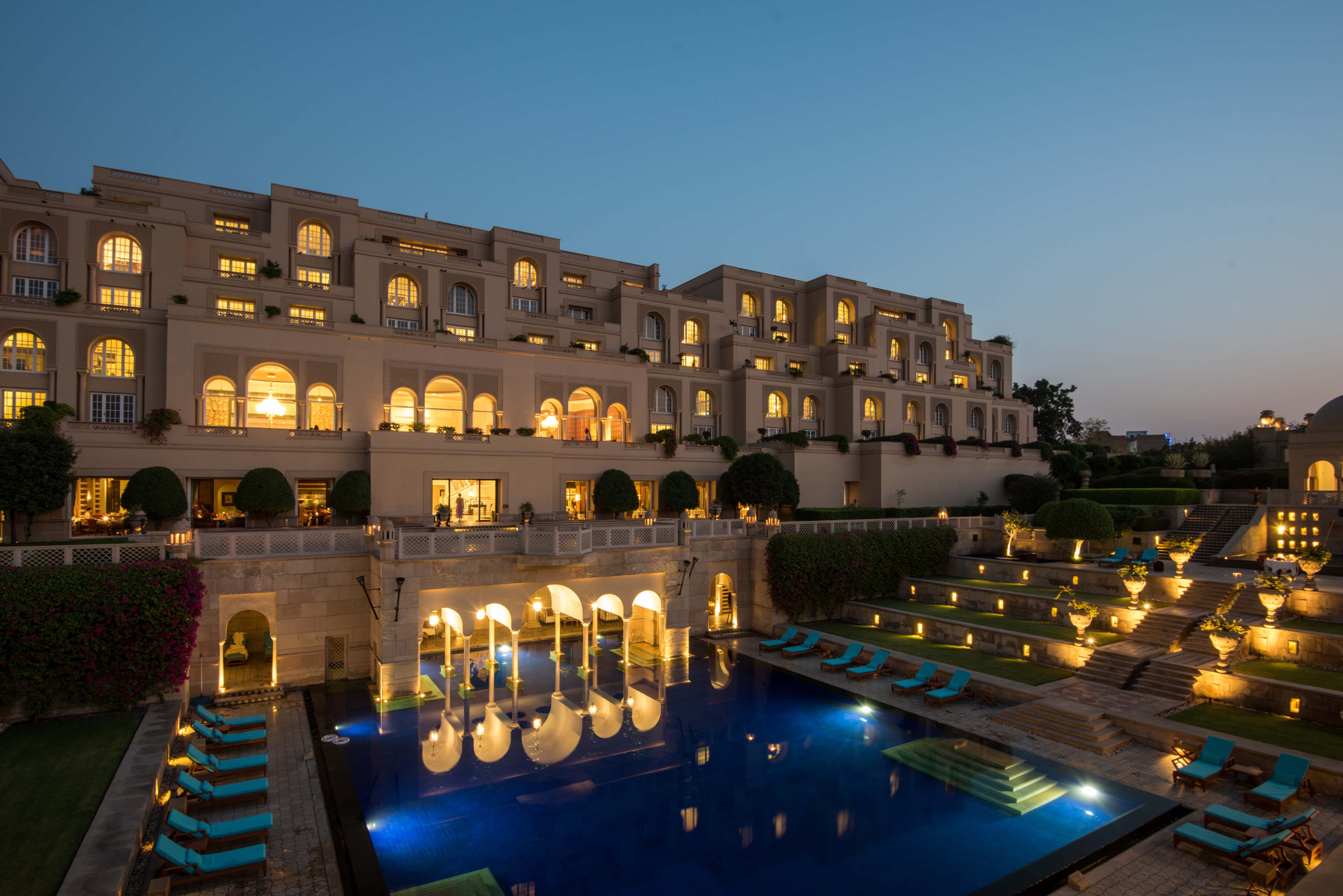 From here, you can visit the pink city, Jaipur. Even though the titles and privileges of the maharajas have been taken away, royalty and luxury still exists in all the majestic forts, havelis and palaces. And guess what? You can actually stay at any of these to get a taste of the royal experience. Living like kings and queens is quite possible when you're in Jaipur. We recommend you board at the Rajvilas in Jaipur, that's set amongst acres of green land oozing of exotic royalty. It will not only allow you to experience luxurious pampering, but you'll be able to experience the local culture through their exclusive activities as well.
Jodhpur is another gem in Rajasthan and the Umedh Bhavan Palace here is our top favourite! As you immerse yourself in the local architecture of the many sightseeing spots, this experience will extend to your place of stay as well. One of the largest private residences in the world, we can say that this hotel defines luxury.
In Udaipur we recommend you stay at the Udaivilas, another heritage property that stands at the banks of the lake Pichola. While many suites here are lake facing, the architecture and service is sure to leave you mesmerised. From private dining in a boat on the lake to Rajasthani miniature painting lessons, the hotel truly exposes you to the region's culture, while giving you a royal treatment. 
ROUTE 2 (Delhi-Agra-Ranthambore-Jaipur-Jodhpur-Ranakpur-Udaipur)
Another one of our recommended luxury routes in Rajasthan, if you have more days to spare and want to visit some UNESCO Heritage Sights. This route will take around 13-14 days. After spending a few days in Delhi and Agra, you can take a detour and add Ranthambore to your list of places to visit. If you're a wildlife enthusiast or a nature lover, you're bound to enjoy Ranthambore, as it's famous around the country for its National Park. Don't miss out on catching a glimpse of the famous Bengal tigers. When in Ranthambore, there's no better place to stay than Vanyavilas, a luxury tented resort situated right at the edge of the Ranthambore Tiger Reserve. The tented camps here heavily borrow from the region's architecture, while maintaining elegance and offering every luxurious amenities like pools, fine dining restaurant, and more. Even the tents are equipped with minibars and air-conditioners. From Ranthambore, you can visit Jaipur and Jodhpur, to enjoy the luxurious offerings of RajVilas and Umaid Bhawan Palace respectively.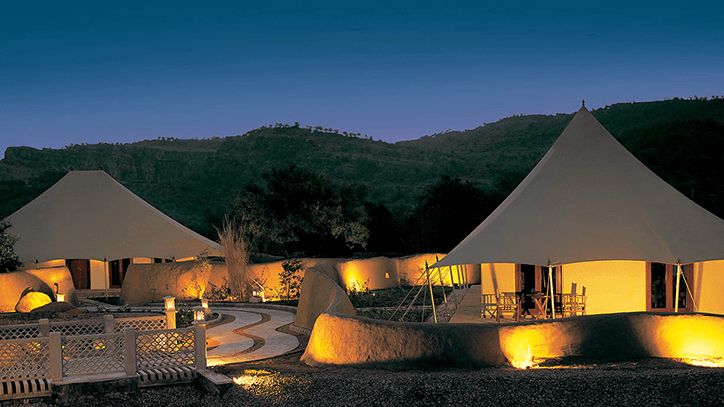 The next destination of the route would be Ranakpur. The village is famous for its Jain temples that have been labelled as UNESCO Heritage sights. It's a great place to add in the mix. The architecture of the temples built centuries ago has been preserved through the years and is a true representation of the country's history. As you get mesmerised by these works of art, we recommend you stay at the Mountbatten Lodge. A colonial hunting lodge that'll allow you to spend your time comfortably in the lap of luxury as you feast on delicious local cuisine. This route also ends with Udaipur, like the previous one, making sure that the beauty of Lake Pichola and Udaivilas ends your luxury trip on a high note.
ROUTE 3 (Delhi-Mandawa-Bikaner-Jaisalmer-Jodhpur-Ranakpur-Udaipur-Jaipur-Agra-Delhi)
A fairly long route which takes around 17-18 days. But it will surely acquaint you with every famous detail of the country. 
Once again, the route starts at Delhi, but only to go on and give you an alternate experience compared to the previous two routes. Also, this is suitable for those who have over two weeks to spend in the country. We recommend you visit Mandawa, a town in Rajasthan that's popularly referred to as an 'Open Art Gallery' because it's packed with old havelis, archways and fortresses that'll take you back in time. Our recommendation for a stay in Mandawa would be the Vivaana, a 19th century restored haveli.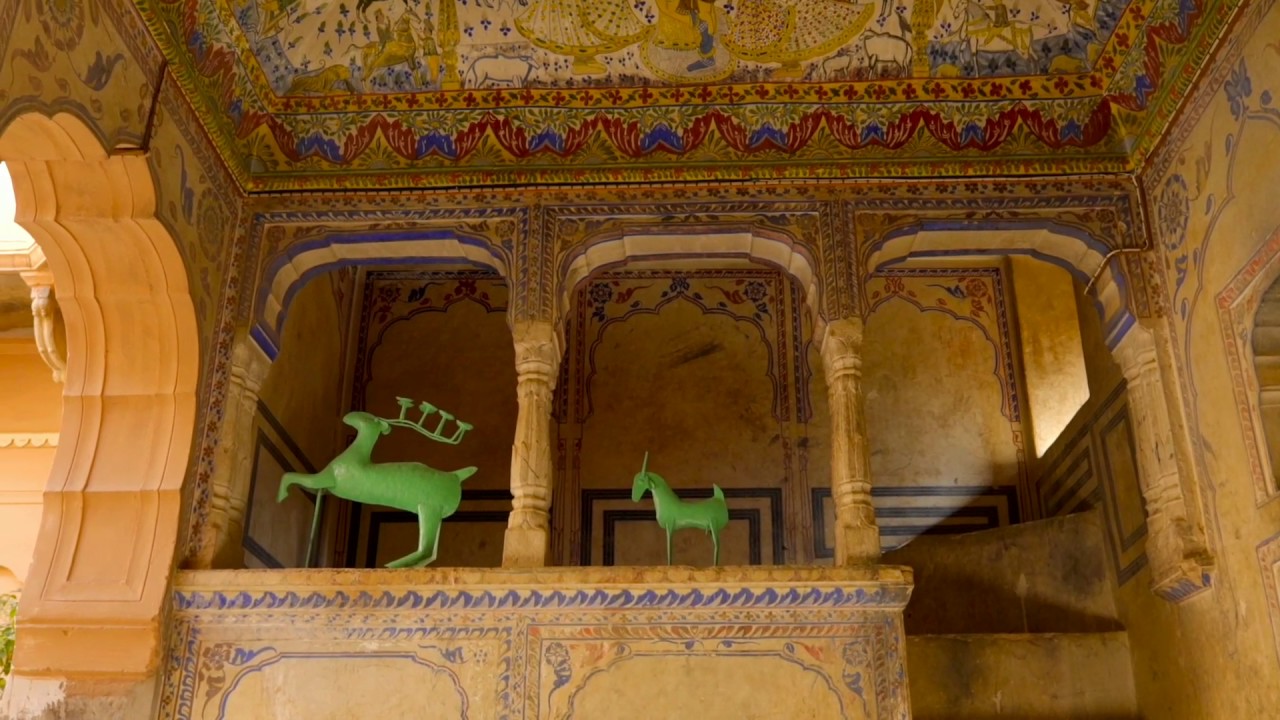 From here, you travel to Bikaner, a city known for bordering with the mighty Thar desert. Bikaner is a wonderful city with some of the most amazing sites. The city also has a history like no other. Stay at the Gajner palace, built by Maharaja Sir Ganga Singh of Bikaner on the edge of the Gajner lake in the Thar Desert. The palace is converted into a heritage hotel, and it's nothing but royal and luxurious with decades of old charm and history.
At Jaisalmer, Suryagarh is definitely the best luxury property to stay at. The palatial hotel is made entirely of sandstones, and it's located in the middle of the Thar desert. Their recreational facilities prove to be the best part of the stay, which include cultural evenings and archery workshops. The route then takes you to the 'Blue City' of the country, Jodhpur, where you get to stay at Umaid Bhawan Palace, a site that was once a resident for kings. The luxury route goes on to take you to Ranakpur. From UNESCO Heritage Sites to hospitality of the highest standards at Mountbatten Lodge, Ranakpur has everything you need to experience a magnificent destination. Your next destination in the route takes you to the romantic, 'City of Lake'. And at Udaivilas, every guest gets an absolute royal treatment. The majestic property has everything from a spa and a temperature controlled pool to butler services. From Udaipur, the route goes to Jaipur, as it's another beautiful city which has plenty of luxurious experiences to offer. If you want to experience living in the most stunning castle, then you need to look no further than The Oberoi RajVilas. End your trip with visits to Agra and Delhi, where you can enjoy luxurious stays at The Oberoi Amarvilas and The Imperial Hotel, both known for their uniquely grand levels of hospitality. If you're looking for one of those luxury routes in Rajasthan which covers the state's most famous places, this is just the route for you.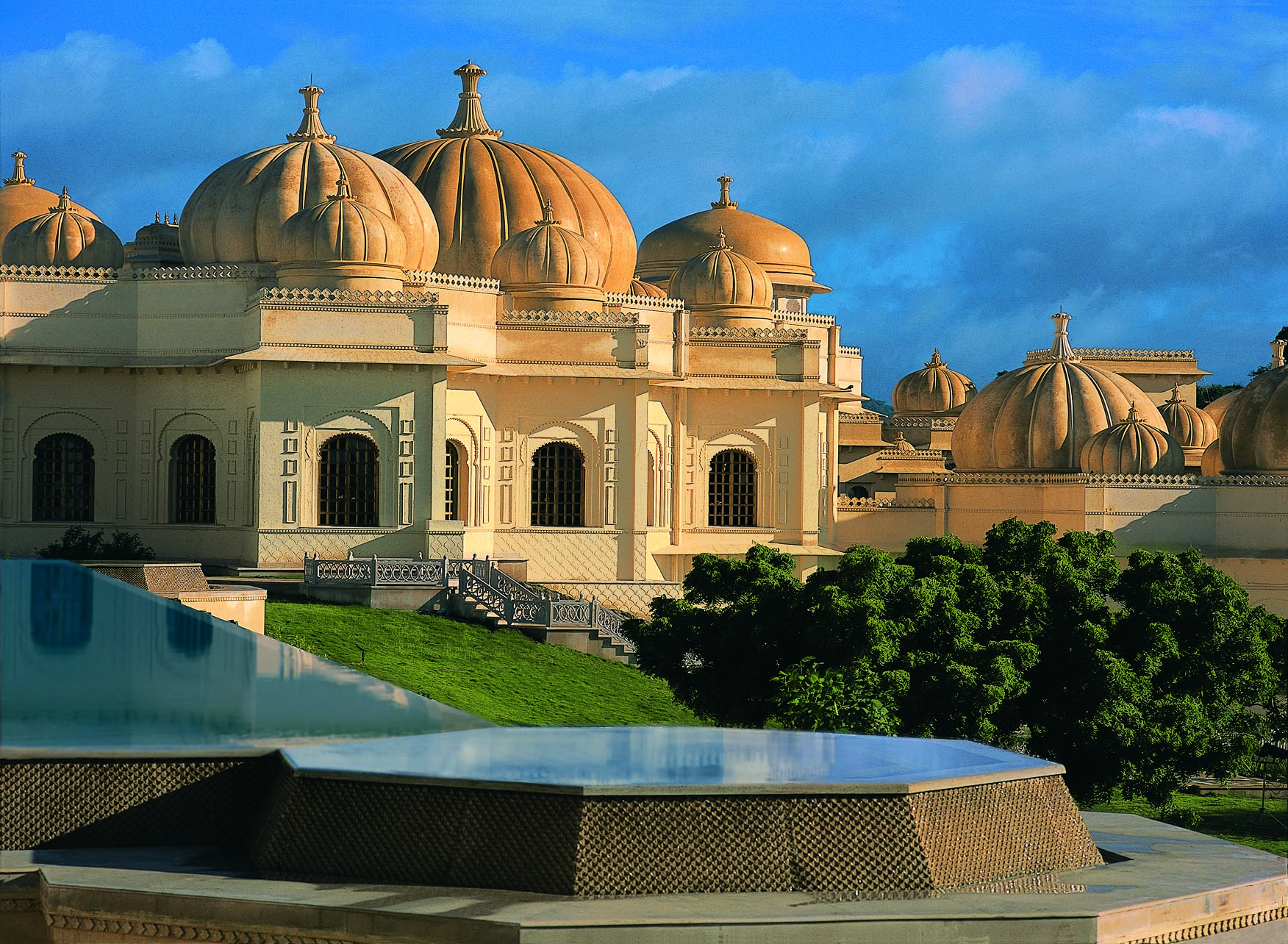 ROUTE 4 (Mumbai-Devigarh-Jawai-Rawla- Mihirgarh-Pushkar-Neemrana-Delhi)
If you're someone who wants to take a route that's not very conventional and engages more with local culture, this one's for you. Starting at Mumbai where you're more likely to land, this route takes about 10-12 days.
Mumbai is the country's economic capital and a hub for everything happening and fun. Preferred as a starting or end point by many tourists, we recommend you stay here at The Taj Mahal Palace, which offers magical view of the Arabian Sea.
From Mumbai, you can go to Devigarh, through Udaipur. The RAAS DeviGarh is a magical palace which is perfect for travellers looking for a stay in the grandest of properties. The heritage hotel was named as one of India's leading luxury hotels in 2006 by the New York Times. Next in the route comes Jawai. A tiny village in Rajasthan that's known for its majestic leopards. It's also extremely close to Udaipur, if you wish to visit any spots there. A treat to nature lovers, Jawai has the renowned and unconventional Sujan Jawai (Jawai Bandh) nestled in the wilderness. It's apt for the travellers who value elegance and luxury. The luxury tents here overlook the mesmerizing wilderness and is as unique as It can get.
From Jawai you head down to Rawla, a village that's tucked in the Aravalli Mountain Range. The village is home to the mesmerizing Rawla Narlai. Once a hunting Manor of the Maharajas of Jodhpur, it's a heritage boutique hotel with a mix of old charm and modernity. It's the best place to lodge at if you want to experience the region as you lay in the lap of luxury.
As you then move towards Jodhpur, we have another place where you definitely must stay. The fort MihirGarh is situated in the Thar desert. It holds nine magnificent suites and offers luxurious amenities like private jacuzzis, workshops, Equestrian Programs and a lot more.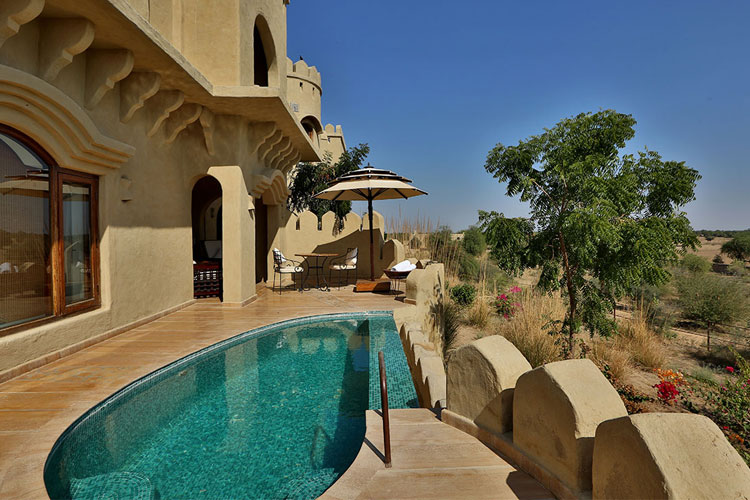 Next, visit the sacred town of Pushkar, which is known to have numerous mesmerising temples. We recommend that you stay at The Taj Gateway Resort Pushkar, while you visit this town. The palace resort is known for its impeccable service and amenities. After spending a couple of lavishing nights in Pushkar, you visit Neemrana to end your trip.
Nestled away in the Alwar district of Rajasthan, the old town of Neemrana is full of ancient houses, havelis and a fascinating history. Known to be at the heart of the golden triangle, Neemrana is used as a base to visit other famous tourist spots as well. Make the most of your opportunity and stay at the Neemrana Fort Palace. A 15th century heritage hotel that has preserved the authenticity and culture of the region. Neemrana is definitely the perfect end to your stay in the state of Rajasthan, where you can expect to be treated royally all across. This is one of those luxury routes in Rajasthan which covers a bunch of offbeat places, with a couple of famous cities like Pushkar and Delhi.
ROUTE 5 (Mumbai-Udaipur-Jawai-Jodhpur-Pushkar-Bundi-Jaipur-Karauli-Agra, Delhi)
A longer trip adding two more locations to your itinerary: Bundi and Karauli. This route would require a duration of about 21-23 days.
After covering some of the more known places of Rajasthan, like Jodhpur and Pushkar, we decided to include the small town of Bundi in the mix. A place known for its centuries old step wells and village culture, the town is a must visit for those who have a few more days to spare. Here we recommend you stay at the Bundi Vilas, a restored townhouse that sits right next to the Bundi palace and offers panoramic views of the city underneath. The townhouse is both luxurious and cosy and the original architecture of the region has been preserved and kept intact.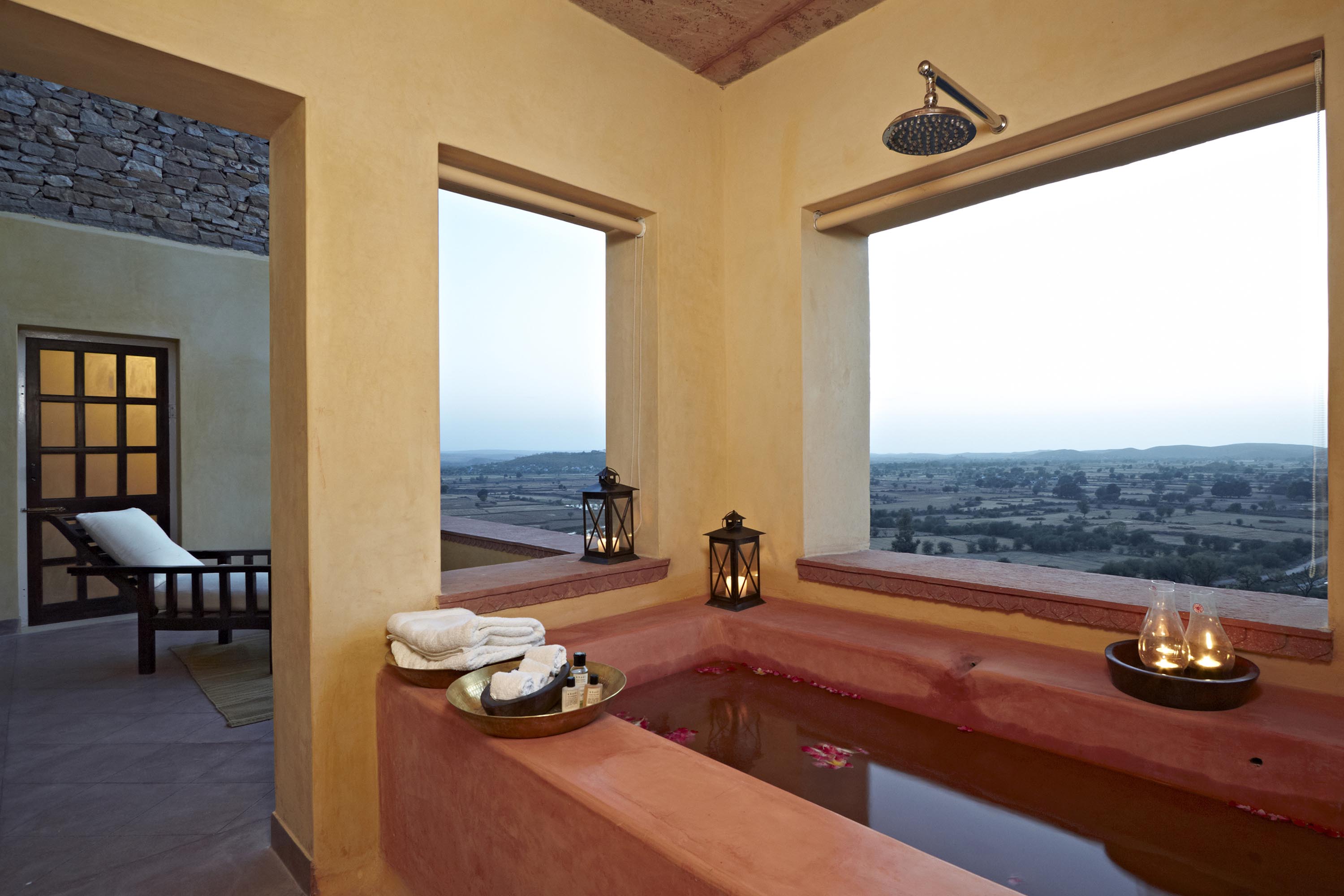 Karauli is another city in Rajasthan that's known for its many Krishna temples that have been carved uniquely. Stay at the Ramathra Fort that is equidistant from the globally famous wildlife reserves, Keoladeo Ghana Bird Sanctuary and Ranthambore Tiger Reserve. Situated on a hilltop, the fort was converted into a hotel which offers panoramic views of the hamlets and the lake underneath. Best part is that the surrounding landscape wonderfully complements the comfort and hospitality of Ramathra Fort! 
There are more such luxury routes in Rajasthan which are worth exploring. After all, Rajasthan is the land of royalty. However, these 5 routes make sure you get a good mix of the most famous spots alongside some really offbeat destinations. Does this route interest you? Reach out to us and we'll help you personalise a luxury vacation in Rajasthan.