Luxury Beach Experiences in India

Being a vast peninsula, you can find a number of beautiful beach experiences in India. Apart from beaches, the country also has a few major rivers which attract locals and tourists alike. The best part is, these beaches and water bodies are where you can find some of the most luxurious resorts and stays. Here are some of the finest luxury hotels and resorts, which are set alongside a river or a beach. 
Glasshouse on the Ganges, Rishikesh
Neemrana's Glasshouse on the Ganges is one of our favourite places to rest in Rishikesh. Located right on the banks of the Ganges, this hotel was once owned by the Maharaja of Tehri Garhwal. If you want to spend your time alongside a lesser populated bend of the Ganges (that's definitely rare), this is the place! At Neemrana's Glasshouse on the Ganges, you also get to stay in cosy cottages next to the Hotel's own private beach. And you also get to see the mighty Ganges flowing at an arm's length away. What's even more special is that the hotel sits out of a Lychee and Mango Orchard, where you can find some beautiful birds and butterflies. It's hands down one of the most delightful places to feel pampered by nature and hospitality. 
Barefoot, Andamans
A magical experience with stretches of green on one side and clear blue waters on the other. This resort is situated on Island no. 7 in the Andamans. The Barefoot Resorts in Havelock Island has also been rated as a #1 hotel in the Andamans, by Tripadvisor, in 2017. The resort is one of a kind with thatched tents, villas and suites that are made keeping the surrounding nature in mind. Each of them focus on relaxation and offer various Indian and Western therapies for healing and relaxation. Although it doesn't end there. The resort has much more to offer for nature lovers. From nature walks to kayaking and snorkelling, this resort will help you make the most of your time in the Andamans! 
SwaSwara, Gokarna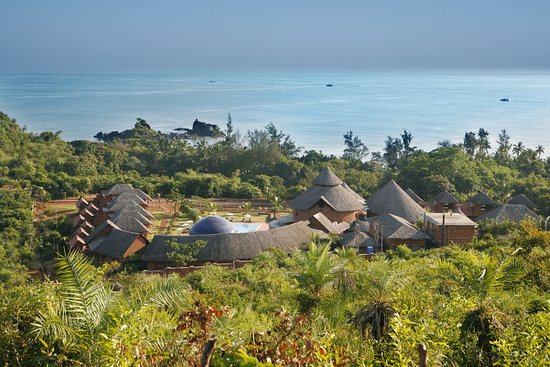 Swaswara is situated on Om beach and is labelled as "a sanctuary for the innermost nature of an individual". The luxurious haven is specially designed for those who seek rejuvenation from the stresses of daily life. They have packages that start with a minimum stay of 5 days and go up to 21 days. They also offer art studio therapies like zentangle (doodle-based art form), clay art and poetry and encourage lodgers to engage in their sattvic diet. This being said, their main focus is on yoga and ayurvedic therapy sessions. Swaswara Gokarna combines relaxation and luxury seamlessly, which reflects in their location and their amenities. 
Marari Beach Resort

Situated just 3 km from Mararikulam train station, The Marari Beach Resort is a reflection of local cultures and architecture. The thatched cottages in the resort, the open showers under beautiful skies, the local food and the activities, are in line with local simplicity and coastal culture. All of this while offering a lavishing experience at their resort. Their cottages are surrounded by nature and a unique ecology with butterfly gardens and endemic plants. At the Marari Beach Resort, you can watch local fisherman bring in their produce at dawn. You can also enjoy backwater cruises and asanas by the beach. Moreover, they also offer naturalist led walks, amongst other activities.
COCO Shambala, Sindhudurg
An architect's delight, this boutique hotel in Sindhudurg rests on a hill overlooking Bhogave Beach. COCO Shambala Sindhudurg highlights luxury at every point. The four villas here are set amidst tropical gardens and come with their own infinity pools. The hotel is perfect for groups, as the villas are connected to each other, to facilitate interaction when needed. Coco Shambala, Sindhudurg was built by architect Giles Knapton, who was a backpacker in his younger days. The villas are both sustainable and eco-friendly. You can certainly expect the chefs to treat you to delicious Malvani cuisine. We love sipping on cocktails as we sit by the pool that overlooks the sea, which is just 200m away from the villa.
The Cape, Goa
The Cape Goa has nine cottages that are perched on a rocky cliff above a secluded beach at Cabo de Rama in South Goa. Surrounded by paddy fields and palm trees, the resort overlooks the great Arabian sea. The Balinese cottages here are both luxurious and indulgent. At The Cape, you can find indoor-outdoor bathrooms with walls of glass, private sundecks and warm water Jacuzzi that offer a spectacular view of the charming beach. The best part is that the hotel's private beach is deserted, which is a rarity in Goa! Stroll along the beach and enjoy ayurvedic massages on the deck to experience luxury in its finest form. If you're a foodie, The Cape Goa also pampers you with delicious local cuisine. 
Aashyana Lakhanpal, Goa
An exclusive resort set amidst silent bylanes of North Goa right beside the Candolim beach. Aashayana Lakhanpal promises nothing less than a peaceful and rejuvenating stay. The property was built by Ajai Lakhanpal as a family home in the early 80s. Today, the property stretches over 6 acres of lush greenery. The resort has numerous villas that come with their own lavishing amenities and contemporary Indian architecture. Their charming cottages give you the feeling of being at a private beach resort. One thing worth highlighting is Aashyana Lakhanpal's courteous staff. They were really amazing and they make the place one of the best beach experiences in India. 
Summertime, Goa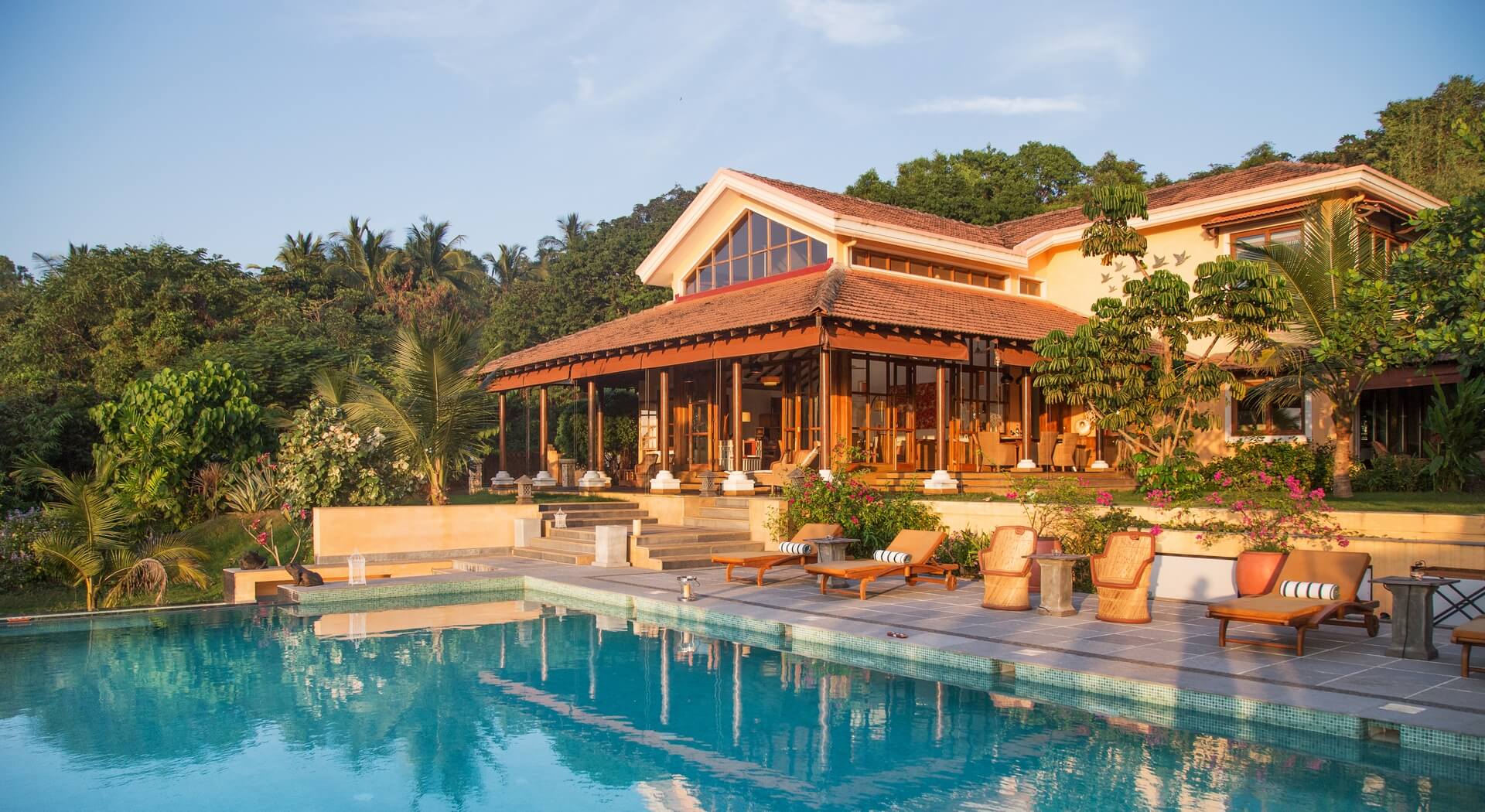 A hilltop villa right outside Calangute beach, that's set amidst two acres of lush private gardens. Built in contemporary Indian styles with Balinese influences, the luxurious Summertime villa is equipped with an infinity pool that overlooks green paddy fields, the valley, a waterfall and a koi pond. Because it is built around a nearly secluded area, it gives guests the perfect opportunity to escape the everyday life and unwind amidst nature. We believe that the villa is best for a group of friends, a group of friends travelling as couples and for families. Summertime's owners also run a classic luxury yacht called the Solita which is available for exclusive charter and glides through Goa's unexplored backwaters. If this isn't enough reason to stay here, Summertime has also been awarded Asia's Best Romantic Boutique Retreat 2016!
Niraamaya Retreat, Kovalam
If you're looking for a magical resort that's built on a cliff surrounded by secluded beaches, you won't have to look any further than Niraamaya Retreat. The resort has some of the most charming heritage cottages which take inspiration from local Keralite architecture and culture. Known for its relaxing atmosphere, the resort also has a spa that have professionals offering ayurvedic treatments. What we loved about this resort is that they allow guests to have candlelight dinners by the serene waters of the sea. They even offer a sunset cruise which takes you to Poovar Estuary. The chefs here take guests to the local fish market and then encourage interactive culinary classes too! This resort is one of our favourites for a luxurious experience that captures local cultures.
Radisson Blu, Mamallapuram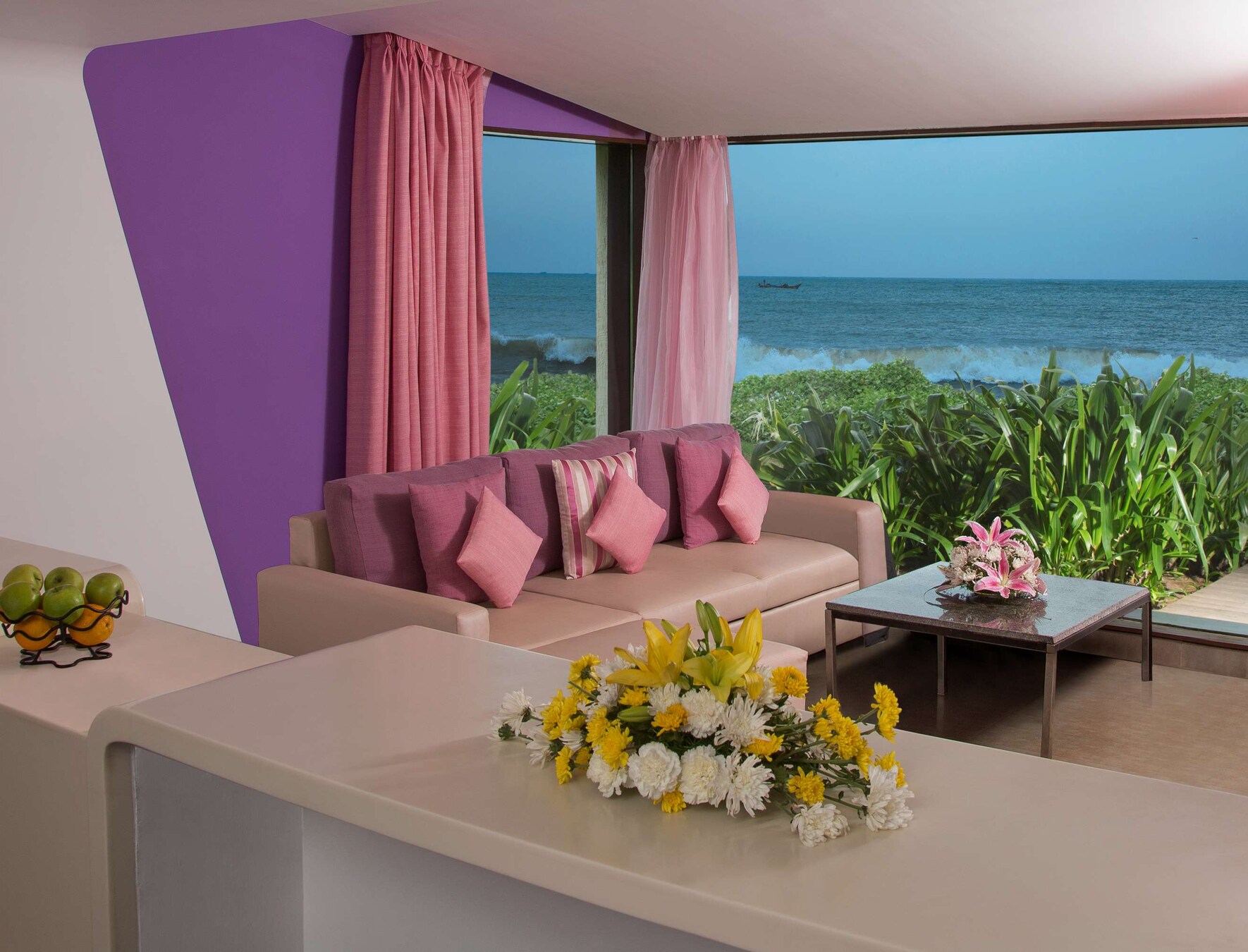 Located just steps away from the Bay of Bengal, this resort is spread across 44 acres of green lush land. The entire property is mesmerising with numerous bungalows, chalets, suites and villas, that also come with private balconies and patios offering unobstructed views of the sea. Both their restaurants offer seaside dining, making each meal you have special. They also have an onsite infinity pool and another humongous pool for those who like to relax while sipping cocktails in pools. Don't be surprised when you spot a mini golf course or kids playing tennis and paintball on the property. Radisson Blu, Mamallapuram offers every kind of recreational activity for your enjoyment.
There are many such wonderful beach experiences in India. And across the country, you'll find plenty of stays which overlook beautiful rivers, beaches and lakes. The best part is that each of these places have their unique ways of pampering their visitors. Looking for stays in such hotels? Reach out to us and we'll personalise a luxury holiday in India for you.