Elefantastic!
Elefantastic : My day at the elephant farm.
"Sounds a bit hokey and touristy," I said to Harsh from India Someday as he excitedly told me about the day I was scheduled to feed and paint elephants. Not an activity I would have likely done on my own, the more he built it up, the more secretly curious and eager I became. After all, as an official You Wander We Pay Wanderer, I have the amazing opportunity to try this kind of hokeyness (and questionable animal treatment), guilt-free.
Something about painting elephants just sounded ridiculous to me until I saw vibrant images of colourful and bejeweled elephants with kings and queens royally mounted above – and learned more about the rich history of painted elephants in India and their revered status.
I was also told that many of the elephants are circus or other rescues and that the paint colours are 100% natural so I could put my animal rights concerns to rest (from what I read online, it was unease about paint chemicals that led animal rights activists to their success in cancelling the annual Jaipur Elephant Festival.)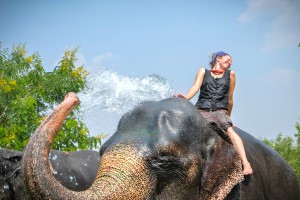 Many of the elephants are taken out of the circus or other rescues (photo by Charles Breland)
Feeding the elephants
I was picked up from my hotel at 9:30 am by a very sweet, knowledgeable driver who shared lots of info about the Pink City, Jaipur. I was quite warmly welcomed at the Elefantastic grounds with a cup of hot chai and an array of cold beverages. My mahout for the day introduced me to Chancahal my tremendous, thick-trunked friend for the day, or haati, as referred to in Hindi.
She was a circus rescue from northern India, unwanted for being blind and having cataracts. She weighs 1½ tons. Like other Asian elephants, she has a series of spots on her trunk and neck.
The first thing we did was feed her. For this task, I began learning some of the 36 words in elephant language. I would hold up a bunch of dried grasses near her trunk and tell her to "lay," to take it. She would curl her trunk and extend it to receive the tasty stalks. If she just sat with it, I would tell her to "dahr," to eat. She listened quite well and seemed more than pleased with this meal. The sound of her chomping was captivating; though it was the sight of her munching that drew me in most.
She would grab the grass with her curled trunk, and eventually place it in her mouth, guiding it deeper inside and exposing her thick tongue while graciously flapping her ears with each crunch. I was enthralled being so close to my enormous animal friend and now hoped my day with an elephant would never end. I pet her leathery skin, on her side and trunk, and showed her my love, all while learning more about elephant habits.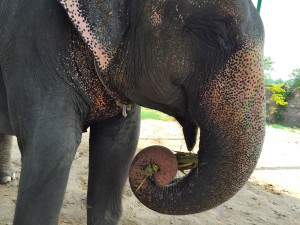 Feeding Chancahal
Painting the elephants
A pallet of brightly coloured natural paints was placed in front of me, preceded by another array of ice cold drinks (they are clearly into pampering at Elefantastic!) I never realized how Zen it could be to paint an elephant trunk. I got uber into my own designs and loved learning the traditional patterns too.
Perhaps the most fun Chancahal had was when we brought out the hoses. Perfect time for washing up, drinking endless amounts of water and spraying me – the most refreshing shower I'd yet experienced in brutally hot Rajasthan! I would literally bring the hose nozzle to her snout, fill it up for approximately 20 seconds and then she'd spray up a fantastic shower. At first, it was just on herself – but when I was lounging on top of her, I too reaped the refreshing benefit! I had climbed her long trunk, as if ascending a slide, and chilled out atop my giant friend.
Seasoned tourist providers, the mahouts knew just how I should pose to get the best photos. Now indulging in this experience, I of course obliged – and now love my series of hokey photos!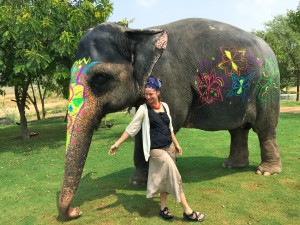 My own creative designs and traditional paintings
Animal Rights
More cold drinks were offered (of course), and it became time to climb aboard a new elephant friend for a ride through the vast farm grounds. Chanchal was 12 months pregnant (elephant pregnancies last 22 months, one of the longest gestation periods in the animal kingdom) so she wasn't exactly up to the task. I was quite appreciative (as I'm sure Chanchal was) of Elefantastic's care for the animals. Though I had minimal prior knowledge of elephants, I felt quite confident that the animals were indeed well cared for.
Our last activity was a delicious home-cooked meal prepared by Rahul's (owner of Elefantastic) sweet mother. We ate at their lovely home and had fun playing with his adorable daughter and her cute pet rabbit (first I've seen in India.)
What an amazing experience to spend so much one-on-one time with an elephant and Rahul's family! More so, what an amazing way to begin Ganesh Chathurti, the 9-11 day (depends where you are) celebration of Ganesha.
Thank you India Someday!
Thank you, You Wander We Pa,y!
Namaste!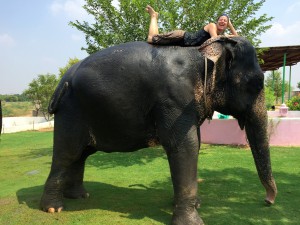 Posing like a tourist!
helping you travel your way
Everything you need to know about India is here We have tried writing about everything you may need help with for your trip to India, If you need help in planning a trip to India Get in touch with us to to plan your trip of a life time.