Attuvela Mahotsavan-The Floating Festival of Kerala
At Attuvela Mahotsavam, lights float gently down the river, a scene straight out of a Disney movie. Not just single flames in clay lamps, but entire temples reconstructed on boats light up the night. Flanked by colourful canoes and moving to the thumping beat of the drum, the boats move down the Moovattupuzha river to welcome the Goddess Bhagavathy of Elanku coming to visit her sister Goddess of Kodungalloor on this day. It's the The known throughout as Elamkavu Attuvela Festival or the Floating Festival of Kerala.
Thousands throng the shore to watch the boats light the way for the grand reunion. In the meenam month of the Malyali calendar, falling between March and April, the two procession begins. At Attuvela Kadavu, a mere 2 km from the Elankavu Bhagavathy temple in Kottayam. A delightful contrast to other Kerala temple festivals of India, raging with chants, drumbeats, elephants and fanfare, is that that this journey is serene and transcendental.
Getting There:
Catch a flight to Cochin airport, about 50 km away. If you're taking a train you'll get as far as Ernakulam, 30 km from Vaicom. From the airport/station you can either rent a car or catch an auto rickshaw.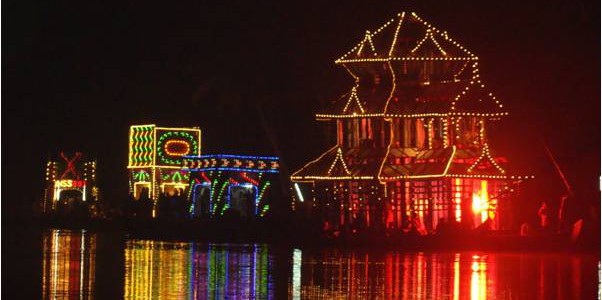 Watch boats come alive with fantastical lights in Kerala